The Hindu Editorial (Do no harm) – Apr 07, 2020
'Primum non nocere' is the primary, guiding principle of bioethics. Every health-care worker is oriented on the principle of 'First,… For further reading, visit "The Hindu". Below is today's word list-2 for The Hindu Editorial (Do no harm) – Apr 07, 2020.
To read this article, click here.
This preview is provided here with permission.
Courtesy: The Hindu
Today's word list-2 for The Hindu Editorial (Do no harm) – Apr 07, 2020:
COVID-19

(noun) – coronavirus disease 2019.
paramount (adjective) – first, foremost, most important; primary, principal, supreme.

primum non nocere

(phrase) – a Latin phrase that means "first, do no harm". (It is the Latin translation from the original Greek. It is attributed to the ancient Greek physician Hippocrates).

guiding principles

(noun) – a set of moral values/beliefs that helps you to make decisions in a difficult situation.
bioethics (noun) – the branch of ethics that studies moral values in medical and biological research.
orient (verb) – place, position, direct someone toward something; make /adapt someone for a specific objective.
inflict on (verb) – impose, force, thrust, burden.
chilling (adjective) – frightening, terrifying, disturbing/horrifying.
assault (noun) – (physical) attack, violence.
beam (verb) – put out, send out, transmit, disseminate, show.
screen (verb) – check

, test, examine (a person for the presence of a disease)

.
allegedly (adverb) – supposedly, purportedly, reportedly.
take up (phrasal verb) – engage in, participate in, take part in, become involved in.
screening (noun) – examination, testing (of a group of people for the symptoms of a disease). The process of identifying healthy people who may be at increased risk of disease or condition.
co-morbidity (noun) – In medicine, co-morbidity is the presence of one or more additional conditions (diseases) co-occurring with a primary condition (disease).
rescue (verb) – save

, come to the aid/help of.

personnel (noun) – staff, employees, workforce.
lockdown (noun) – an emergency protocol implemented by the authorities that prevents people from leaving from a place; An extended state of confinement/encirclement/isolation of a person by the authority.
conclave (noun) – meeting, gathering, assembly/conference.
paranoia (noun) – unreasonable suspicion, disbelief, mistrust, misgiving (of other people).
unmindful (adjective) – unthinking, neglectful of, unconscious of.
take on (phrasal verb) – confront, face, fight, contend with, battle against.
merely (adverb) – only

, simply, just.

pandemic (noun) – the worldwide spread of a new disease; The illness spreads around the world and typically affects a large number of people across a wide area.

look upon

(phrasal verb) – regard as, consider as, view as.
foe (noun) – enemy

, adversary, opponent, nemesis.

gather strength

(phrase) – make an effort to prepare oneself to do something.
address (verb) – tackle, deal with, attend to, try to sort out

.

applicability (noun) – relevance, connection, suitability, appropriateness, pertinence.
rapporteur (noun) – a person who is officially appointed by an organization to investigate a problem or provide reports on the happenings of its meetings.
implications (noun) – consequence/outcome, ramification, repercussion.
sound (adjective) – practicable, reliable

, sensible, dependable.

disposal (noun) – getting rid of, discarding/jettisoning, scrapping.
hazardous (adjective) – dangerous

, risky, perilous.

hail (verb) – acclaim, praise/applaud, commend.
tireless (adjective) – energetic

, Herculean, spirited, determined, resolute.

self-sacrifice (noun) – selflessness, self-discipline, self-deprivation.
humanity (noun) – humankind, the human race, people.
go on to (phrasal verb) – continue, proceed, talk (at length).
emphasise (verb) – draw attention to, underscore, highlight.
plague (verb) – afflict, worry, trouble.

personal protective equipment

(PPE) (noun) – safety gear; protective clothing, helmets, masks or other garments or equipment designed to protect the wearer's body from injury/disease.
ultimately (adverb) – eventually, in the end, essentially.
rest with (phrasal verb) – to be the responsibility of someone.

in equal measure

(phrase) – to an equal extent/degree; equally, as much.
Note:  
 1. Click each one of the words above for their definition, more synonyms, pronunciation, example sentences, phrases, derivatives, origin and etc from http://www.oxforddictionaries.com/.
2. Definitions (elementary level) & Synonyms provided for the words above are my personal work and not that of Oxford University Press. Tentative definitions/meanings are provided for study purpose only and they may vary in different context. 
3. This word list is for personal use only. Reproduction in any format and/or Commercial use of it is/are strictly prohibited.
Today's word list-2 The Hindu Editorial (Do no harm) – Apr 07, 2020
: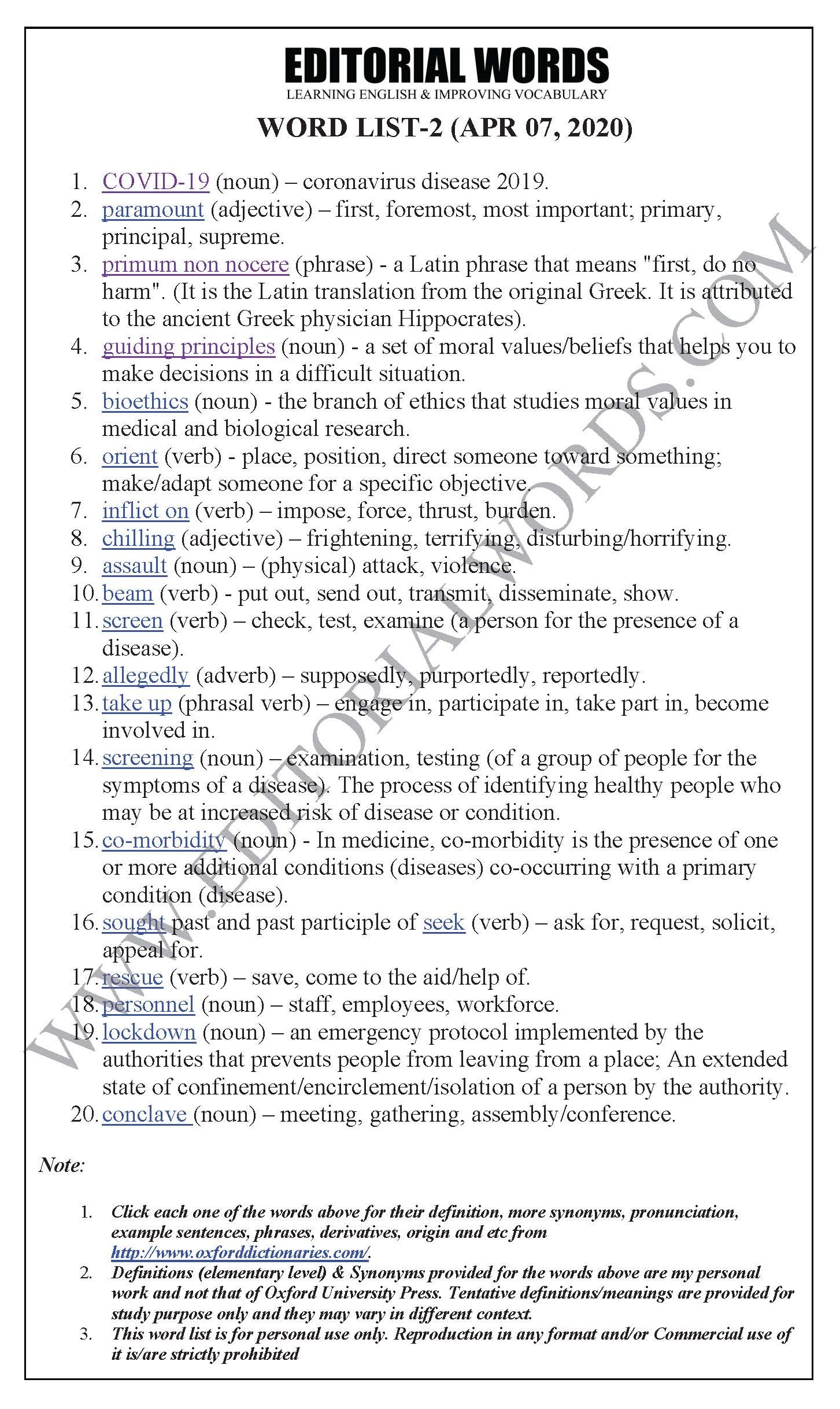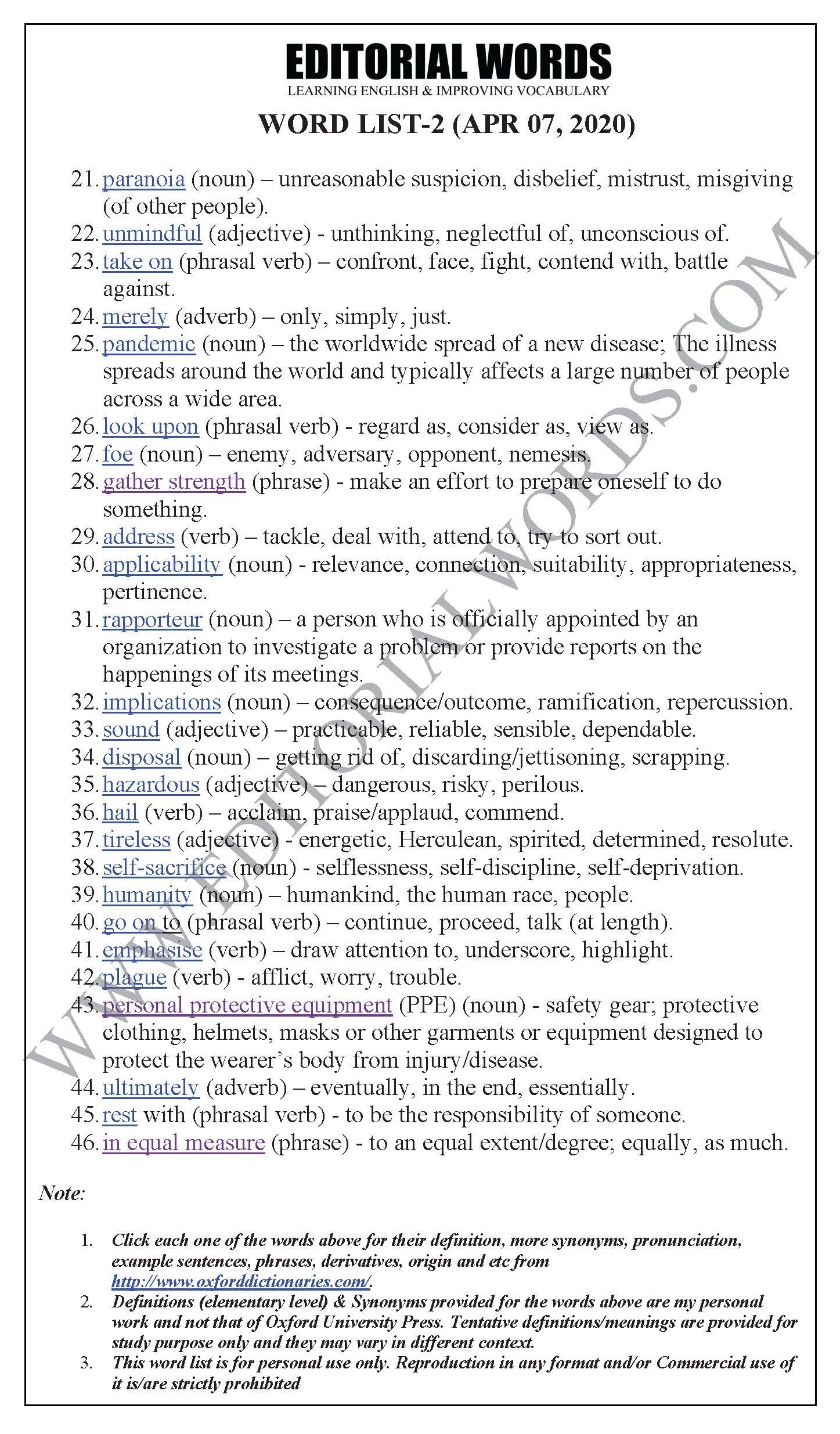 "Phrasal Verbs" We Learnt Last Week
"Idioms & Phrases" We Learnt Last Week
"Important Definitions" We Learnt Last Wek
Recent Word Lists For The Hindu Editorial Articles
Recent Advanced Word Lists For The Hindu Lead Articles