The Hindu Editorial (Cognisant of constraints) – Feb 03, 2020
The interim report of the 15th Finance Commission, tabled in Parliament on Saturday,… For further reading, visit "The Hindu". Below is today's word list-1 for The Hindu Editorial (Cognisant of constraints) – Feb 03, 2020.
To read this article, click here.
This preview is provided here with permission.
Courtesy: The Hindu
Today's word list-1 for The Hindu Editorial (Cognisant of constraints) – Feb 03, 2020:
cognisant (adjective) – aware, well informed about, familiar with.
constraint (noun) – restriction

, limitation, restraint.

interim (adjective) – provisional, transitional, temporary.
rock (the) boat (phrase) – do something to disturb (the present/stable condition).
devolution (noun) – distribution, transfer, decentralization, delegation.
table (verb) – present, propose, submit, put forward.
preserve (verb) – uphold, maintain, protect.
predecessor (noun) – previous holder of the post; forerunner, precursor, antecedent.
sizeable (adjective) – substantial, considerable, significant.
vertical (adjective) – upright

, perpendicular, straight.

divisible pool

(noun) – the taxes of the central government that it should share with the state governments in accordance with the recommendations of the Finance Commission.
accrue (verb) – accumulate, collect, gather.
erstwhile (adjective) – old, previous, former, then.
notional (adjective) – ideal, supposed, assumed.

horizontal distribution/devolution

 (noun) – the allocation between the States of the respective shares of (proceeds) earnings. whereas, vertical distribution/devolution means the distribution of the net earnings (proceeds) of taxes of the Union between the Union and the States.
aggregate (adjective) – total

, combined, whole

.

criterion (noun) – basis, standard, norm. (criteria is the plural form of criterion).
rejig (verb) – reorganize, rearrange, alter.
human capital (noun) – the economic value of the abilities and qualities of labour that influence productivity.
weight (noun) – importance, significance, value/power

.

switch (noun) – change, move, shift.
address (verb) – attend to, tackle, deal with.
voice (verb) – express, communicate, mention, state.
switch (noun) – change, move, shift, transition.
with the exception of (phrase) – except

, excluding, not including, omitting. 

notably (adverb) – especially, particularly, primarily.
shrink (verb) – lessen, reduce, decrease.
flag (verb) – indicate, identify, point out.
dog (verb) – trouble

, disturb, worry.

shortfall (noun) – deficit, inadequacy/deficiency; shortcoming/defect.
volatility (noun) – fluctuation, inconsistency, unpredictability.
granularity (noun) – the state/quality of including a lot of small details.
a share of the pie (phrase) – a slice of the pie, a piece of the pie; a portion of something available can be distributed.
vex (verb) – upset, trouble, disturb.
last-mile (noun) – a phrase widely used in the telecommunications, cable television and internet industries to refer to the final leg of the telecommunications networks that deliver telecommunication services to retail end-users (customers).
fragmented (adjective) – separated, isolated, disintegrated/collapsed/divided.
off-budget (adjective) – not provided for or included in the regular government budget.
parastatal (noun) – a company/organisation that is controlled wholly or partly by the government.
liabilities (noun) – financial obligation.
earmark (verb) – d

esignate

, reserve, set aside.

time-bound

 (adjective) – related to a certain moment or era in time.
Note:  
 1. Click each one of the words above for their definition, more synonyms, pronunciation, example sentences, phrases, derivatives, origin and etc from http://www.oxforddictionaries.com/
2. Definitions (elementary level) & Synonyms provided for the words above are my personal work and not that of Oxford University Press. Tentative definitions/meanings are provided for study purpose only and they may vary in different context. 
3. This word list is for personal use only. Reproduction in any format and/or Commercial use of it is/are strictly prohibited.
Today's word list-1 The Hindu Editorial (Cognisant of constraints) – Feb 03, 2020
: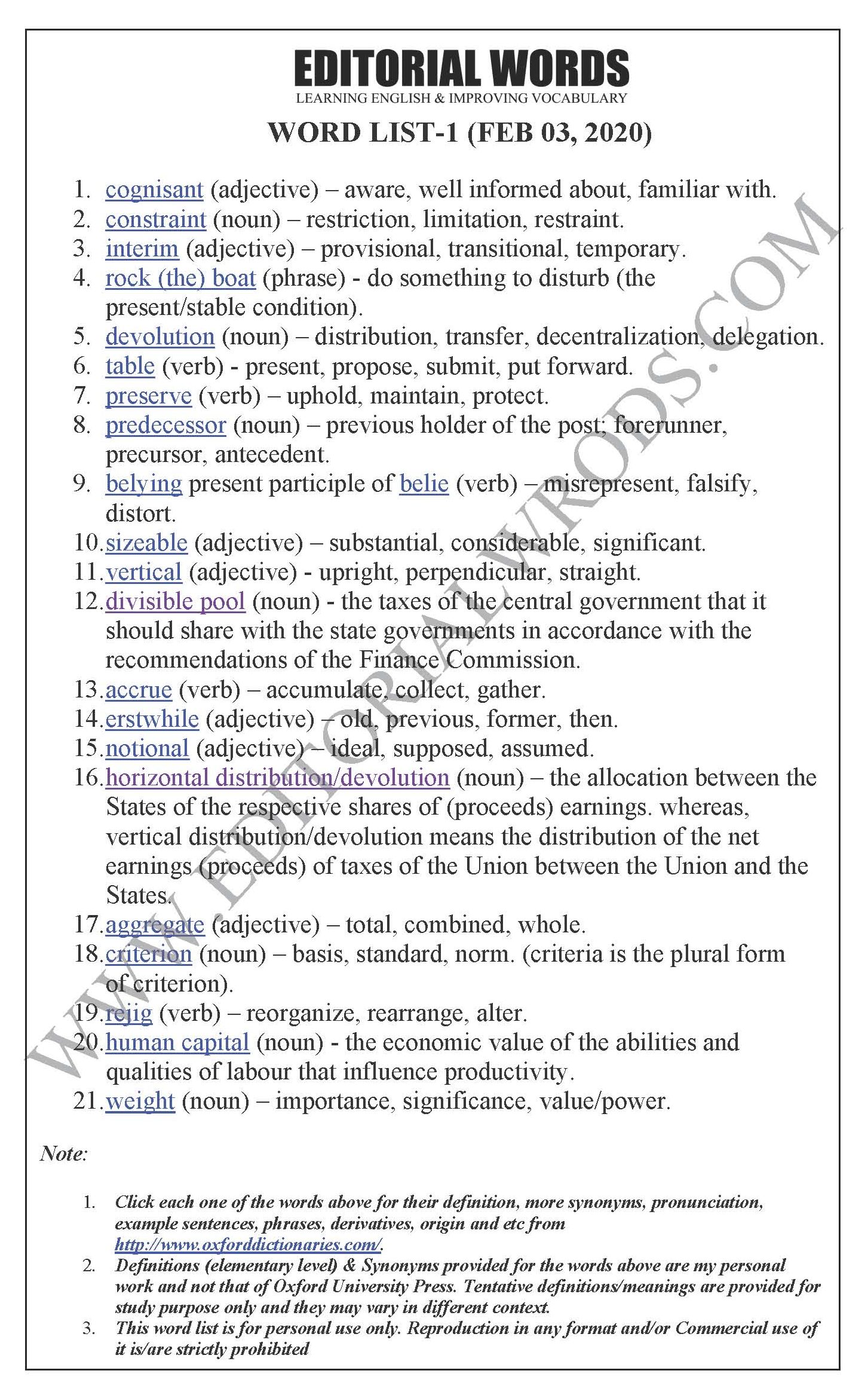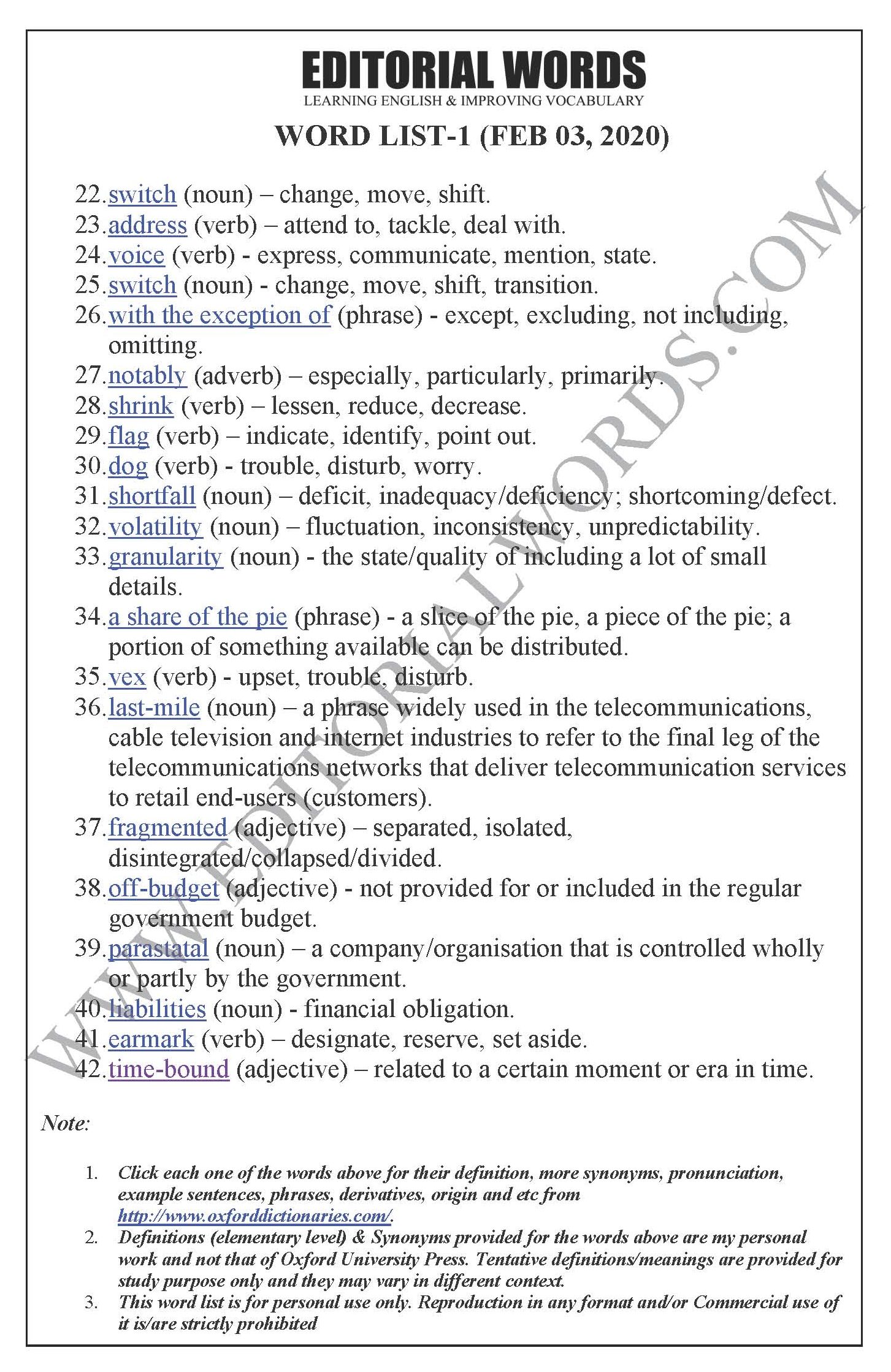 "Phrasal Verbs" We Learnt Last Week
"Idioms & Phrases" We Learnt Last Week
"Important Definitions" We Learnt Last Week
Recent Word Lists For The Hindu Editorial Articles
Recent Advanced Word Lists For The Hindu Lead Articles