The Hindu Editorial (Bridging the Gulf) – Jan 12, 2021
The Gulf reconciliation summit, in Al-Ula, Saudi Arabia, where the kingdom and its allies decided to end their blockade of Qatar,… For further reading, visit "The Hindu". Below is today's word list-2 for The Hindu Editorial (Bridging the Gulf) – Jan 12, 2021.
To read this article, click here.
This preview is provided here with permission.
Courtesy: The Hindu
Today's word list-2 for The Hindu Editorial (Bridging the Gulf) – Jan 12, 2021:
bridge the gulf/gap

 (phrase) – try to find a way to reduce the gap and bring the two separate viewpoints together.
reconciliation (noun) – reunion, resolution, compromise.
summit (noun) – meeting, conference.
tie (noun) – bond

, connection, association, relationship.

neighbour (noun) – a country that is next to another country; (bordering) country.
ally (noun) – associate

, colleague, confederate, partner.

blockade (noun) – barricade, barrier, obstacle/impediment.

bring something to an end

(phrase) – cease, stop something, terminate.
feud (noun) – argument

, dispute, disagreement, quarrel, row, fight

.

sever (verb) – break off

, discontinue, suspend; bring to an end, end, put an end to, terminate.

diplomatic (adjective) – (delicate & sensitive) consular, foreign-policy.
lift (verb) – cancel

, raise, remove, withdraw, revoke.

shut down (phrasal verb) – discontinue, cease activity, close.
base (noun) – (military) camp, post.
budge (verb) – change one's mind

, give way, give in, yield.

cost (noun) – loss, damage, undesirable consequences, adverse effects, disadvantage.
bolster (verb) – strengthen, support, boost, reinforce/buttress.
play a part/role (phrase) – contribute to, be instrumental in, be a factor in.
moreover (adverb) – besides

, furthermore, in addition.

host (verb) – present, organize, arrange (an event).

make someone kneel

(phrase) – make someone bow down; make someone get down on one's knees; make someone show reverence.
backfire (verb) – rebound

/boomerang, come back, have an adverse effect.

strategic (adjective) – relating to achieving long-term or overall (military) goals; planned

, calculated, deliberate.

folly (noun) – foolishness, stupidity, madness, irresponsibility, thoughtlessness.
concession (noun) – compromise

, adjustment

.

intervention (noun) – the process of intervening in something; involvement, interference.

non-intervention

(noun) – non-involvement, non-interference, non-meddling.
affairs (noun) – concerns, matters, activities.
stability (noun) – safety, security, strength.
interpretation (noun) – explanation

, understanding/reading, clarification.

in practice (phrase) – in reality

, actually, practically.

step down (phrasal verb) – give up, stand down, abdicate, renounce.
make amends (phrase) – compensate

, recompense, make it up to (for a wrongdoing)

.
unshaken (adjective) – single-minded, determined, purposive.
U-turn (noun) – about-turn, a reversal of policy, change of mind/plan, about-face, a sea change.
rethink (noun) – reassessment

, reconsideration, review.

rift (noun) – break, division, split; disagreement, difference of opinion (in a relationship).
rival (noun) – opponent, adversary, contender, competitor.
scuttle (verb) – (intentionally) cause something to fail.
standing (noun) – reputation, status, position.
reel under (phrase) – to suffer (due to a burden).
sanctions (noun) – action taken, or an order given to force a country to obey international laws by limiting or stopping trade with that country, by not allowing economic aid for that country, etc (Courtesy: VOA Learning English).
payout (noun) – payment

, reward, recompense.

put up (phrasal verb) – construct; present, display, show (a specific amount of effort).
front (noun) – group

, camp

.

Iran nuclear deal (or) Joint Comprehensive Plan of Action (JCPOA)

 (noun) – JCPOA, known commonly as the Iran nuclear deal or Iran deal, is an agreement on the Iranian nuclear program reached in Vienna on 14 July 2015, between Iran and the P5+1 (China, France, Germany, Russia, the United Kingdom, and the United States) together with the European Union.
warm up (phrasal verb) – prepare, get ready, get into condition.
overlook (verb) – neglect, ignore, disregard, turn a blind eye.

born out of

(phrase) – has happened as a result of something.
ill-thought-out (adjective) – not carefully considered, not carefully planned.
strategy (noun) – plan of action (in order to achieve a more expansive set of political, economic, and security interests).
coercion (noun) – force/pressure, oppression, harassment, intimidation.
reflect on (phrasal verb) – to affect other people's opinion of someone, particularly in a bad/poor way.
Note:
 1. Click each one of the words above for their definition, more synonyms, pronunciation, example sentences, phrases, derivatives, origin and etc from http://www.oxforddictionaries.com/.
2. Definitions (elementary level) & Synonyms provided for the words above are my personal work and not that of Oxford University Press. Tentative definitions/meanings are provided for study purpose only and they may vary in different context. 
3. This word list is for personal use only. Reproduction in any format and/or Commercial use of it is/are strictly prohibited.
Today's word list-2 The Hindu Editorial (Bridging the Gulf) – Jan 12, 2021
: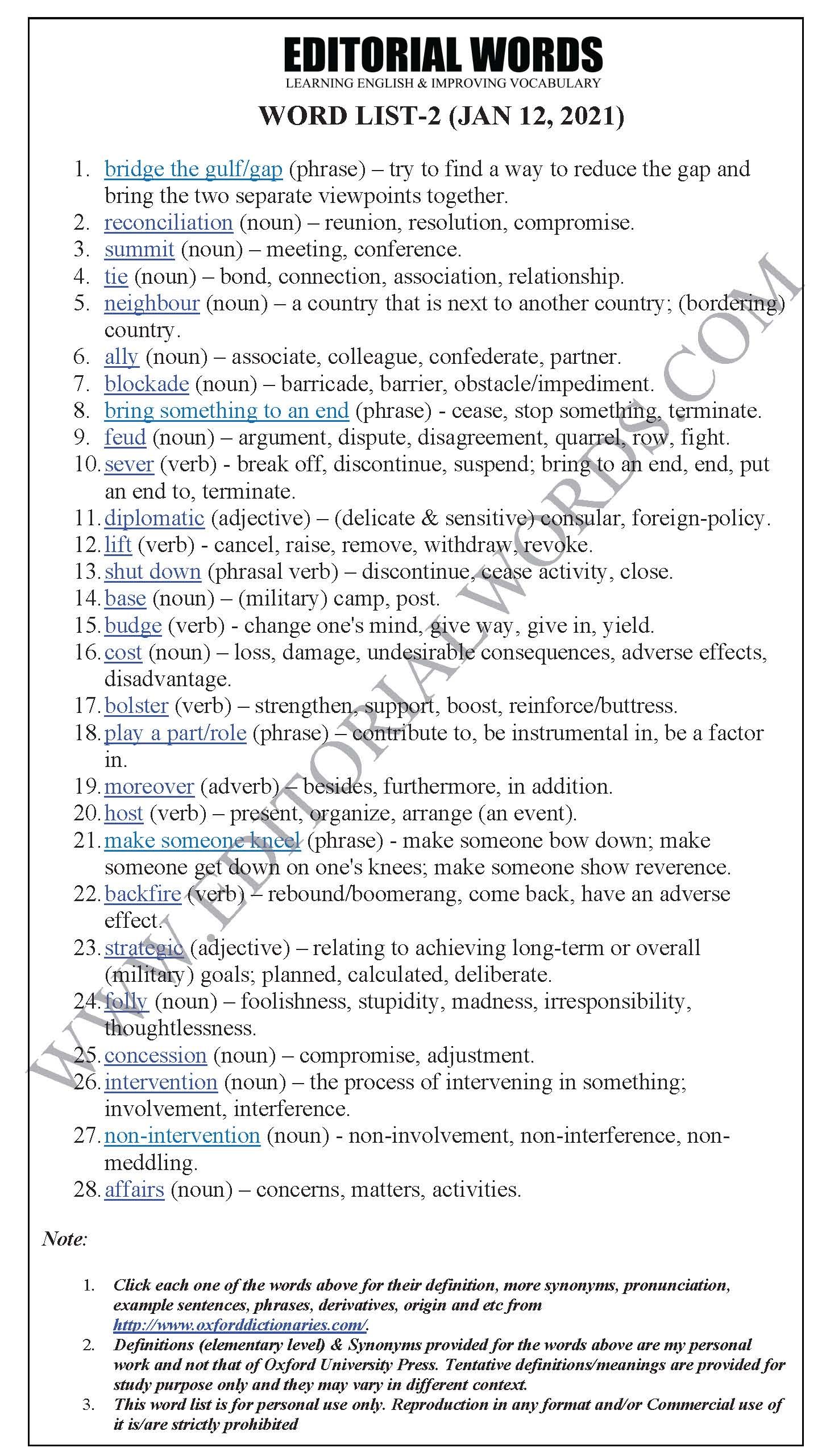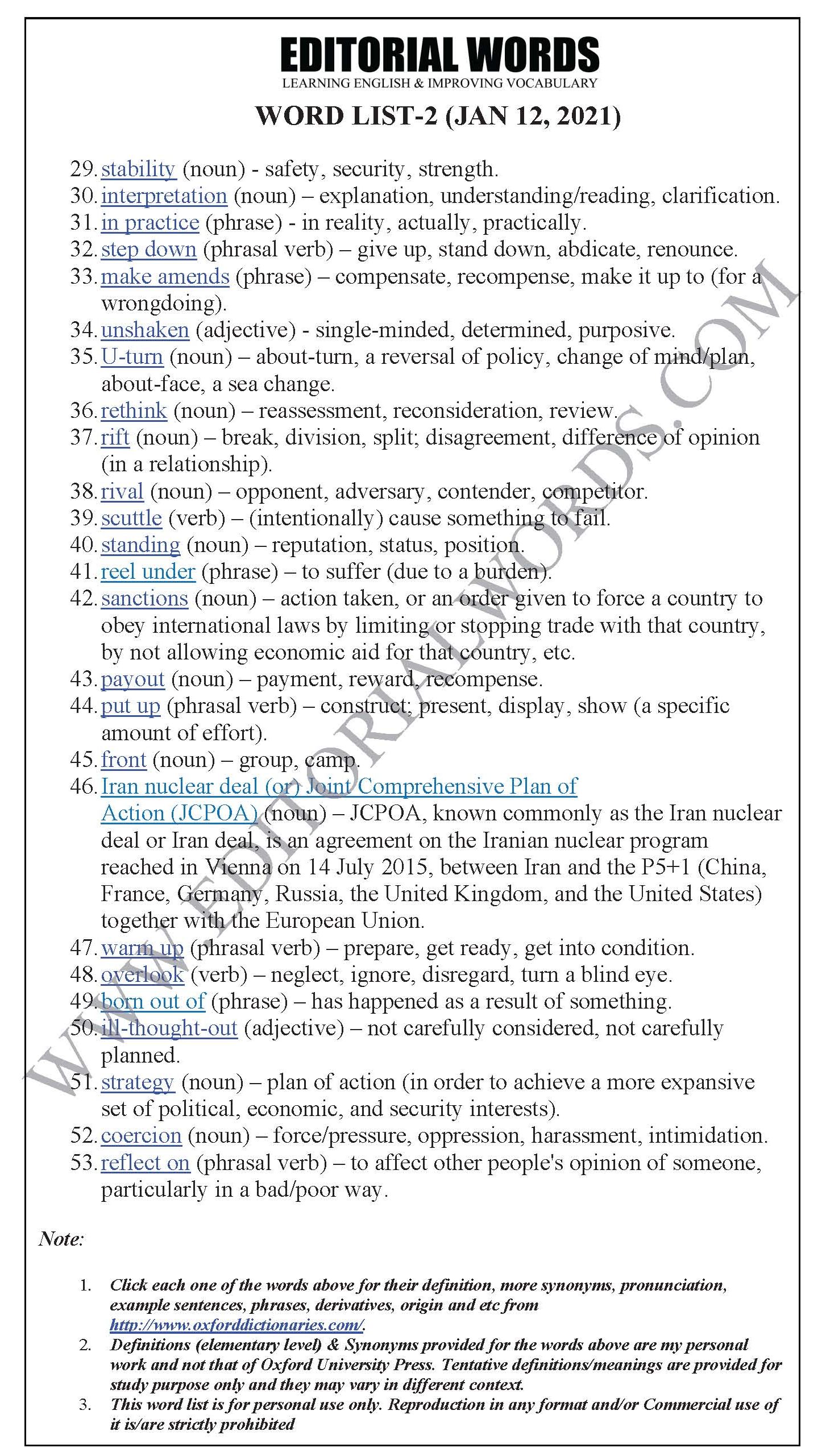 "Phrasal Verbs" We Learnt Last Week 
"Idioms & Phrases" We Learnt Last Week
"Important Definitions" We Learnt Last Week
Recent Word Lists For The Hindu Editorial Articles
Recent Advanced Word Lists For The Hindu Lead Articles