The Hindu Editorial (Birds hit) – Feb 19, 2020
Birds are under increasing pressure from human activity, struggling to survive as habitat loss, pesticides,… For further reading, visit "The Hindu". Below is today's word list-2 for The Hindu Editorial (Birds hit) – Feb 19, 2020.
To read this article, click here.
This preview is provided here with permission.
Courtesy: The Hindu
Today's word list-2 for The Hindu Editorial (Birds hit) – Feb 19, 2020:
bird diversity

(noun) – avian (bird community) diversity; it is defined as the number of species (richness) and the number of birds (abundance) for each census event plotted against time.
ecological (adjective) – relating to the branch of biology which studies the interactions among organisms and their environment.
habitat (noun) – preferred surroundings; natural environment.
thriving (adjective) – growing, developing, progressing.
endemic (adjective) – native, local, domestic (animal/plant).
decimate (verb) – destroy/kill, remove, eliminate.
point out (phrasal verb) – identify, recognize, draw attention to, mention.
influential (adjective) – powerful

, authoritative, strong.

ornithology (noun) – a branch of zoology dealing with the study of birds.
synthesis (noun) – combination

, union, amalgam, mixture.

alarming (adjective) – worrying, disturbing, shocking/distressing.
species (noun) – a group/breed/family of living organisms (animals & plants) with the individual having the same quality & can breed.
inadequacy (noun) – insufficiency, deficiency, shortage.
peril (noun) – danger

, jeopardy, risk/difficulty.

remarkably (adverb) – strikingly, exceptionally, incredibly.
robust (adjective) – strong, powerful, well-made, long-lasting/durable.
heartening (adjective) – encouraging, promising, hopeful.
sparrows (noun) – the small, seed-eating birds that have brown, grey, white and black colored plumage (a bird's feathers collectively). They often make their nests on buildings, roofs, and houses.
bleak (adjective) – unpromising, unfavourable, dismal, disheartening.
prospects (noun) – chances, potential, future.

abundance index

(noun) – a relative measure of the size of a population; the relative representation of a species in a particular ecosystem.
fortunes (noun) – circumstances, conditions, situations; fate/destiny.
winter away (verb) – (of birds) migrate to a warmer country during winter.
conservation (noun) – preservation, protection.
convention (noun) – agreement

, accord, protocol.

resolute (adjective) – determined, firm, resolved.
confer (verb) – grant, bestow, present/give.
myriad (adjective) – a great number, countless, infinite, various.
tap into (verb) – exploit, make use of, draw on.
revive (verb) – bring back, reintroduce, restore.

Great Indian Bustard

(noun) – large bird of the bustard (a large, heavily built, swift-running bird) family; one of the heaviest flying birds in the world. The great Indian bustard inhabits dry grasslands and scrublands on the Indian subcontinent.
precariously (adverb) – insecurely, unsafely, dangerously, uncertainly.
courser (noun) – birds with long legs, which are used to run (giving the group its name).

(Bengal) Florican

 (noun) – it is also called Bengal bustard. It is a large grassland bird.

Green Munia

(noun) – green avadavat or green munia is a family of small birds with green and yellow on the body, a bright red bill (the beak of a bird), and black "zebra stripes" on the wings.
trap (verb) – get stuck

, catch, get caught (in a trap).
Note:  
 1. Click each one of the words above for their definition, more synonyms, pronunciation, example sentences, phrases, derivatives, origin and etc from http://www.oxforddictionaries.com/.
2. Definitions (elementary level) & Synonyms provided for the words above are my personal work and not that of Oxford University Press. Tentative definitions/meanings are provided for study purpose only and they may vary in different context. 
3. This word list is for personal use only. Reproduction in any format and/or Commercial use of it is/are strictly prohibited.
Today's word list-2 The Hindu Editorial (Birds hit) – Feb 19, 2020
: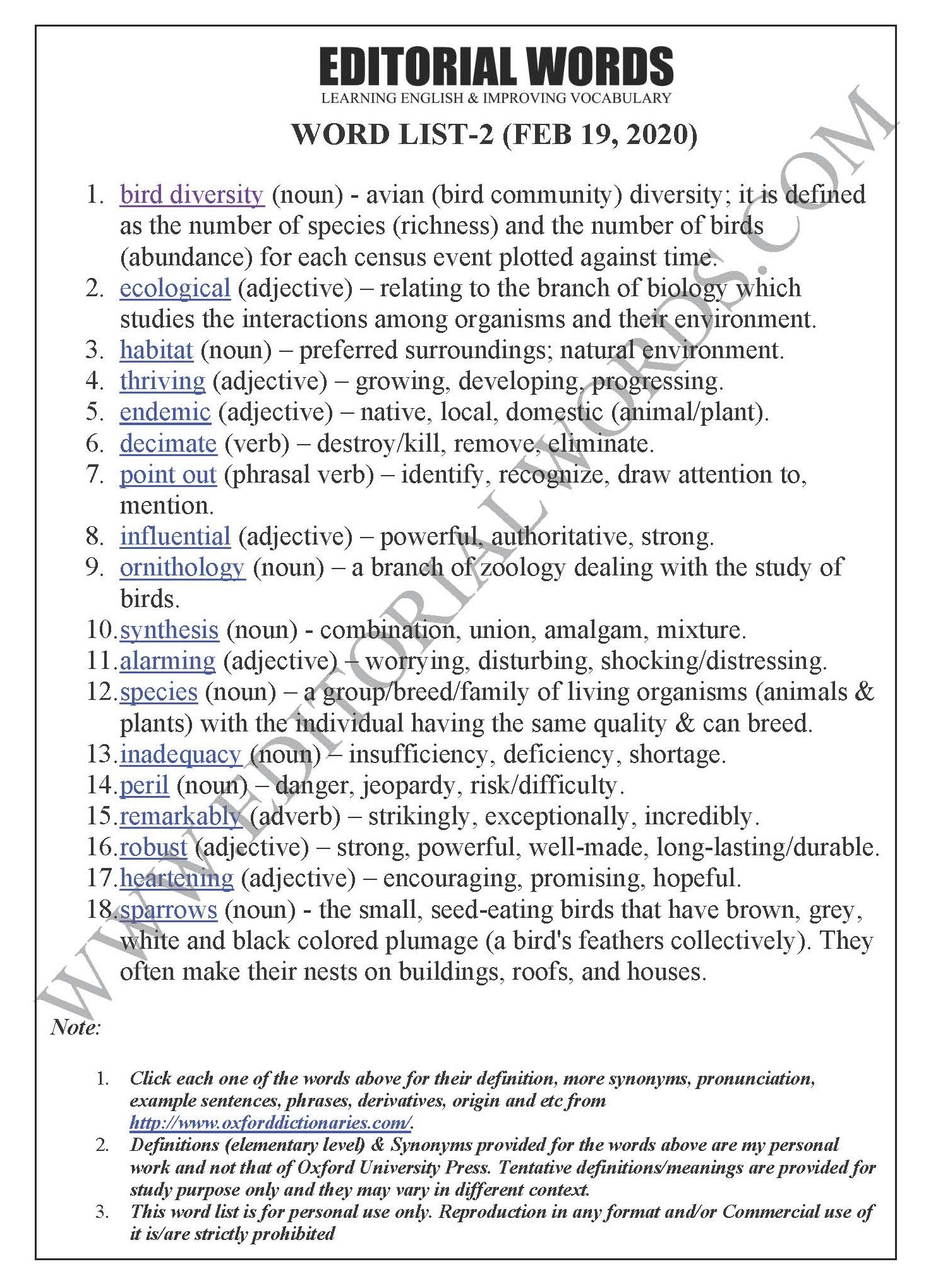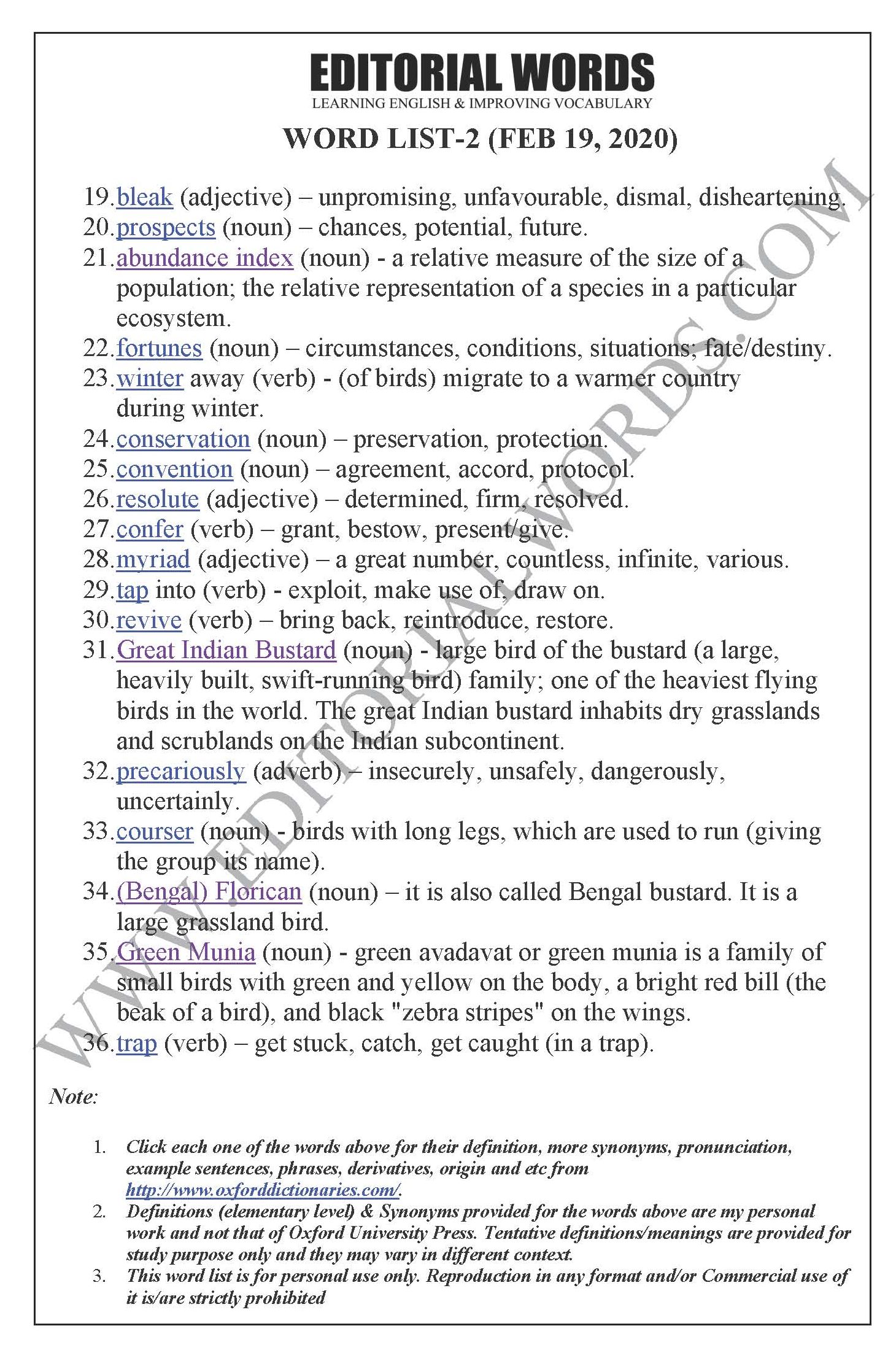 "Phrasal Verbs" We Learnt Last Week
"Idioms & Phrases" We Learnt Last Week
"Important Definitions" We Learnt Last Wek
Recent Word Lists For The Hindu Editorial Articles
Recent Advanced Word Lists For The Hindu Lead Articles