The Hindu Editorial (Arts and awards) – Mar 25, 2021
The announcement of the 67th National Film Awards on Monday, to recognise films certified in 2019, quite predictably drew its share of controversies. While some attributed a few of the awards… For further reading, visit "The Hindu". Below is today's word list-2 for The Hindu Editorial (Arts and awards) – Mar 25, 2021.
To read this article, click here.
This preview is provided here with permission.
Courtesy: The Hindu
The Hindu Editorial (Arts and awards) – Mar 25
, 2021:
narrate (verb) – tell

, portray, describe.

recognise (verb) – reward, applaud, acclaim, honour officially.
quite (adverb as submodifier) – to a certain extent; fairly, reasonably.
draw (verb) – be the cause of some (controversial) reaction.
attribute (verb) – ascribe, assign, connect/associate with.
alignment (noun) – alliance

, partnership, affiliation.

deserving (adjective) – worthy/praiseworthy, meritorious, creditable, commendable, admirable.
overlook (verb) – neglect, ignore, disregard, turn a blind eye.

there was no disputing the fact that

(phrase) – there is no doubt that it is correct or true.
acknowledge (verb) – show appreciation for, express gratitude for, recognise

, honour, praise.

well known (adjective) – familiar, popular, notable/prominent.
pocket (noun) – area, region.
recognition (noun) – reward, honour, acknowledgement, appreciation

, gratitude, 

commendation, acclaim.
clutch (noun) – quantity, group, collection (of things).
thanks to (phrase) – as a result of

, owing to, due to, because of.

(the) blurring (noun) – reduction, decrease, diminishing, unfocusing.
for instance (phrase) – as an example.
stand (verb) – be at a specific situation/stage.
pan- (combining form) – all inclusive of, all, of everything.
appreciate (verb) – admire, rate highly; acknowledge

, recognize.

smudge (verb) – make something indistinct,

 blur, unfocus.

art house (noun) – a film genre which encompasses films where the content and style – often artistic or experimental – adhere with as little compromise as possible to the filmmakers' personal artistic vision. The narrative (story portrayal) is often in the social realism style with a focus on the characters' contemplation of their existence or immediate concerns.

mainstream cinema

(noun) – popular cinema, commercial cinema (that costs much to make and is created for profit).
mainstream (noun) – something (certain beliefs/ideas/activities) which are accepted or recognized by most people as normal or typical.
laud (verb) – praise, hail, applaud, acclaim.
internalised (adjective) – making something (attitude/behaviour/character) as internal/natural.
magnum opus (noun) – Latin meaning, "great work"; masterpiece (of something cinema, music, art, or literature).
bag (verb) – get, secure, obtain, acquire.

fiercest

 superlative adjective of fierce (adjective) – intense

, powerful, vehement.

noise (noun) – clamour, uproar, tumult, din, commotion.
the spotlight (noun) – the public attention, the focus of public/media; the public eye.

Monpa

(noun) – a major tribe of Arunachal Pradesh in northeastern India.
conservation (noun) – preservation

, protection, safeguarding.

a place in the sun (phrase) – a good, successful, advantageous or favourable position.
consume (verb) – use

, use up, absorb, take up, occupy.

perhaps (adverb) – maybe

, 

possibly.
brush aside (phrasal verb) – dismiss, disregard, ignore.
high-pitched (adjective) – high/sharp, acute, penetrating, piercing.
imperative (adjective) – vitally important

, crucial, critical, 

necessary, essential.

feature film

 (noun) – a full-length film that's long enough (40 minutes (it varies) or more).

non-feature film

 (noun) – documentary/short film.
rely on (phrasal verb) – depend on; resort to, have recourse to.
muscle (noun) – (figuratively) influence

, power, strength, might.

framework (noun) – structure, system, organization.
limelight (noun) – the focus of attention, public attention, public notice.
incentive (noun) – stimulus, impetus, boost.
strive (verb) – try, attempt, make every effort.
Note:
 1. Click each one of the words above for their definition, more synonyms, pronunciation, example sentences, phrases, derivatives, origin and etc from http://www.oxforddictionaries.com/.
2. Definitions (elementary level) & Synonyms provided for the words above are my personal work and not that of Oxford University Press. Tentative definitions/meanings are provided for study purpose only and they may vary in different context. 
3. This word list is for personal use only. Reproduction in any format and/or Commercial use of it is/are strictly prohibited.
The Hindu Editorial (Arts and awards) – Mar 25, 2021: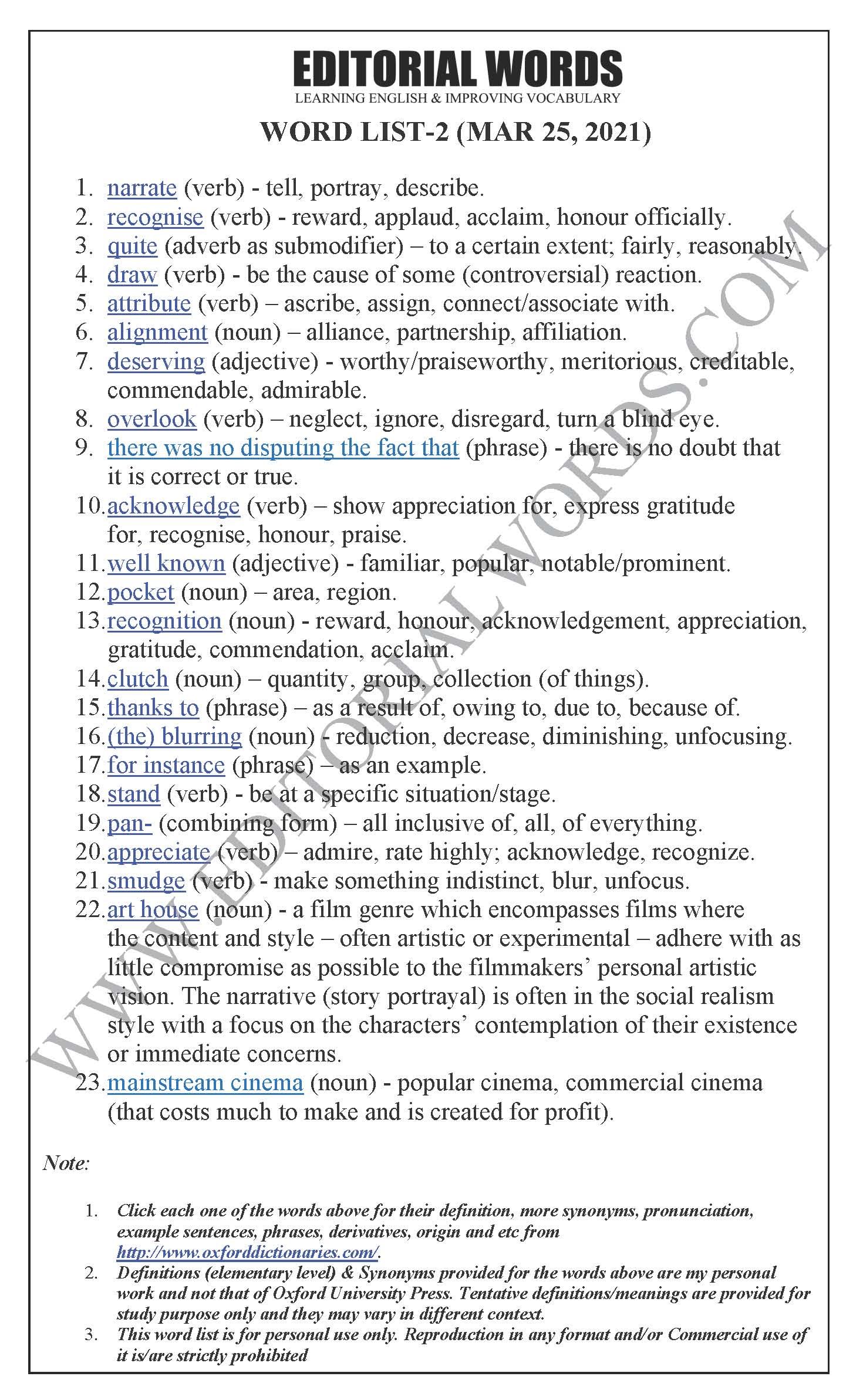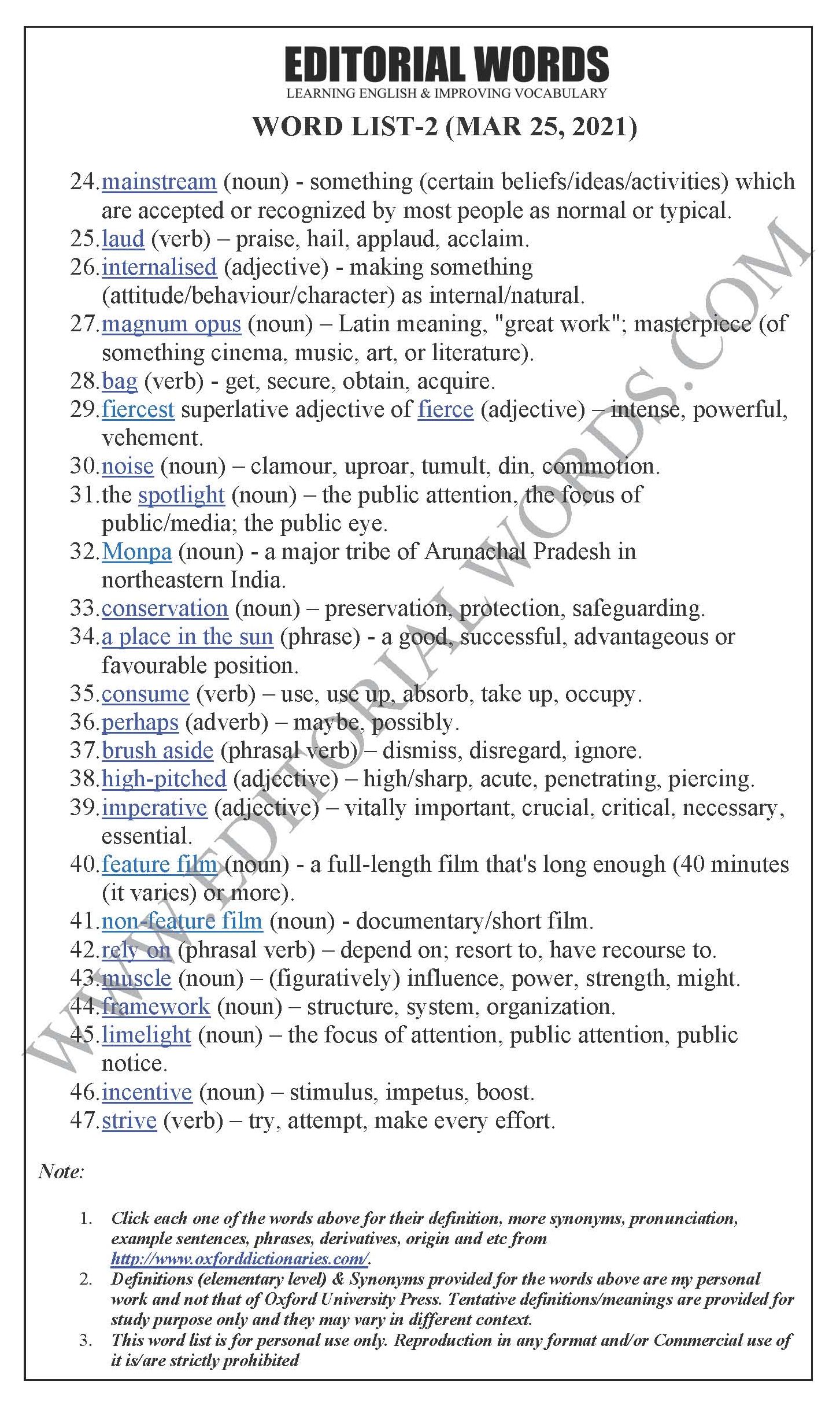 "Phrasal Verbs" We Learnt Last Week 
"Idioms & Phrases" We Learnt Last Week
"Important Definitions" We Learnt Last Week
Recent Word Lists For The Hindu Editorial Articles
Recent Advanced Word Lists For The Hindu Lead Articles