The Hindu Editorial (A welcome spike) – Jun 23, 2021
India began the week with a record, by administering over 8.6 million doses of vaccine on a single day, an impressive feat even from a global perspective. For further reading, visit "The Hindu". Below is today's word list-1 for The Hindu Editorial (A welcome spike) – Jun 23, 2021.
To read this article, click here.
This preview is provided here with permission.
Courtesy: The Hindu
The Hindu Editorial (A welcome spike) – Jun 23, 2021:
spike (noun) – a sharp rise/increase of something.
vaccination (noun) – treatment with a vaccine to protect against a particular disease; immunization.
variant (noun) – different or form or version or mutant of something (virus).
speedy (adjective) – rapid

, swift, quick, fast.

inoculation (noun) – vaccination, injection, immunization; jab, shot.
administer (verb) – dispense, provide, give, apply (a drug/vaccine).
dose (noun) – an amount/quantity of something.
vaccine (noun) – a biological preparation that improves immunity to a particular disease.
feat (noun) – achievement

, accomplishment, attainment.

perspective (noun) – view, prospect, aspect.
substantial (adjective) – considerable, significant, large.
given (preposition) – considering

, taking into account, bearing in mind

.

discernible (adjective) – visible

, noticeable, identifiable.

in terms of (phrase) – with regard to, regarding/concerning, in connection with.
hospitalisation (noun) – the act of taking (or) admitting someone to (or) in hospital for treatment.
mortality (noun) – (in a particular time/for a cause) the rate/number of death.
inoculate (verb) – to inject/introduce a vaccine into the body of someone to produce immunity to a particular disease; immunize

, vaccinate.

metric (noun) – standard, criterion, barometer, benchmark.
laggard (noun) – slower, sluggish/stagnant, snail-paced.
in comparison (phrase) – when compared, comparatively

, by comparison, proportionately.

in that light

(phrase) – considering that, taking into account that, in view of that.
plausible (adjective) – probable, possible; believable, conceivable.
aspiration (noun) – aim, ambition, goal, target, objective.
so far (phrase) – until now, up to the present, up to this point.
jab (noun) – vaccination, injection

, inoculation, immunization.

sustainable (adjective) – reasonable, sensible, well-founded; reliable, acceptable.
substantially (adverb) – considerably

, significantly, largely.

stand out (phrasal verb) – be noticeable

, be obvious, be conspicuous, be striking, be distinctive, be prominent.

quadruple (adjective) – increase by four (times).  
hover (verb) – remain at a level.
triple (verb) – increase by three (times).
fivefold (adjective) – five times (the number of).
drive (noun) – campaign

, movement, effort, push.

CoWIN

 (noun) – a digital platform (app) developed by Union Health Ministry, India to help monitor the entire COVID-19 vaccination process in India.
boost (noun) – increase

, upsurge, rise, improvement.

primarily (adverb) – largely, mainly, mostly.
rest on (phrasal verb) – be based on

, depend on, be dependent on, rely on.

rest on someone's shoulders

(phrase) – be the sole responsibility of.

Oxford vaccine/Covishield

 (noun) – (ChAdOx1 nCoV-19) or (AZD1222) is a COVID-19 vaccine candidate developed by Oxford University and AstraZeneca, UK Ltd. (named Covishield in India). Serum Institute of India (SII), a biotechnology company has partnered with global pharma giant AstraZeneca and Oxford University for this vaccine candidate 'Covidshield'.

Covaxin

 (noun) – India's first indigenous COVID-19 vaccine candidate (COVAXIN) developed by a Hyderabad-based company (Bharat Biotech) in collaboration with the ICMR (The Indian Council of Medical Research).
ought to (modal verb) – must, should.
prompt (verb) – cause, make, urge, encourage.
vaccinate (verb) – inoculate, administer, introduce (with a vaccine to provide immunity against a disease).

delta variant/B.1.617.2

 (noun) – a variant of the coronavirus, first identified in India, is renamed as the 'Delta variant' by the World Health Organization (WHO) and this variant is reclassified as Variant of Concern (VOC). The B.1.617.1 strain has been reclassified to a Variant of Interest (VOI) and labelled variant "Kappa".

driving force

(noun) – impetus, momentum, motive force thrust.
Note:
 1. Click each one of the words above for their definition, more synonyms, pronunciation, example sentences, phrases, derivatives, origin and etc from http://www.oxforddictionaries.com/.
2. Definitions (elementary level) & Synonyms provided for the words above are my personal work and not that of Oxford University Press. Tentative definitions/meanings are provided for study purpose only and they may vary in a different context. 
3. This word list is for personal use only. Reproduction in any format and/or Commercial use of it is/are strictly prohibited.
The Hindu Editorial (A welcome spike) – Jun 23, 2021: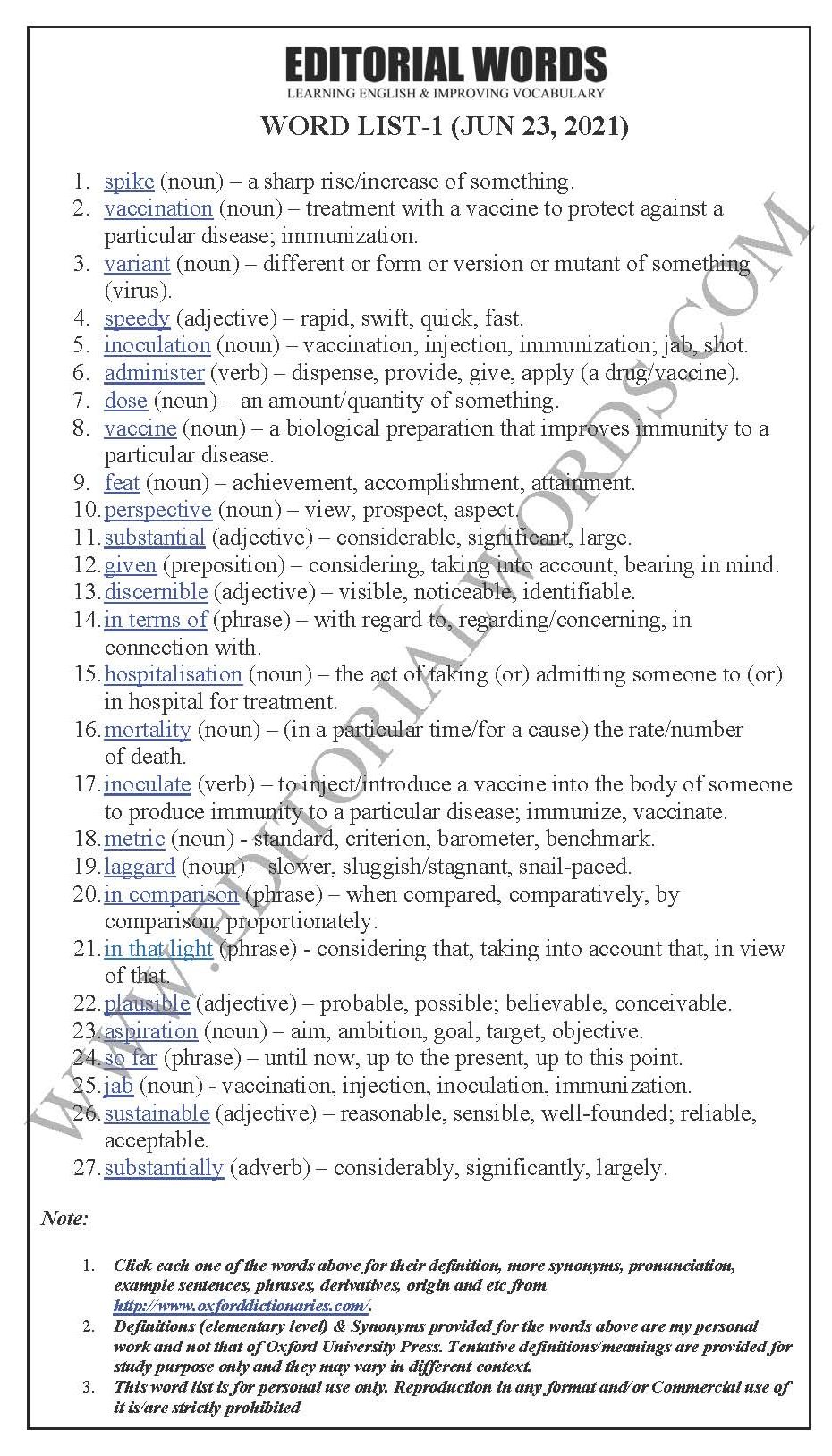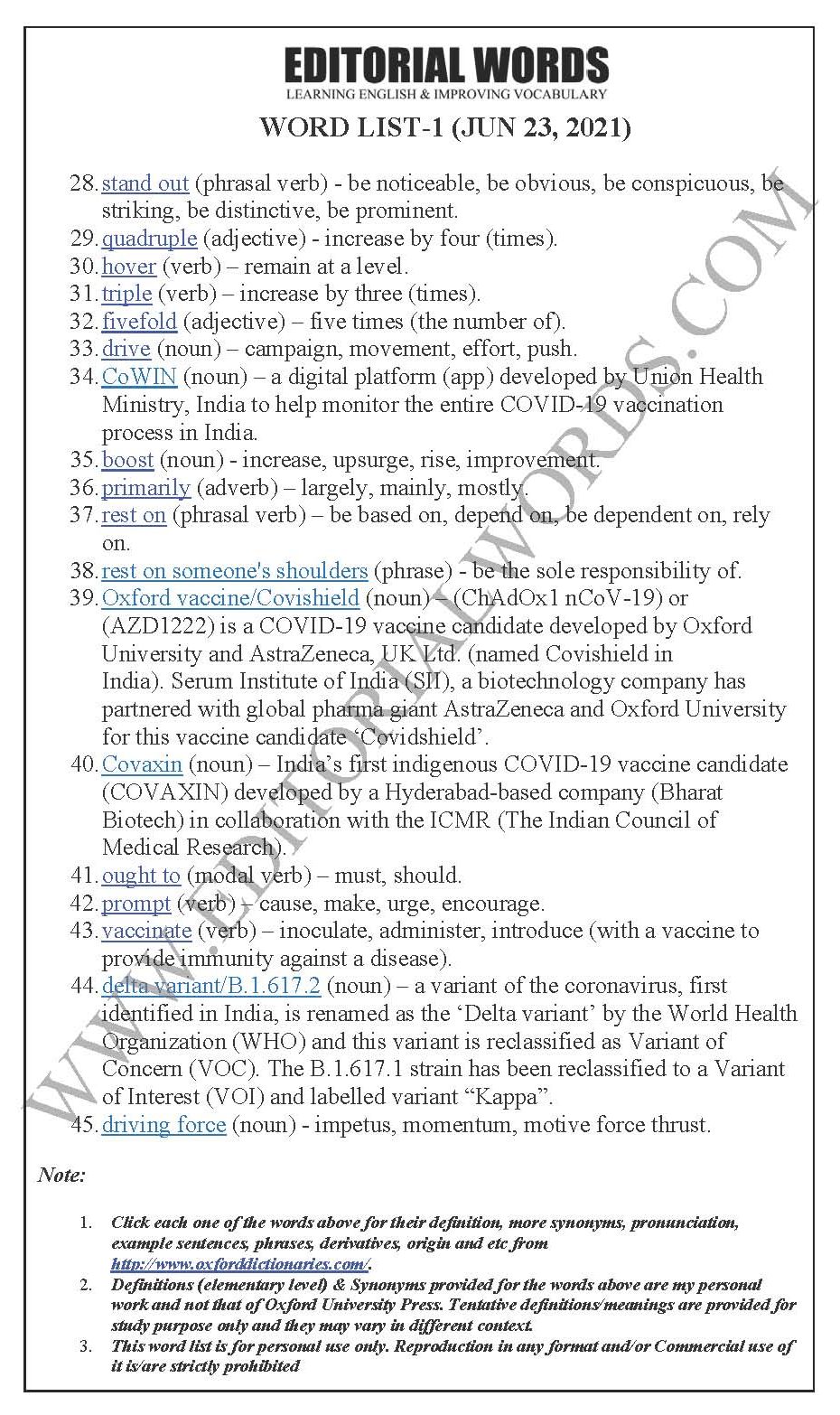 "Phrasal Verbs" We Learnt Last Week
"Idioms & Phrases" We Learnt Last Week
"Important Definitions" We Learnt Last Week
Recent Word Lists For The Hindu Editorial Articles
Recent Advanced Word Lists For The Hindu Lead Articles