The Hindu Editorial (A necessary reversion) – Jun 09, 2021
The Centre has announced a much-needed course correction in India's vaccination policy with Prime Minister Narendra Modi taking the podium… For further reading, visit "The Hindu". Below is today's word list-1 for The Hindu Editorial (A necessary reversion) – Jun 09, 2021.
To read this article, click here.
This preview is provided here with permission.
Courtesy: The Hindu
The Hindu Editorial (A necessary reversion) – Jun 09, 2021:
reversion (noun) – return (to a previous condition/method).

go back

 (phrasal verb) – return to.
centralised (adjective) – controlled by a single authority.
procurement (noun) – the action of procuring/purchasing something.
vaccine (noun) – a biological preparation that improves immunity to a particular disease.
pandemic (noun) – the worldwide spread of a new disease; The illness spreads around the world and typically affects a large number of people across a wide area.
much-needed (adjective) – needed to a large extent.

course correction

 (noun) – modifying, improving, rectifying (the plan of action).
vaccination (noun) – treatment with a vaccine to protect against a particular disease; immunization.

take the podium

(phrase) – (to get up &) speak to an audience.
procure (verb) – buy, purchase.
on one's own (phrase) – alone, all alone, by oneself, all by oneself, independently, single-handedly.
irrational (adjective) – unreasonable

, illogical, groundless, baseless, unjustifiable.

arbitrary (adjective) – unmotivated, unreasonable, unsupported, irrational, illogical, groundless, unjustifiable, wanton.
salutary (adjective) – good, helpful/useful, beneficial, practical, valuable.
no longer (phrase) – not anymore.
shot (noun) – injection

, inoculation (of a vaccine/drug). 

cap (verb) – set a limit on

, put a ceiling on, limit, restrict

.

ceiling (noun) – upper limit

, maximum, highest permissible level/price.

predictability (noun) – certainty, foregone conclusion, predictable result.

Covaxin

 (noun) – India's first indigenous COVID-19 vaccine candidate (COVAXIN) developed by a Hyderabad-based company (Bharat Biotech) in collaboration with the ICMR (The Indian Council of Medical Research).

Oxford vaccine/Covishield

 (noun) – (ChAdOx1 nCoV-19) or (AZD1222) is a COVID-19 vaccine candidate developed by Oxford University and AstraZeneca, UK Ltd. (named Covishield in India). Serum Institute of India (SII), a biotechnology company has partnered with global pharma giant AstraZeneca and Oxford University for this vaccine candidate 'Covidshield'.
desperately (adverb) – seriously, severely, urgently, pressingly, intensely.
short of (phrase) – less than.
right (adverb) – exactly, precisely, just.

in the middle of

(phrase) – during; in the (difficult) situation.
undertake (verb) – begin, start; engage in

, become involved in

.
devolve (verb) – transfer, delegate, assign, pass on, hand over.
purview (noun) – range, scope, ambit, compass.
stands to reason (phrase) – it is obvious, it is logical, it is sensible, it is understandable.
invariably (adverb) – always

, every time, each time.

throw up (phrasal verb) – produce something.

vaccine hesitancy

 (noun) – a reluctance or refusal to be vaccinated or to have one's children vaccinated; reluctance or refusal to vaccinate despite the availability of vaccines.
personnel (noun) – force, staff, employees, workforce.
face with (verb) – deal with, tackle, confront, experience (a difficult situation).
autonomy (noun) – self-determination

, f

reedom.
administer (verb) – dispense, provide, give, apply (a drug/vaccine).
spat (noun) – quarrel, scuffle, tussle, fight, clash, skirmish.
substantial (adjective) – considerable, significant, large.
vaccinate (verb) – inoculate, administer, introduce (with a vaccine to provide immunity against a disease).
dose (noun) – an amount

/quantity of something (e.g. vaccine).

foreseeable (adjective) – unsurprising, predictable, expected, anticipated reasonably.
sub- (prefix) – under. 
stream (noun) – a continuous flow of something.

Corbevax

 (noun) – Corbevax is a 'recombinant protein sub-unit' vaccine, which means it is made up of a specific part of SARS-CoV-2 the spike protein on the virus's surface. This COVID-19 vaccine candidate is developed by Biological-E, an Indian biotechnology and biopharmaceutical company based in Hyderabad, India.
vicinity (noun) – surrounding area, neighbourhood.
roll-out (noun) – official launch/introduction.
precede (verb) – come/go before, go in advance of, lead up to.
truculent (adjective) – defiant

, contentious, argumentative, combative, aggressive, confrontational.

defence (noun) – protection, shielding, safeguarding.
actor (noun) – participants (in an action).
shortcoming (noun) – fault, flaw, imperfection/defect.
meandering (noun) – zigzag route.

wiser

 comparative adjective of wise (adjective) – well advised

, well thought out, well judged, rational, logical.

spirit (noun) – real/

true meaning, attitude, intention, essense; motivating force.

adopt (verb) – choose, opt for, embrace, take up.
Note:
 1. Click each one of the words above for their definition, more synonyms, pronunciation, example sentences, phrases, derivatives, origin and etc from http://www.oxforddictionaries.com/.
2. Definitions (elementary level) & Synonyms provided for the words above are my personal work and not that of Oxford University Press. Tentative definitions/meanings are provided for study purpose only and they may vary in a different context. 
3. This word list is for personal use only. Reproduction in any format and/or Commercial use of it is/are strictly prohibited.
The Hindu Editorial (A necessary reversion) – Jun 09, 2021: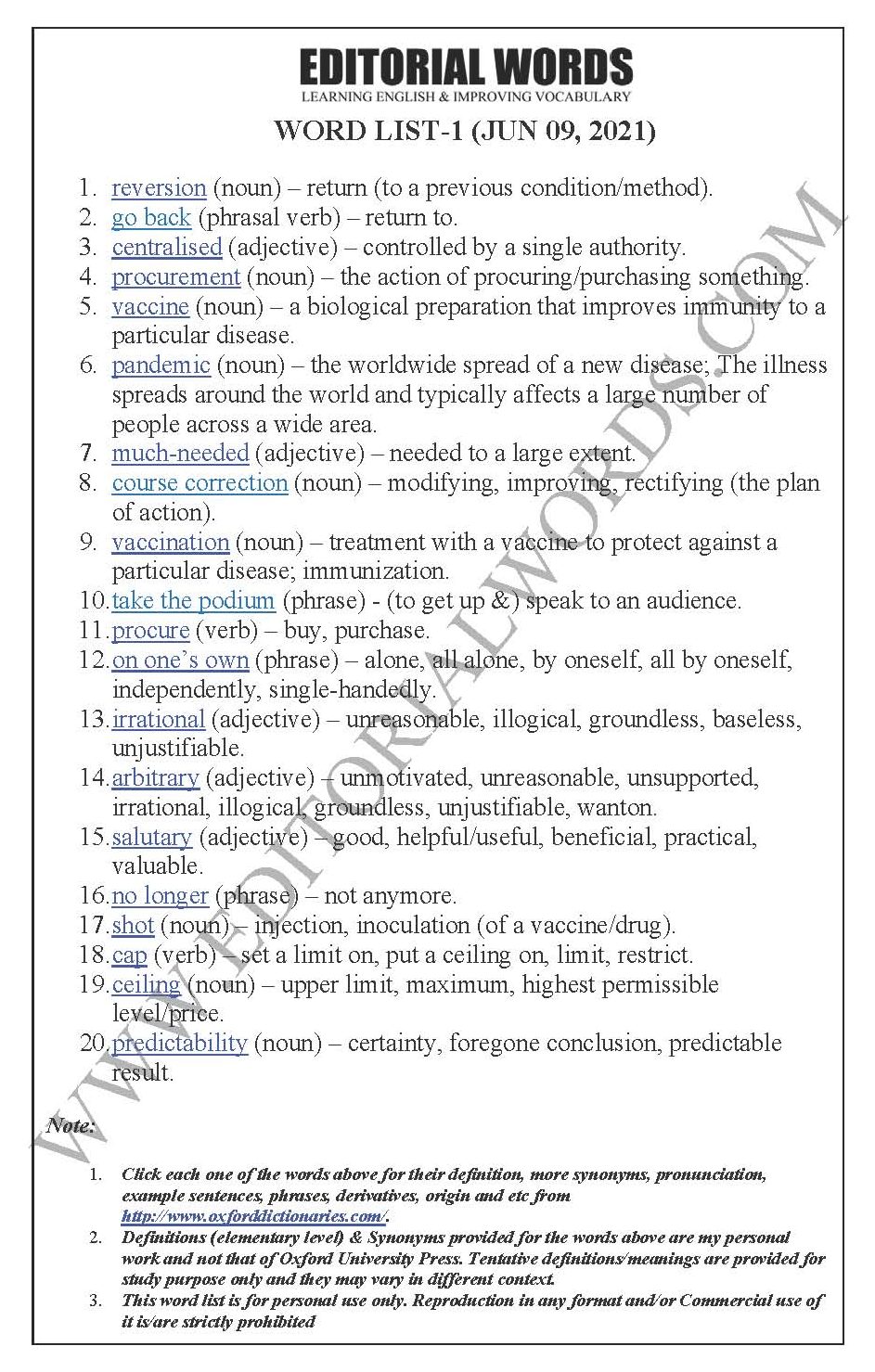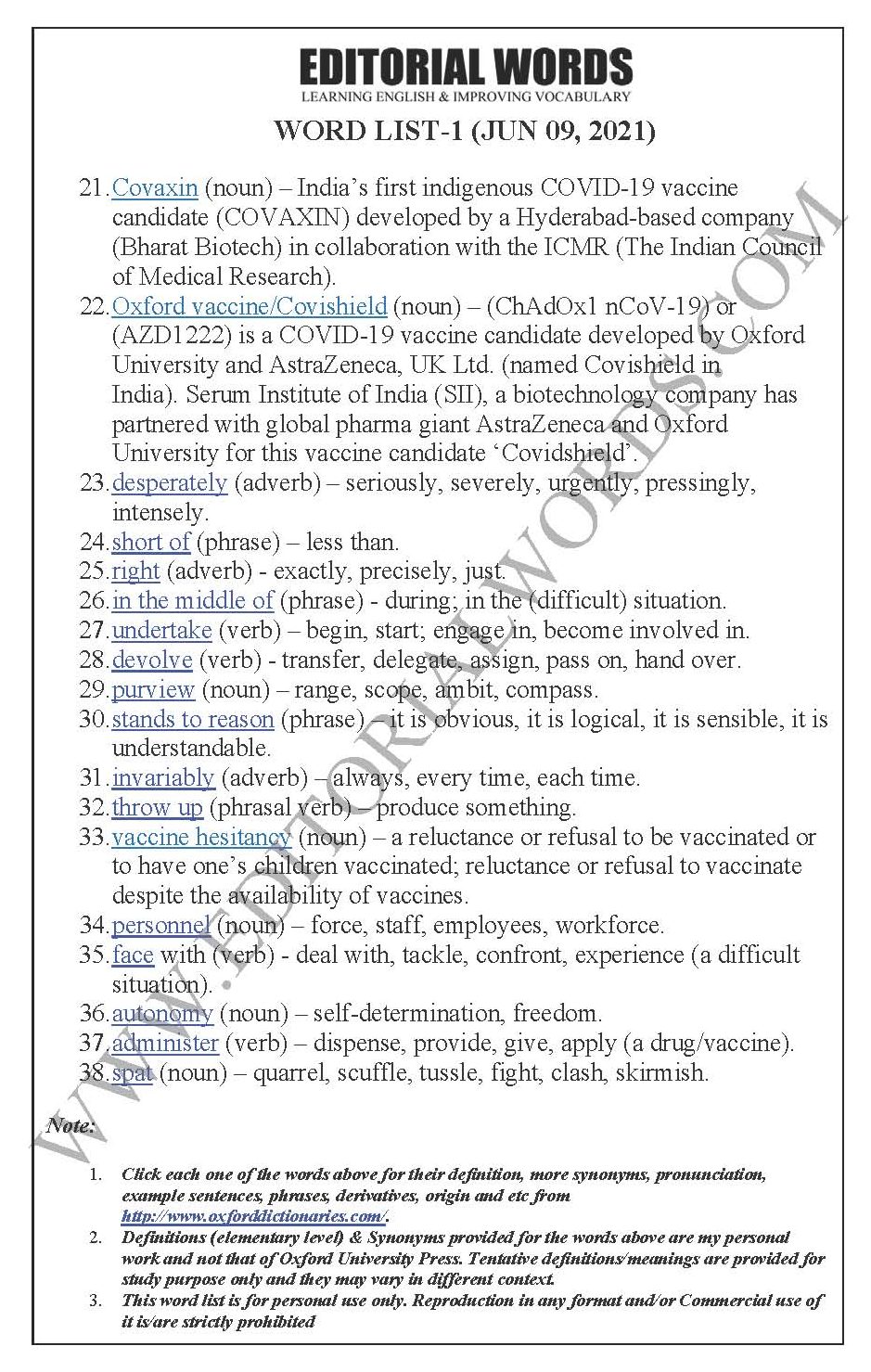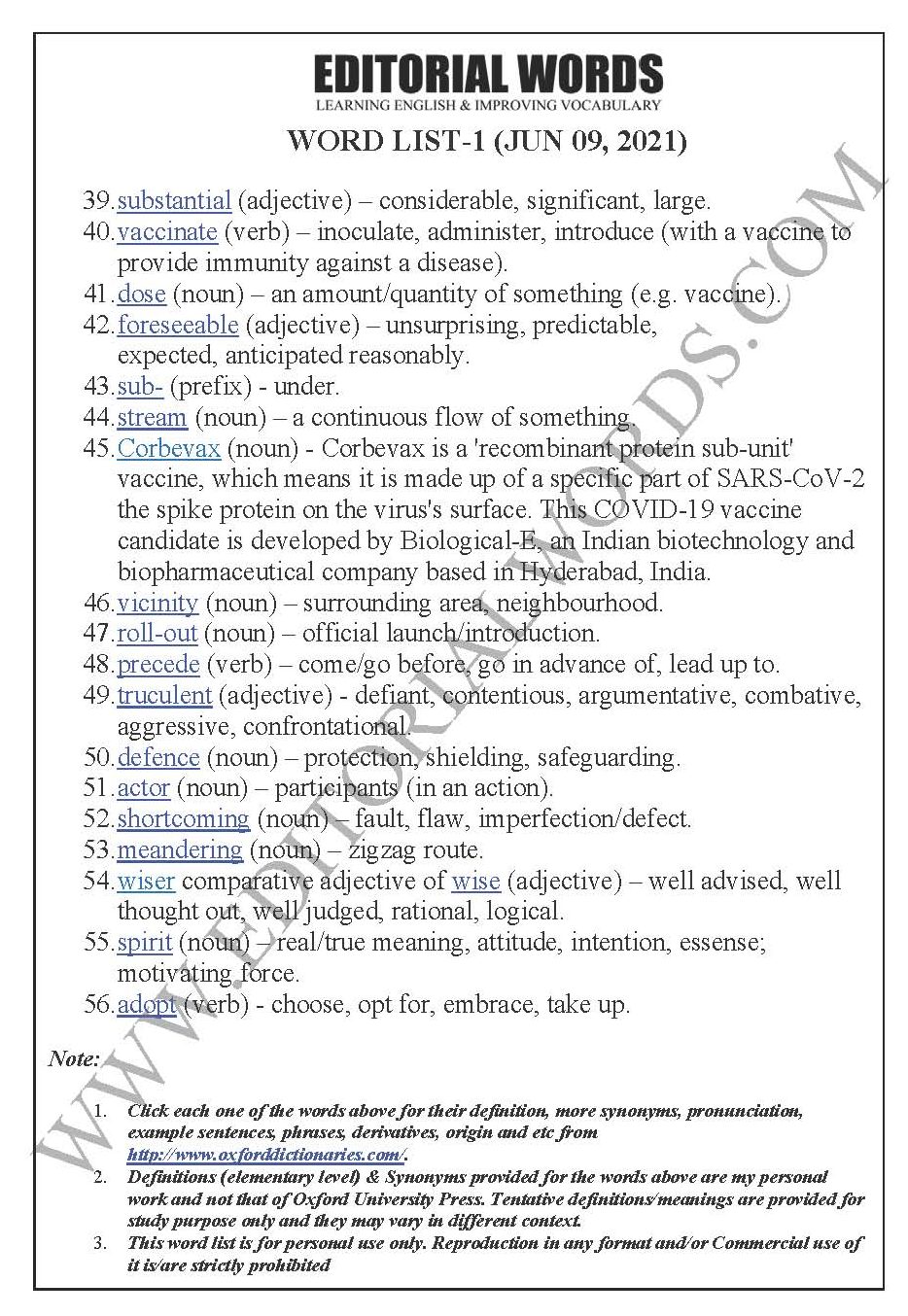 "Phrasal Verbs" We Learnt Last Week
"Idioms & Phrases" We Learnt Last Week
"Important Definitions" We Learnt Last Week
Recent Word Lists For The Hindu Editorial Articles
Recent Advanced Word Lists For The Hindu Lead Articles