The Hindu Editorial (A league of their own) – Apr 21, 2021
The decision by 12 of Europe's biggest football clubs to unveil a plan to launch The Super League, a multi-billion-dollar tournament to be played largely among a closed group of 20 teams has thrown the European game into turmoil. For further reading, visit "The Hindu". Below is today's word list-2 for The Hindu Editorial (A league of their own) – Apr 21, 2021.
To read this article, click here.
This preview is provided here with permission.
Courtesy: The Hindu
The Hindu Editorial (A league of their own) – Apr 21, 2021:
(in) a league of one's own

(phrase) – It refers to a person who is so good at what he/she does, and so they cannot be compared to others; be much better than the others; be far more superior than others.
accountable (adjective) – responsible

, liable, answerable; under the charge of, obeying, bound by.

look for (phrasal verb) – search for, try to find.
unveil (verb) – present, disclose, make public.
turmoil (noun) – disorder, turbulence, confusion, trouble, chaos.
put on (phrasal verb) – organize

, stage, present, produce (an event)

.

sustainable (adjective) – reasonable, sensible, well-founded.
footing (noun) – foundation, support, basis.
upend (verb) – to affect/damage something completely/drastically.

Union of European Football Associations (UEFA)

(noun) – the governing body of football in Europe.
coincidence (noun) – co-occurrence

, coexistence.

inevitably (adverb) – unavoidably, certainly, definitely.
whereas (conjunction) – in comparison with the fact that.
miss out (phrasal verb) – omit, fail to include someone/something.
stream (noun) – flow.
whopping (adjective) – huge

, massive, very large, substantial.

certainly (adverb) – surely, definitely, unquestionably.
appeal (verb) – be attractive to, be of interest to, tempt.

balance the books

(phrase) – to regulate the finances.
in the wake of (phrase) – as a result of, in the aftermath of, as a consequence of.
for-profit (adjective) – lucrative

, moneymaking, profitable/remunerative.

crux (noun) – essence, most important point, central point.
public-spirited (adjective) – charitable, humanitarian, community-minded.
entity (noun) – organization

, institution, establishment

.
meritocratic (adjective) – relating to the belief that rulers should be chosen for their superior abilities and not because of their wealth or birth.
awash (with) (adjective) – filled, flooded, overflowing, fraught

, swamped, rife.

hedge fund (noun) – a pooled investment fund.
handout (noun) – 

aid, financial support.

oligarchy (noun) – a small group that controls the country & government.
outfit (noun) – team, squad.
scenario (noun) – situation, background, context.
unpredictability (noun) – changeability.
anathema (noun) – strong curse; someone or something that you strongly dislike/hate/oppose; abhorrence, abomination, detestation, aversion, antipathy.
seek (verb) – try to find, attempt.
displease (verb) – annoy

, irritate, infuriate, anger.

keep in the dark (phrase) – unaware of, ignorant of, uninformed about.
desperate (adjective) – urgent

, pressing, compelling, crying

.
turf (noun) – area/

sphere of influence, area of activity, sphere of activity, territory, domain.

bar (verb) – ban, forbid, prevent.
flagship (event) (noun) – the biggest, the best, the most important (event).
bemoan (verb) – express regret/sorrow about, complain about, express discontent.
stop short of (phrase) – balk at, shy away from, recoil from, draw back from. ("balk at" means "be unwilling to, be reluctant to, refuse to (do/accept something, because it is difficult, threatening, unpleasant, etc.").
sanction (noun) – embargo, ban, prohibition.
expel (verb) – throw out, remove, oust.
stern (adjective) – strict

, severe, stringent, tough.

endorsement (noun) – support, backing, approval.
skew (verb) – distort

, misrepresent, change, alter

.

in favour of (phrase) – in support of, to the advantage of, approve of.
sign up (phrasal verb) – engage in, involve in something officially (by enrolling).
rethink (noun) – reconsideration

, re-examination, reassessment, re-evaluation.
Note:
 1. Click each one of the words above for their definition, more synonyms, pronunciation, example sentences, phrases, derivatives, origin and etc from http://www.oxforddictionaries.com/.
2. Definitions (elementary level) & Synonyms provided for the words above are my personal work and not that of Oxford University Press. Tentative definitions/meanings are provided for study purpose only and they may vary in a different context. 
3. This word list is for personal use only. Reproduction in any format and/or Commercial use of it is/are strictly prohibited.
The Hindu Editorial (A league of their own) – Apr 21, 2021: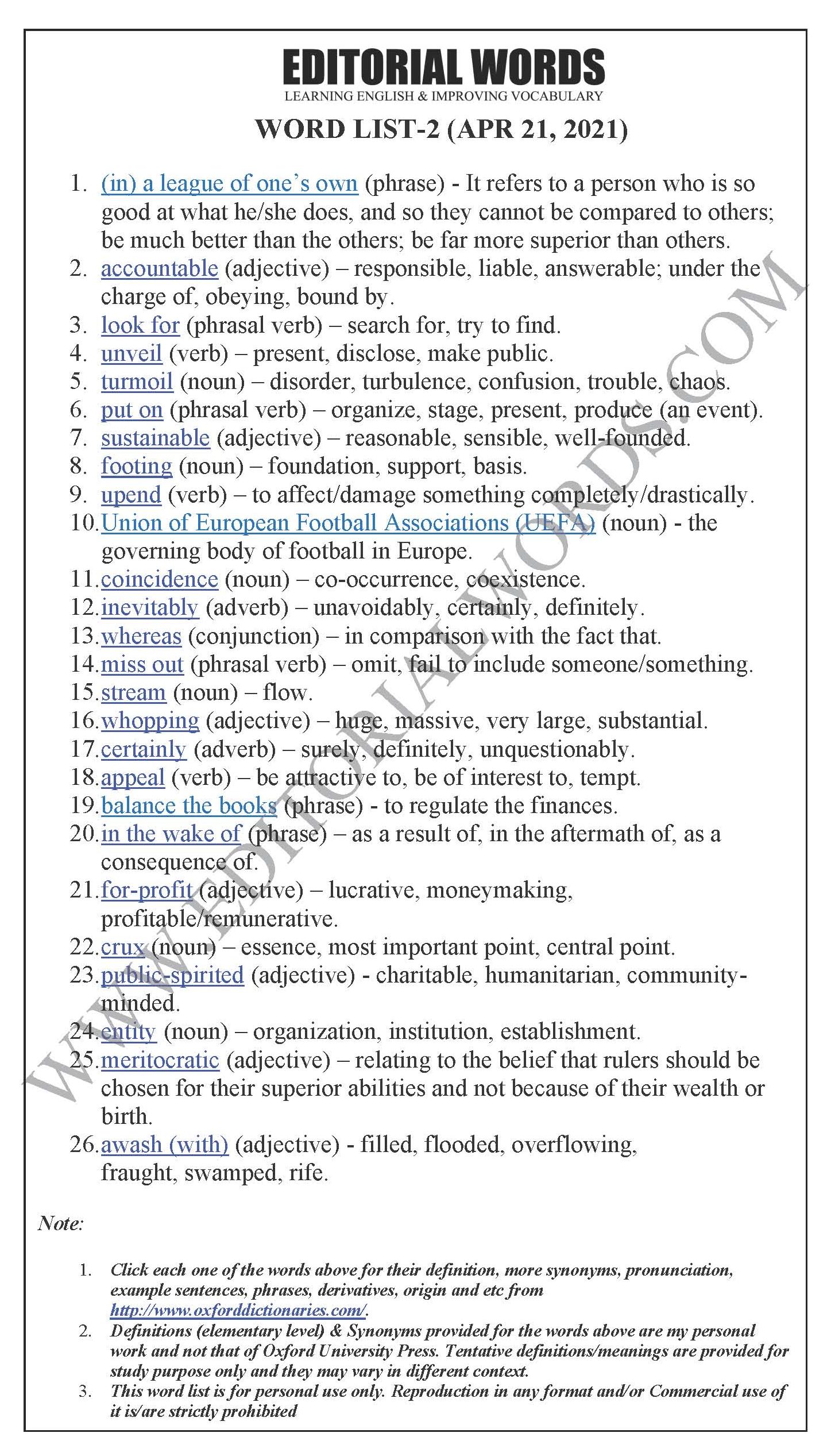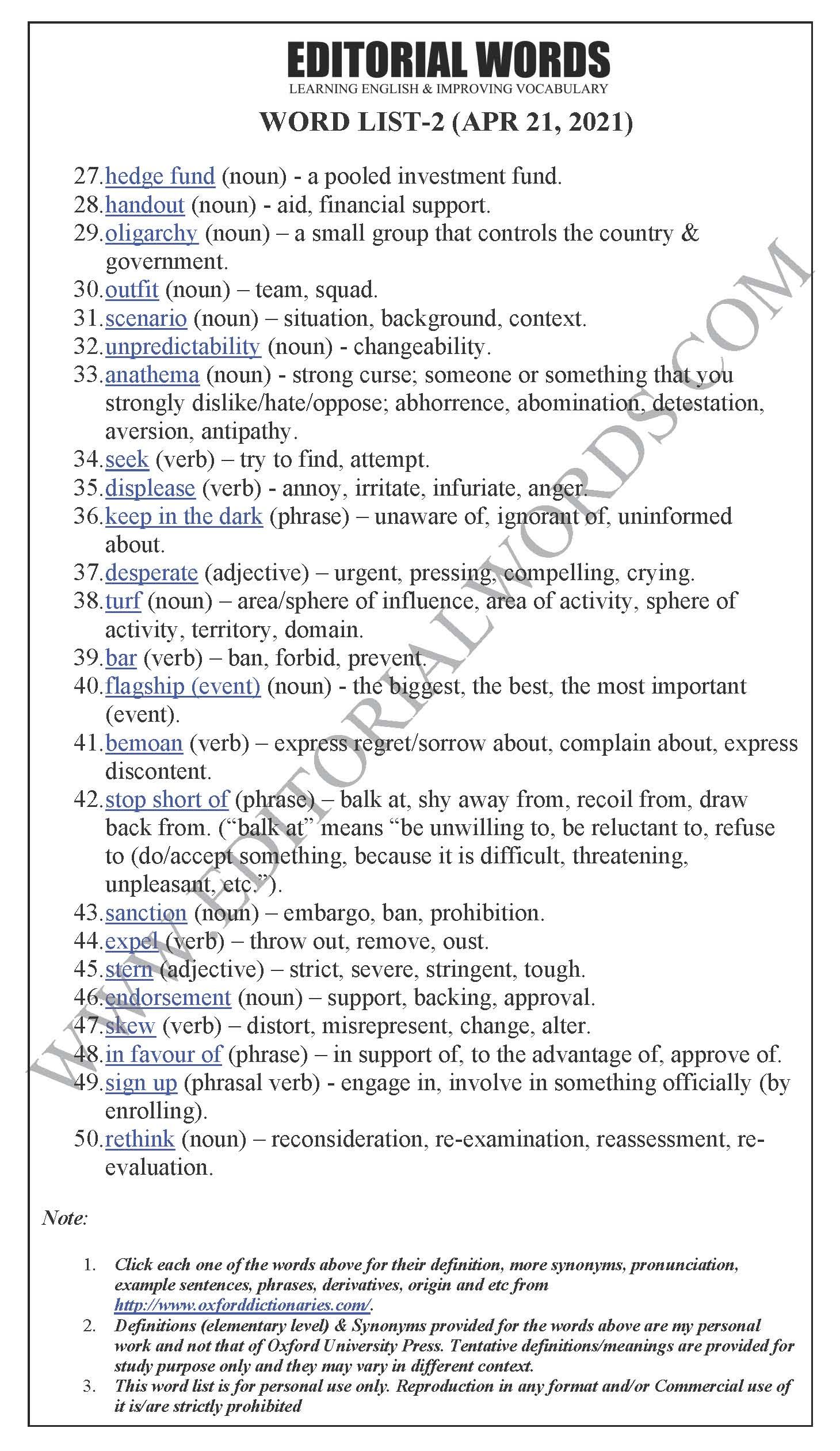 "Phrasal Verbs" We Learnt Last Week 
"Idioms & Phrases" We Learnt Last Week
"Important Definitions" We Learnt Last Week
Recent Word Lists For The Hindu Editorial Articles
Recent Advanced Word Lists For The Hindu Lead Articles