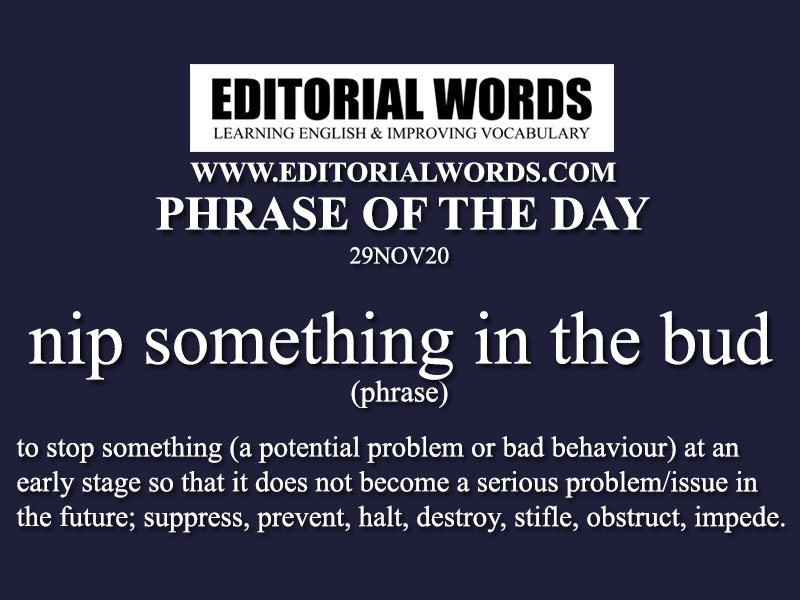 Today's "Phrase of the Day" is "nip something in the bud" and its meaning is "to stop something (a potential problem or bad behaviour) at an early stage so that it does not become a serious problem/issue in the future; suppress, prevent, halt, destroy, stifle, obstruct, impede".
Example Sentence: The Tulip is a proposed 305-metre high "cultural and tourist attraction" in the City of London. Designed by Foster and Partners for J Safra Group. There's no evidence the 305-metre 'cultural attraction' would boost confidence in the Covid-battered City of London. The Tulip's towering vanity (self-admiration) must be nipped in the bud.
This phrase is present in The Guardian article The Tulip's towering vanity must be nipped in the bud and click here to read it.
Courtesy: The Guardian
"Phrasal Verbs" We Learnt Last Week
"Idioms & Phrases" We Learnt Last Week
"Important Definitions" We Learnt Last Week
Recent Word Lists For The Hindu Editorial Articles
Recent Advanced Word Lists For The Hindu Lead Articles