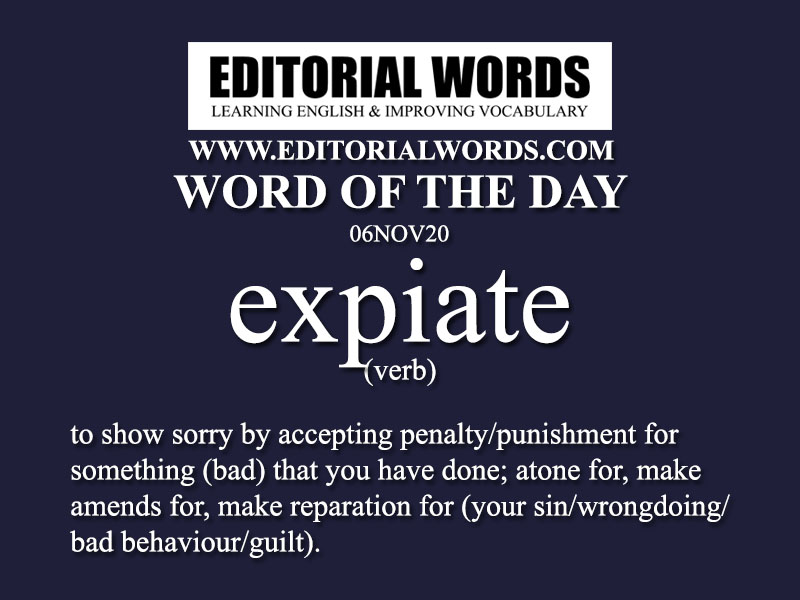 Today's "Word of the Day" is "expiate" and it is a verb meaning "to show sorry by accepting penalty/punishment for something (bad) that you have done; atone for, make amends for, make reparation for (your sin/wrongdoing/bad behaviour/guilt)".
Example Sentence: Whatever else emerges from the US's 2020 election, one thing is clear: it has not delivered a comprehensive repudiation (rejection) of Donald Trump. The shock of 2016 has not been undone. There is nothing in the result to expiate the humiliation (embarrassment) of the last four years, the disgraceful vulgarity and illegality. Even if Joe Biden is ultimately sworn in as president, the fact that Trump was not booed off the greatest stage in world politics in disgrace will be hard for Biden's supporters to come to terms with. This is an inconvenient truth not for the US alone, it has implications for the rest of the world too.
This word is present in The Guardian article Trump has not been repudiated – a Biden presidency would face obstruction at every level and click here to read it.
Courtesy: The Guardian
"Phrasal Verbs" We Learnt Last Week
"Idioms & Phrases" We Learnt Last Week
"Important Definitions" We Learnt Last Week
Recent Word Lists For The Hindu Editorial Articles