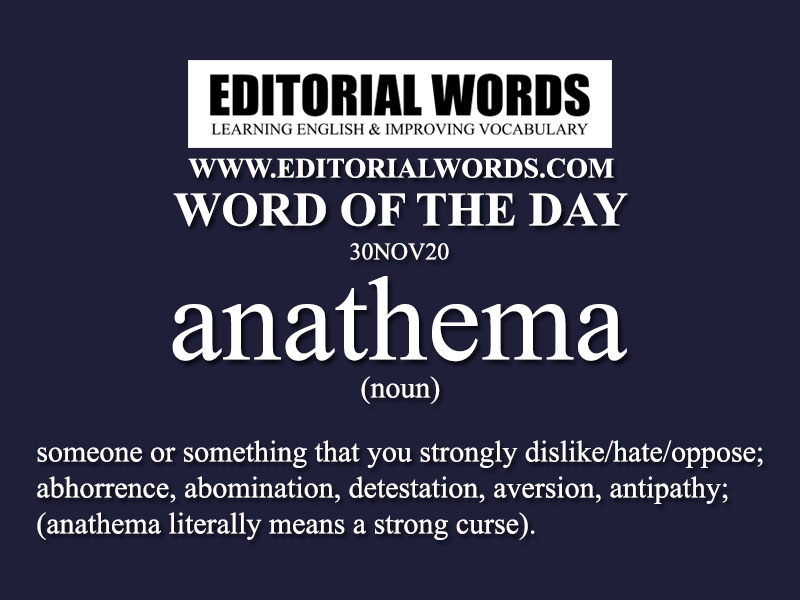 Today's "Word of the Day" is "anathema" and it is a noun and its meaning is "someone or something that you strongly dislike/hate/oppose; abhorrence, abomination, detestation, aversion, antipathy; (anathema literally means a strong curse)".
Example Sentence:
US President, Donald Trump shot himself in the foot – and raised regional tensions. Trump evidently believes Israel PM Benjamin Netanyahu when he claims Iran is building a nuclear bomb, despite a lack of clear evidence. He has swallowed (accept without questioning) the simplistic rightwing narrative of Iran as evil, existential threat. He casts himself as Israel's saviour. He was determined from the outset to destroy Obama's work on Iran because, for him, everything Obama achieved is anathema.
This word is present in The Guardian article The Observer view on Donald Trump and the murder of Iran's leading nuclear scientist and click here to read it.
Courtesy: The Guardian
"Phrasal Verbs" We Learnt Last Week
"Idioms & Phrases" We Learnt Last Week
"Important Definitions" We Learnt Last Week
Recent Word Lists For The Hindu Editorial Articles