Today's Word List-1-Learn English-Improve Vocabulary.
Back on track – The Hindu Apr 04 2018
After an aborted attempt in February, the government has finally managed to successfully roll out the e-way bill system for tracking the movement of ….. For further reading, visit "The Hindu".
This preview is provided here with permission.
Courtesy: The Hindu
Today's Word List-1 To Learn English And To Improve Vocabulary:
scale up (phrasal verb) – increase.
roll out (phrasal verb) – launch, introduce, organize/inaugurate.
hold up (phrasal verb) – remain strong, effective, successful.
glitch (noun) – problem, difficulty, issue/complication.
heartening (adjective) – encouraging, boosting, comforting.
dip (verb) – decrease, fall, decline.
bounty (noun) – benefaction, offering, favour.
keep one's fingers crossed (phrase) – hope for the best to happen; hope for the good result.
staggered (adjective) – unsteady, volatile, changing.
conversant (adjective) – familiar with, acquainted with, knowledgeable about.
nuance (noun) – fine distinction, subtle difference, detail / variation.
a light touch (phrase) – the ability to do something effortlessly.
bottleneck (noun) – a condition which appears as not solvable and so delays the process; snag, difficulty/problem.
inordinately (adverb) – unreasonably, unjustifiably, excessively.
in the pipeline (phrase) – on the way, in preparation, in the offing.

reverse charge mechanism

(noun) – it is a mechanism in which the recipient of the goods and/or services is liable to pay GST instead of the supplier.
Today's Word List-1 To Learn English And To Improve Vocabulary: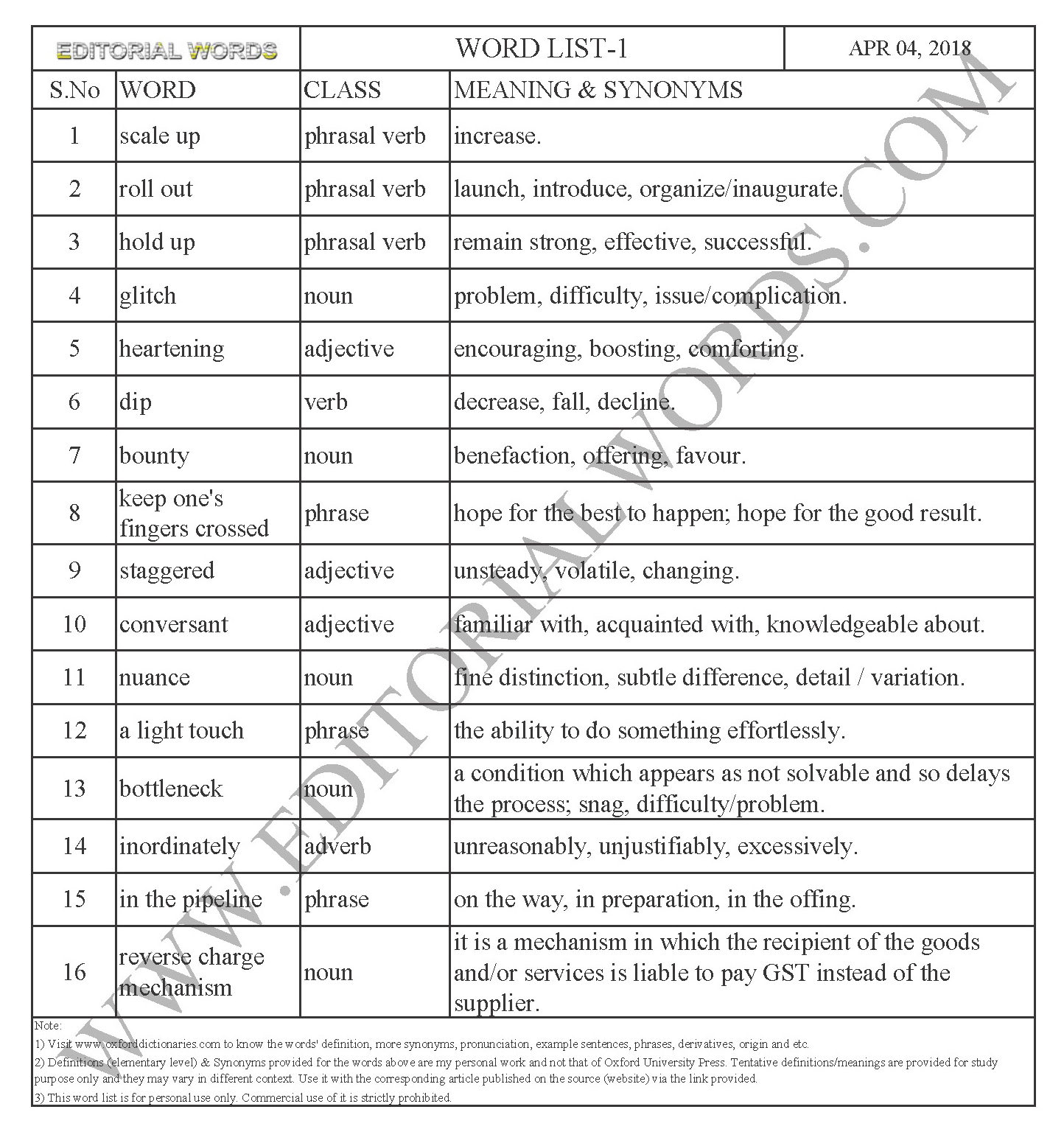 Note:   
Click each one of the words above for their definition, more synonyms, pronunciation, example sentences, phrases, derivatives, origin and etc from http://www.oxforddictionaries.com/.

Definitions (elementary level) & Synonyms provided for the words above are my personal work and not that of Oxford University Press. Tentative definitions/meanings are provided for study purpose only and they may vary in different context. Use it with the corresponding article published on the source (website) via the link provided. 

This word list is for personal use only. Reproduction in any format and/or Commercial use of it is/are strictly prohibited.