The Hindu Lead Article (Troughs and crests in the pandemic response) – Apr 25, 2020
The novel coronavirus, SARS-CoV-2, that causes the disease COVID-19, has proven the ultimate stress test for governance systems globally. For further reading, visit "The Hindu". Below is today's advanced word list-1 for The Hindu Lead Article (Troughs and crests in the pandemic response) – Apr 25, 2020.
To read this article, click here.
This preview is provided here with permission.  
Courtesy: The Hindu
Today's Advanced Word List 1 for The Hindu Lead Article (Troughs and crests in the pandemic response) – Apr 25, 2020
:
trough (noun) – lowest point; a point of low activity.
crest (noun) – highest point; a point of high activity.
pandemic (noun) – the worldwide spread of a new disease; The illness spreads around the world and typically affects a large number of people across a wide area.
nationalistic (adjective) – patriotic

, nationalist, pro one's country; jingoistic, xenophobic.

novel coronavirus

 (nCoV) (SARS-CoV-2) (noun) – a new strain (type/variety) coronavirus that has not been previously identified in humans. (Courtesy: WHO)

COVID-19

 (noun) – coronavirus disease 2019.
stress test (noun) – a test to analyse the function of a system when it is subjected to more pressure.
show up (phrasal verb) – expose

, reveal, lay bare

.
relatively (adverb) – comparatively, proportionately, by comparison; somewhat. 
scholar (noun) – academic

, intellectual, learned person.

unscathed (adjective) – unhurt, undamaged, unharmed.
virality (noun) – the fact of being viral.
lethality (noun) – the capacity to cause death/harm/damage.
pathogen (noun) – bacteria/virus that causes disease.
fatality (noun) – death, casualty, mortality/loss.
mask (verb) – hide, conceal, cover.
hold (verb) – have, bear, 

carry, 

own.

outbreak (noun) – sudden appearance/occurrence (of a disease); outburst, epidemic.
scarcely (adverb) – hardly, barely; rarely.
playbook (noun) – strategies.
hone (verb) – refine, perfect; make smooth/sharp.
glean (verb) – obtain, get, take/gather (with difficulty).
hard-fought (adjective) – achieved with strong effort.
clear-eyed (adjective) – far-sighted, wise/clever, intelligent, insightful.
recognition (noun) – identification, understanding, realization, awareness.
unpalatable (adjective) – disagreeable, unpleasant, distressing.
lock down (phrasal verb) – confine, restraint, enclose, encircle/hem in.
lockdown (noun) – an emergency protocol implemented by the authorities that prevents people from leaving from a place; An extended state of confinement/encirclement/isolation of a person by the authority.
vulnerable (adjective) – relating to a weak/neglected person who is in need of special care/support; at risk, unsafe, easily affected by.
hand-to-mouth (adverb) – having essentials for immediate requirements only and nothing extra due to lack of money; (from) day to day, uncertainly, precariously.
buy time (phrase) – delay, linger, hold back.

flattening the curve

 (phrase) – In epidemiology, the idea of slowing a virus' spread so that fewer people need to seek treatment at any given time is known as "flattening the curve".
epidemic (noun) – widespread disease

/illness; outbreak, plague, scourge

.

overwhelm (verb) – overload, engulf, swamp/flood; overburden, beset.
collective (adjective) – combined, united/joint, cooperative (by all people as a group).

personal protective equipment

 (PPE) (noun) – safety gear; protective clothing, helmets, masks, goggles, gloves or other garments or equipment designed to protect the wearer's body from injury/disease.
ease (verb) – reduce, lessen, decrease.
measured (adjective) – carefully planned, carefully considered, well thought out; unfaltering, unhurried.
livelihood (noun) – means of making a living with the basic necessities (food, water, shelter and clothing); means of support, subsistence, source of income.

supply chain

 (noun) – a network between a company and its suppliers to produce and distribute a specific product to the final buyer.
accompany (verb) – occur with

, be present with, appear with, coincide with, coexist with.

war-footing

 (noun) – a state of preparedness (for war).

contact tracing

 (noun) – it is defined as the identification and followup of persons who may have come into contact with a person infected with the virus.
painstaking (adjective) – careful, thorough, meticulous.

a lifetime away

(phrase) – at the length or duration of time a living being (person/animal) is alive.
vaccination (noun) – treatment with a vaccine to protect against a particular disease; immunization.
dreaded (adjective) – terrible/awful, frightening, alarming, terrifying.
persistent (adjective) – continuous, unrelenting, never-ending.
crunch time (noun) – a crucial point or situation.
drag down (phrasal verb) – bring down (to a lower level).
lie in (phrasal verb) – be present, be contained, exist.
contemporary (adjective) – modern, present-day, current, present-time.
finger pointing (noun) – drawing attention to a particular person/problem.
opportunistic (adjective) – opportunistic/selfish, egocentric, inward-looking.
politicking (noun) – political activity, particularly to seek support & votes for oneself.
xenophobic (adjective) – prejudiced, intolerant; hyper-nationalist, racist, jingoistic.
posturing (noun) – behaviour, attitude, position/stand.
exemplify (verb) – typify, epitomize, represent/illustrate.
peevish (adjective) – irritable, disagreeable, miserable.
occupant (noun) – incumbent

, holder; inhabitant, householder.

robust (adjective) – strong, powerful.
multidimensional (adjective) – involving several dimensions (aspects/features).
epidemiologist (noun) – an expert in the study of how disease spreads and can be controlled.
data-driven (adjective) – dependent on the data collected (to analyse something).
quarantine (noun) – a process of separating out people, animals and things (such as plants) from others for a period of time in order to control/restrict the spread of a contagious disease; Quarantine is imposed to separate and restrict the movement of persons, who may have been exposed to infectious disease, but not yet known to be ill.
race (verb) – hurry, hasten, rush; move/progress swiftly.
vaccine (noun) – a biological preparation that improves immunity to a particular disease.
intellectual (noun) – academic, knowledgeable; rational/logical.
undermine (verb) – reduce, diminish, impede, hinder.
legitimacy (noun) – authority, lawfulness, legality; justification, validity.
facilitate (verb) – make easier

, make possible; assist, help, aid.

at the very time

(phrase) – at a particular moment or period.

in no small part

(phrase) – to a great degree, largely, mostly.
jingoism (noun) – extreme/blind patriotism, xenophobia/chauvinism, extreme nationalism.
victimise (verb) – punish unfairly, harass, torment.
outburst (noun) – eruption, outflow/release, outbreak, flare up (of something like emotion).
endanger (verb) – imperil, jeopardize, risk, put in danger.
cut off (phrasal verb) – block/stop remove, discontinue (a standard method of doing/accessing something).
expertise (noun) – skill, mastery, prowess.

whole-of-government approach/strategy

(adjective) – whole-of-government approach is one in which public service agencies work across portfolio boundaries, formally and informally, to achieve a shared goal and an integrated government response to particular issues. It involves all sectors/departments (such as health, home affairs, foreign affairs, education, energy, agriculture, sports, transport, communication, urban planning, environment, labour, employment, industry and trade, finance, and social and economic development & etc).
political will (noun) – political intention/desire (to complete a scheme/project even if it is not admired/welcomed in the beginning).
textbook (adjective) – standard, conventional, most typical.
federalism/federal framework/system (noun) – a system of government in which establishments such as states or provinces share power with a national government.
mobilise (verb) – organize, deploy, galvanize/encourage, call up, bring into play.
weight (noun) – importance, significance, value/power

.

stand out (phrasal verb) – be noticeable, be visible, be obvious.

cautionary tale

(noun) – a story that warns a danger.
express (adjective) – clear, categorical, specific, outright, well defined.
liberation (noun) – release, freedom.
consequence (noun) – outcome, ramification, repercussion.
starve (verb) – suffer (from hunger).
comparative advantage (noun) – an economy's ability to produce goods or services for a lower opportunity cost than others.
need of the hour (phrase) – some need/requirement/demand at a particular point of time.
redundancy (noun) – the inclusion of extra components which are not strictly necessary to functioning; excess, unnecessariness, expendability, uselessness.
invasive (adjective) – obtrusive, interrupting, unwanted.
ventilator (noun) – a respirator, a device (used for a patient to breathe)

.

brace for (verb) – prepare oneself for something difficult/unpleasant that is imminent.
buckle under (phrasal verb) – to surrender (or mentally collapse) to the pressure or stress; to accept something unwillingly due to the pressure; give in, yield, capitulate, succumb, knuckle under.
plaudits (noun) – praise/acclaim, kudos, commendation.
debilitating (adjective) – weakening, exhausting, impairing/paralyzing.
worrisome (adjective) – worrying, distressing/upsetting, troublesome.
abdication (noun) – disowning, rejection, refusal/avoidance.
apparent (adjective) – evident/clear, visible, noticeable, recognizable.
soap opera (noun) – unpredictable situation with full of problems and so on; a drama that dealt with the story of a particular group of individuals their problems, relationships, and so on.
in full swing (phrase) – at the highest level of activity.
dubious (adjective) – suspicious

, questionable

, doubtful

.
defection (noun) – desertion, absconding, decamping.

social distancing

 (noun) – a term means actively avoiding crowded public places, is a key element in decreasing the rapid spread of COVID-19. This is an effort intended to limit exposure by reducing face-to-face contact and preventing spread among people in community settings.
incongruous (adjective) – unsuitable, ill-matched, mismatched, inappropriate.
inaugurate (verb) – admit to office

, induct, swear in

.
Note:  
 1. Click each one of the words above for their definition, more synonyms, pronunciation, example sentences, phrases, derivatives, origin and etc from http://www.oxforddictionaries.com/.
2. Definitions (elementary level) & Synonyms provided for the words above are my personal work and not that of Oxford University Press. Tentative definitions/meanings are provided for study purpose only and they may vary in different context. 
3. This word list is for personal use only. Reproduction in any format and/or Commercial use of it is/are strictly prohibited.
Today's Advanc
ed Word List 1 for The Hindu Lead Article (Troughs and crests in the pandemic response) – Apr 25, 2020
: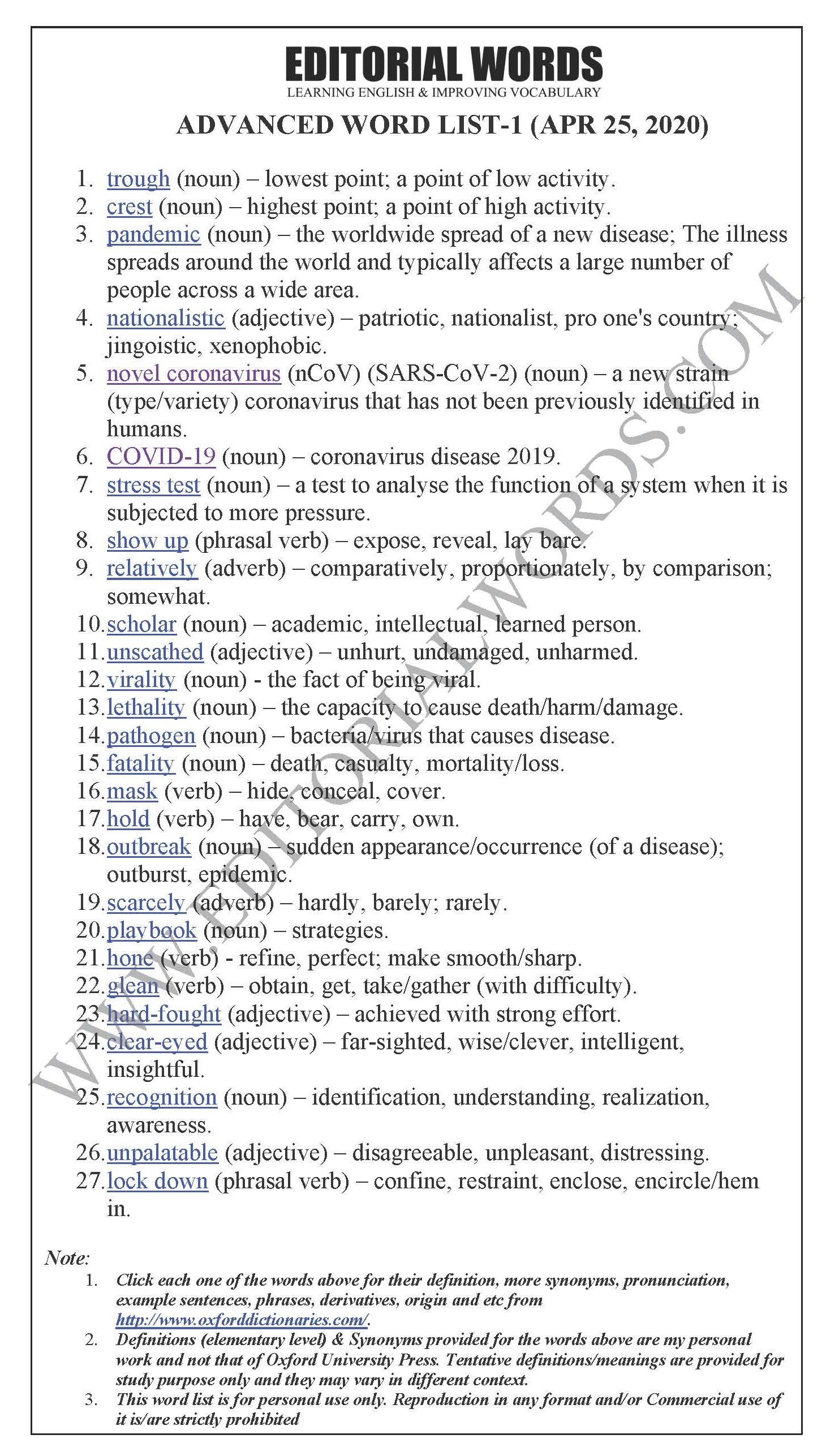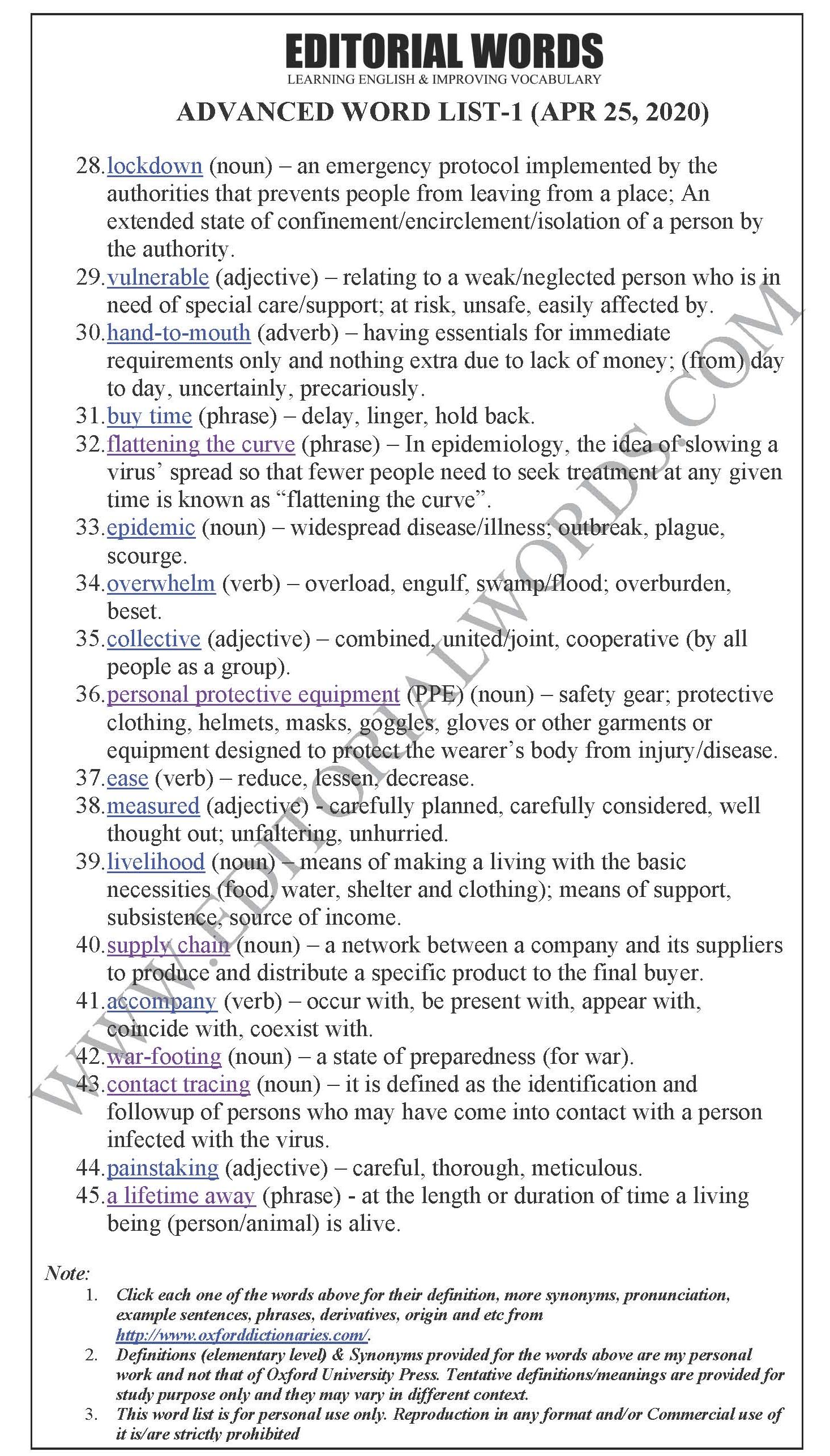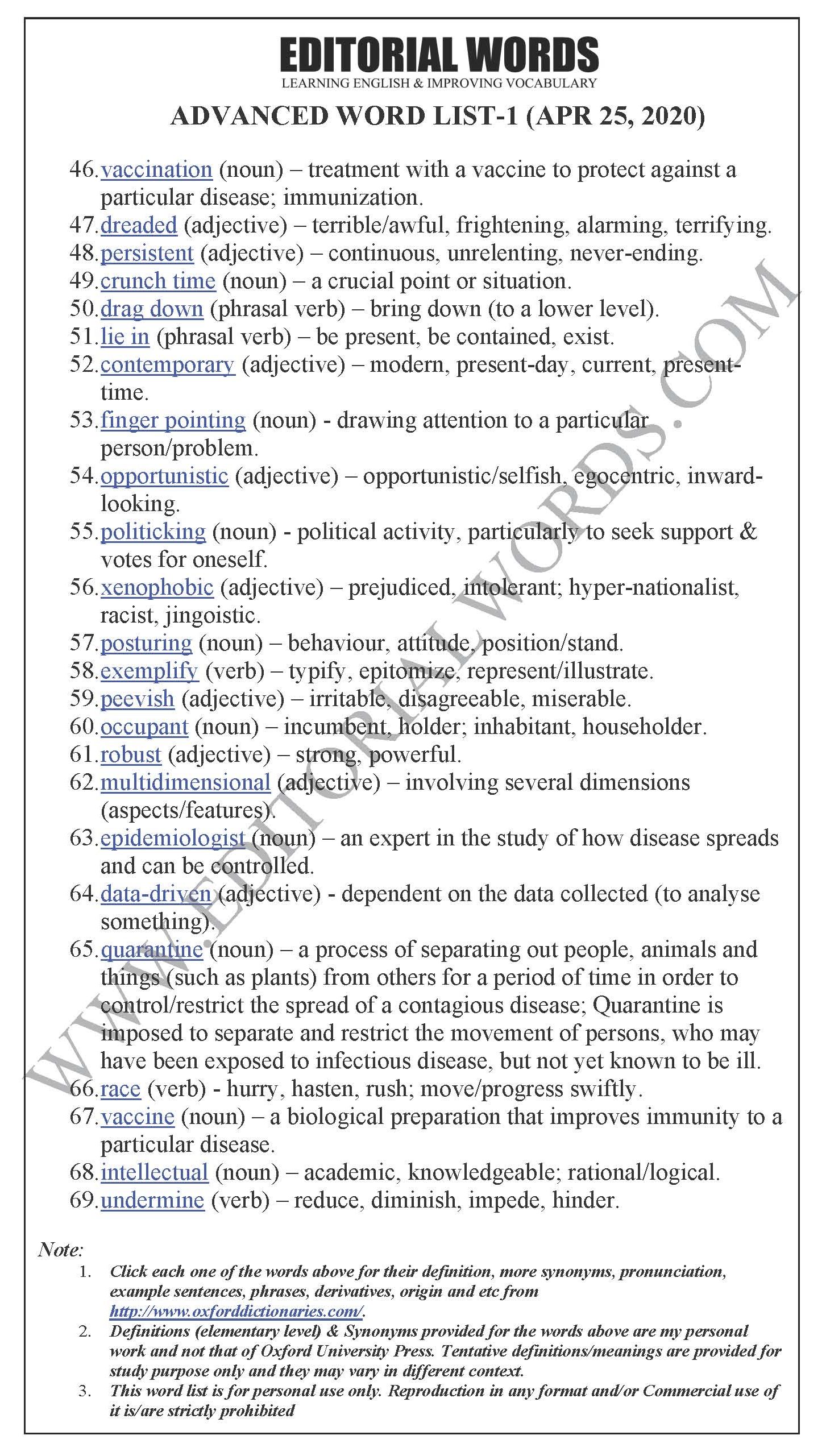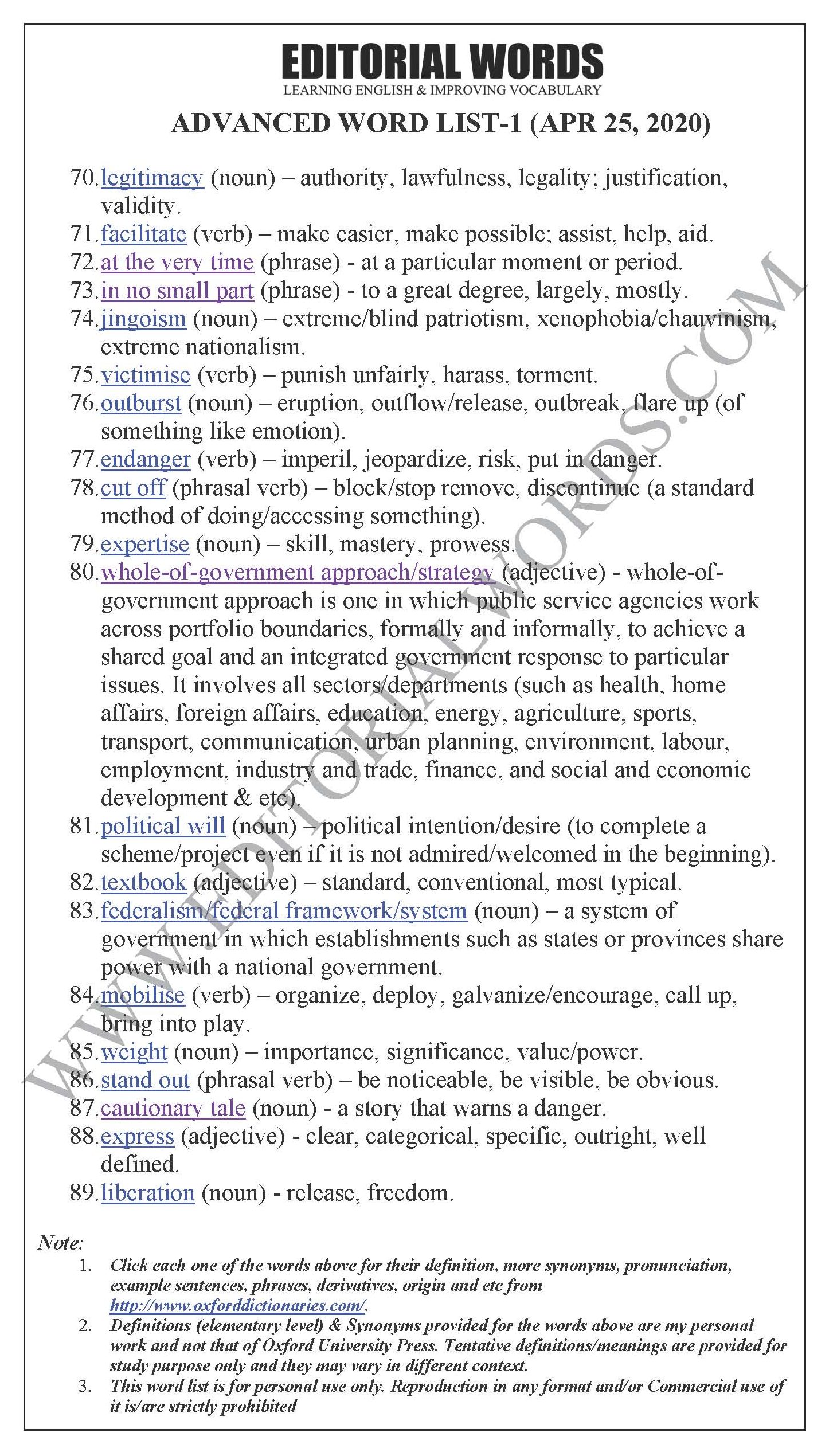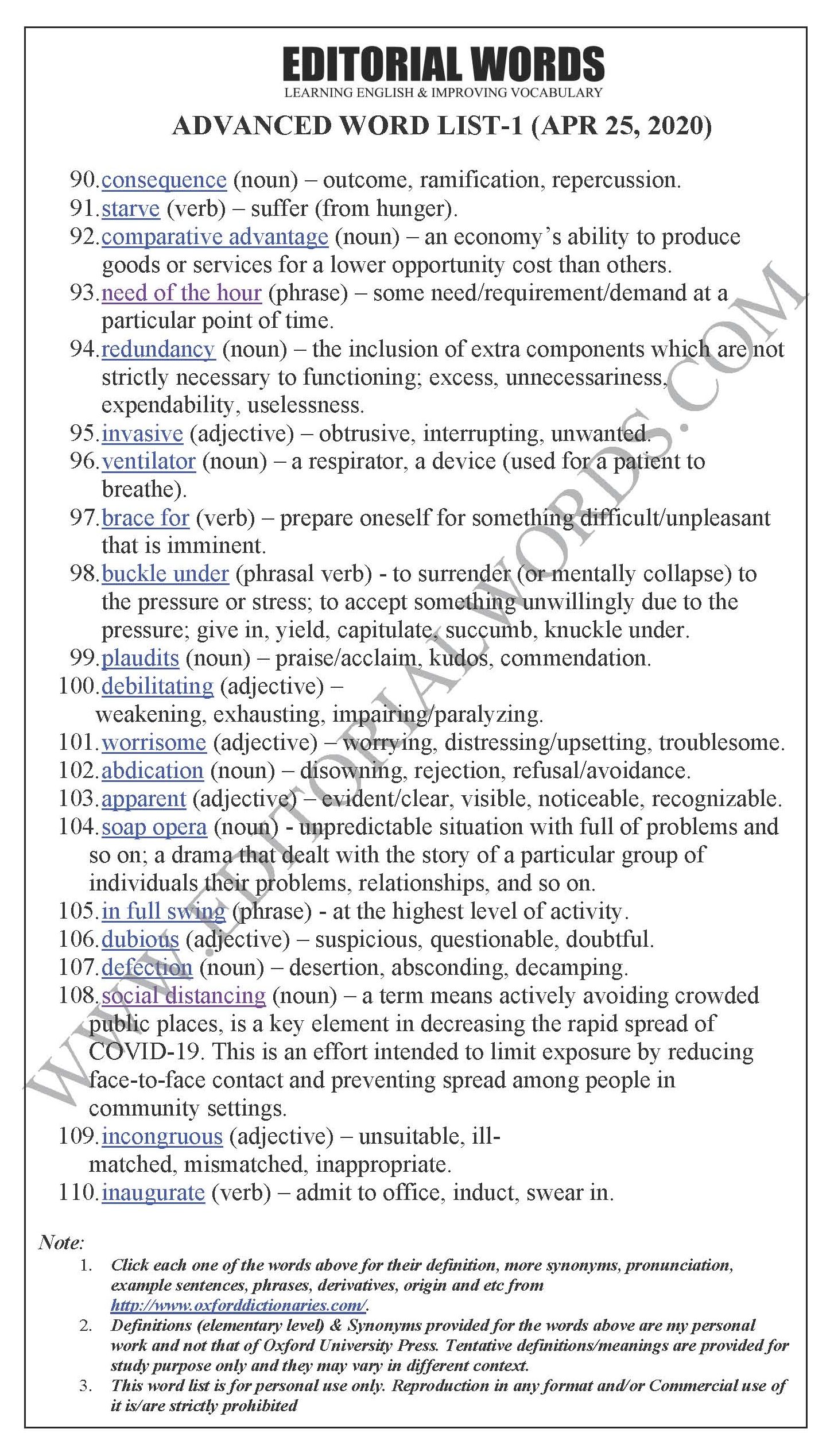 "Phrasal Verbs" We Learnt Last Week
"Idioms & Phrases" We Learnt Last Week
"Important Definitions" We Learnt Last Week
Recent Word Lists For The Hindu Editorial Articles
Recent Advanced Word Lists For The Hindu Lead Articles