The Hindu Lead Article (The script of disruption and a new order) – Apr 28, 2020
The COVID-19 pandemic is unprecedented, involving as it does far too many variables. For further reading, visit "The Hindu". Below is today's advanced word list-1 for The Hindu Lead Article (The script of disruption and a new order) – Apr 28, 2020.
To read this article, click here.
This preview is provided here with permission.  
Courtesy: The Hindu
Today's Advanced Word List 1 for The Hindu Lead Article (The script of disruption and a new order) – Apr 28, 2020
:
script (noun) – a plan of action.
disruption (noun) – disturbance, interference, interruption.
new (world) order (noun) – the arrangement of power and authority that provides the system for the conduct of diplomacy and world politics in relation to the entire world.
geopolitical (adjective) – relating to the study of the geographical factors (a country's position on the earth, size, climate, and natural resources & etc,.) in world politics and inter-state relations.

geo-economic

(adjective) – relating to the use of economic interests to promote and defend national interests, and to produce beneficial geopolitical results; relating to the use of economics as an instrument/tool of state power.
fallout (noun) – adverse results; after-effects, repercussions.

COVID-19

 (noun) – coronavirus disease 2019.
pandemic (noun) – the worldwide spread of a new disease; The illness spreads around the world and typically affects a large number of people across a wide area.
unprecedented (adjective) – not done or experienced before.

far too

(phrase) – much too.
variable (noun) – factor, feature, element (that is likely to vary/change).
complexity (noun) – complication

, problem, difficulty.

novel coronavirus

 (nCoV) (SARS-CoV-2) (noun) – a new strain (type/variety) coronavirus that has not been previously identified in humans. (Courtesy: WHO)
radical (adjective) – complete, total, entire.
uncertainty (noun) – unpredictability, unreliability, riskiness/precariousness. (radical uncertainty arises when we know something, but not enough to enable us to act with confidence).
unlikely (adjective) – not likely, improbable, doubtful, questionable.
abnormal (adjective) – unusual, uncommon, atypical.
the new normal (phrase) – an earlier unusual situation that becomes a standard now.
commentator (noun) – critic

, analyst, observer.

conduct (noun) – behaviour.
diminution (noun) – curtailment, decline, reduction, decrease, restriction/limitation (in the importance of something).

international community

(noun) – all the nation-states and their (very broad) group of people act together with greater determination to further (promote) our shared interests that make up the world.

cease to exist

(phrase) – disappear, die, be no more.
tend to (verb) – be inclined

, 

gravitate, be likely

.

narrowly (adverb) – in a restricted way.
under fire (phrase) – being attacked/criticized strongly.
singularly (adverb) – especially, particularly, extremely.
measure up (phrasal verb) – achieve the required standard

, 

fulfil expectations, do well.
grave (adjective) – 

terrible, awful, dreadful.

on the surface

(phrase) – seemingly, apparently, evidently, ostensibly; considering outward appearances (of something).
far (adverb) – much

, very much, noticeably, considerably.

tar (verb) – blame, damage (the character or reputation of someone/something).
charge (noun) – accusation, allegation, indictment.
bias (noun) – prejudice, partiality; favouritism, unfairness, one-sidedness.
grossly (adverb) – flagrantly, obviously; extremely/excessively.
epidemic (noun) – widespread disease

/illness; outbreak.

single out (phrasal verb) – select, pick out, choose.
speak volumes (phrase) – to show/explain something (a situation) very clearly.
prevail (verb) – exist

, be in existence, be present, be prevalent.

shock (noun) – 

disturbance causing volatility/uncertainty in an economy. 

forecast (noun) – prediction, indication, projection.
fiscal (adjective) – financial.
contraction (noun) – decline

, decrease, reduction.

enforcer (noun) – disciplinarian, task master,

authoritarian.

imperative (noun) – necessary condition

/

factor, requirement, obligation.
yesteryear (noun) – the past, the old days, bygone days.
relegate (verb) – downgrade

, lower; degrade, put down, move down.

archive (noun) – records

, documents, registers (with previous years' data on something).

perceive (verb) – view, regard, consider.
anachronistic (adjective) – old-fashioned, bygone, outmoded.
a new lease of life (phrase) – an improved and energetic life after making something better than before.
reflect (verb) – indicate

, show, display, represent.

in someone's wake (phrase) – used to say what is left behind by someone/something.
liberty (noun) – freedom

, independence.

be vested in (verb) – confer on, grant to, give to, entrust to.
instrument (noun) – mechanism, apparatus, system, means (to achieve/attain something).
eerily (adverb) – peculiarly, oddly, in a strange and frightening way.
authoritarian (adjective) – oppressive, illiberal, undemocratic, totalitarian.
pay a price (phrase) – experience the bad/unpleasant result of something.
omnipotent (adjective) – all-powerful, totalitarian, autocratic (with great power/influence).
the spotlight (noun) – the public attention, the focus of public/media; the public eye.
far-reaching (adjective) – important, major, significant.
anticipate (verb) – expect, foresee, predict.
realm (noun) – area, field, domain (of activity).
sea change (noun) – a significant change, transformation/evolution, reorganization; reversal of policy, change of mind/plan.
viz. (adverb) – namely, specifically, in other words.
seek (verb) – try, aim, attempt.
in the wake of (phrase) – as a result of, in the aftermath of, as a consequence of.
unfazed (adjective) – unworried, untroubled, unconcerned.
stigma (noun) – shame, disgrace, dishonour, discredit; Stigma occurs when society labels someone as disgraced or less desirable. Stigma involves three elements; a lack of knowledge (ignorance), negative attitudes (prejudice) and people behaving in ways that disadvantage the stigmatised person (discrimination).
owe (verb) – be obligated to, be under an obligation to.
negligence (noun) – carelessness, irresponsibility, disregard; inattention/laxness.
sound (verb) – indicate (something); give the impression of being.
alarm (noun) – warning sound, danger/distress signal, alert.

sino-centrism

(noun) – it is the ideology that China is the cultural, political or economic center of the world.
at one's best (phrase) – on top form

, in great shape; peak, prime

.
indispensable (adjective) – essential, necessary, vitally important/significant.
travails (noun) – ordeal, trouble, hardship; struggle, painful effort.
Black Swan (noun) – an unpredictable event (of large magnitude and severe consequences).

White Swan

(noun) – a sign of hope and promise; It, in general, is symbolic of cleansing and purifying.
masquerade (verb) – pretend, impersonate, disguise (oneself as).
palliative (noun) – 

an action aimed to mitigate/lessen a problem (without addressing the basic reason).

eventuality (noun) – a possible outcome, possibility.
hollow out (verb) – remove, empty, undermine, weaken/erode.

financial viability

(noun) – the ability of an entity/organisation to continue to achieve its operating objectives and fulfill its mission over the long term.
stake (noun) – equity, share, investment.
scaled-down (adjective) – reduced (in size/value).
wake up to (phrasal verb) – realize

, become aware of, become heedful of.

clamour (noun) – protest, complaint, outcry/commotion.
hostile (adjective) – (of a takeover bid) opposed by or averse to the company.

takeover bid

 (noun) – the purchase or acquisition of a (target) company by another company

.

foreign direct investment

 (FDI) (noun) – Investment from one country into another (normally by companies rather than governments) that involves establishing operations or acquiring tangible assets, including stakes in other businesses.
inherent (adjective) – implicit, intrinsic, in-built.
checkmate (verb) – defeat, conquer, stop/check, thwart/corner completely.
poise (verb) – position

, prepare oneself, ready oneself.

exploit (verb) – take advantage of

, make use of, utilize.

virtual (adjective) – performing a task with the use of computer, especially over a network.
substantial (adjective) – considerable, significant, large.
stranglehold (noun) – complete control, power, influence/domination.
ostensibly (adverb) – apparently, seemingly, allegedly, supposedly.
multilateral (adjective) – involving many different countries (in which all WTO member countries are party to the agreement).
globalisation (noun) – the process of making the trade of goods and services equivalent in all nations (Courtesy: VOA Learning English).
framework (noun) – structure, system, organisation.
faltering (adjective) – relating to something which is losing strength; fluctuating, oscillating.
distinct (adjective) – clear

, clear-cut, definite, well defined.

put paid to (phrase) – destroy, defeat; thwart, prevent/stop.
tout (verb) – talk up, speak of, talk of, urge.
failing (adjective) – declining, fading, collapsing.
cede ground (phrase) – give up, surrender, relinquish (a territory) to another.
ravage (verb) – devastate, ruin, damage, wreak havoc.
affairs (noun) – concerns, matters, activities (of public interest).
turnaround (noun) – an unexpected change.
play by the rules (noun) – follow the rules, conform, play fair.
let alone (phrase) – to say nothing of; not to mention.
insular (adjective) – isolated, detached; restricted, inward-looking
Brexit (noun) – a term used for the (supposed) departure of the United Kingdom from the European Union.
the reckoning (noun) – contention, consideration (for a place in a team)

. 

meltdown (noun) – (economic) downturn, slide, decline, collapse.
aggravate (verb) – made serious/severe, worsen, compound, exacerbate, enrage.
downturn (noun) – decline, setback, blow/upset (in economic activity).
room for manoeuvre (phrase) – an opportunity to change something (tactfully/carefully).
juggernaut (noun) – powerful/overwhelming force.
leverage (noun) – 

advantage, 

influence

, power/authority

.
expatriate (adjective) – emigrant

, living/working abroad

.

out on a limb (phrase) – vulnerable; in a difficult, isolated position (with no support from others).
repatriation (noun) – the act of sending people/something to their own country.
inflow (noun) – a flow/movement of a large amount of money or something to a particular place.
Note:  
 1. Click each one of the words above for their definition, more synonyms, pronunciation, example sentences, phrases, derivatives, origin and etc from http://www.oxforddictionaries.com/.
2. Definitions (elementary level) & Synonyms provided for the words above are my personal work and not that of Oxford University Press. Tentative definitions/meanings are provided for study purpose only and they may vary in different context. 
3. This word list is for personal use only. Reproduction in any format and/or Commercial use of it is/are strictly prohibited.
Today's Advanc
ed Word List 1 for The Hindu Lead Article (The script of disruption and a new order) – Apr 28, 2020
: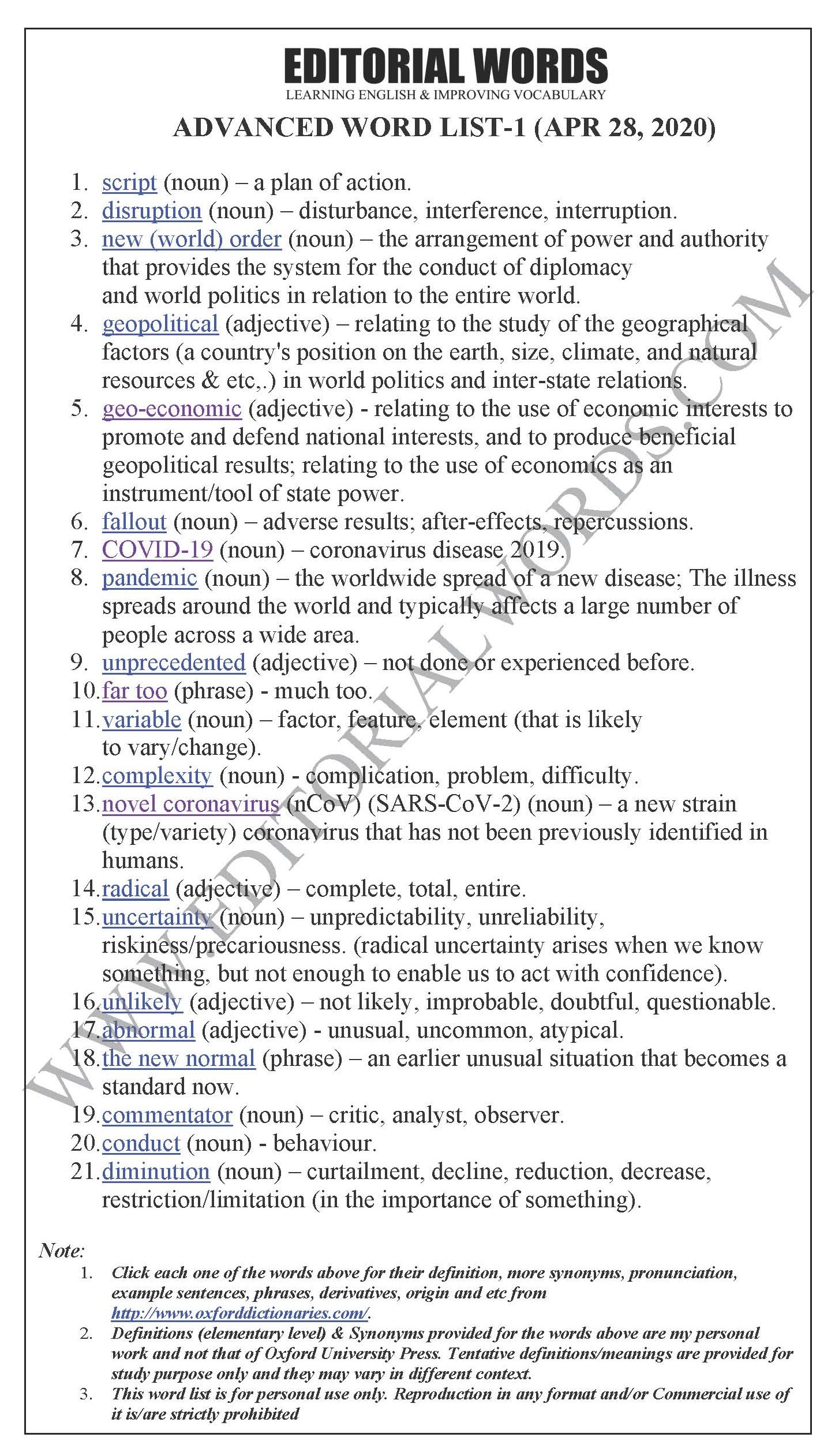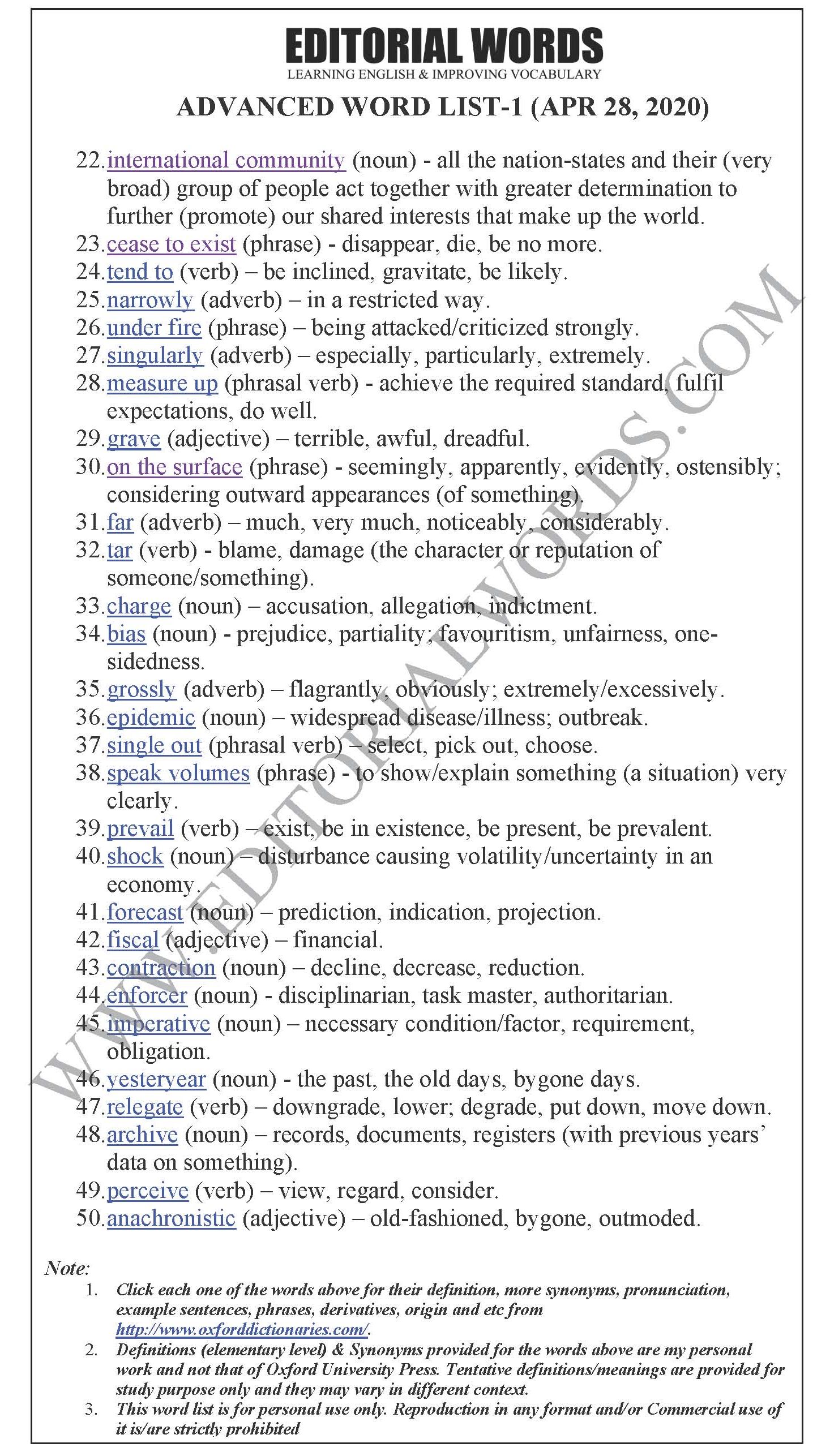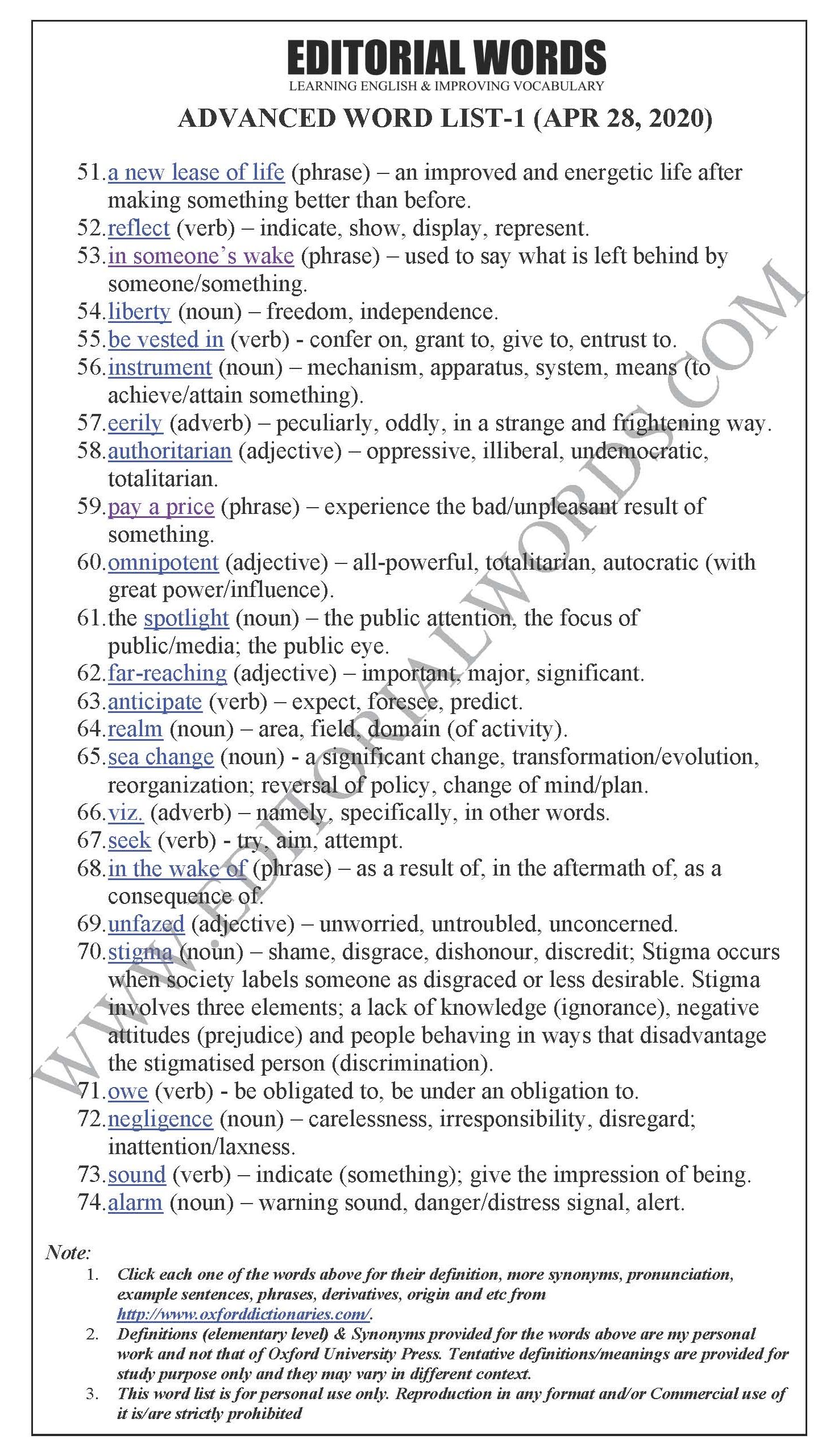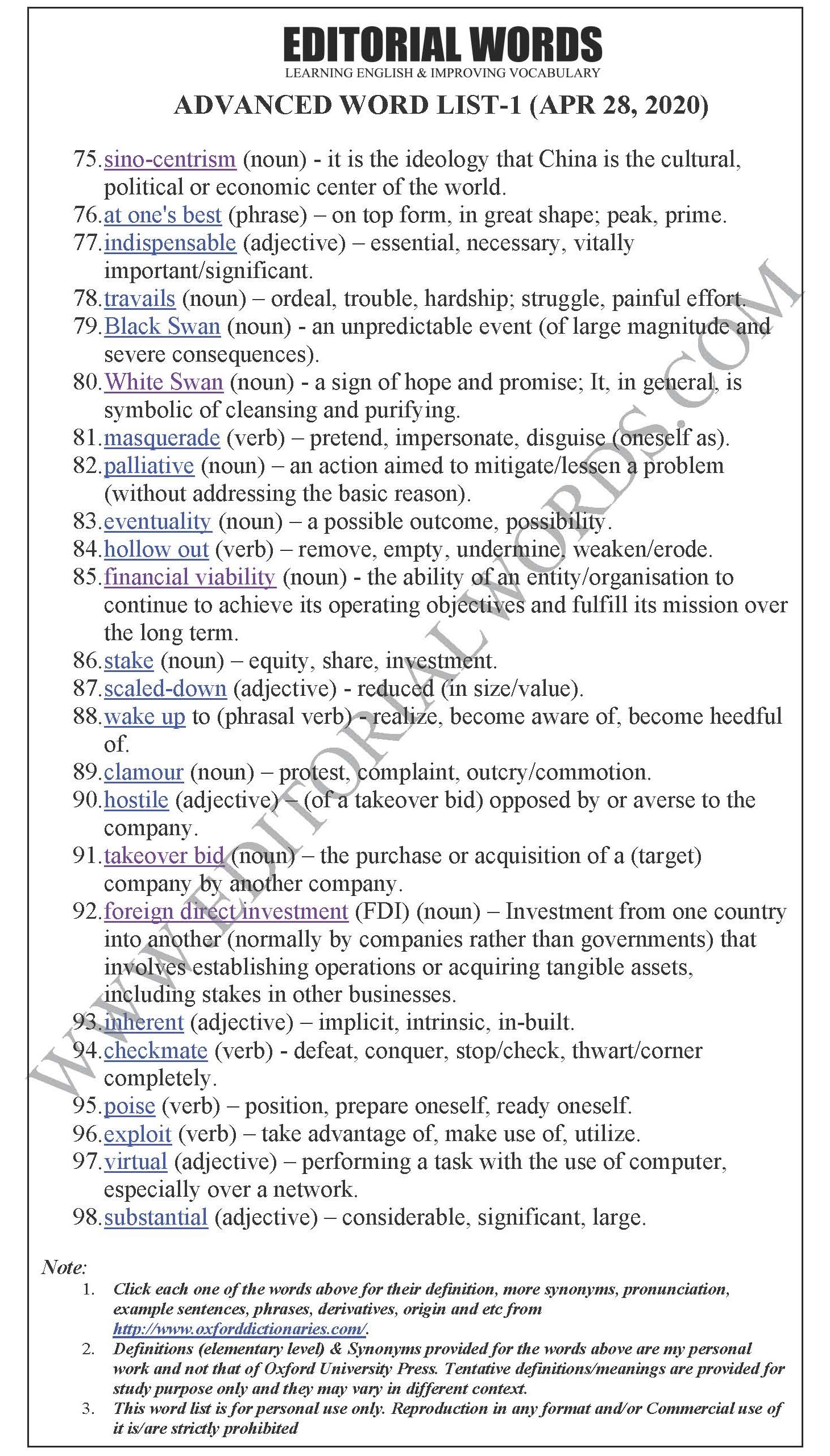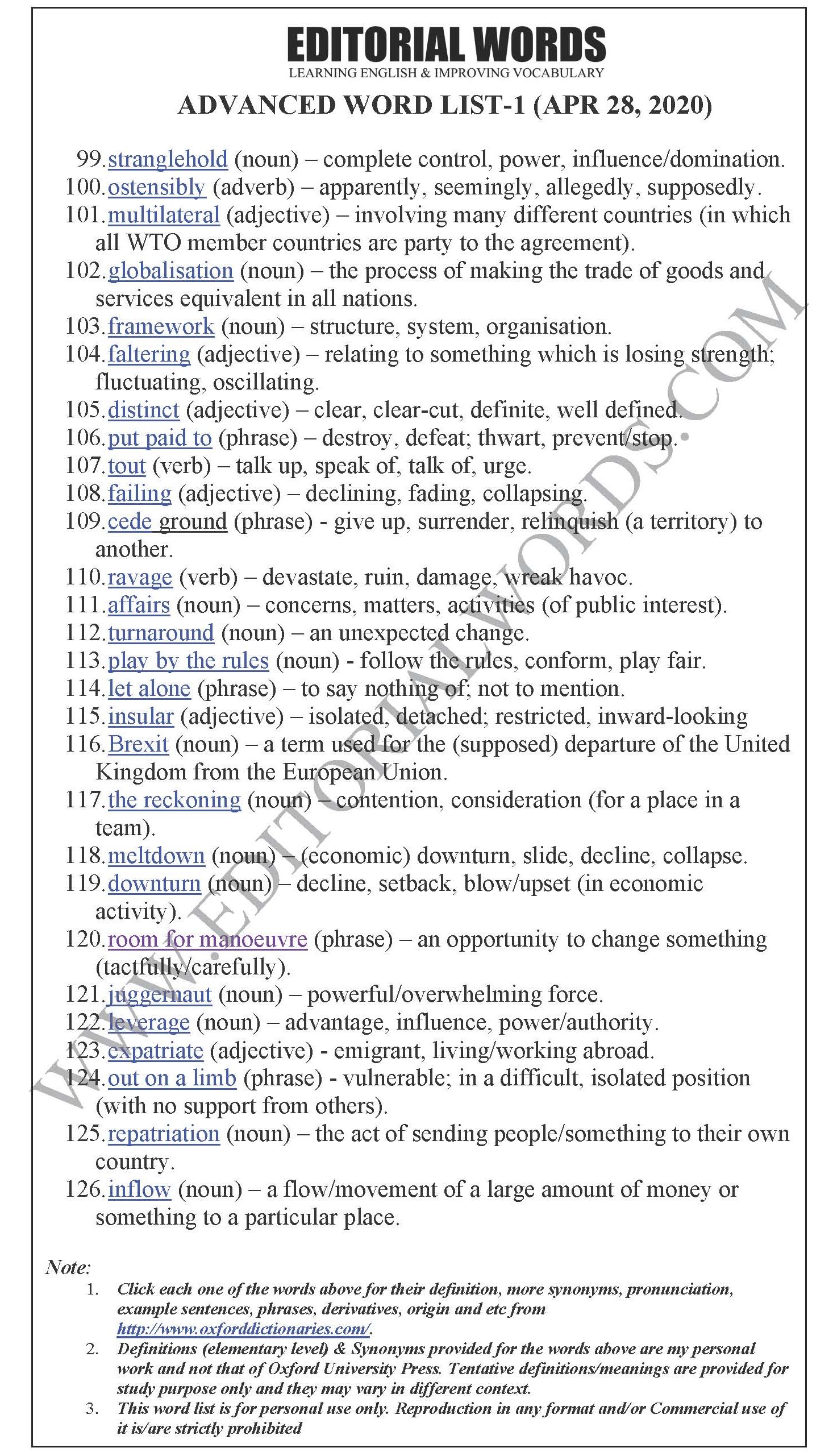 "Phrasal Verbs" We Learnt Last Week
"Idioms & Phrases" We Learnt Last Week
"Important Definitions" We Learnt Last Week
Recent Word Lists For The Hindu Editorial Articles
Recent Advanced Word Lists For The Hindu Lead Articles