The Hindu Lead Article (Spelling out the government's RBI windfall) – Aug 31, 2019
The transfer of Reserve Bank of India (RBI) surplus to the government is a routine matter.For further reading, visit "The Hindu". Below is today's advanced word list-1 for The Hindu Lead Article (Spelling out the government's RBI windfall) – Aug 31, 2019.
To read this article, click here.
This preview is provided here with permission.  
Courtesy: The Hindu
Today's Advanced Word List 1 for The Hindu Lead Article (Spelling out the government's RBI windfall) – Aug 31, 2019
:
spell out (phrasal verb) – explain, make clear, elucidate/clarify.
windfall (noun) – a large amount of money received unexpectedly; jackpot, bonanza, unexpected gain.
capital infusion (noun) – introduction of additional funding from successful divisions of a business to the weak division which is is not doing well.
surplus (noun) – generation of goods, services, and resources (such as capital) exceeds their consumption.
a bit (phrase) – somewhat/rather, a little, slightly.
narrative (noun) – a representation of a particular situation; portrayal/account.
caricatured (adjective) – exaggerated/distorted; ridiculed, mimicked.
folklore (noun) – story, myth, tale.
crunch (noun) – crisis, crucial situation, critical point.
arm-twist (verb)- pressurize, push, force.
reserve (noun) – funds/earnings.
family silver (noun) –

 

something considered to be of great value (materially or otherwise).

erosion (noun) – destruction, deterioration, decline.
credence (noun) – acceptance, belief/truth, confidence.
in view of (phrase) – considering, taking into consideration, as a result of.
perceived (adjective) – regarded, observed; considered/supposed.
highlight (verb) – call attention to

, focus attention on, underline.

on the contrary (phrase) – in contrast, just the opposite, conversely.
back (verb) – support, endorse, uphold.
repose (verb) – set, place (a confidence or trust in something).
idle (adjective) – not in use

, unused, inactive.

due process (noun) – fair treatment (per established principles & procedures).
extant (adjective) – present, existent, existing/surviving.
eminent (adjective) – distinguished, renowned, esteemed.
bureaucrat (noun) – a powerful officer, civil servant, functionary.
reflective (adjective) – thoughtful, contemplative, introspective.
exponent (noun) – advocate

, supporter, proponent, upholder.

substance (noun) – significant subject, important matter/content, valid message.
syndrome (noun) – symptoms/signs; a particular mix of opinions & emotions.
fiscal prudence (noun) – cautiousness, carefulness, judgement on fiscal decisions like borrowing, and spending, and managing the fiscal targets.
paranoia (noun) – suspicion, mistrust, misgiving (of other people).

blow in the wind

 (phrase) – to be thought about and discussed , but not decided upon or resolved.
backdrop (noun) – situation, scenario, context.
assess (verb) – evaluate, analyse, determine.
quantum (noun) – portion, part, division.
constituent (noun) – component

,  part, ingredient, element.

contingency fund (noun) – a fund for emergencies or unexpected outflows, mainly economic crises.
provision (noun) – term, clause, requirement.
unforeseen (adjective) – unpredicted, unexpected, unanticipated.
contingency (noun) – planning, prearrangement, arrangements.
set aside (phrasal verb) – save, reserve, put aside.
premise (noun) – thesis, presupposition, belief, thought.
sovereign (noun) – head of state; self-determining state; supreme

, absolute, ultimate power.

credibility (noun) – trustworthiness, reliability, integrity.
insofar as (phrase) – to the extent/degree that.
shortfall (noun) – deficit, inadequacy/deficiency; shortcoming/defect.
outlook (noun) – point of view

/viewpoint, attitude/opinion, perspective.

last resort (phrase) – a final thing/person helps when all else has failed; final hope.
balance sheet (noun) – a statement that shows the financial condition of a company at a particular point in time.
in line with (phrase) – in accordance with.
lingo (noun) – terminology/vocabulary of a particular subject.
pointer (noun) – indication, hint, signal.
flag (verb) – indicate, identify, point out.
decipher (verb) – interpret

, comprehend, understand. 

juncture (noun) – point in time, time/moment, stage.
spectre (noun) – threat, menace, danger/

peril

.
slowdown (noun) – economic decline, recession, slump/depression.
loom (verb) – be imminent

, 

seem about to happen,  be threatening/be close.
disbursement (noun) – spending, expending, paying out.
choke (verb) – clog, block, obstruct.
recapitalisation (noun) – it is a type of corporate reorganization involving substantial change in a company's capital structure, especially by replacing debt with stock.
in a big way (phrase) – to a great extent.
pursue (verb) – engage in, follow, conduct.
fiscal stimulus (noun) – Government measures, normally involving increased public spending and lower taxation, aimed at giving a positive jolt to economic activity.

fiscal deficit

 (noun) – the difference between total expenditure and total income of the government.
(kill) the goose that lays the golden eggs (phrase) – to seek short term gain at the sacrifice of long term profit.
Note:  
 1. Click each one of the words above for their definition, more synonyms, pronunciation, example sentences, phrases, derivatives, origin and etc from http://www.oxforddictionaries.com/.bigotry

, narrow-mindedness
2. Definitions (elementary level) & Synonyms provided for the words above are my personal work and not that of Oxford University Press. Tentative definitions/meanings are provided for study purpose only and they may vary in different context. 
3. This word list is for personal use only. Reproduction in any format and/or Commercial use of it is/are strictly prohibited.
Today's Advanc
ed Word List 1 for The Hindu Lead Article (Spelling out the government's RBI windfall) – Aug 31, 2019
: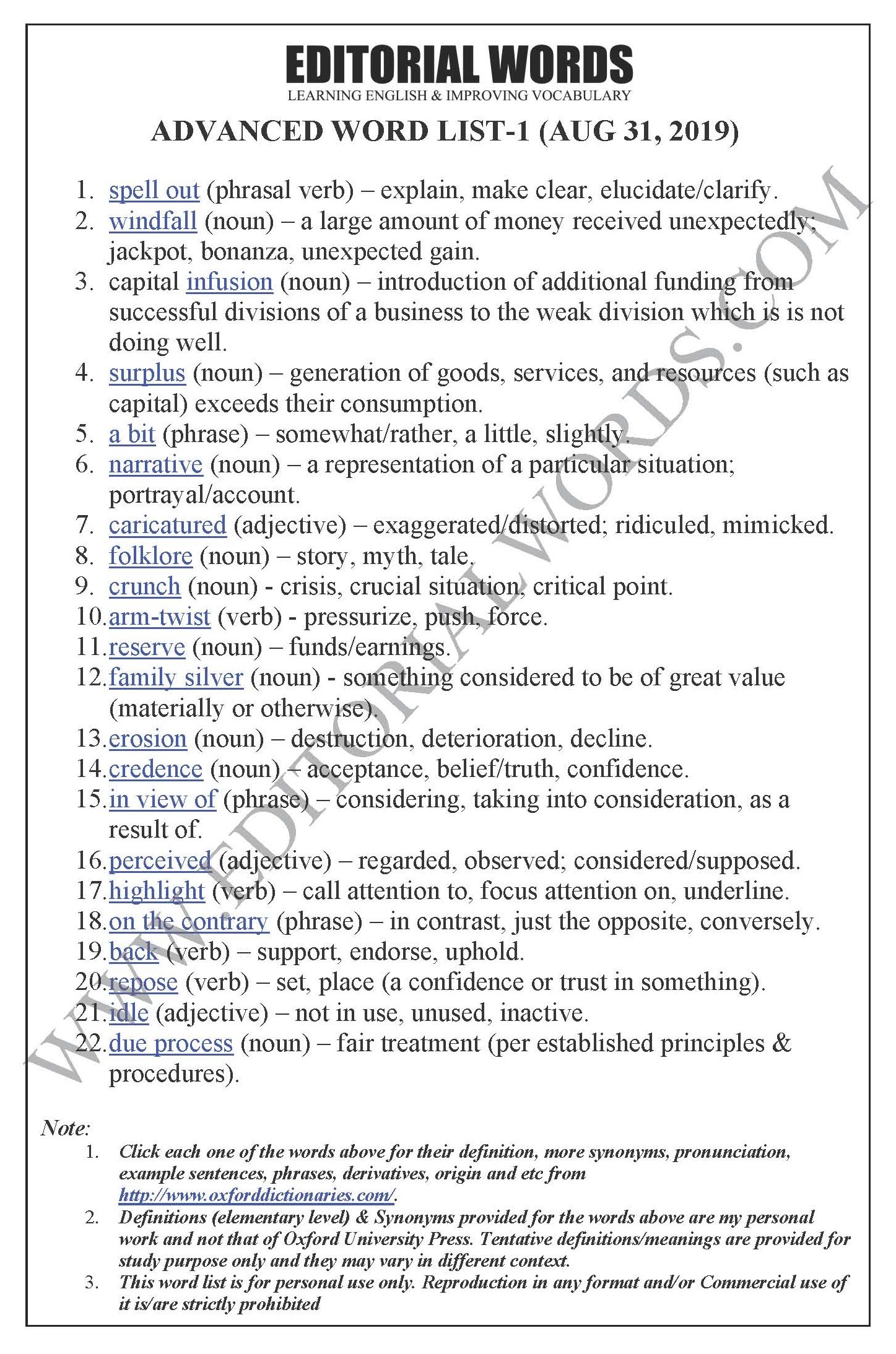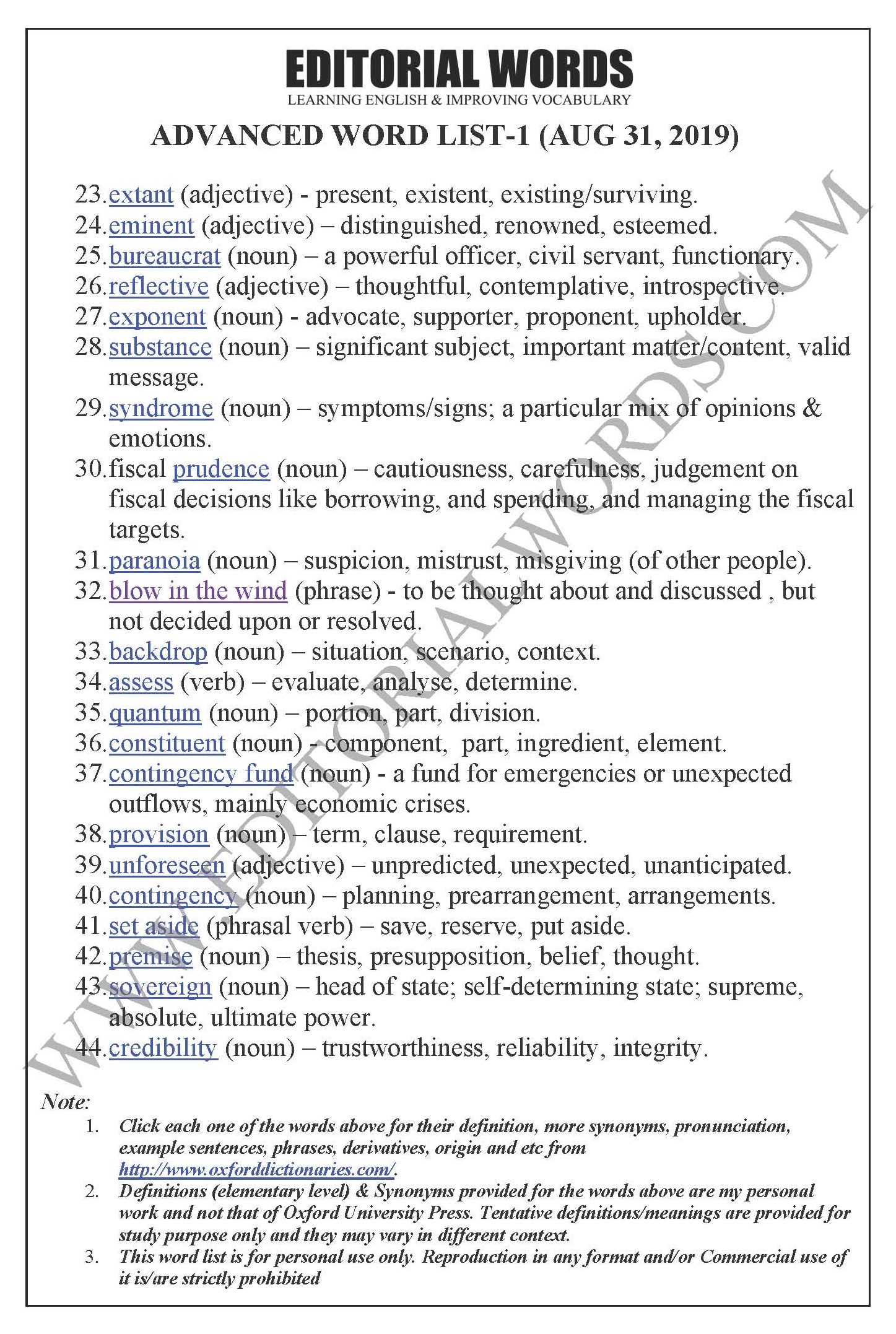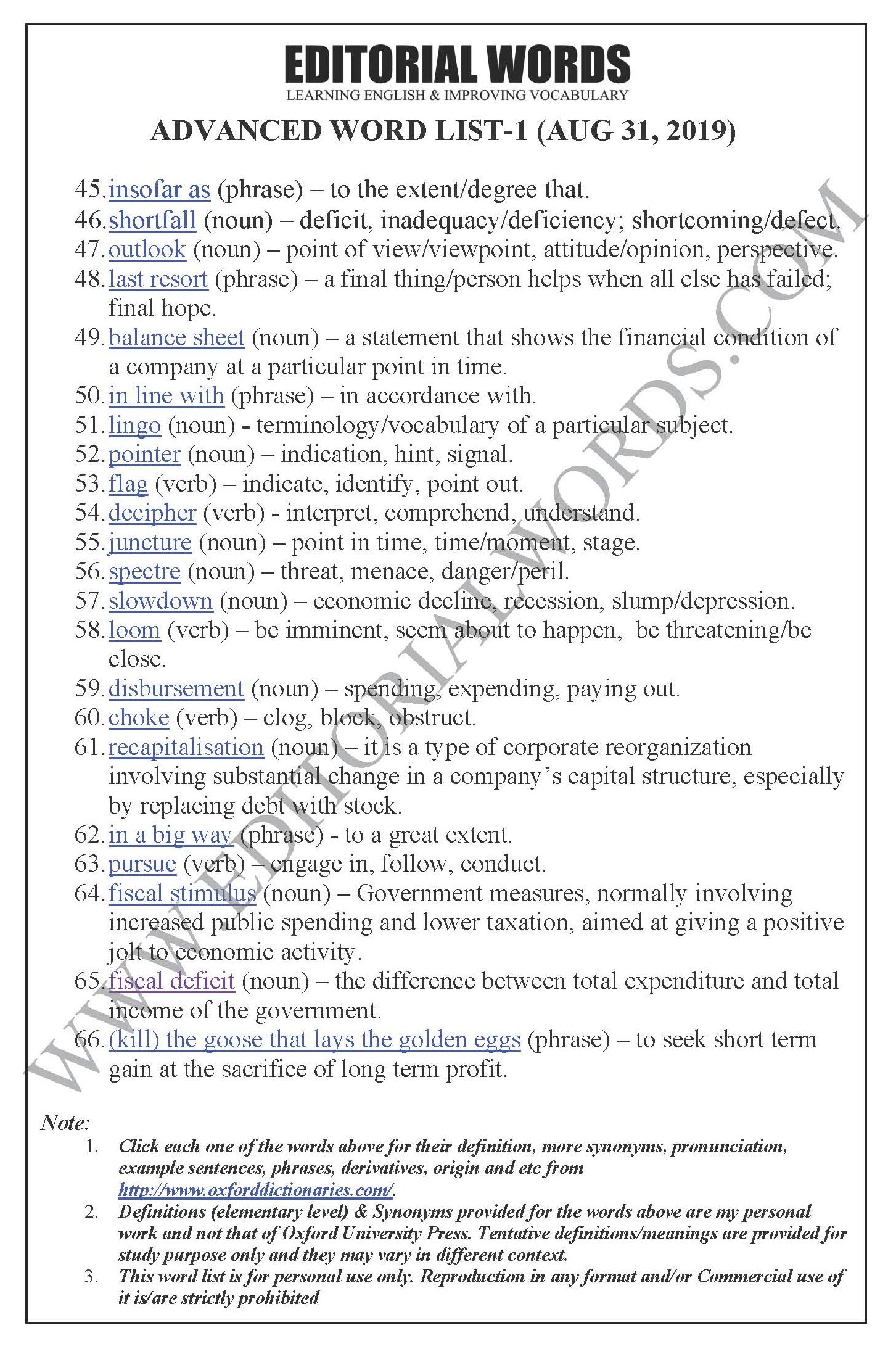 "Phrasal Verbs" We Learnt Last Week
"Idioms & Phrases" We Learnt Last Week
"Important Definitions" We Learnt Last Week
Recent Word Lists For The Hindu Editorial Articles
Recent Advanced Word Lists For The Hindu Lead Articles