The Hindu Lead Article (One-state solution, the way forward in Palestine) – May 26, 2021
For more than 50 years, well-intentioned and more cynical, local and external actors involved in the attempts to bring peace and reconciliation… For further reading, visit "The Hindu". Below is today's advanced word list-1 for The Hindu Lead Article (One-state solution, the way forward in Palestine) – May 26, 2021.
To read this article, click here.
This preview is provided here with permission.
Courtesy: The Hindu
Today's Advanced Word List 1 for The Hindu Lead Article (One-state solution, the way forward in Palestine) – May 26, 2021:
single-state solution

 (noun) – The single-state solution refers to a political deal in which Israel and a Palestinian state exist together.

the way forward

 (phrase) – something (a plan/action) that leads to success in the future.
premise (noun) – proposition, assumption, belief, thought.

two-state solution

 (noun) – The two-state solution refers to a political deal in which Israel and a Palestinian state exist separately.
immunity (noun) – exemption, exception, freedom, impunity.

ethnic cleansing

 (noun) – the mass expulsion or killing of ethnic group members in a place by another one, particularly a majoritarian group in that place.
well-intentioned (adjective) – well-meaning; good-natured, caring.
cynical (adjective) – bitter, resentful, pessimistic, sceptical, distrustful, suspicious.
actor (noun) – participants (in an action).
reconciliation (noun) – restoration of harmony, agreement, compromise.
religiously (adverb) – thoroughly, carefully, scrupulously, consistently, constantly/regularly.
adhere to (verb) – abide by, follow, obey, comply with.
partition (verb) – divide, subdivide, separate, split.
settler (noun) – colonist, immigrant, habitant.
Zionism (noun) – the national movement for the return of the Jewish people to their homeland and the resumption of Jewish sovereignty in the Land of Israel. Zionist is a supporter of Zionism. 
indigenous (adjective) – native, original, local.
Zionist (adjective) – a supporter of Zionism.
chunk of (noun) – a significant amount of.
akin (adjective) – similar, related, equivalent.
decolonise (verb) – to release a state (from a colony) to have autonomy and outright independence from the colonial rulers.
decolonisation (noun) – the process of releasing a state/country (from a colony) to have autonomy and outright independence from the colonial rulers.
consent (verb) – agree to, assent to, allow, approve.
reconcile (verb) – make harmonious, cause to be in agreement, resolve differences between, resolve, patch up.
catastrophic (adjective) – destructive, ruinous, disastrous.
dispense with (phrasal verb) – forgo, give up, relinquish, renounce.
content with (phrasal verb) – be satisfied.
ominous (adjective) – threatening, menacing, inauspicious, unpromising, unfavourable.
turn out (phrasal verb) – happen, develop, end (in a specific way).
chillingly (adverb) – horrifyingly, frighteningly.
under/in the guise of (phrase) – under the pretence or outward/external appearance of something; posture, semblance, (false) show/display.
take over (phrasal verb) – assume control of, take control of, gain control of, take charge of, take command of.
ethnically cleansed (adjective) – subjected to ethnic cleansing.
catastrophe (noun) – disaster, mishap, crisis.
incremental (adjective) – gradual, step-by-step, staggered, phased.
expel (verb) – banish, exile, deport, evict, expatriate, dismiss, displace.
navigate (verb) – direct, handle, helm, steer.
downsize (verb) – reduce, cut down, decrease, lessen.
root cause (noun) – main/basic reason of something.
ignite (verb) – kindle, trigger, instigate, provoke.

(Sheikh) Jarrah

 (noun) – a tiny neighbourhood of East Jerusalem.

Jerusalem

 (proper noun) – a city in Western Asia; Jerusalem is home to major religious sites sacred to Jews, Christians, and Muslims. It is the religious and historical epicenter of the world. Both Israel and the Palestinian Authority claim Jerusalem as their capital, however, either claim is not widely recognized internationally. The United States has recognized Jerusalem as Israel's capital.
neighbourhood (noun) – (surrounding) area, region, country.
judaise (verb) – convert to Judaism.
impose (verb) – force, thrust, inflict (an unwelcome decision/ruling).
West Bank (noun) – It is a large amount of land located on the west bank of the River Jordan and bounded by Israel to the north, west, & south and by Jordan to its east. The West Bank has been occupied by Israel since the 1967 Middle East war. It's home to nearly three million Palestinians, and would make up the heart of any Palestinian state.
Gaza Strip (proper noun) – simply Gaza, it is a self-governing Palestinian territory surrounded by the Mediterranean Sea, Israel and Egypt.
means (noun) – way, method, mode.
enclave (noun) – enclose (a portion of) territory surrounded by another country, or a group of people of a different culture or religion.

apartheid

 (noun) – racial segregation/discrimination system in (South Africa); prejudice, bias, bigotry/inequity (racial segregation).
regime (noun) – system, government.
matrix (noun) – template, pattern, frame/form.
disregard (verb) – ignore, take no notice of, pay no attention to, pay no heed to.
demographic (noun) – a particular sector of a population.
occupation (noun) – invasion, seizure, takeover, annexation.
self-determination (noun) – autonomy, independence, freedom.

Palestine Liberation Organization (PLO)

(noun) – It was founded in 1964 with the purpose of liberating Palestine, achieving Palestinian self-determination, and securing the return of the refugees.

give it a go

(phrase) – to try something.

Oslo Accords

(noun) – On September 13, 1993, PLO leader Yasir Arafat and Israeli Prime Minister Yitzhak Rabin signed an agreement known as the Oslo Accords. Both sides agreed that a Palestinian Authority (PA) would be established and assume governing responsibilities in the West Bank and Gaza Strip over a five-year period. The Oslo Accords was the first signed Palestinian-Israeli agreement.
balance of power (phrase) – stability in a system composed of a number of autonomous forces.
interpretation (noun) – explanation, elucidation, clarification, definition.

Oslo II agreement of 1995

(noun) – This agreement seeks to implement the Oslo I Agreement of 13 September 1993. It defines the security, electoral, public administration and economic arrangements during the interim period of five years from the date of the Agreement. It also calls for Israeli-Palestinian cooperation and the release of Palestinian detainees.
annex (verb) – take over, arrogate, seize, conquer, occupy.
optimistically (adverb) – hopefully, confidently, positively.
whatsoever (adverb) – at all.

Bantustanisation

(noun) – an attempt by Isreal to reduce the areas accessible to Palestinians to fragmented cantons – Subdivisions of a country – or Bantustans – and annex the remaining land and natural resources.
wrath (noun) – extreme anger, rage, fury.
Bantustan (noun) – apartheid-era government's homelands. (Bantustan is generally a territory that was set aside for black inhabitants of South Africa as part of its policy of apartheid).
Hamas (noun) – Hamas is an Islamist militant group based in Gaza. It won the legislative elections in 2006 to reinforce its power in Gaza Strip. Hamas (particularly its military wing) is designated a terrorist group by Israel, the United States, European Union and the United Kingdom, as well as other powers. Its name is an Arabic acronym for the Islamic Resistance Movement. It formed in 1987 as a "resistance" group, pledging to destroy Israel and replace it with an all-Palestinian state. Hamas originally had a dual purpose of carrying out an armed struggle against Israel – led by its military wing, – and delivering social welfare programmes in Gaza Strip.
ally (noun) – partner.

Islamic Jihad

(noun) – a militant group based in Gaza. The aim of the organization was the establishment of a sovereign, Islamic Palestinian state within the geographic borders of pre-1948 Mandatory Palestine.
in the face of (phrase) – despite, notwithstanding, regardless of; when confronted with.
predicament (noun) – problematic situation, difficulty, quandary.
compliance (noun) – conformity, observance, observation, accordance, adherence.
callous (adjective) – uncaring, heartless, merciless, unfeeling, insensitive, compassionless, inhumane, thick-skinned.
siege (noun) – blockade, beleaguerment, encirclement.
make sure (phrase) – check, confirm, make certain, ensure.
supposedly (adverb) – apparently, seemingly, ostensibly.
discriminate (verb) – disfavour, be biased, treat differently.
fertile (adjective) – productive, high-yielding; resourceful, constructive.
materialise (verb) – happen, occur, take place.
parity (noun) – equality, uniformity, sameness, unity, evenness.
scholar (noun) – academic, intellectual, expert/pundit, learned person.
lead to (verb) – result in, cause, bring about, call forth, give rise to, produce.
genocide (noun) – mass murder, massacre, ethnic cleansing, mass slaughter.
unfold (verb) – happen, occur, take place, transpire.
dismantlement (noun) – deconstruction, disassembly, breaking up.
compensation (noun) – payment, repayment, settlement (for loss/damage). 
repatriation (noun) – the return of (someone/something) to their country of origin.
desperately (adverb) – seriously, severely, urgently, pressingly, intensely, eagerly.

push forward

(phrasal verb) – move forward, advance, progress.
Note:
1. Click each one of the words above for their definition, more synonyms, pronunciation, example sentences, phrases, derivatives, origin and etc from http://www.oxforddictionaries.com/.
2. Definitions (elementary level) & Synonyms provided for the words above are my personal work and not that of Oxford University Press. Tentative definitions/meanings are provided for study purposes only and they may vary in a different context.
3. This word list is for personal use only. Reproduction in any format and/or Commercial use of it is/are strictly prohibited.
Today's Advanced Word List 1 for The Hindu Lead Article (One-state solution, the way forward in Palestine) – May 26, 2021: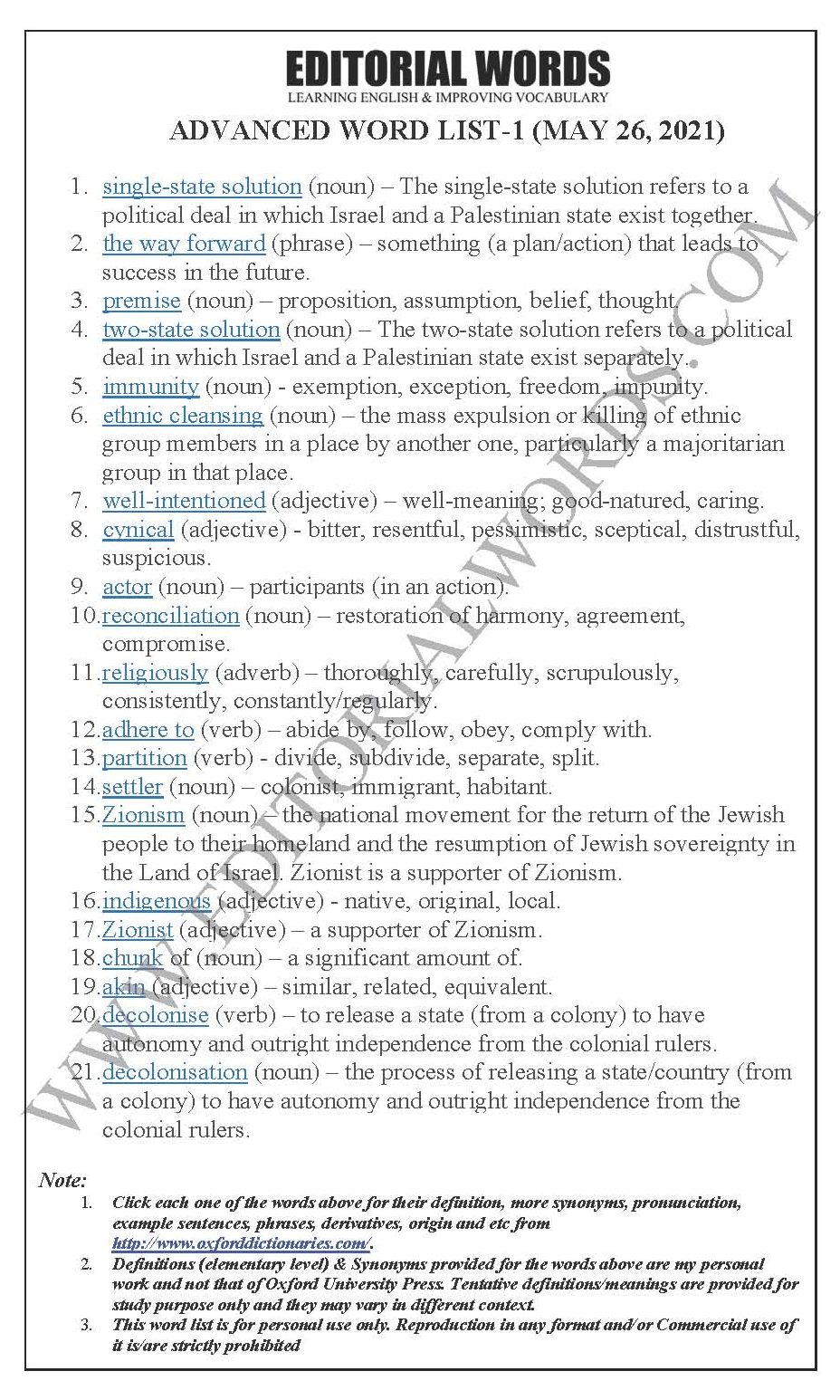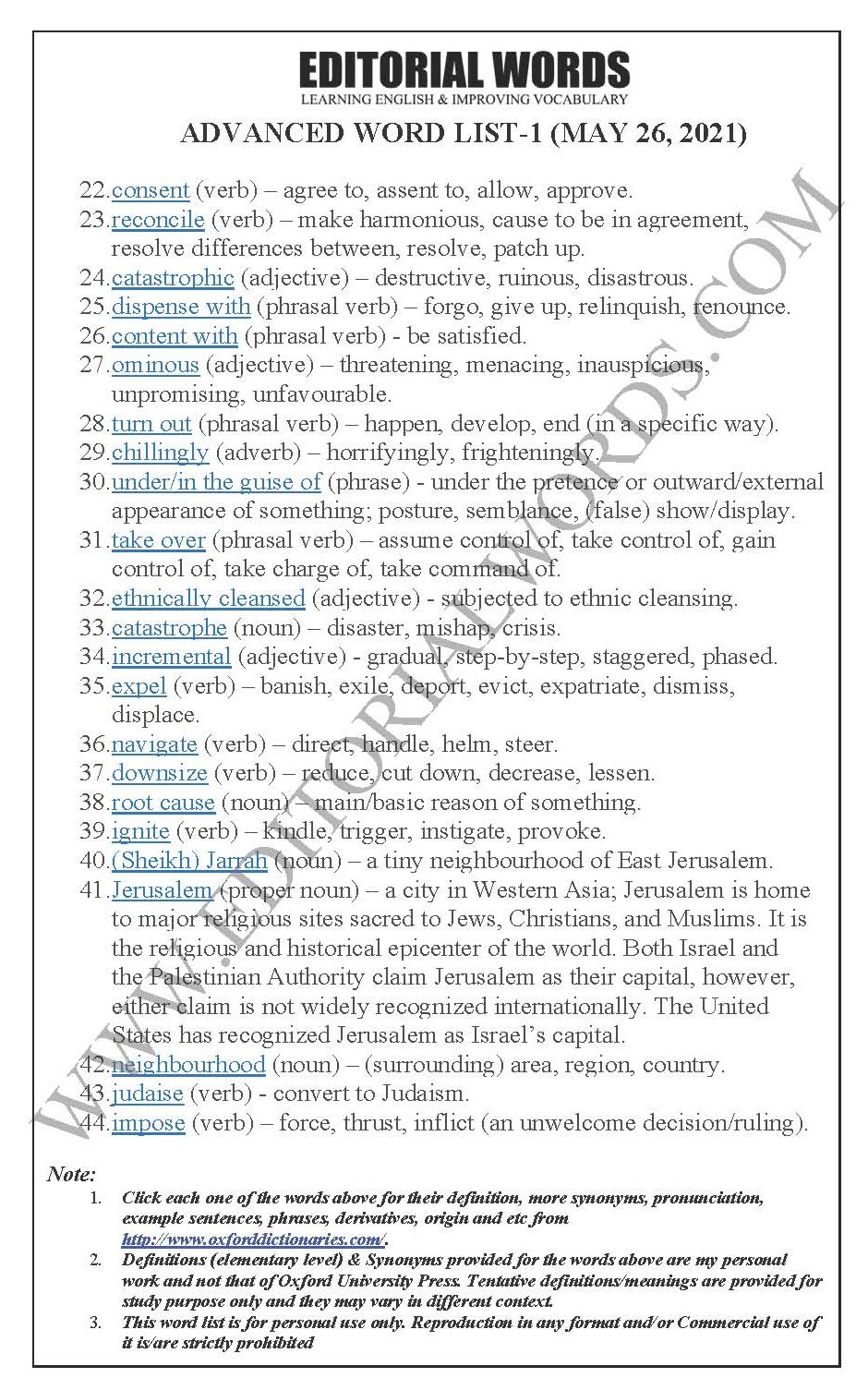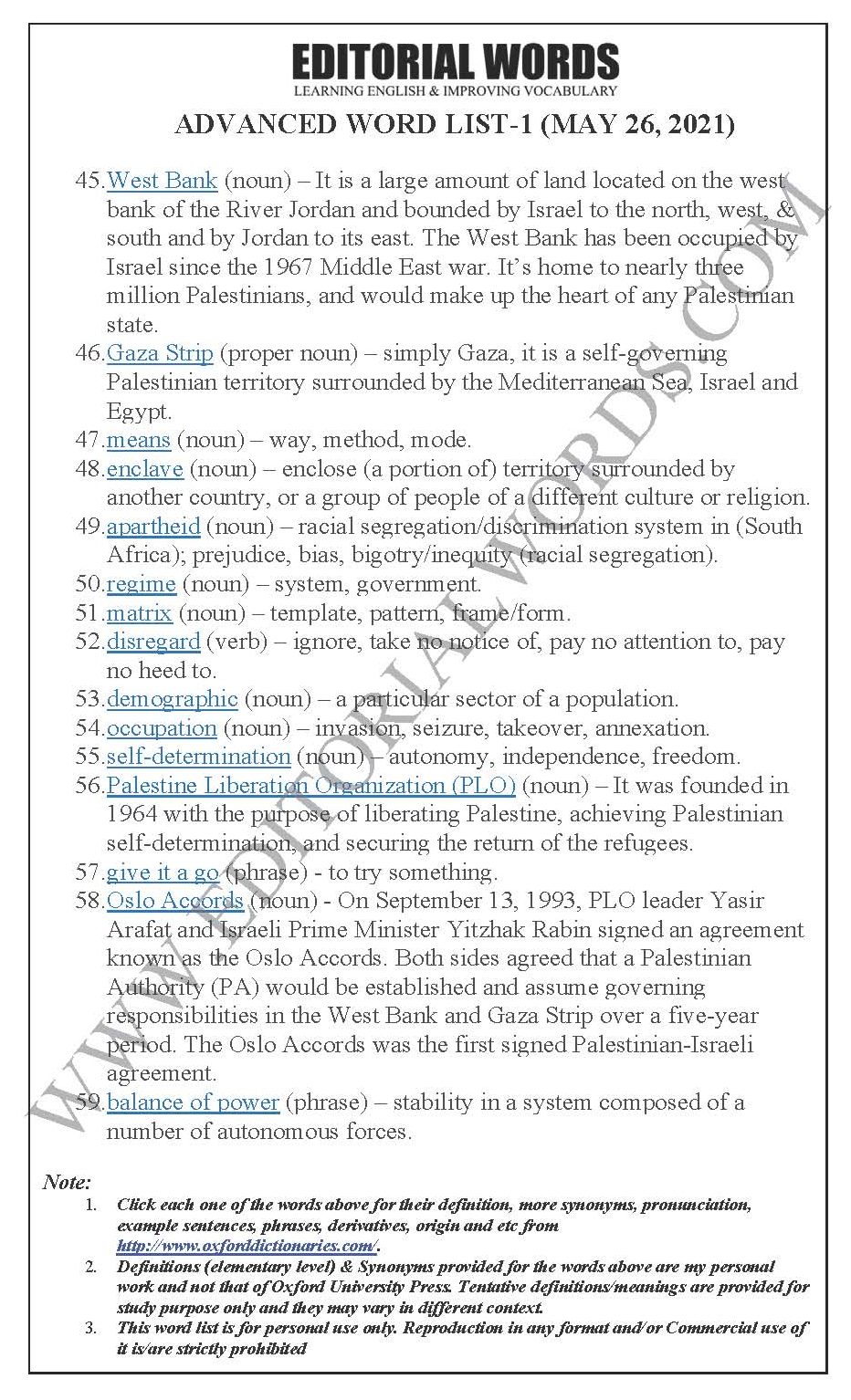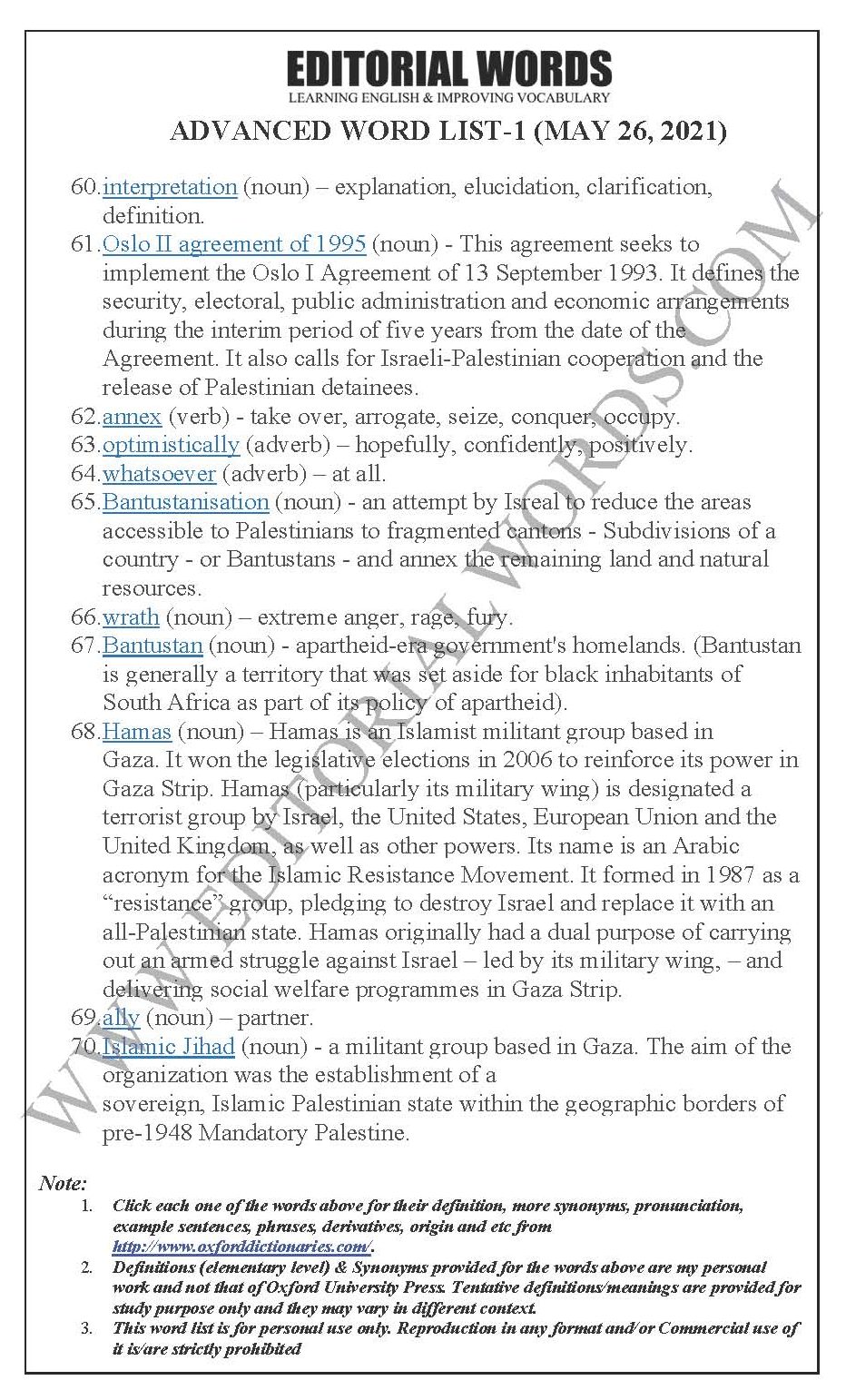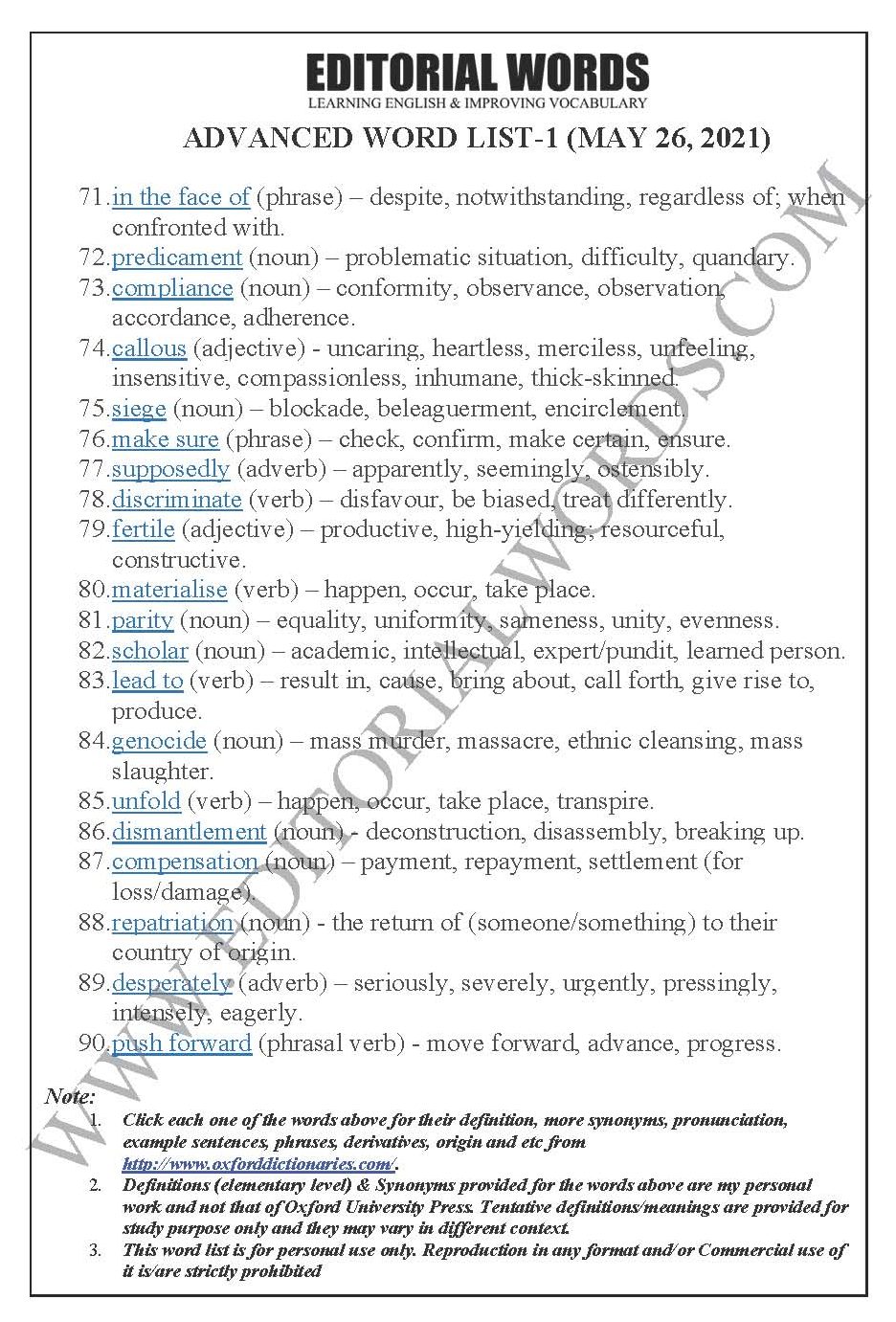 "Phrasal Verbs" We Learnt Last Week
"Idioms & Phrases" We Learnt Last Week
"Important Definitions" We Learnt Last Week
Recent Word Lists For The Hindu Editorial Articles
Recent Advanced Word Lists For The Hindu Lead Articles