The Hindu Lead Article (Myanmar and the limits of pan-Islamism) – Oct 18, 2018
Since Myanmar's latest bout of violence against the Rohingya began in 2012, there has been a slow uptick of outrage in the Muslim world. For further reading, visit "The Hindu". Below is today's advanced word list-1 for The Hindu Lead Article (Myanmar and the limits of pan-Islamism) – Oct 18, 2018.
To read this article, click here.
This preview is provided here with permission.  
Courtesy: The Hindu
Today's Advanced Word List 1 for The Hindu Lead Article (Myanmar and the limits of pan-Islamism) – Oct 18, 2018
:
pan-Islamism (noun) – a political movement supporting the unity of all Muslims.
paradox (noun) – mystery, puzzle, contradiction/incongruity.
solidarity (noun) – unity, harmony, unanimity.
bout (noun) – eruption, outbreak, outburst/spell.
uptick (noun) – a small increase.
outrage (verb) – anger/fury, shock, indignation.
ethnic cleansing (noun) – the mass expulsion or killing of an ethnic group members in a place by an another one, particularly a majoritarian group in that place.
forefront (noun) – vanguard, leading position, driving force.
flight (noun) – departure, exodus, exit.
alleviate (verb) – reduce, control, mitigate/moderate.
humanitarian (adjective) – compassionate, humane, socially concerned.
influx (noun) – the arrival of a large number of people simultaneously.
fragmented (adjective) – divided, fractured, separated.
plight (noun) – difficult situation, trouble/difficulty, quandary.

level against

 (phrasal verb) – direct (an accusation).
de-legitimise (verb) – reverse/withdraw legitimate status of something.
heir (noun) – successor, inheritor/scion, descendant/beneficiary.
forge (verb) – build, form, create.
narrative (noun) – report/narration about a particular condition in which a series of things are happening.
sectarian (adjective) – denoting a sect (a group of people); factional, partisan.
bloodletting (noun) – killing, massacre, murder.
champion (verb) – uphold, support, defend.
suppress (verb) – triumph over, repress, restrain/control.
draw from (phrasal verb) – o

btain, get, acquire. 

repertoire (noun) – collection, stock, range.
aftermath (noun) – consequence, result/outcome, repercussion.
institutionalised (adjective) – established, set up (as a standard practice).
sequestration (noun) – separation, setting apart, segregation.
ironically (adverb) – paradoxically, unexpectedly, strangely.
premise upon (verb) – base on (something).
distrust (noun) – mistrust, suspicion, lack of confidence.
deem (verb) – regard as, consider; think/judge.
hypocritical (adjective) – insincere, false/hollow, self-righteous.
hypocrisy (noun) – false virtue, falseness/duplicity, double-dealing.
grave (adjective) – (very) serious, crucial/critical, awful.
lexicon (noun) – dictionary, wordbook, vocabulary (list).
appropriate (verb) – claim, assume, secure.
muffle (verb) – quieten/suppress, silence, tone down.
reproach (verb) – dislike, be against, criticize.
midwife (noun) – support, help, aid (provided to create/develop something).
arbitrary (adjective) – capricious

/whimsical, random, 

unpredictable/inconsistent.
underlie (verb) – be fundamental, be basic, be essential.
imperialism (noun) – an action that involves a country (usually an empire or a kingdom) extending its power by the acquisition of territories.
zionism (noun) – the national movement for the return of the Jewish people to their homeland and the resumption of Jewish sovereignty in the 

Land of Israel.

surrogate (noun) – agent

, representative.

persecution (noun) – oppression, ill treatment, suppression.
the prophet (noun) – Muhammad (the founder of Islam).
desecration (noun) – violation, dishonour, blasphemy.
give rise to (phrase) – produce, bring about, cause.

humanitarian crises

 (noun) – also called as humanitarian disaster/tragedy; it is defined as a singular event or a series of events that are threatening in terms of health, safety or well being of a community or large group of people. It may be an internal or external conflict and usually occurs throughout a large land area.
trajectory (noun) – course, route, path.
transient (adjective) – temporary, short-term or impermanent.
dissipate (verb) – disappear, vanish, dissolve.
denounce (verb) – reject, condemn, attack.
explicitly (adverb) – clearly, unequivocally, without any doubt.
Note:   
Click each one of the words above for their definition, more synonyms, pronunciation, example sentences, phrases, derivatives, origin and etc from http://www.oxforddictionaries.com/.
Definitions (elementary level) & Synonyms provided for the words above are my personal work and not that of Oxford University Press. Tentative definitions/meanings are provided for study purpose only and they may vary in different context. 
This word list is for personal use only. Reproduction in any format and/or Commercial use of it is/are strictly prohibited.
Today's Advanc
ed Word List 1 for The Hindu Lead Article (Myanmar and the limits of pan-Islamism) – Oct 18, 2018: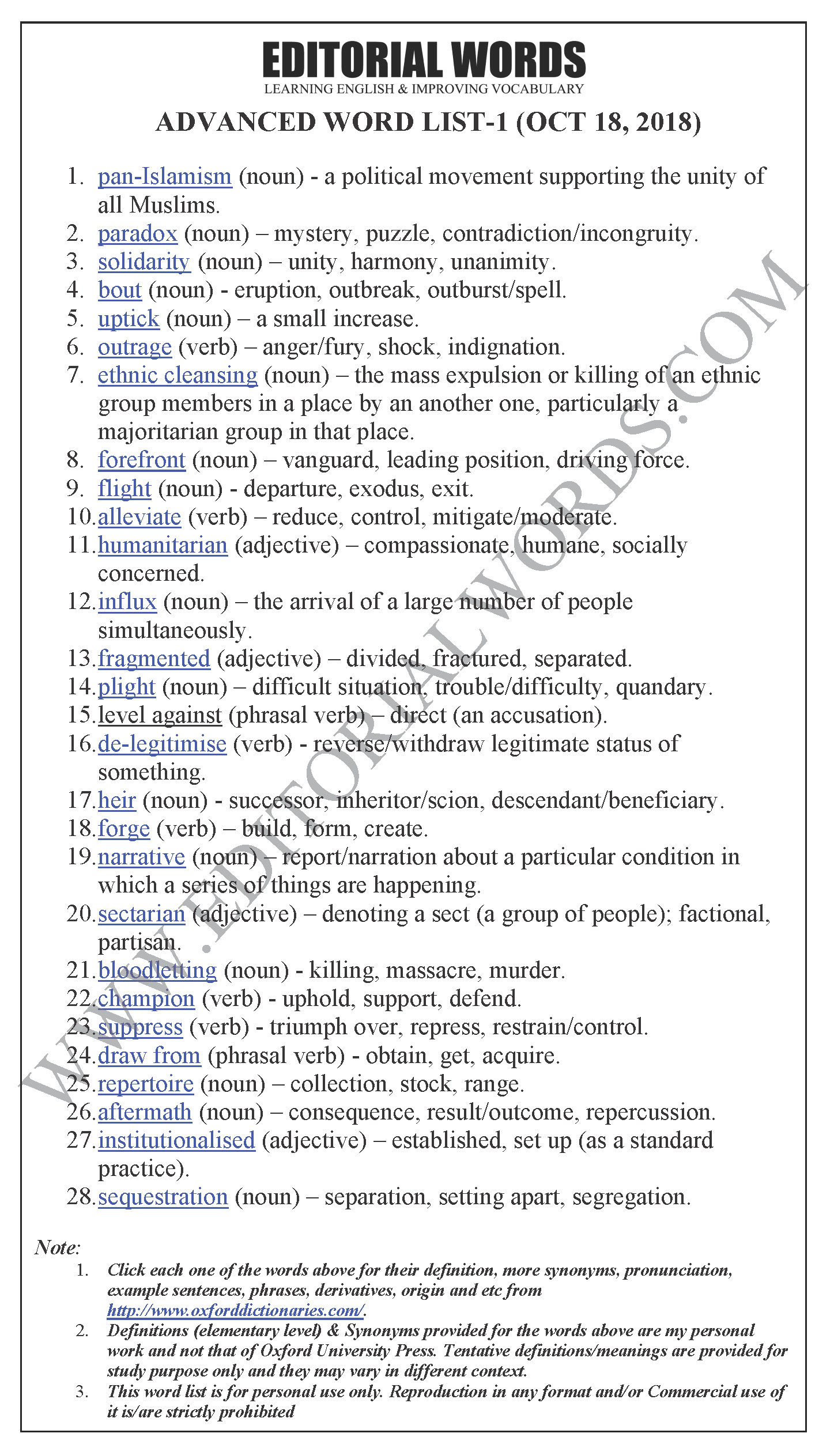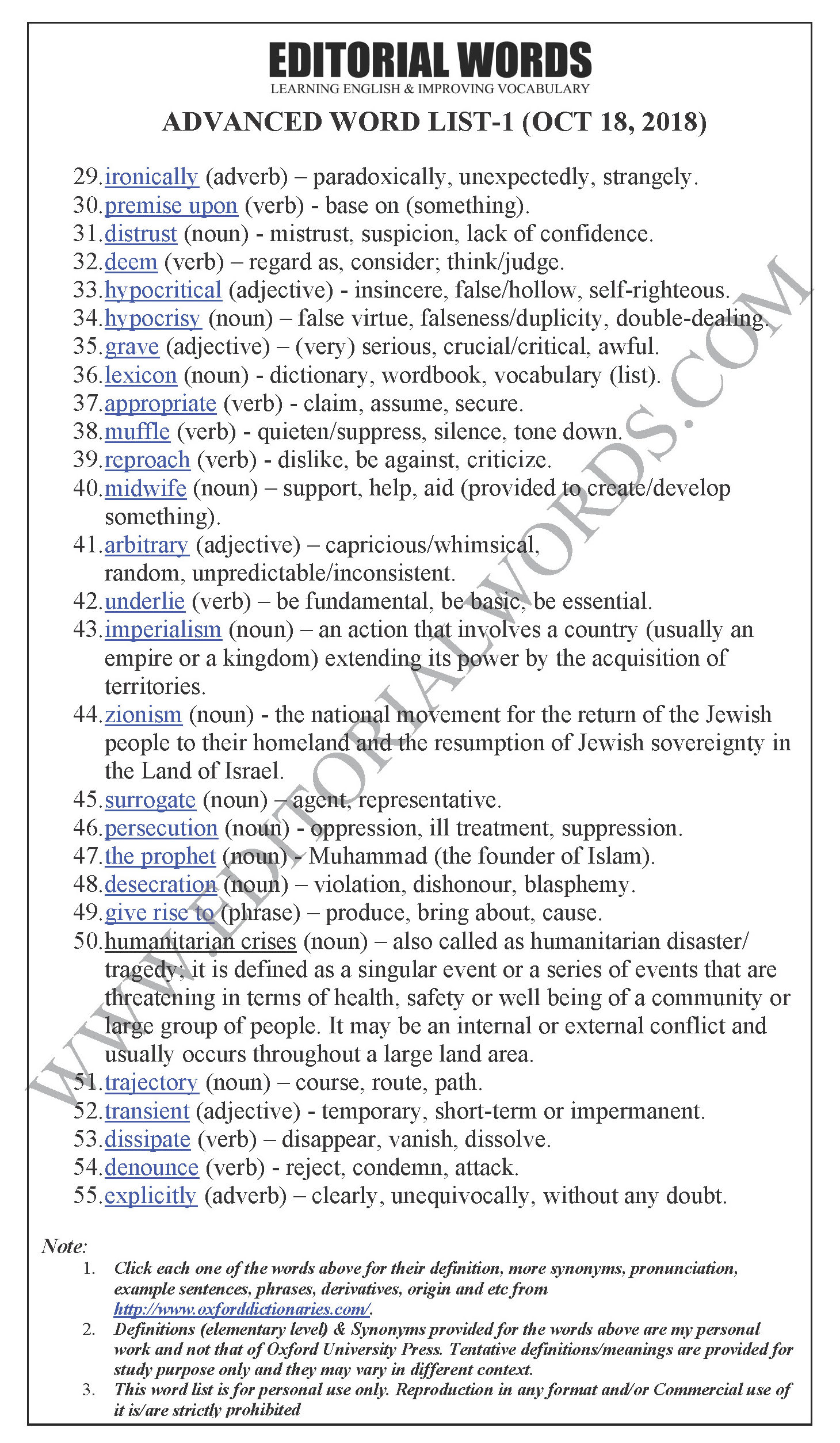 "Phrasal Verbs" We Learnt Last Week
"Idioms & Phrases" We Learnt Last Week