The Hindu Lead Article (Losing a nation, in seven acts) – Feb 21, 2020
Are we losing our country? This is the question that Ece Temelkuran, a Turkish journalist and writer,… For further reading, visit "The Hindu". Below is today's advanced word list-1 for The Hindu Lead Article (Losing a nation, in seven acts) – Feb 21, 2020.
To read this article, click here.
This preview is provided here with permission.  
Courtesy: The Hindu
Today's Advanced Word List 1 for The Hindu Lead Article (Losing a nation, in seven acts) – Feb 21, 2020
:
descent (noun) – decline, deterioration, degeneration, sinking.

saptapadi

(noun) – (Sanskrit) seven steps.
intimately (adverb) – in a method that involves thorough knowledge of something.
authentic (adjective) – original, real, actual, true.
unjustly (adverb) – unfairly, wrongly, unreasonably.
marginalised (adjective) – treated as insignificant, treated as unimportant, neglected (people).
assorted (adjective) – various, diverse/different, miscellaneous.
conspiracy (noun) – unlawful plan, intrigue, collaboration/deception.
rationality (noun) – practicality, viability

,

 possibility/stability.
thrust upon (verb) – force, impel, compel, demand, pressurize (someone) to accept something.
shed (verb) – discard

, get rid of, abandon.

in the name of (phrase) – for the sake of, at the behest of.
indigeneity (noun) – naturalness, naturality, ingenuousness, spontaneity.
co-option (noun) – incorporation, integration, appropriation.
checks and balances (plural noun) – a system in which all departments of a government organization have right to amend/limit the powers of the other departments in order to avoid dominance of one department.

pre-calibrated

(adjective) – carefully assessed/adjusted beforehand (in advance).
normalcy (noun) – a normal condition; normality, regularity.
shrug off (phrasal verb) – disregard, dismiss, ignore.
weight (noun) – importance, significance, value/power

.

liberal (adjective) – progressive

,

 forward-thinking, enlightened, broad-minded, reformist.
secular (adjective) – non-religious, worldly, earthly.
irrelevance (noun) – inapplicability, unconnectedness, unrelatedness.
despair (noun) – desperation, distress, pain.
resistance (noun) – opposition to, refusal to accept, unwillingness/disinclination/reluctance to accept.
liberal (noun) – revolutionary

, radical, reformer, broad-minded people.

mark (verb) – characterize

, distinguish, identify.

built-in (adjective) – basic, fundamental, essential.
give way to (phrasal verb) – yield, give in, submit.
disbelief (noun) – doubtfulness, mistrust, questioning.
incredulous (adjective) – doubtful, unbelieving, unconvinced.
exclamation (noun) – cry, shout, sudden utterance.
get away with (phrasal verb) – escape blame for, escape punishment for.
persuasively (adverb) – convincingly

, effectively, powerfully, strongly.

to name (but) a few (phrase) – to give only a few examples, even though there are a lot of examples available to look at.
under way (phrase) – going on, happening, in progress.
address (verb) – tackle, deal with, attend to, try to sort out

.

resemblance (noun) – similarity

, likeness, comparison.

uncanny (adjective) – striking, exceptional, remarkable, noteworthy, considerable.
distinctiveness (noun) – characteristics, individuality, uniqueness.
striking (adjective) – noticeable

, obvious, evident, visible. 

oddly enough

 (phrase) – strangely enough; used for saying that something is not what you would expect in a particular situation.

hold out a mirror

(phrase) – put a mirror in front of someone so they can see their reflection.
phenomenon (noun) – occurrence, event, happening.
relativise (verb) – treat as relative to something else.
be accustomed to (verb) – be used to; come to terms with, learn to live with, make familiar with.
draw attention to (phrase) – emphasize, highlight, underscore; focus on.
authoritarian (adjective) – oppressive, dictatorial, totalitarian.
communalism (noun) – adherence/obedience to one's own ethnic group (against the principle/practice of living together in a wider society).
flag off (verb) – signal, give a sign to, indicate.
neoliberalism (noun) – new/revived liberal principles.
formulaic (adjective) – standard, routine, conventional, run-of-the-mill.
rant (noun) – talk/speak in a noisy, uncontrolled, or angry way; tirade, verbal onslaught.
ought to (modal verb) – must, should.
deprive of (verb) – dispossess

, strip of, deny, prevent from having.

discredit (verb) – disgrace

, dishonour, devalue.

welfarism (noun) – the principles/policies of a welfare state.
communitarian (adjective) – relating to a philosophy that emphasizes the connection between the individual and the community.
undermine (verb) – reduce, spoil, damage.
self-evidently (adverb) – obviously, clearly, evidently, manifestly.
invisible (adjective) – unnoticeable, indistinguishable, indiscernible.
incredibly (adverb) – extremely

, remarkably, really.

prime (verb) – prepare, brief

, advise, notify, give information to.

swiftness (noun) – promptness

, immediateness, rapidity.

credit (verb) – be accredited with, trust, be recognized as.
bigotry (noun) – partiality, unfairness, injustice.
tutor (verb) – teach

, instruct, train.

addressee (noun) – the person to whom something is addressed.
scepticism (noun) – doubt, suspicion/mistrust, wariness, lack of conviction.
mean (adjective) – average, common, normal.
pride on (verb) – be proud of

, 

revel in, take satisfaction in, delight in.
wear one's (heart) on one's sleeve (phrase) – make one's feelings/activities apparent.
cynicism (noun) – disbelief, pessimism, doubtfulness.
concocted (adjective) – fabricated, invented/devised, manufactured.

alternative facts

(noun) – something presented as a fact for reasons of political expediency (gain/advantage); lies, falsehoods, untruths, delusions.
disconnect (noun) – lack of connection; discrepancy.
composition (noun) – formation, structure, organization.
intellectual (noun) – learned person, academic, scholar.
distinct (adjective) – different, separate, discrete.
monopolize (verb) – control, take over, dominate.
intellectual (adjective) – academic, knowledgeable, literary, enlightened/scholarly.
insider (noun) – member, staff member, employee.
antipathy (noun) – hostility, aversion, opposition.
the corridors/halls of power (phrase) – the top/senior level of government.
bureaucrat (noun) – a powerful officer, civil servant, functionary.
autonomous (adjective) – self-governing, independent, self-determining.
cut off (phrasal verb) – block, stop, end/discontinue.
come to terms with (phrase) – accept, adjust to, reach an acceptance.
unprecedented (adjective) – not done or experienced before.
relative (adjective) – respective, comparable, correlative, parallel, corresponding.
scarcity (noun) – shortage

, dearth/lack, rarity.

right-wing (adjective) – conservative, rightist, alt-right.
matter of concern (phrase) – something which causes worry.
moderation (noun) – self-restraint

, self-control, self-discipline

.

pursuit (noun) – aspiration, quest, search.
resentment (noun) – bitterness

, indignation, enmity, hatred/hate.

play out (phrasal verb) – happen, occur, take place.
irreparable (adjective) – irreversible

, irremediable, unrecoverable.

ecosystem (noun) – complex situation/environment.
Note:  
 1. Click each one of the words above for their definition, more synonyms, pronunciation, example sentences, phrases, derivatives, origin and etc from http://www.oxforddictionaries.com/.
2. Definitions (elementary level) & Synonyms provided for the words above are my personal work and not that of Oxford University Press. Tentative definitions/meanings are provided for study purpose only and they may vary in different context. 
3. This word list is for personal use only. Reproduction in any format and/or Commercial use of it is/are strictly prohibited.
Today's Advanc
ed Word List 1 for The Hindu Lead Article (Losing a nation, in seven acts) – Feb 21, 2020
: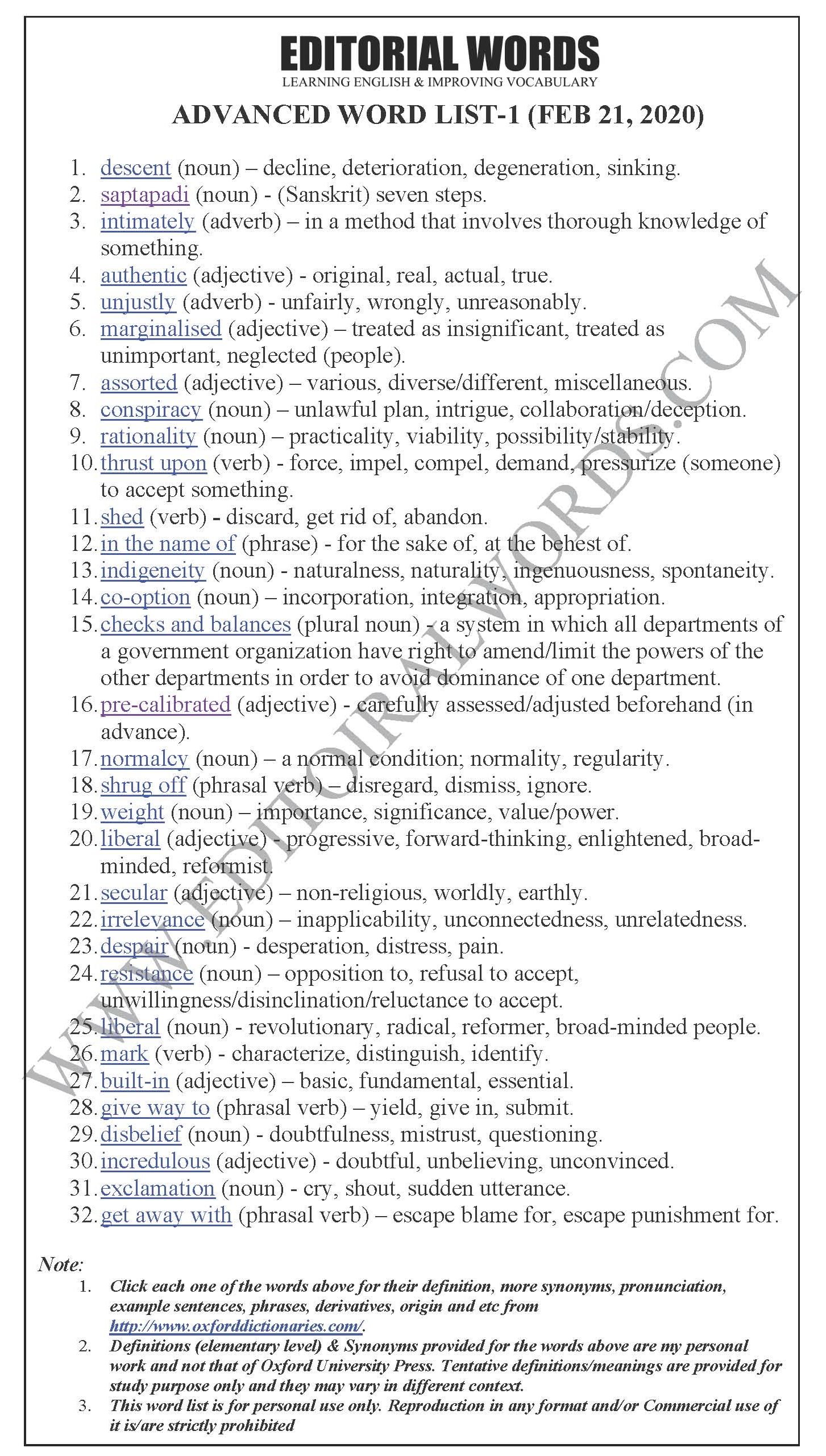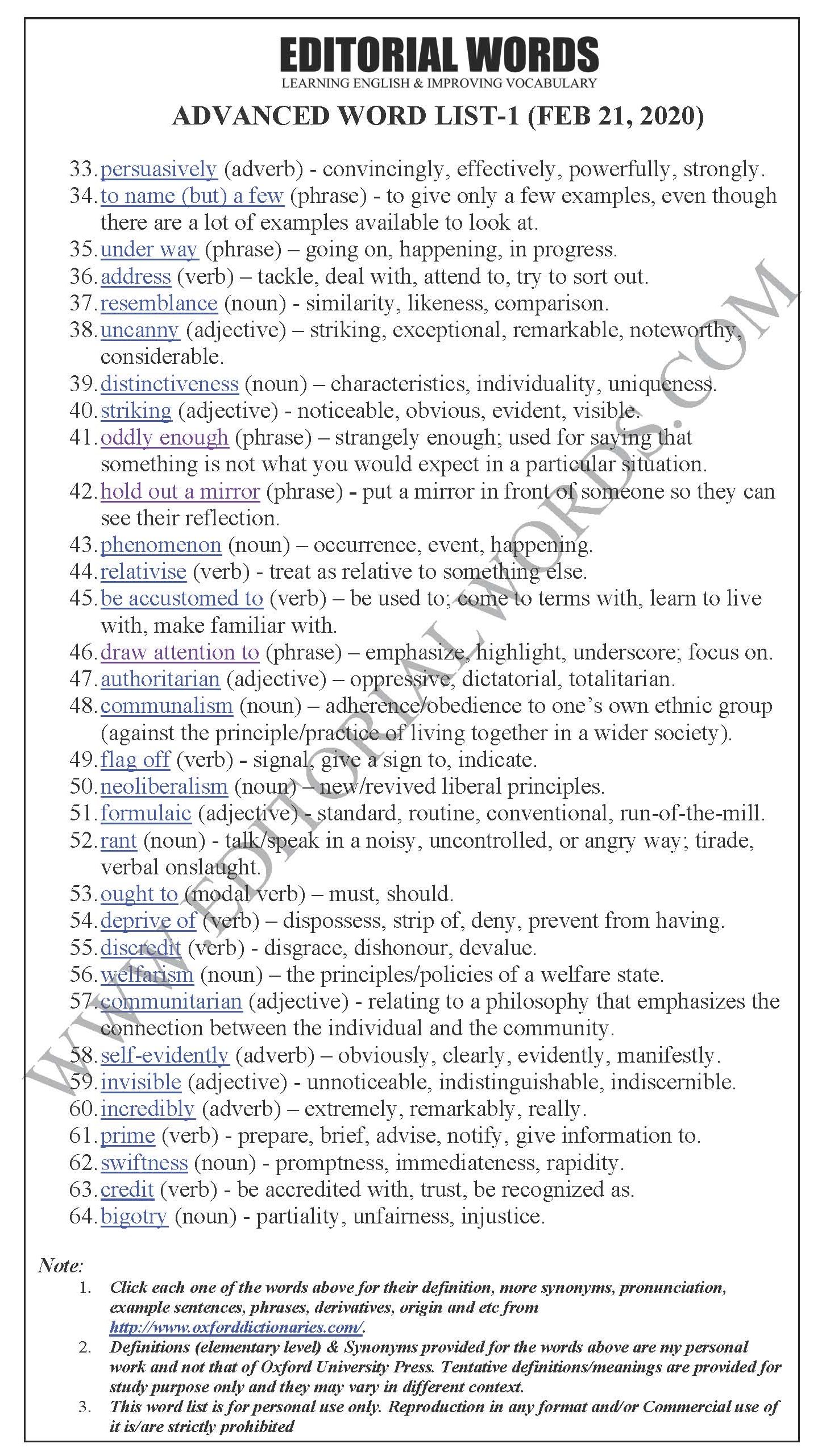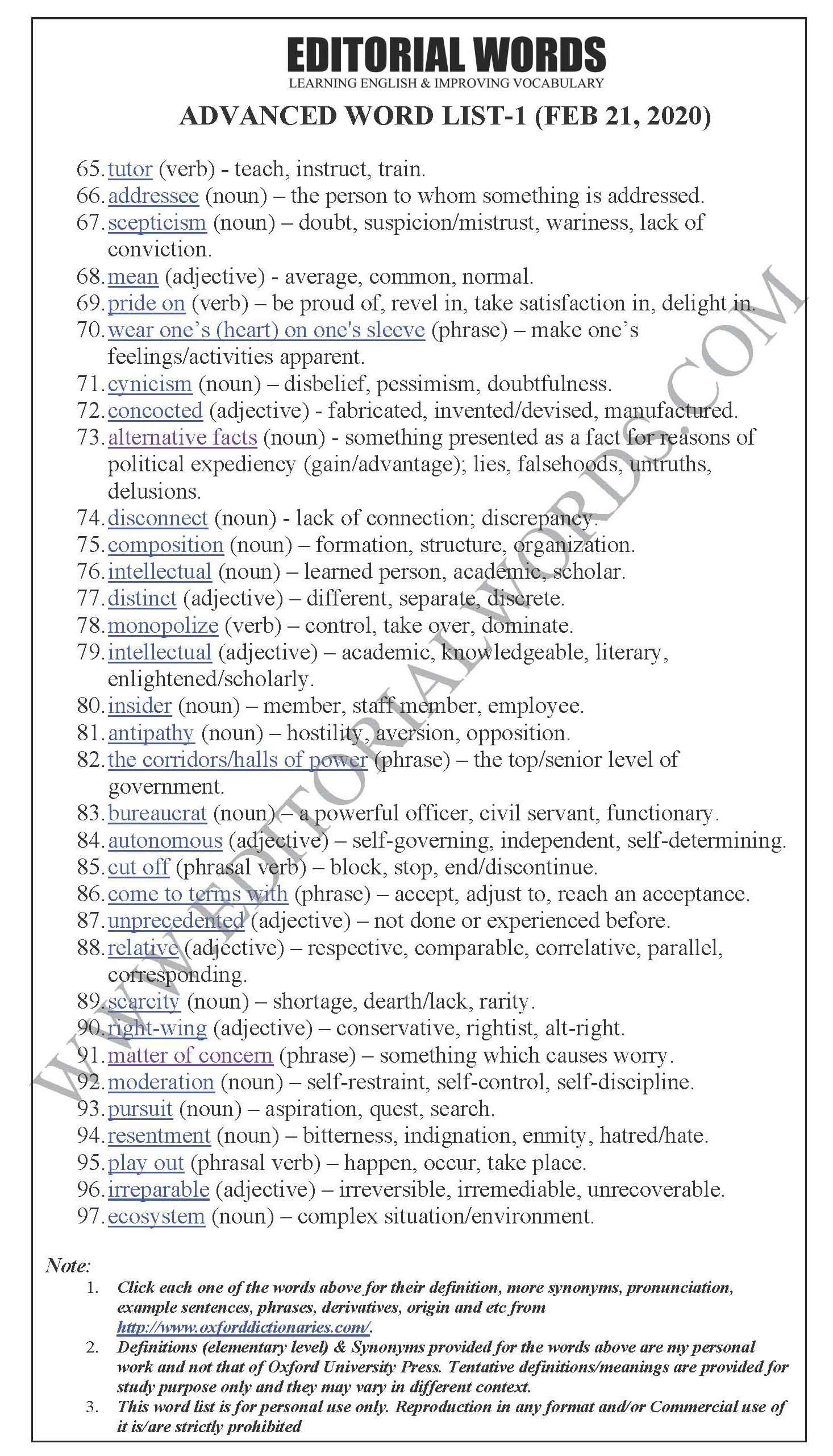 "Phrasal Verbs" We Learnt Last Week
"Idioms & Phrases" We Learnt Last Week
"Important Definitions" We Learnt Last Week
Recent Word Lists For The Hindu Editorial Articles
Recent Advanced Word Lists For The Hindu Lead Articles