The Hindu Lead Article (Lip service to labour rights) – Oct 22, 2018
Gujarat is one of the top States in India that receive migrant workers, largely temporary and seasonal, on a large scale. For further reading, visit "The Hindu". Below is today's advanced word list-1 for The Hindu Lead Article (Lip service to labour rights) – Oct 22, 2018.
To read this article, click here.
This preview is provided here with permission.  
Courtesy: The Hindu
Today's Advanced Word List 1 for The Hindu Lead Article (Lip service to labour rights) – Oct 22, 2018
:
lip service (noun) – a method of expressing approval/support without taking any significant action.
exodus (noun) – mass departure, evacuation, leaving/exit.
indifference (noun) – disregard, lack of interest, apathy/unconcern.
well being (noun) – prosperity, success, fortune/wealth.
kiln (noun) – furnace used for burning (bricks).
salt pan (noun) –  shallow, depressed flat areas of ground covered with salt deposited by water accumulation & evaporation.
petty (adjective) – trivial, unimportant, insignificant.
scant (adjective) – little, minimal, negligible/meagre.
as far as (phrase) – to the extent/degree.
segment (verb) – subdivide/divide, separate, split.
exploit (verb) –  misuse, ill-treat, squeeze/enslave.
pathetic (adjective) – woeful, contemptible, unsatisfactory.
makeshift (adjective) – temporary, make-do, provisional/substitute.
power loom (noun) – a mechanized loom uses water, steam or electricity for its operation. (loom is a device for weaving threads for getting cloth).
embers (noun) – burning coal/wood (after fire);  burning ashes

, residue (of fired wood/coal)

.
resentment (noun) – indignation, anger, fury/outrage.
on account of (phrase) – because of, owing to/due to, by virtue of.
incite (verb) – encourage, stir up, provoke/instigate.
bound to (adjective) – certain/sure, very likely, guaranteed.

at the cost of

 (phrase) – at the expense of, sacrifice, at the loss of.
avert (verb) – prevent, stop, avoid.
normalcy (noun) – a normal condition; normality, regularity.
toil (verb) – work hard, labour, work day and night.
be at one's wits' end (phrase) – be worried, be confused, be perplexed.
laud (verb) – praise, admire, approve of.
on paper (phrase) – in theory, theoretically, hypothetically, .
indifferent (adjective) – unconcerned about, uncaring about, uninterested in.
far from (phrase) – not, not at all, nowhere near.
impulse (noun) – (strong & sudden) urge/instinct, compulsion, need.
status quo (noun) – the present situation, the current state, the existing state of affairs.
water down (phrase) – weaken, dilute; moderate, tone down.
domicile (noun) – the country in which a person is said to have his permanent residence.
futility (noun) – uselessness, pointlessness, vanity.
contain (verb) – control, stifle, restrain.

way out

(noun) – 

escapeway, escape route, loophole.
Note:   
Click each one of the words above for their definition, more synonyms, pronunciation, example sentences, phrases, derivatives, origin and etc from http://www.oxforddictionaries.com/.
Definitions (elementary level) & Synonyms provided for the words above are my personal work and not that of Oxford University Press. Tentative definitions/meanings are provided for study purpose only and they may vary in different context. 
This word list is for personal use only. Reproduction in any format and/or Commercial use of it is/are strictly prohibited.
Today's Advanc
ed Word List 1 for The Hindu Lead Article (Lip service to labour rights) – Oct 22, 2018: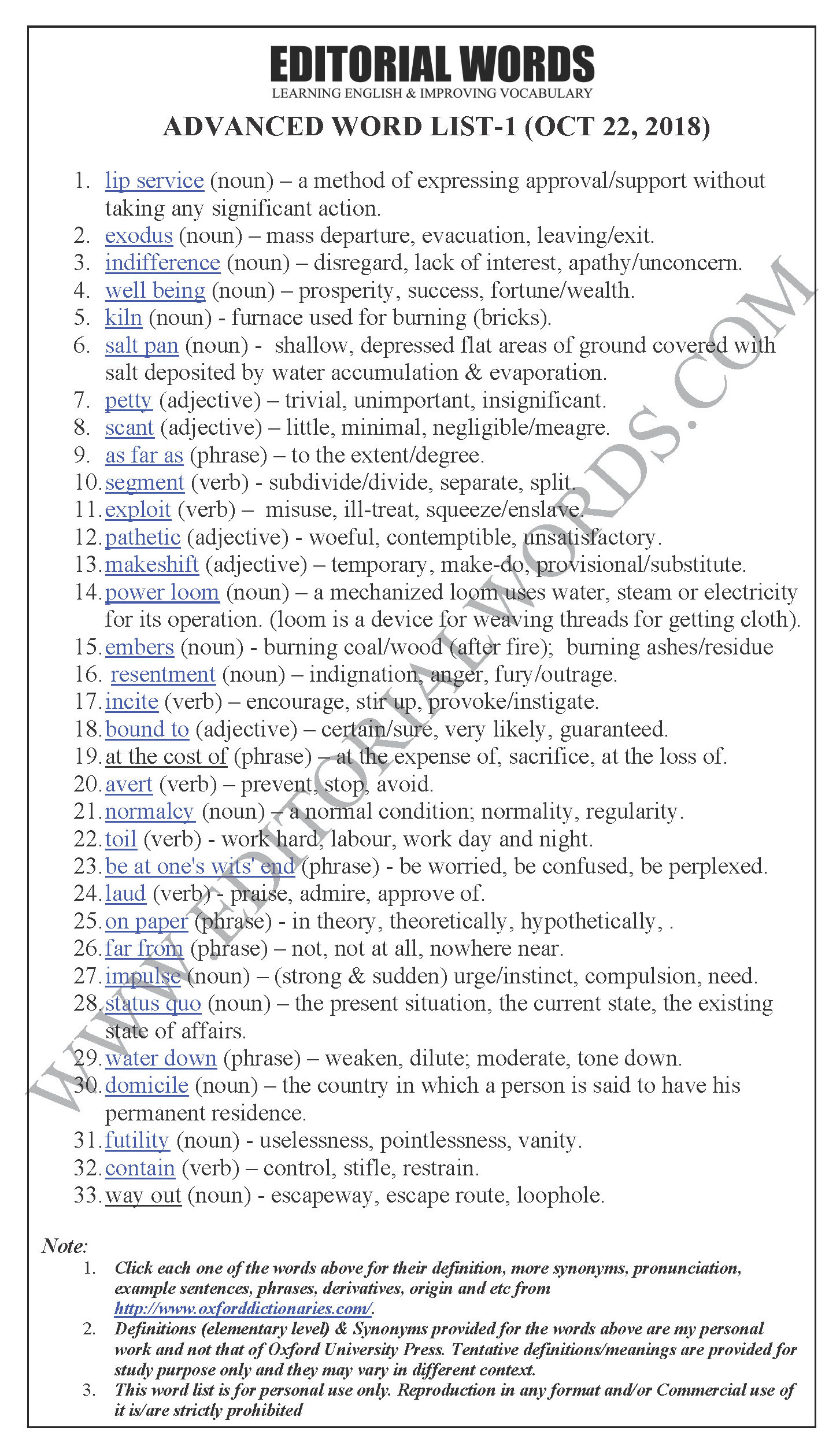 "Phrasal Verbs" We Learnt Last Week
"Idioms & Phrases" We Learnt Last Week