The Hindu Lead Article (In U.S. trade action, an Indian counter-strategy) – Feb 19, 2020
Last week, the United States officially designated developing and least-developed countries for the purposes of implementing the countervailing… For further reading, visit "The Hindu". Below is today's advanced word list-1 for The Hindu Lead Article (In U.S. trade action, an Indian counter-strategy) – Feb 19, 2020.
To read this article, click here.
This preview is provided here with permission.  
Courtesy: The Hindu
Today's Advanced Word List 1 for The Hindu Lead Article (In U.S. trade action, an Indian counter-strategy) – Feb 19, 2020
:
well-served

(adjective) – properly served, done well, serve a purpose.

protectionism

(noun) – the use of tariff and non-tariff restrictions on imports to protect domestic producers from foreign competition.
designate (verb) – classify, categorize, tag, label.
countervailing (adjective) – offsetting, counteracting, acting against with equal power, force, or effect.

SCM agreement

(noun) – The Agreement on Subsidies and Countervailing Measures ("SCM Agreement") addresses two separate but closely related topics: multilateral disciplines regulating the provision of subsidies, and the use of countervailing measures to offset injury caused by subsidized imports. (Courtesy: WTA)

countervailing duties

(noun) – tariffs levied on imported goods to offset subsidies made to producers of these goods in the exporting country; Duties that are imposed in order to counter the negative impact of import subsidies to protect domestic producers are called countervailing duties.
subsidy (noun) – the definition of subsidy contains three basic elements: (i) a financial contribution (ii) by a government or any public body within the territory of a Member (of WTA) (iii) which confers a benefit. (Courtesy: WTA)
stipulate (verb) – lay down, specify, state clearly.
de minimis (adjective) – (Latin phrase) too trivial/minor, about minimal things.
criterion (noun) – basis, standard, norm. (criteria is the plural form of criterion).
distinction (noun) – difference, dissimilarity, variation.
unlike (adjective) – different from

,

 dissimilar to, not like, as opposed to.
per capita (adverb & adjective) – per person, for each, individually.
arbitrary (adjective) – discretionary

, personal, subjective; 

unmotivated

, unreasonable, irrational/illogical, unjustified.

multilateral (adjective) – involving many different countries (in which all WTO member countries are party to the agreement).
take off (phrasal verb) – remove, take away.

Generalised System of Preferences

 (GSP) (noun) – The Generalized System of Preferences (GSP) is a U.S. trade program designed to promote economic growth in the developing world by providing preferential duty-free entry for thousands of products from 129 designated beneficiary countries and territories.
window (noun) – opportunity, chance, opening.
confer (verb) – grant, bestow, present/give.
imply (verb) – say indirectly, suggest, hint.
reciprocal (adjective) – mutual

, common, shared.

unwilling (adjective) – reluctant, disinclined, resistant.
slew of (noun) – a large number of, lot, range.
potential (adjective) – possible

, likely, prospective, probable.

exertion (noun) – use

, application, utilization (of force/influence).

differential (adjective) – different, dissimilar, contrasting.

special and differential treatment

 (S&DT) (noun) – The WTO agreements contain special provisions which give developing countries special rights and allow other members to treat them more favourably. These are "special and differential treatment provisions" (abbreviated as S&D or SDT). (Courtesy: WTA)
in short (phrase) – briefly, in essence, in sum.
accede to (verb) – agree to

, consent to, accept.

deploy (verb) – employ (resources).
open up (phrasal verb) – make available (to create/start developing new opportunities).
discipline (noun) – regulation, direction, order, rule; a system of rules of conduct

.

virtually (adverb) – effectively, nearly.

Minimum Support Price

 (MSP) (noun) – it is a form of market intervention by the Government of India to insure agricultural producers against any sharp fall in farm prices.
constraint (noun) – restriction

, limitation, restraint.

Direct Benefit Transfer

 (DBT) (noun) – an attempt to change the mechanism of transferring subsidies launched by Government of India on 1 January 2013. It aims to transfer subsidies directly to the people through their bank accounts.
distress (noun) – difficulty, trouble, suffering.
insurmountable (adjective) – unconquerable, unassailable, unbeatable.
juncture (noun) – point in time, time/moment, stage.
foreseeable (adjective) – expected, predictable, inevitable.
-ridden (as adjective, in combination) – be full of or dominated by.
imperative (noun) – duty, obligation; urgent thing, necessary requirement.
instrument (noun) – mechanism, apparatus, system, means (to achieve/attain something).
provision (noun) – term, clause, requirement.
reciprocity (noun) – exchange, substitution, reparation.
across the board (phrase) – applying to all.
Note:  
 1. Click each one of the words above for their definition, more synonyms, pronunciation, example sentences, phrases, derivatives, origin and etc from http://www.oxforddictionaries.com/.
2. Definitions (elementary level) & Synonyms provided for the words above are my personal work and not that of Oxford University Press. Tentative definitions/meanings are provided for study purpose only and they may vary in different context. 
3. This word list is for personal use only. Reproduction in any format and/or Commercial use of it is/are strictly prohibited.
Today's Advanc
ed Word List 1 for The Hindu Lead Article (In U.S. trade action, an Indian counter-strategy) – Feb 19, 2020
: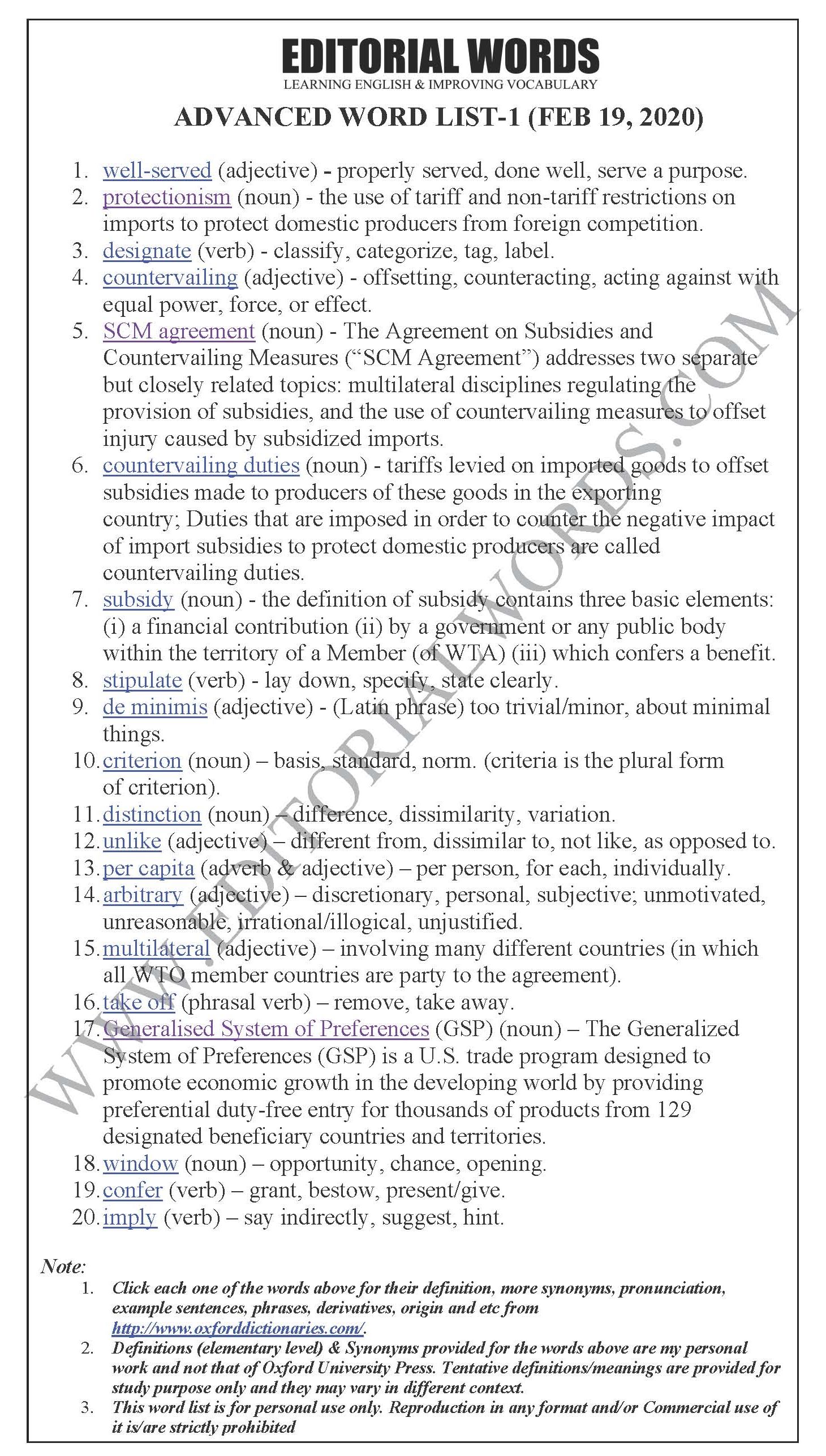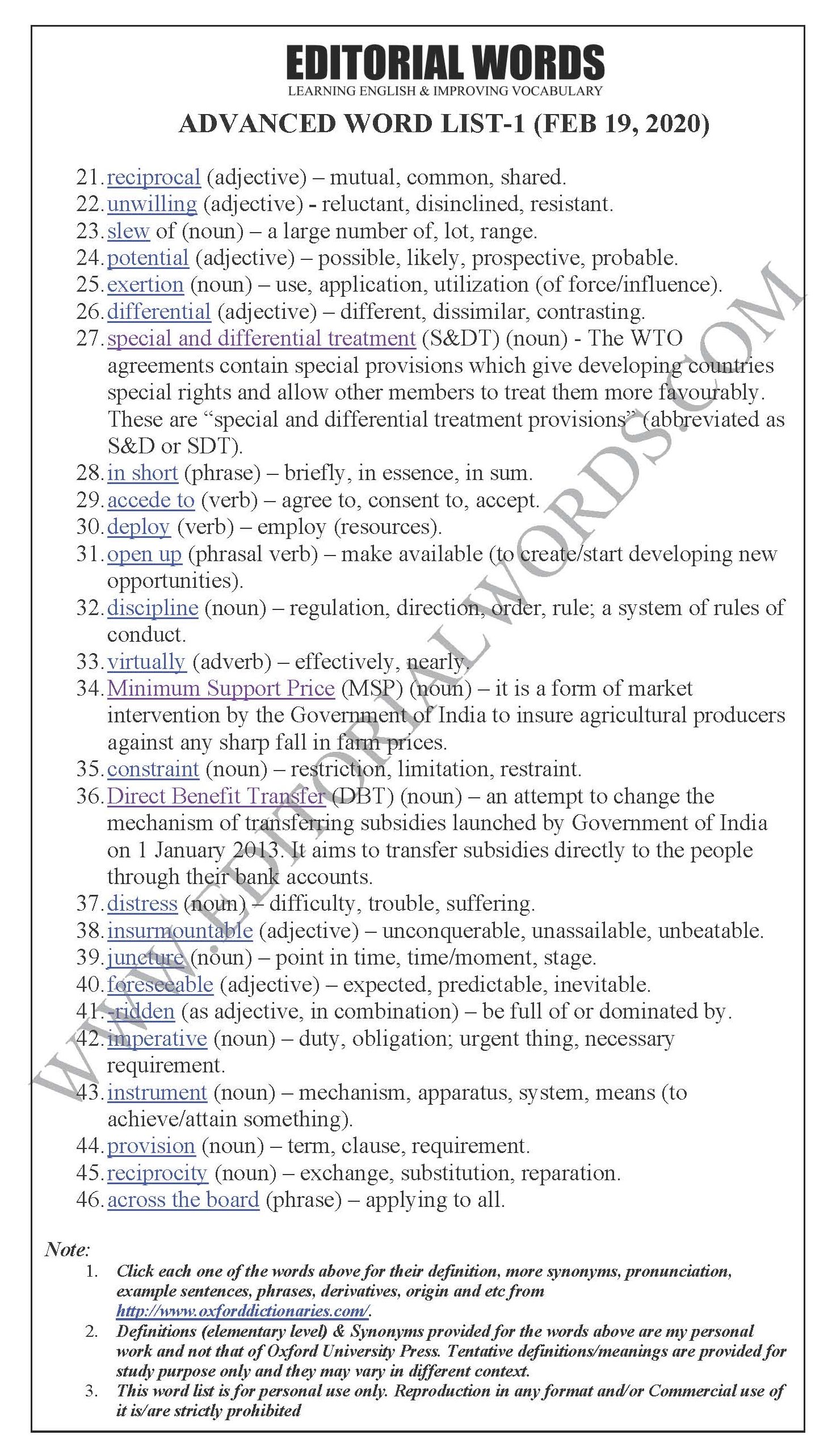 "Phrasal Verbs" We Learnt Last Week
"Idioms & Phrases" We Learnt Last Week
"Important Definitions" We Learnt Last Week
Recent Word Lists For The Hindu Editorial Articles
Recent Advanced Word Lists For The Hindu Lead Articles