The Hindu Lead Article (In the court of last resort) – Oct 29, 2018
The Supreme Court, on Friday, stepped into the institutional crisis engineered by the "forcible transfer" of the Director of the Central Bureau of Investigation (CBI) earlier in the week. For further reading, visit "The Hindu". Below is today's advanced word list-1 for The Hindu Lead Article (In the court of last resort) – Oct 29, 2018.
To read this article, click here.
This preview is provided here with permission.  
Courtesy: The Hindu
Today's Advanced Word List 1 for The Hindu Lead Article (In the court of last resort) – Oct 29, 2018
:
last resort (phrase) – a final course of action when all else has failed; ultimate, final, eventual.
underline (verb) – emphasize, underscore, highlight.
gravity (noun) – seriousness, importance, significance.
engineer (verb) – bring about

, cause, arrange (something skillfully).

sort out (phrasal verb) – settle, sort, resolve.
black and white (adjective) – straightforward, categorical, unequivocal.
consent (noun) – agreement, assent, permission/approval.
divest (verb) – deprive, strip, dispossess/relieve of (power).
tread (verb) – go, step, stride.
breakdown (noun) – failure, collapse, foundering.
prudently (adverb) – wisely, sensibly, carefully.
clip the wings of (phrase) – restrict someone's freedom, keep under control, obstruct.
interim (adjective) – provisional, transitional, temporary.
thus far (sub-modifier) – so far, until now, hitherto.
frozen (adjective) – can't be changed/undone.
loathe (verb) – hate, detest, dislike greatly.
alacrity (noun) – eagerness, willingness, readiness.

take pains to do something

(phrase) – to spend a lot of time and energy to do something.
ostensible (adjective) –  apparent, seeming, alleged/purported.
provocation (noun) – goading, urging, egging on/pressure.

wield the axe

(phrase) – exercise/use the power/authority.
disrepair (noun) –  deterioration

, decay, collapse.

disquiet (noun) – distress, worry, anxiety.
labour (verb) – work hard, struggle, strive.
anonymous (adjective) – mystery, incognito, unknown/unspecified.
prima facie (adverb/adjective) – something (first impression) considered as right until proved.
competent (adjective) – suitable, fit, appropriate.

undivulged

(adjective) – not revealed/disclosed;
worth one's salt (phrase) – competent/skilful at the profession/job.
dither (verb) – hesitate, be in two minds, be undecided/unsure.
exigency (noun) – (urgent) need, demand, urgency.
requisite (adjective) – necessary, required, essential.

thumb one's nose

(phrase) – a sign/gesture of disrespect.
hold water (phrase) – make sense, be convincing, ring true/to seem to be correct.
egregious (adjective) – extremely bad; shocking.
confines (noun) – limits, boundaries, margins.
wade into (phrasal verb) – get involved in

, intervene in, get to work on.

fashion (verb) – create, make, build.
suffice (verb) – be enough, be sufficient, be adequate.
brazenness (noun) – boldness, shamelessness,
ethos (noun) – principles, beliefs, ethics/standards.
sinews (noun) –the parts of an organization that give strength to it.
vicious (adjective) – serious, dangerous, dreadful.
jab (noun) – punch, jolt, blow (painful).
Note:   
Click each one of the words above for their definition, more synonyms, pronunciation, example sentences, phrases, derivatives, origin and etc from http://www.oxforddictionaries.com/.
Definitions (elementary level) & Synonyms provided for the words above are my personal work and not that of Oxford University Press. Tentative definitions/meanings are provided for study purpose only and they may vary in different context. 
This word list is for personal use only. Reproduction in any format and/or Commercial use of it is/are strictly prohibited.
Today's Advanc
ed Word List 1 for The Hindu Lead Article (In the court of last resort) – Oct 29, 2018: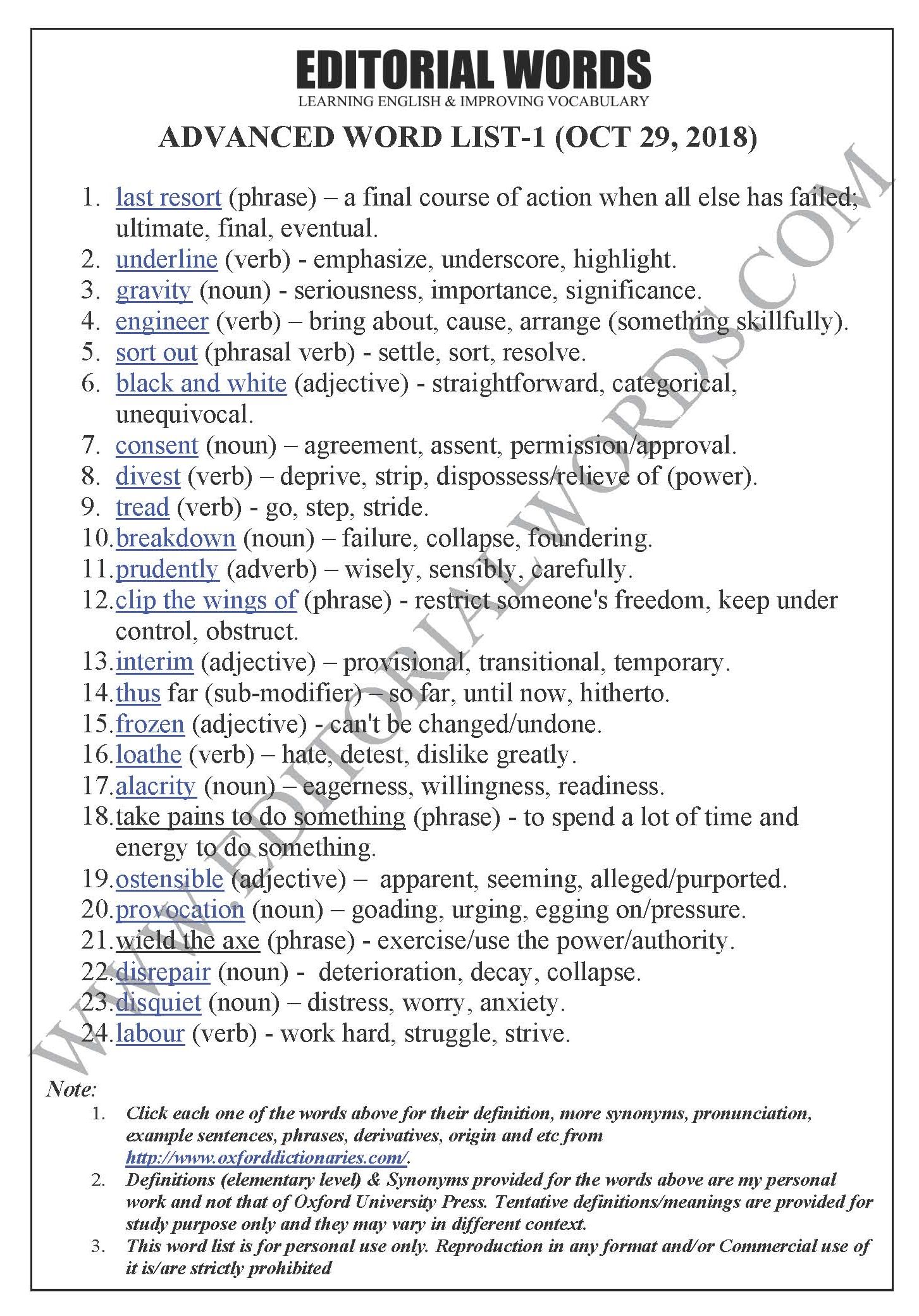 "Phrasal Verbs" We Learnt Last Week
"Idioms & Phrases" We Learnt Last Week