The Hindu Lead Article (Falling far short of the goal) – Jul 06, 2019
The general election is over and a new government has been formed. But the campaign does not seem to end. For further reading, visit "The Hindu". Below is today's advanced word list-1 for The Hindu Lead Article (Falling far short of the goal) – Jul 06, 2019.
To read this article, click here.
This preview is provided here with permission.  
Courtesy: The Hindu
Today's Advanced Word List 1 for The Hindu Lead Article (Falling far short of the goal) – Jul 06, 2019
:
fall short of (phrase) – be deficient/inadequate/insufficient; fail to meet/reach.
rhetoric (noun) – bombast, loftiness, hyperbole/extravagant language.
accelerated (adjective) – hastened, expedited, increased
sustainable (adjective) – acceptable, valid/reliable, dependable.
devote (verb) – allocate

, commit/dedicate, give over.

underline (verb) – underscore

, emphasize, highlight.

legacy (noun) – footprint, effect/outcome (something received from a predecessor or from the past).
flag (verb) – indicate, identify, point out.
interim (adjective) – provisional, transitional, temporary.
build on (phrasal verb) – develop, expand, enlarge (using something as a foundation).
take forward (phrasal verb) – manage, sort out, deal with.
lay out (phrasal verb) – explain something clearly & carefully.
inflation (noun) – simply meaning "cost of living"; increase of price level of goods & services and vice versa decrease of currency value.
incentivise (verb) – encourage, motivate, galvanize.
optimistically (adverb) – hopefully, confidently, positively.
the marginalised (noun) – people treated as insignificant/unimportant; the neglected.
shortfall (noun) – deficit, inadequacy/deficiency; shortcoming/defect.
striking (adjective) – noticeable, obvious, evident.
implicit (adjective) – implied, indirect, hinted.

fiscal deficit

 (noun) – the difference between total expenditure and total income of the government.
kick-start (verb) – revive, restore, revitalize/uplift.
imply (verb) – say indirectly, suggest, hint.
flagship (adjective) – most important schemes (produced by a government).
extol (verb) – praise enthusiastically, enthuse over, express delight over.
household (noun) – family, house.
curtailed (adjective) – reduce

d, decreased, diminished.

thrust (noun) – drive, force, push.
squeeze (verb) – compress, squash/crush; pressurize

/pressure, exploit.

inasmuch as (phrase) – to the extent that; in so far as.
neutralise (verb) – eliminate, cancel out

, nullify/invalidate.

resort to (verb) – use, utilize, turn to.

regressive tax

 (noun) – a tax applied in a way that the tax rate decreases with the increase of the taxpayer's income. The rate of taxation decreases as the income of taxpayers increases.
sanctions (noun) – action taken, or an order given to force a country to obey international laws by limiting or stopping trade with that country, by not allowing economic aid for that country, etc (Courtesy: VOA Learning English).
disinvestment (noun) – the process of reducing capital investments.
privatisation (noun) – transfer of a business, industry, or service from public to private ownership and control.
yield (verb) – produce, provide, give.
Note:  
 1. Click each one of the words above for their definition, more synonyms, pronunciation, example sentences, phrases, derivatives, origin and etc from http://www.oxforddictionaries.com/.bigotry

, narrow-mindedness
2. Definitions (elementary level) & Synonyms provided for the words above are my personal work and not that of Oxford University Press. Tentative definitions/meanings are provided for study purpose only and they may vary in different context. 
3. This word list is for personal use only. Reproduction in any format and/or Commercial use of it is/are strictly prohibited.
Today's Advanc
ed Word List 1 for The Hindu Lead Article (Falling far short of the goal) – Jul 06, 2019
: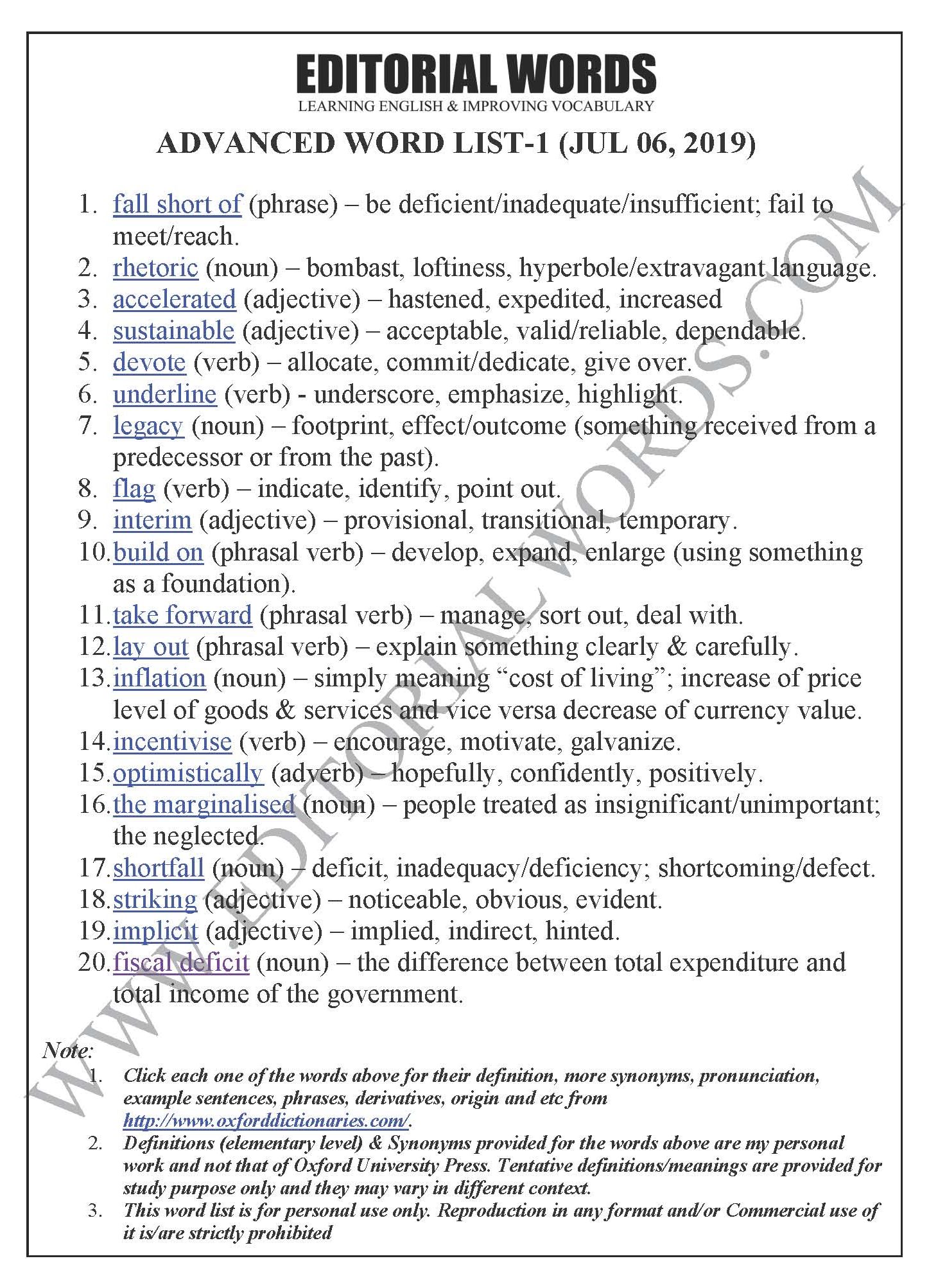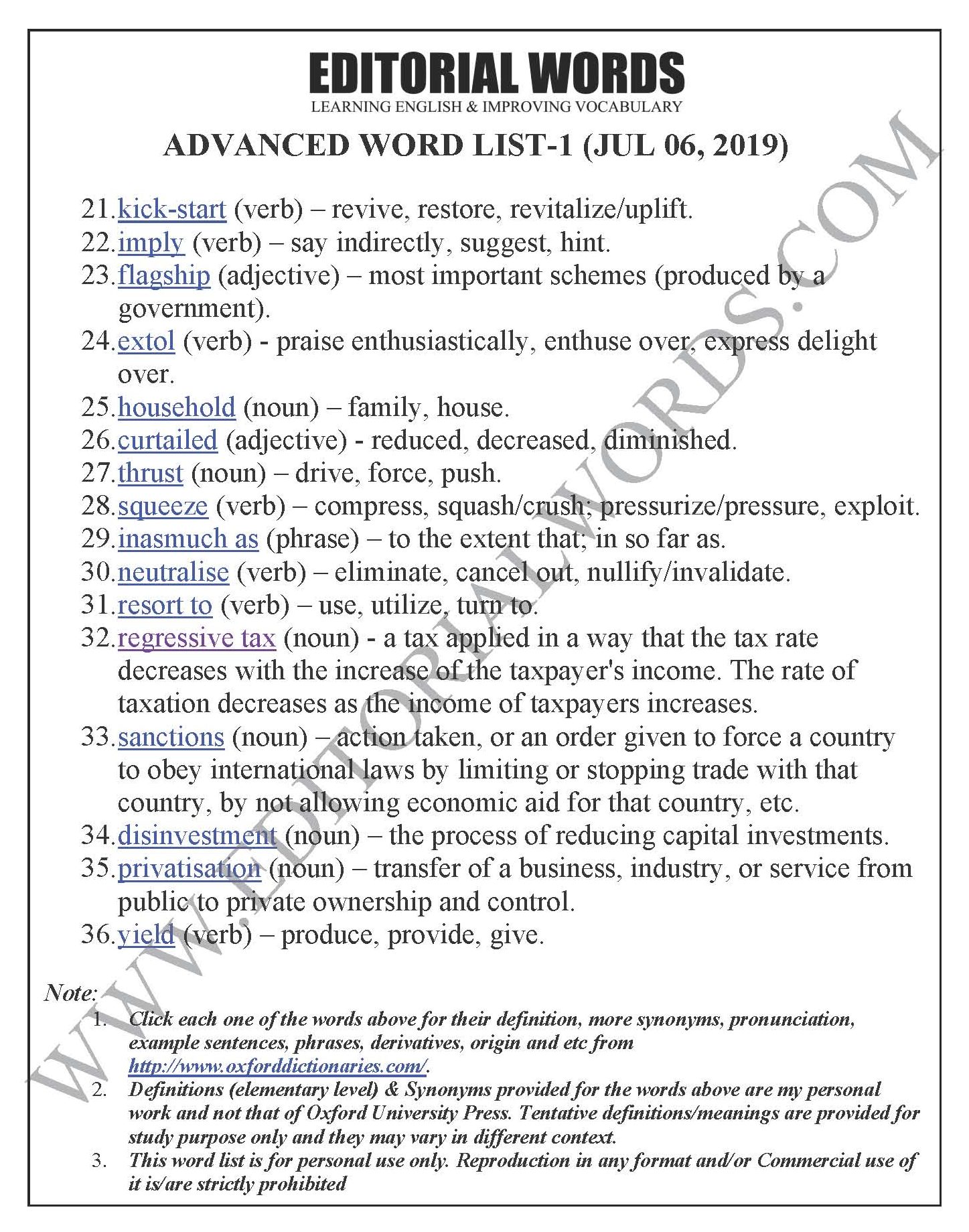 "Phrasal Verbs" We Learnt Last Week
"Idioms & Phrases" We Learnt Last Week
"Important Definitions" We Learnt Last Week
Recent Word Lists For The Hindu Editorial Articles
Recent Advanced Word Lists For The Hindu Lead Articles