The Hindu Lead Article (Congress, stuck in a quagmire) – Sep 13, 2019
In the wake of the divide within the Congress Party on the Narendra Modi government's unilateral moves on Jammu and Kashmir (J&K),… For further reading, visit "The Hindu". Below is today's advanced word list-1 for The Hindu Lead Article (Congress, stuck in a quagmire) – Sep 13, 2019.
To read this article, click here.
This preview is provided here with permission.  
Courtesy: The Hindu
Today's Advanced Word List 1 for The Hindu Lead Article (Congress, stuck in a quagmire) – Sep 13, 2019
:
stick in (verb) – remain fixed.
quagmire (noun) – unfortunate situation, muddle, mix-up.
plague (verb) – afflict, torment, trouble.
ideological (adjective) – relating to a system of ideas.
schism (noun) – a division between people within a group with differences in opinion; separation, split, rift.
impair (verb) – weaken, damage, spoil.
defection (noun) – desertion, absconding, decamping.
in the wake of (phrase) – aftermath, as a result of, as a consequence of.
unilateral (adjective) – relating to a method of taking decisions (on international relations) by a state (country) individually without considering other states (countries).
idealistic (adjective) – visionary, unrealistic, impractical.
point (verb) – indicate

, suggest, signal/signify.

irony (noun) – paradox, incongruity, peculiarity.
chorus (noun) – in unison, together, simultaneously/at the same time.
when push comes to shove (phrase) – eventually

, in the end, finally.

deride (verb) – ridicule, mock, make fun of/insult.
old guard (noun) – old member of an organisation.
chunk of (noun) – a significant amount of.
gung-ho (adjective) – enthusiastic, passionate, dedicated.
dichotomy (noun) – disunion, difference, disagreement.
rive (verb) – torn apart, split, ripped apart.
paradoxically (adverb) – contradictorily

, , inconsistently, incongruously.

tag line (noun) – saying, formula, legend.
embark on (phrasal verb) – start, begin, initiate/commence.
shatter (verb) – destroy

, wreck, ruin/devastate 

.
setback (noun) – problem, difficulty, issue.
humongous (adjective) – huge, enormous, substantial/massive.
pull off (phrasal verb) – achieve, succeed in, accomplish.
thunder (verb) – strike powerfully.
majoritarian (adjective) – relating to a philosophy that states that a majority (sometimes categorized by religion, language, social class, or some other identifying factor) of the population is entitled to a certain degree of primacy (priority) in society, and has the right to make decisions that affect the society.
bluster (noun) – threats, domineering, aggressive talk (with little effect).
compound (verb) – intensify, heighten, increase; aggravate (the negative aspects).
brain fog (noun) – a mental condition in which the subject experiences problems in concentrating, thinking clearly, or remembering things.
humiliating (adjective) – embarrassing, dispiriting, discouraging/disheartening.
moorings (noun) – stabilizing influence/power.
the heart and the mind (phrase) – used in reference to emotional and intellectual support.
descend on (phrasal verb) – come in force, arrive in hordes (large groups).
savage (verb) – criticize severely

, attack, condemn.

explicit (adjective) – clear

, direct, obvious.

deplore (verb) – regret

, express regret about, lament.

brazen (adjective) – bold and shameless; unashamed, unabashed.
revoke (verb) – cancel, repeal, abrogate.
emphatic (adjective) – definite, strong, conclusive/decisive (of a result).
unequivocal (adjective) – 

unambiguous

, 

unmistakable

; straightforward, categorical.
unexceptionable (adjective) – reasonable, satisfactory, unremarkable.

spelt-out

(adjective) – relating to something explained in a very clear way with details.
align (verb) – combine, link up, join.
apparently (adjective) – seemingly

, evidently, it appears that.

dissent (noun) – disagreement, disapproval, opposition.
turn out (phrasal verb) – transpire, emerge, appear.
the way forward (phrase) – something (a plan/action) that leads to success in the future.
whip (noun) – a member of a political party who is in charge of written notice provide to their members in Parliament to vote (to support the act/policy).
horde (noun) – a large group of people.
catchphrase (noun) – saying

, slogan, mantra.

nuance (noun) – fine distinction, subtle difference/subtlety, variation.
purge (verb) – clear-out, remove, get rid of, absolve.
non-sectarian (adjective) – universal, all-embracing, all-inclusive.
robust (adjective) – strong, powerful.'

exclusivism

(noun) – the doctrine that one religion is the only true religion, or that one religious sect is the only true version of a larger religion.
flaunt (verb) – show off, exhibit, display ostentatiously.
rabid (adjective) – extreme, fanatical, overzealous.
counterpart (noun) – a person/thing that serves the same job/function but in a different location; equivalent.
lexicon (noun) – dictionary

, wordbook, vocabulary list.

excise (verb)- delete

, cancel, strike out.

shrillness (noun) – loudness, forcefulness, screaming.
condition (verb) – control, govern, influence; train

, teach, educate.

adherence (noun) – commitment to, a

ttachment to.

unapologetically (adverb) – unwillingness to express regret or apology.
sectarian (adjective) – denoting a sect (a group of people); factional, partisan.
in the making (phrase) – burgeoning, coming, growing, developing.
raze (verb) – destroy

, demolish, knock down/bulldoze ( a building).

muscle (noun) – strength, power, muscularity.
lull (noun) – pause/respite, interval/break, suspension/cessation.
illusory (adjective) – imaginary, fancied, unreal.
pillory (verb) – attack, criticize, censure, condemn publicly.
appease (verb) – conciliate, pacify; satisfy, fulfil.
stray (adjective) – random, accidental/unexpected, isolated.
address (noun) – speak,

 talk, monologue/discourse

.
notwithstanding (adverb) – nonetheless, even so, all the same, after everything.
ad nauseam (adverb) – repeatedly, again and again, frequently.
seize on/upon (verb) – take eager advantage of.
appeasement (noun) – conciliation, pacification, concession/accommodation.
make a mockery of (phrase) – make something to look foolish/absurd.
embrace (verb) – accept, be in favour of, support.
allegation (noun) – charge, accusation, indictment.
echelon (noun) – level, rank, grade (in an organization).
heckle (verb) – disrupt, interrupt, taunt.
intellectual (adjective) – academic, scholar,

learned person.

pick and choose (phrase) – select only the best.
mobilise (verb) – organize, call up, bring into play/generate.
seduction (non) – temptation

, attraction, lure, allure.

advocate (verb) – support, champion, uphold.
abjure (verb) – renounce, relinquish, reject.
in sight (phrase) – perceptible, perceivable, noticeable/visible.
Note:  
 1. Click each one of the words above for their definition, more synonyms, pronunciation, example sentences, phrases, derivatives, origin and etc from http://www.oxforddictionaries.com/.bigotry

, narrow-mindedness
2. Definitions (elementary level) & Synonyms provided for the words above are my personal work and not that of Oxford University Press. Tentative definitions/meanings are provided for study purpose only and they may vary in different context. 
3. This word list is for personal use only. Reproduction in any format and/or Commercial use of it is/are strictly prohibited.
Today's Advanc
ed Word List 1 for The Hindu Lead Article (Congress, stuck in a quagmire) – Sep 13, 2019
: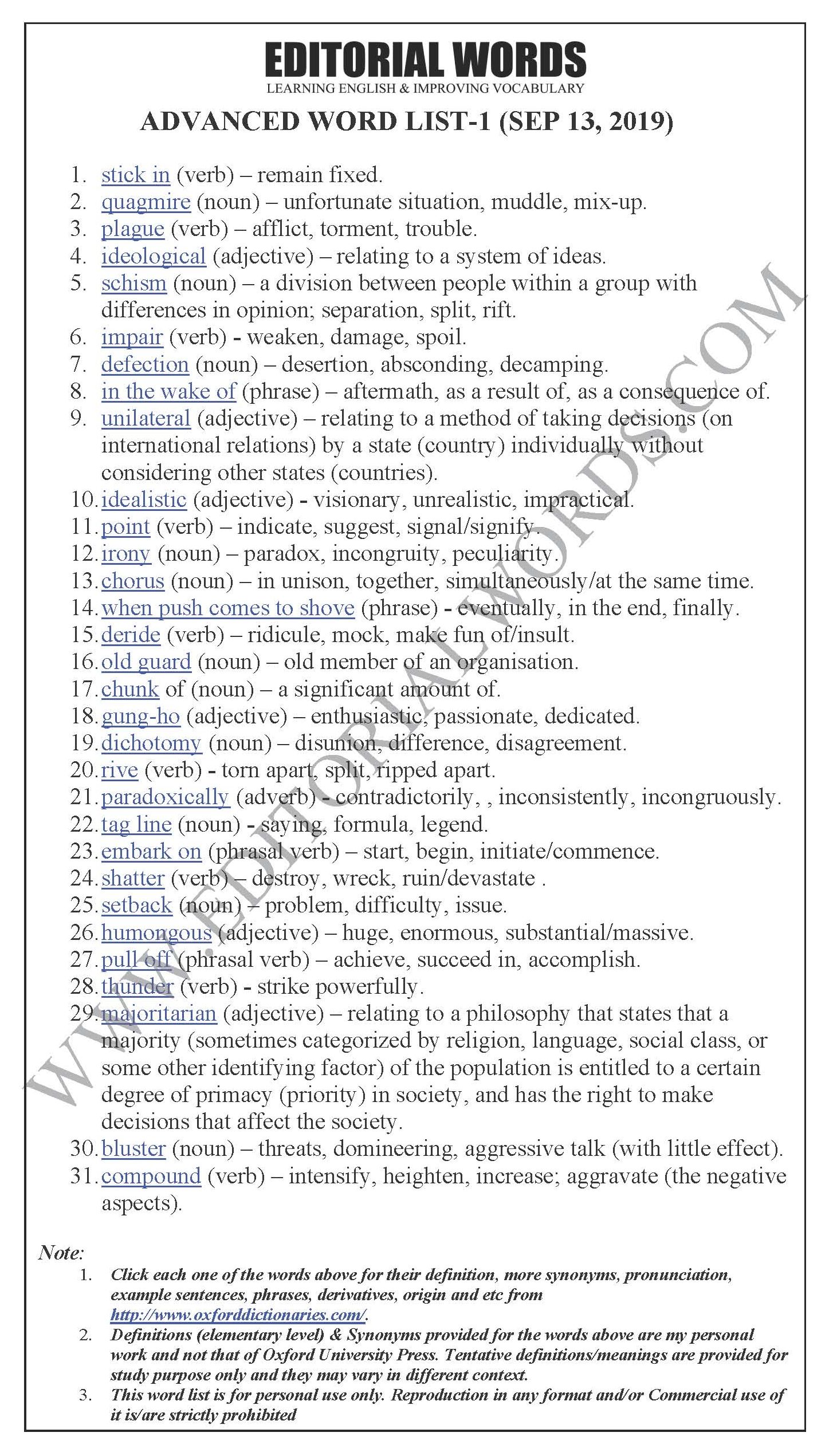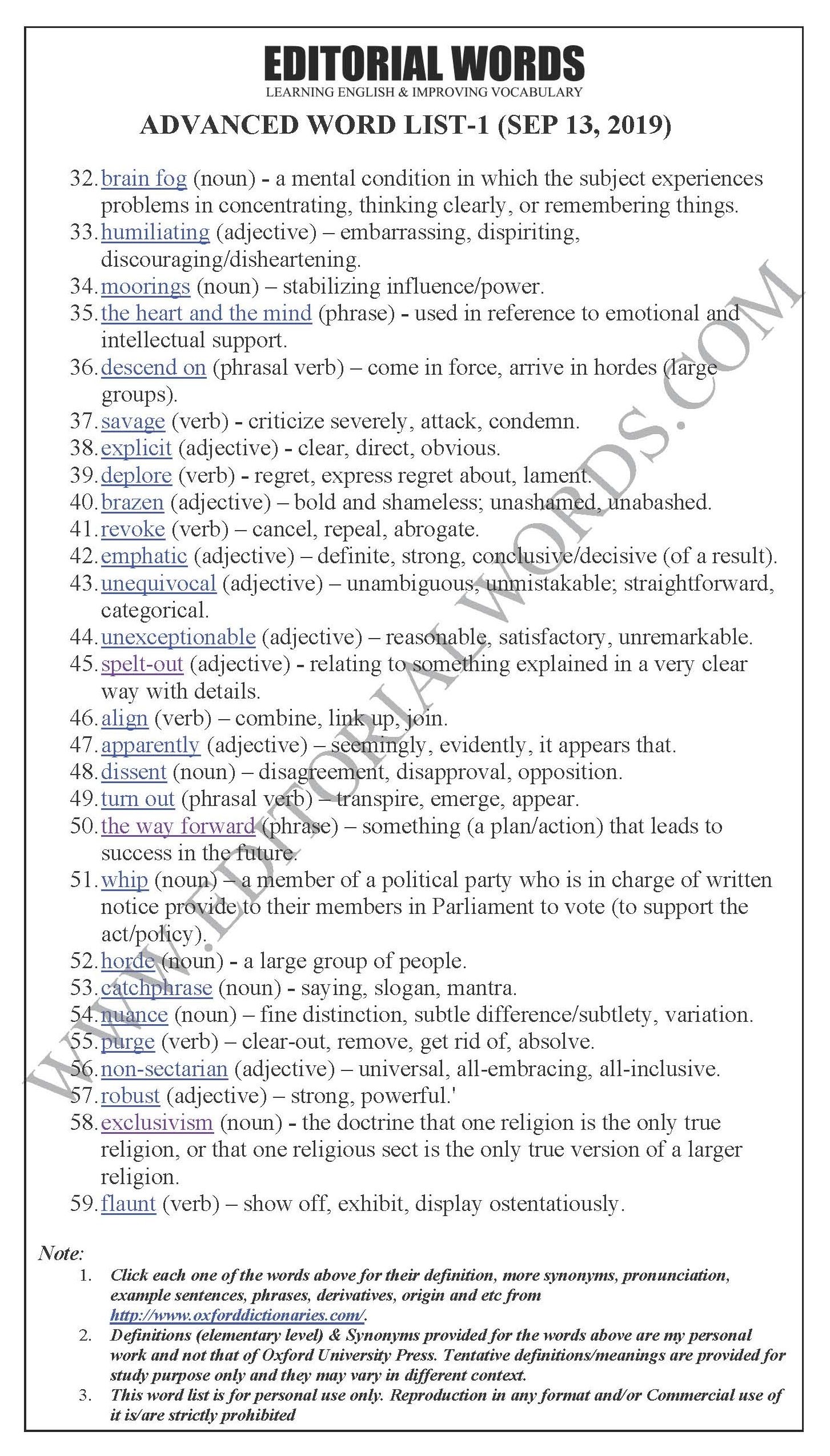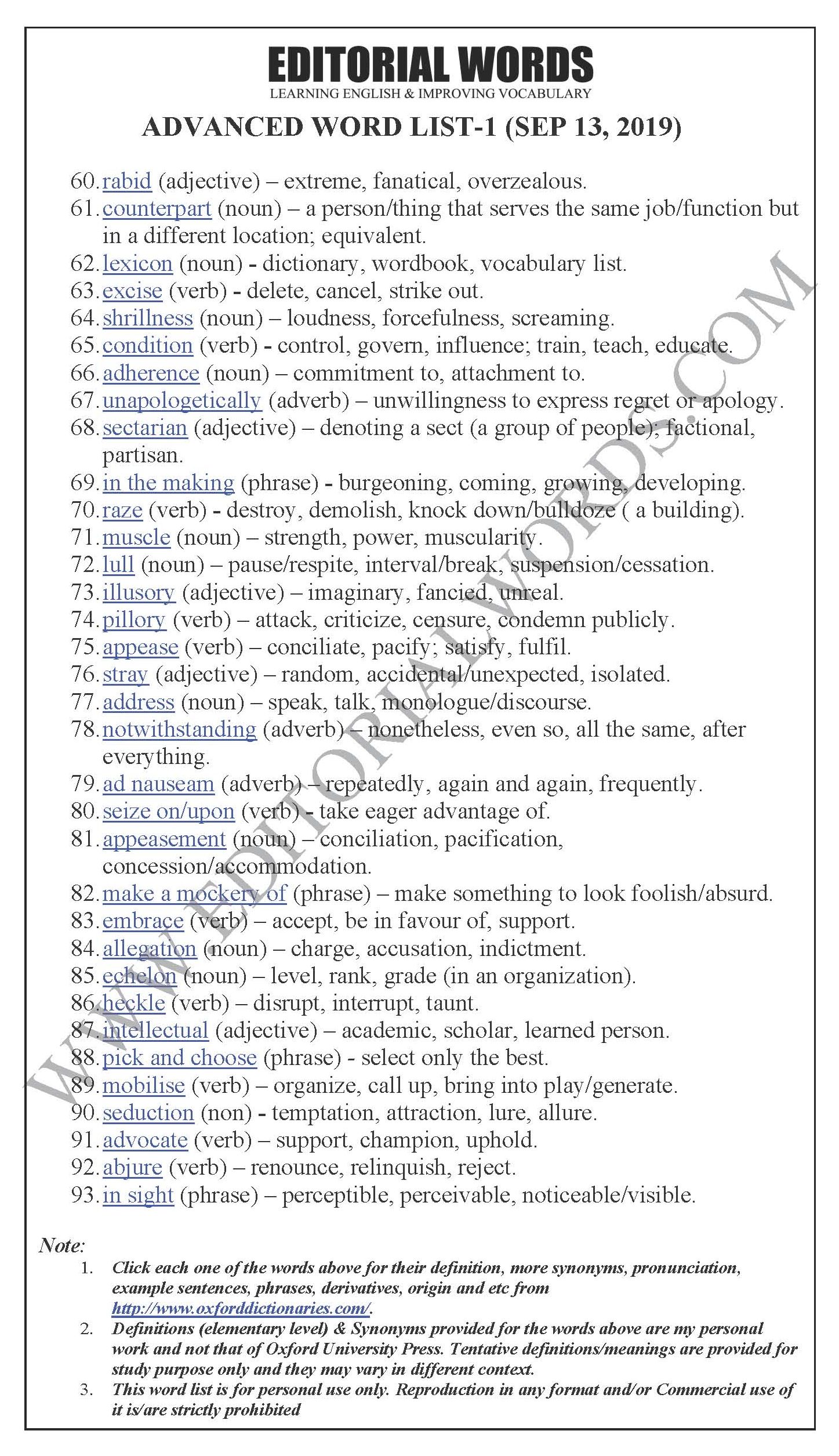 "Phrasal Verbs" We Learnt Last Week
"Idioms & Phrases" We Learnt Last Week
"Important Definitions" We Learnt Last Week
Recent Word Lists For The Hindu Editorial Articles
Recent Advanced Word Lists For The Hindu Lead Articles