The Hindu Lead Article (Against Trump, and the Democratic machine) – Apr 11, 2020
At 11.30 on Monday morning, there was a queue of cars, two vehicles deep and several miles long,… For further reading, visit "The Hindu". Below is today's advanced word list-1 for The Hindu Lead Article (Against Trump, and the Democratic machine) – Apr 11, 2020.
To read this article, click here.
This preview is provided here with permission.  
Courtesy: The Hindu
Today's Advanced Word List 1 for The Hindu Lead Article (Against Trump, and the Democratic machine) – Apr 11, 2020
:
machine (noun) – organization

, system, structure, machinery.

flawed (adjective) – weak, unsound, incorrect.
left-wing (adjective) – socialist

, 

communist, leftist, radical, liberal.
vow (verb) – affirm, pledge, promise/swear, make a commitment.
back (verb) – support, endorse, uphold.
presumptive (adjective) – probable

, likely, prospective, assumed.

presumptive nominee

 (noun) – In United States presidential elections, the presumptive nominee is a presidential candidate who is assumed to be their party's nominee, but has not yet been formally nominated or elected by their political party at the party's nominating convention.
on the edge (of) (phrase) – on the brink of, on the verge of a situation; at a crucial or critical point.
coronavirus (CoV)(noun) – a large family of viruses that cause illness ranging from the common cold to more severe diseases. common signs of infection include respiratory symptoms, fever, cough, shortness of breath and breathing difficulties. In more severe cases, infection can cause pneumonia, severe acute respiratory syndrome, kidney failure and even death. (Courtesy: WHO)

universal health care

 (UHC) (noun) – it refers to a health care system that provides health care and financial protection to all citizens of a particular country. It also means that all individuals and communities receive the health services they need without suffering financial hardship.
inequality (noun) – Inequality is simply defined as "the state of not being equal, especially in status, rights and opportunities; imbalance, unevenness, disproportion, disparity.
pandemic (noun) – the worldwide spread of a new disease; The illness spreads around the world and typically affects a large number of people across a wide area.
withstand (verb) – bear, survive, live through, tolerate.

push over the edge

(phrase) – to make someone feel so unhappy; to make someone feel so unhappy.
get through (phrasal verb) – be successful in, succeed in, come through.
Congress (noun) – The United States Congress is the bicameral (two chambers) legislature of the federal government of the United States, and consists of two chambers: the House of Representatives and the Senate.

put bluntly

(phrase) – to say something in a direct and truthful manner (which may offend/upset someone).
progressive (noun) – leftist, left-winger

, reformist,

 liberal.
peril (noun) – danger, jeopardy, risk/difficulty.
at the hands of (phrase) – as a consequence of actions (suffer, get hurt & be treated badly by someone).
egomaniacal (adjective) – egocentric, egoistic, selfish.
right-wing (adjective) – conservative, rightist, alt-right.
demagogue (noun) – a (political) leader in a democracy who gains popularity by exploiting emotions, prejudice and ignorance among the common people.
septuagenarian (adjective) – a person who is between 70 and 79 years old.
mould (noun) – structure, organization, formation.
script (noun) – a plan of action.
incantation (noun) – magic formula.
recite (verb) – repeat (from memory), quote, render; list/detail, itemize, say aloud.
dutifully (adverb) – obediently, c

onscientiously, 

responsibly.
earnestly (adverb) – seriously, sincerely, resolutely/firmly.
the establishment (noun) – the powers that be, the authorities, the regime (exercising power and influence).
run against (phrasal verb) – oppose, counter, deny.
hurtle (verb) – move, run, rush (in an uncontrolled manner).
abyss (noun) – a catastrophic/disastrous/awful situation.
cornerstone (noun) – focus/crux, fundamental principle, central component.
bed-wetting (noun) – In general, it is nighttime urinary incontinence (also called as enuresis) under age six; figuratively, negative stereotype, stigma, shame.
electability (noun) – the capability of a candidate to be elected.
considerable (adjective) – significant, substantial, a lot of.
concerted (adjective) – coordinated, united, joint, collaborative.
candidacy (noun) – the state/condition/fact of being a candidate, particularly in an election; 

candidate-

ship.

viable (adjective) – manageable, feasible, effective.
ethnic (adjective) – relating to a population subgroup (cultural

, national, traditional/folk) with a common national or cultural tradition.

vulnerability (noun) – weakness/defencelessness, frailty, susceptibility.
turn up (phrasal verb) – arrive, attend, be present.
make a difference (phrase) – be important, have a significant effect on, to cause a change.
potential (noun) – prospects, possibilities, potentiality.
electorate (noun) – all the people who entitled to vote in an election.
galvanise (verb) – inspire, spur, encourage.
show up (phrasal verb) – appear, come out, turn up.
precarity (noun) – the state of being uncertain/insecure/unsafe.
root (noun) – source

, origin, reason.

counterpart (noun) – a person/thing that serves the same job/function but in a different location; equivalent.
ascent (noun) – a rise to a higher (social) rank.

disorganic

(adjective) – disorganized, disordered, confused.
seek (verb) – try

, attempt, aim

.
sustain (verb) – support, encourage, bolster, give strength to.
amorphous (adjective) – unstructured, indeterminate, formless/vague.
alienated (adjective) – isolated, estranged, detached.
remedy (noun) – solution, answer, antidote/panacea.
decisive (adjective) – resolute

, firm, strong-minded, determined

.
handily (adverb) – easily, without difficulty.
centrist (adjective) – a person whose political opinions are not extreme, falling between those of liberals and conservatives.
outperform (verb) – 

be better than.

pull out (phrasal verb) – withdraw, leave, abandon.
endorse (verb) – support, uphold

, confirm, vindicate/validate.

pertinent (adjective) – relevant

, appropriate, applicable.

transformative (adjective) – life-changing, metamorphic, progressive.
depression (noun) – slump, decline, downturn.
thoroughgoing (adjective) – extensive, widespread, detailed.
neo-liberalism (noun) – new/revived liberal principles.
desperate (adjective) – eager, desirous, crying out, in great need of

, urgently requiring, in want of.

by no means (phrase) – not at all, in no way, certainly not.
scenario (noun) – course of events, situation.
far from (phrase) – not, not at all, nowhere near.
at the best of times (phrase) – in the most advantageous situations.
on the stump (phrase) – take part in campaign for election.
ramble (verb) – talk confusedly.

midsentence

(adverb) – in the middle of a sentence.
rhetorical (adjective) – bombastic, oratorical, overblown/extravagant.
cul-de-sacs (noun) – a condition/situation that leads nowhere; dead end. French, literally meaning 'bottom of a sack'.
overly (adverb) – unduly, inordinately, immoderately, excessively.
tactile (noun) – being the sense of touch, perceptible by touch, tangible.
backer (noun) – supporter, upholder, defender.
deregulation (noun) – the removal of regulations.
freeze (noun) – suspension; hold, fixed (at a specific level).
take on (phrasal verb) – compete against, oppose, challenge/confront, fight.
end up (verb) – come/appear, find oneself (to a particular course of action in the end).
hopeful (noun) – a person who likely to succeed.
fire up (phrasal verb) – arouse, energize, activate, motivate.
volatile (adjective) – unpredictable

, changeable, variable, inconstant.

fragile (adjective) – weak, shaky/risky, unreliable, insubstantial, feeble/unsound.
stick with (verb) – not able to escape from.
Note:  
 1. Click each one of the words above for their definition, more synonyms, pronunciation, example sentences, phrases, derivatives, origin and etc from http://www.oxforddictionaries.com/.
2. Definitions (elementary level) & Synonyms provided for the words above are my personal work and not that of Oxford University Press. Tentative definitions/meanings are provided for study purpose only and they may vary in different context. 
3. This word list is for personal use only. Reproduction in any format and/or Commercial use of it is/are strictly prohibited.
Today's Advanc
ed Word List 1 for The Hindu Lead Article (Against Trump, and the Democratic machine) – Apr 11, 2020
: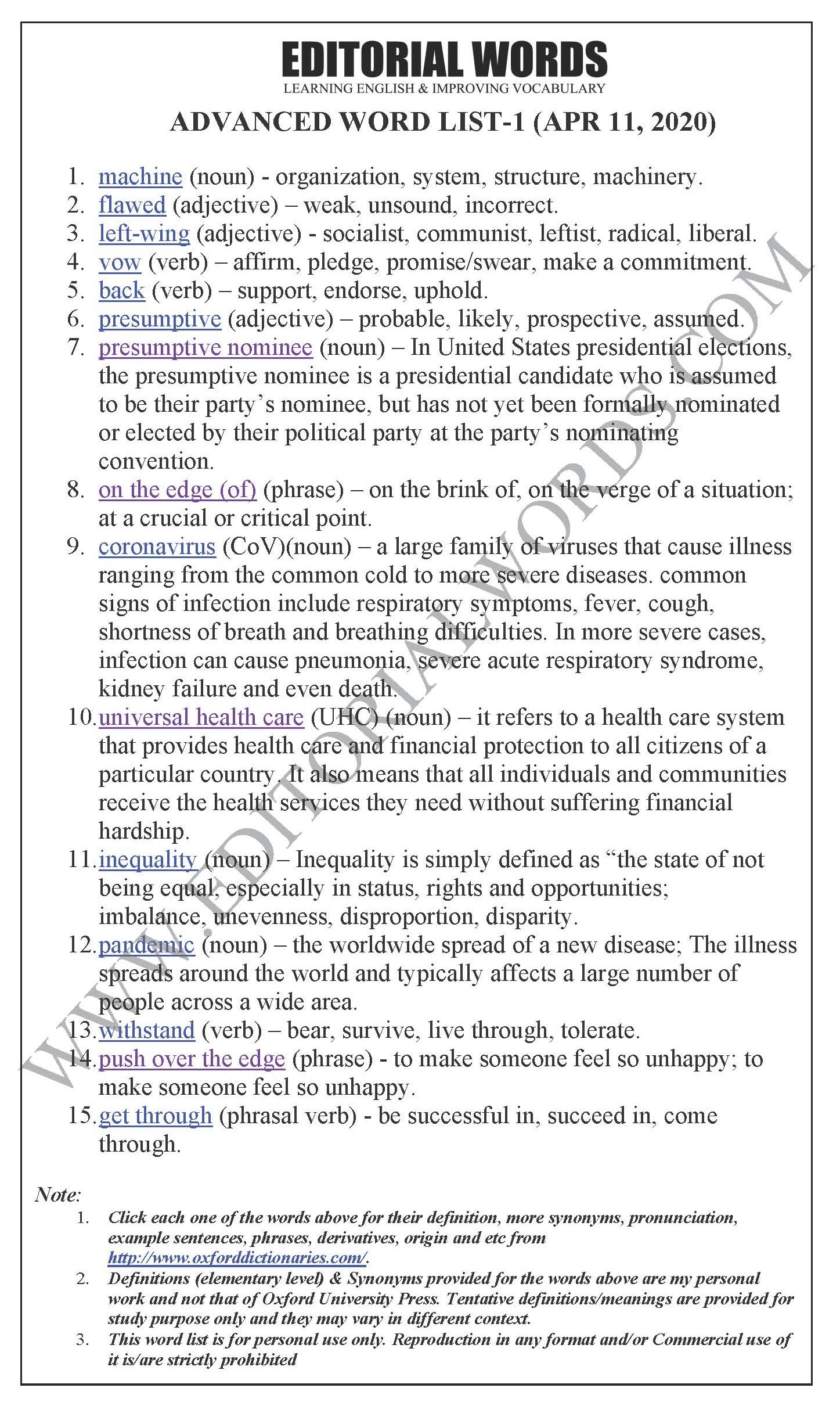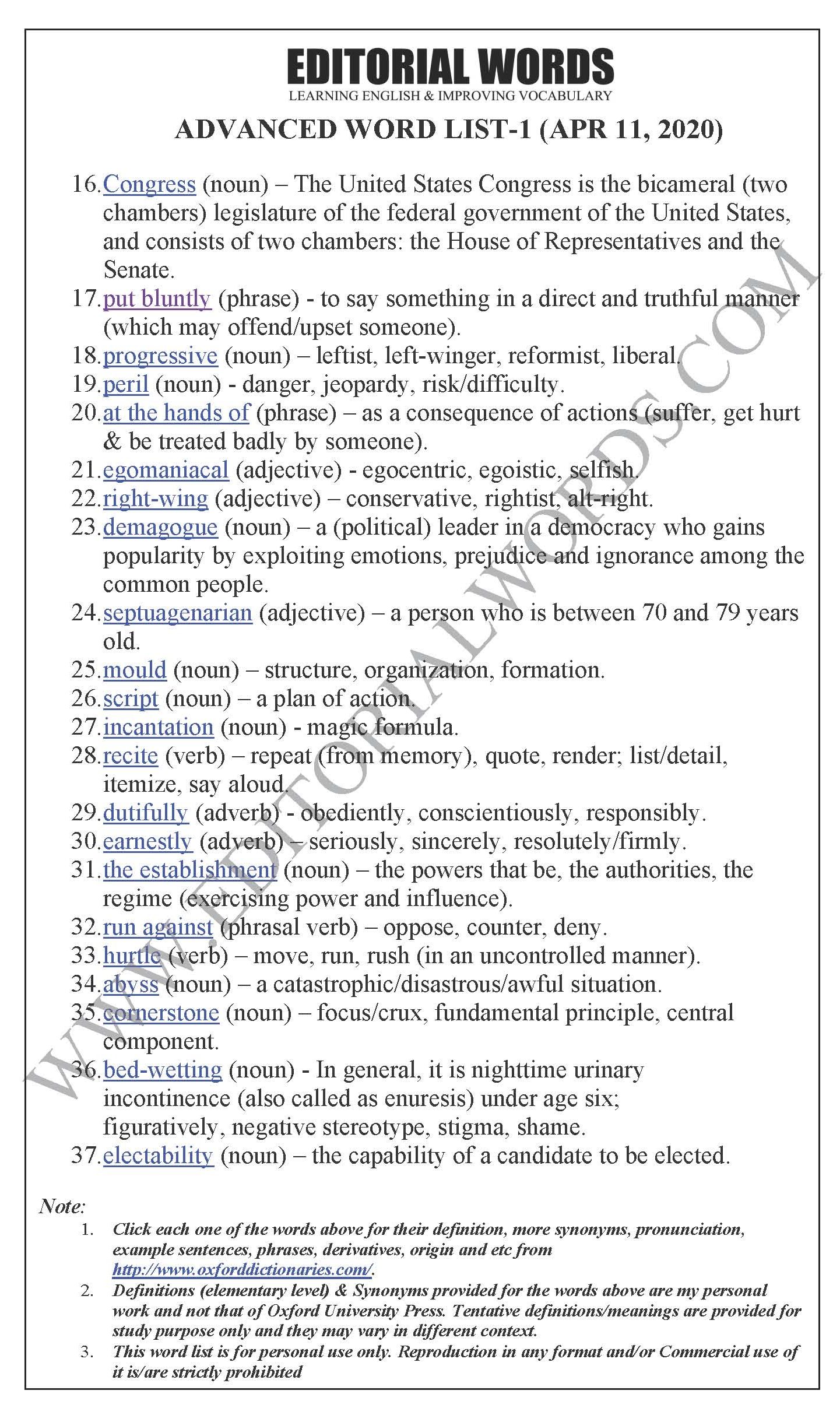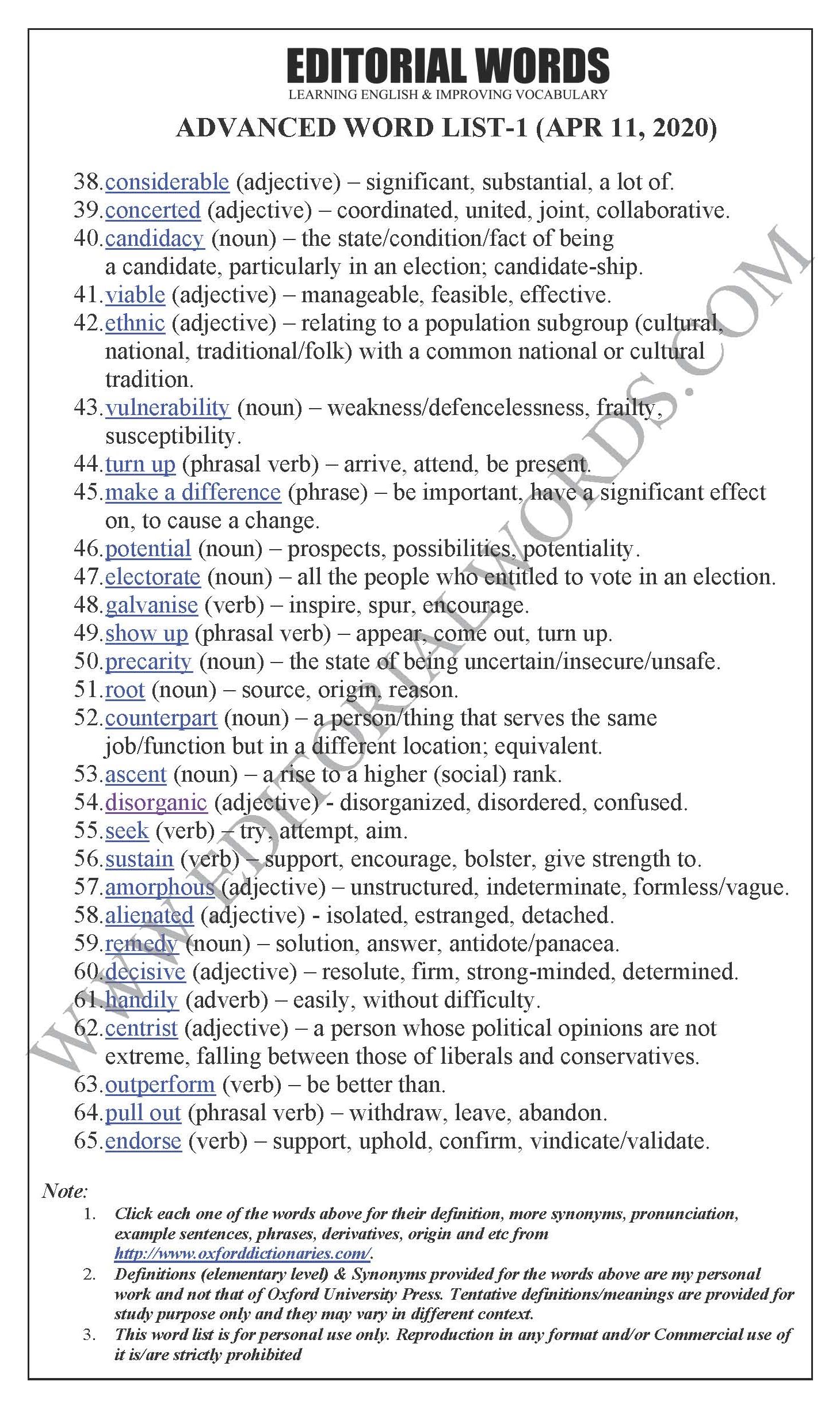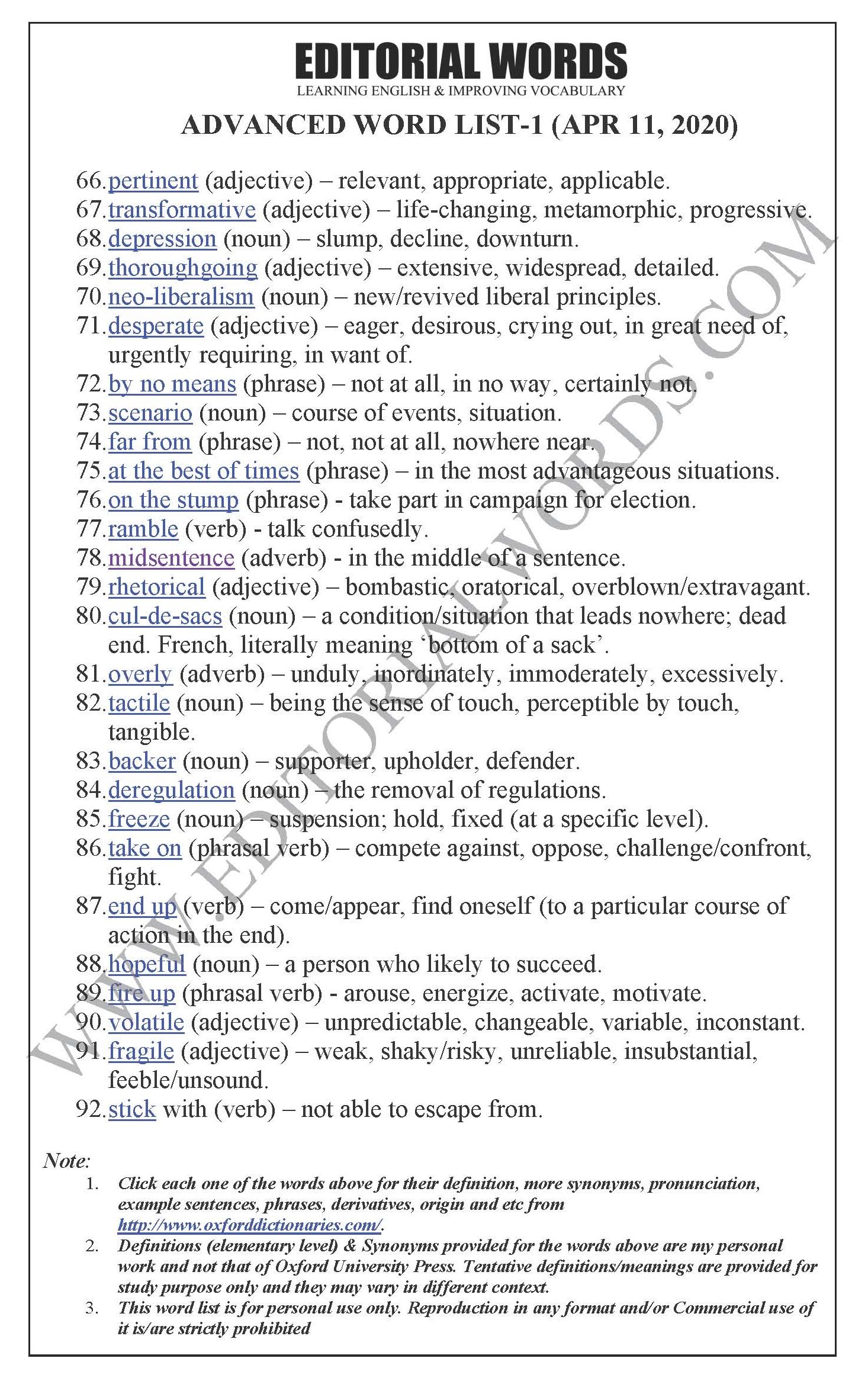 "Phrasal Verbs" We Learnt Last Week
"Idioms & Phrases" We Learnt Last Week
"Important Definitions" We Learnt Last Week
Recent Word Lists For The Hindu Editorial Articles
Recent Advanced Word Lists For The Hindu Lead Articles