The Hindu Lead Article (A straightforward lesson on resolution) – Jul 30, 2019
U.S. President Donald Trump's claim last Monday that Prime Minister Narendra Modi had asked him at the G-20 summit in June in Japan to mediate between India and Pakistan on the Kashmir question may,… For further reading, visit "The Hindu". Below is today's advanced word list-1 for The Hindu Lead Article (A straightforward lesson on resolution) – Jul 30, 2019.
To read this article, click here.
This preview is provided here with permission.  
Courtesy: The Hindu
Today's Advanced Word List 1 for The Hindu Lead Article (A straightforward lesson on resolution) – Jul 30, 2019
:
sort out (phrasal verb) – settle, resolve, sort/solve.
outsource (verb) – assign (work) to others, contract out.
deftly (adverb) – cleverly, proficiently, skillfully.
out-of-the-blue (phrase) – unexpected, sudden, unanticipated/surprising.
fuel (verb) – stimulate, encourage, intensify.
speculation (noun) – assumption, supposition/feeling, guesswork/postulation.
imply (verb) – say indirectly, suggest, hint.
mixed bag (noun) – a various collection of things; mixture, variety.
hypernationalism (noun) – excessive nationalism, ultranationalism, supernationalism.
frenzied (adjective) – uncontrolled, intense, furious/mad.
milieu (noun) – environment, background, atmosphere.
bilateral (adjective) – involving two groups or countries.
diplomacy (noun) – international politics

, foreign affairs, foreign policy.

come under (phrasal verb) – be subjected to.
be on the radar (phrase) – to be noticed or important.
scrutiny (noun) – observation, inspection, examination.
overt (adjective) – clear, apparent, obvious.
de facto (adjective) – actual, existing, effective.
de jure (adjective) – lawful, legitimate, valid.
vis-a-vis (preposition) – in relation to, with regard to.
unsavoury (adjective) – disreputable, unpleasant, disagreeable.
distaste (noun) – dislike, disfavour, aversion.
deep pockets (plural noun) – affluence, prosperity/ well-being, riches.
desirous (adjective) – desiring, eager for, longing for.
escalation (noun) – intensification; an increase in the intensity of something.
seek (verb) – try

, attempt, aim

.
averse (adjective) – opposed to, against, hostile.
stand-off (noun) – deadlock, stalemate, impasse (in a dispute/conflict).
diffusion (noun) – spreading, dispersal, dissemination.
underlie (verb) – be fundamental, be basic, be essential.
emanate from (verb) – emerge, originate, start.
disparage (verb) – undervalue, discredit, deprecate.
unfolding (adjective) – transpiring, developing, emerging.
implications (noun) – consequence/outcome, ramification, repercussion.
frosty (adjective) – unfriendly, inhospitable/unwelcoming, hostile.
invariably (adverb) – always, every time/each time; habitually/inevitably.
albeit (conjunction) – though, even though, however.
heat (noun) – intensive pressure; fervour, emotion, intensity.
quagmire (noun) – unfortunate situation, muddle, mix-up.
meddle (verb) – handle, interfere intrude/intervene unwantedly.
Note:  
 1. Click each one of the words above for their definition, more synonyms, pronunciation, example sentences, phrases, derivatives, origin and etc from http://www.oxforddictionaries.com/.bigotry

, narrow-mindedness
2. Definitions (elementary level) & Synonyms provided for the words above are my personal work and not that of Oxford University Press. Tentative definitions/meanings are provided for study purpose only and they may vary in different context. 
3. This word list is for personal use only. Reproduction in any format and/or Commercial use of it is/are strictly prohibited.
Today's Advanc
ed Word List 1 for The Hindu Lead Article (A straightforward lesson on resolution) – Jul 30, 2019
: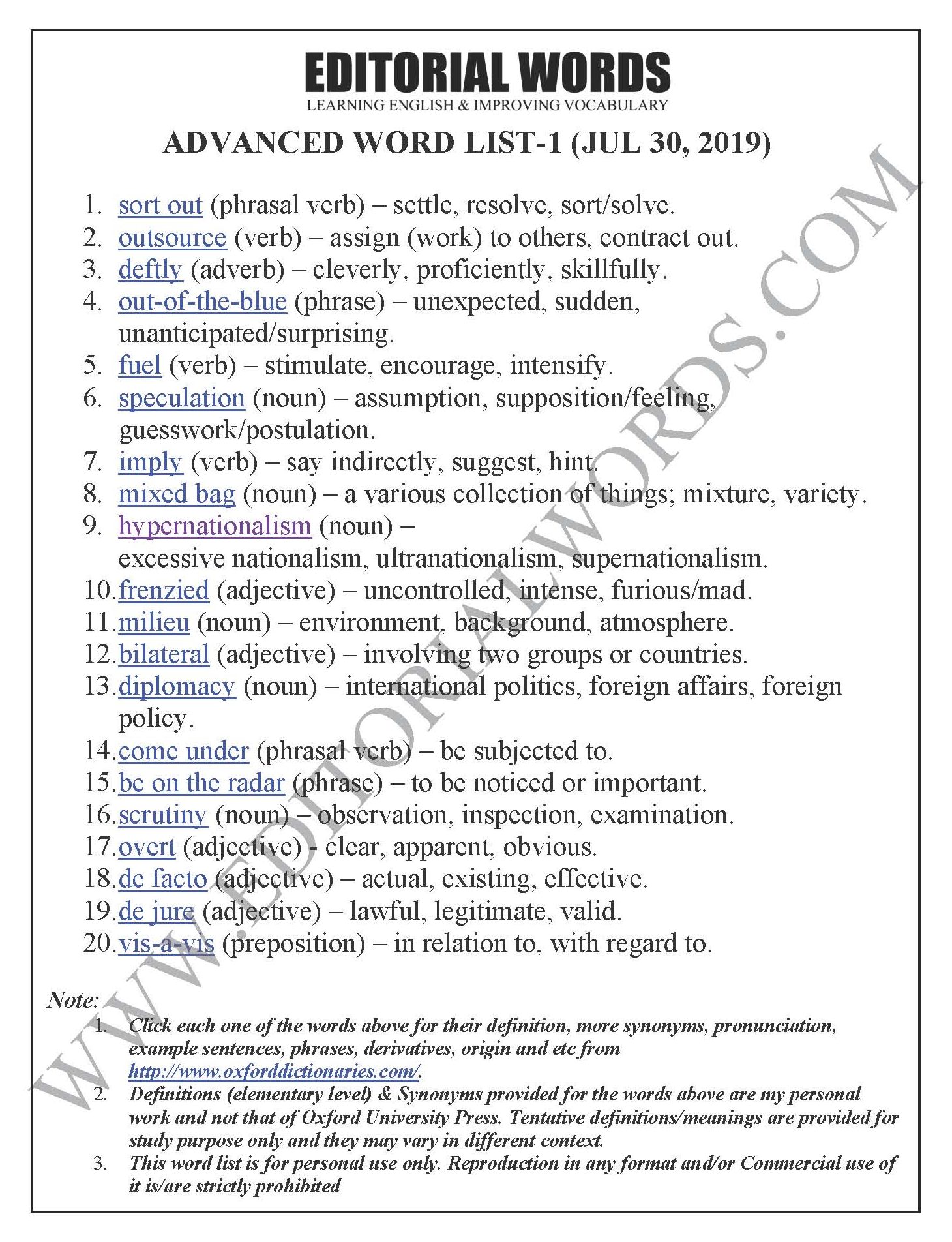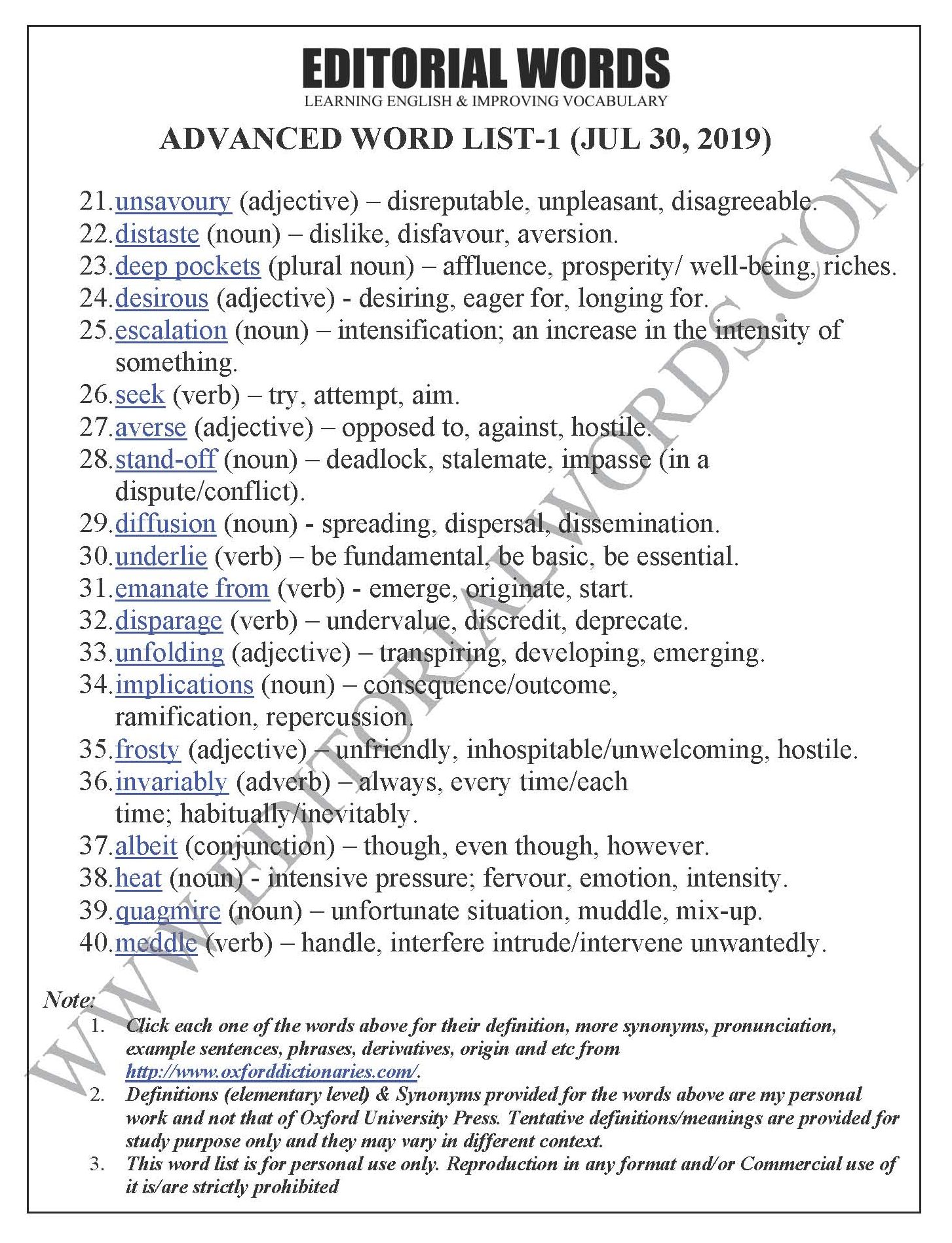 "Phrasal Verbs" We Learnt Last Week
"Idioms & Phrases" We Learnt Last Week
"Important Definitions" We Learnt Last Week
Recent Word Lists For The Hindu Editorial Articles
Recent Advanced Word Lists For The Hindu Lead Articles