The Hindu Lead Article (A shot of hope with a game changing vaccine) – Apr 20, 2020
Over the initial phase of the national lockdown (March 24 to April 14), India reported a 20-fold increase in confirmed SARS-CoV-2/COVID-19 cases (468 to >10,000),… For further reading, visit "The Hindu". Below is today's advanced word list-1 for The Hindu Lead Article (A shot of hope with a game changing vaccine) – Apr 20, 2020.
To read this article, click here.
This preview is provided here with permission.  
Courtesy: The Hindu
Today's Advanced Word List 1 for The Hindu Lead Article (A shot of hope with a game changing vaccine) – Apr 20, 2020
:
shot (noun) – injection

, inoculation (of a vaccine/drug). 

vaccine (noun) – a biological preparation that improves immunity to a particular disease.

social vaccine

(noun) – a metaphor (symbolic thing) for a series of social and behavioural measures that governments can use to raise public consciousness about unhealthy situations through social mobilisation.
societal (adjective) – general, communal, collective, social.
devastating (adjective) – destructive

, ruinous, disastrous, catastrophic

.
pandemic (noun) – the worldwide spread of a new disease; The illness spreads around the world and typically affects a large number of people across a wide area.
lockdown (noun) – an emergency protocol implemented by the authorities that prevents people from leaving from a place; An extended state of confinement/encirclement/isolation of a person by the authority.

novel coronavirus

 (nCoV) (SARS-CoV-2) (noun) – a new strain (type/variety) coronavirus that has not been previously identified in humans. (Courtesy: WHO)

COVID-19

 (noun) – coronavirus disease 2019.
account for (phrasal verb) – constitute

, make up, comprise, form.

case-fatality rate/ratio

(noun) – in epidemiology, the proportion of people who die from a particular disease compared to all individuals diagnosed with the disease over a certain period of time.

relative merits

(noun) – it is used to determine the benefits of two opposing choices or options.
mitigation (noun) – alleviation, reduction; lessening.

flattening the curve

 (phrase) – In epidemiology, the idea of slowing a virus' spread so that fewer people need to seek treatment at any given time is known as "flattening the curve".

herd immunity

 (noun) – it refers to a means (ways) of protecting a whole community from disease by immunizing a critical mass of its populace (population). It is also defined as a form of indirect protection from infectious disease that occurs when a large percentage of a population are immune to an infection, thereby providing a measure of protection for individuals who are not immune.
irrelevant (adjective) – immaterial, unrelated, not germane.
imply (verb) – say indirectly, suggest, hint.

transmission chain

 (noun) – the act or process by which something is spread or passed from one person or thing to another.
asymptomatic (adjective) – relating to a condition/person with no symptoms.
symptomatic (adjective) – relating to a condition/person with symptoms.
inadvertently (adverb) – accidentally, unintentionally, mistakenly, without intention.
employ (verb) – use, utilize, make use of.
hybrid (adjective) – constituting/having different elements.
dire (adjective) – terrible/awful, appalling, distressing.

tragedy

(noun) – an extremely sad event or situation; disaster

, calamity, catastrophe.

play out (phrasal verb) – happen, occur, take place.
prolonged (adjective) – lengthy, extended, protracted.
mitigate (verb) – reduce, lessen, decrease, make less severe.
stimulate (verb) – prompt, encourage, trigger.
assert (verb) – declare, announce, state (confidently).

social/physical distancing

 (noun) – a term means actively avoiding crowded public places, is a key element in decreasing the rapid spread of COVID-19. This is an effort intended to limit exposure by reducing face-to-face contact and preventing spread among people in community settings.

far

(adverb) – much.
implications (noun) – consequence/outcome, ramification, repercussion.
metaphor (noun) – figure of speech, figurative expression, symbolic thing.
consciousness (noun) – awareness, knowledge, attention/observation.
mobilisation (noun) – the act of bringing people/resources together for a particular cause.
empower (verb) – authorize, allow, entitle.
resilience (noun) – strength, toughness; the capacity to recover quickly from difficulties.
foster (verb) – encourage, promote, develop.
advocacy (noun) – backing, supporting, endorsing.
political will (noun) – political intention/desire (to complete a scheme/project even if it is not admired/welcomed in the beginning).
accountable (adjective) – responsible, liable, answerable.
address (verb) – tackle, deal with, attend to, try to sort out

.

determinant (noun) – factor, issue, concern.
regulatory (adjective) – organizational, governmental.
mechanism (noun) – procedure

, process, method/technique.

health equity

(noun) – "Health equity" or "equity in health" implies that ideally everyone should have a fair opportunity to attain their full health potential (and that no one should be disadvantaged from achieving this potential) regardless of demographic, social, economic or geographic strata (level/class/rank/echelon).  (Courtesy: WHO)
vulnerability (noun) – weakness/defencelessness, frailty, susceptibility.
dissemination (noun) – spreading, circulation, distribution.
uptake (noun) – the action of taking up or absorbing something given.
disseminate (verb) – spread, circulate, propagate.
means (noun) – method

, way, procedure.

attitudinal (adjective) – relating to attitudes.
supplement (verb) – augment

, increase, add to, boost.

incidence (noun) – refers to the number of new cases that develop in a given period of time whereas "prevalence" refers to the number of cases of a disease that are present in a particular population at a given time

.

antiretroviral (adjective) – relating to the drugs that suppress/stop a retrovirus like HIV. (retrovirus is a type of virus that uses RNA as its genetic material).
viral load (noun) – the number of viral particles found in each millilitre of blood volume.
zoonotic (adjective) – relating to a disease that can be transmitted from animals to people.
diagnosis (noun) – identification, recognition, detection (of an illness/disease from its signs and symptoms).
contagion (noun) – the spreading of a dangerous disease.
render (verb) – make, cause to be, cause to become.
stigma (noun) – shame, disgrace, dishonour.
discrimination (noun) – prejudice, intolerance, inequity, unfairness.
criminalise (verb) – make something (an activity) illegal.

conspiracy theory

(noun) – an explanation of an event or situation that invokes a conspiracy by evil, criminal and powerful actors, often political in motivation, when other explanations are more probable (likely to happen/anticipated).
remedy (noun) – solution, answer, antidote/panacea.
propagate (verb) – spread

, promulgate, circulate, transmit.

preparedness (noun) – readiness, watchfulness/attentiveness; precaution.
starkly (adverb) – sharply, evidently, clearly/strikingly.
expose (verb) – reveal, disclose, exhibit.
centre on (verb) – focus

, concentrate, pivot, be based.

apparently (adverb) – seemingly

, evidently, it appears that.

predominantly (adverb) – mainly, mostly, commonly.
intravenous (adjective) – taking place/administered within veins.
peer-pressure (noun) – social pressure; it is the direct influence/pressure on individual by his/her peers (the people of the same age).
prevailing (adjective) – existing; current.
tacit (adjective) – silent, implicit, unexpressed.
preclude (verb) – prevent, prohibit, block/exclude.
pioneer (verb) – develop

, introduce, create, evolve.

humour (noun) – funniness, comical aspect

, witty remarks, jokes.

defuse (verb) – reduce, lessen/diminish, ease/mitigate.
taboo (noun) – a prohibition of social actions based on religious, social, cultural (false) beliefs that performing such actions is either too scared, or too dangerous for the human race; prohibition, ban, non-acceptance.
disinfection (noun) – the process of killing (inactivating) harmful bacteria, virus and other microorganisms (pathogenic) by various agents such as chemicals, heat & etc,.
facilitator (noun) – a person who makes an action easier.
coercive (adjective) – authoritarian, overbearing/tough/harsh, high-handed.
punitive (adjective) – disciplinary, corrective, retributive.
invariably (adverb) – always, every time/each time; habitually/inevitably.
counter-productive (adjective) – harmful, damaging, dangerous/destructive.
invest in (verb) – confer on, grant to, vest in, entrust to (a right or power).
scale-up (verb) – increase.
vulnerable (adjective) – relating to a weak/neglected person who is in need of special care/support; at risk, unsafe, easily affected by.

personal protective equipment

 (PPE) (noun) – safety gear; protective clothing, helmets, masks or other garments or equipment designed to protect the wearer's body from injury/disease.

first responder/front line worker

 (noun) – a person who is among the first to arrive and provide assistance at the scene of an emergency. First/front line workers/responders typically include paramedics, emergency medical technicians, police officers, firefighters, sanitary workers & etc,.
sanitation (noun) – it generally refers to the provision of facilities and services for the safe disposal of human urine and faeces (Courtesy: WHO).
embrace (verb) – welcome, accept, adapt, take up.
efficacy (noun) – effectiveness, efficiency, power/ability to give estimated results.
influenza (noun) – it is commonly known as "the flu", is an infectious disease caused by an influenza virus.
panacea (noun) – perfect solution, universal cure

, cure for all, sovereign remedy.
Note:  
 1. Click each one of the words above for their definition, more synonyms, pronunciation, example sentences, phrases, derivatives, origin and etc from http://www.oxforddictionaries.com/.
2. Definitions (elementary level) & Synonyms provided for the words above are my personal work and not that of Oxford University Press. Tentative definitions/meanings are provided for study purpose only and they may vary in different context. 
3. This word list is for personal use only. Reproduction in any format and/or Commercial use of it is/are strictly prohibited.
Today's Advanc
ed Word List 1 for The Hindu Lead Article (A shot of hope with a game changing vaccine) – Apr 20, 2020
: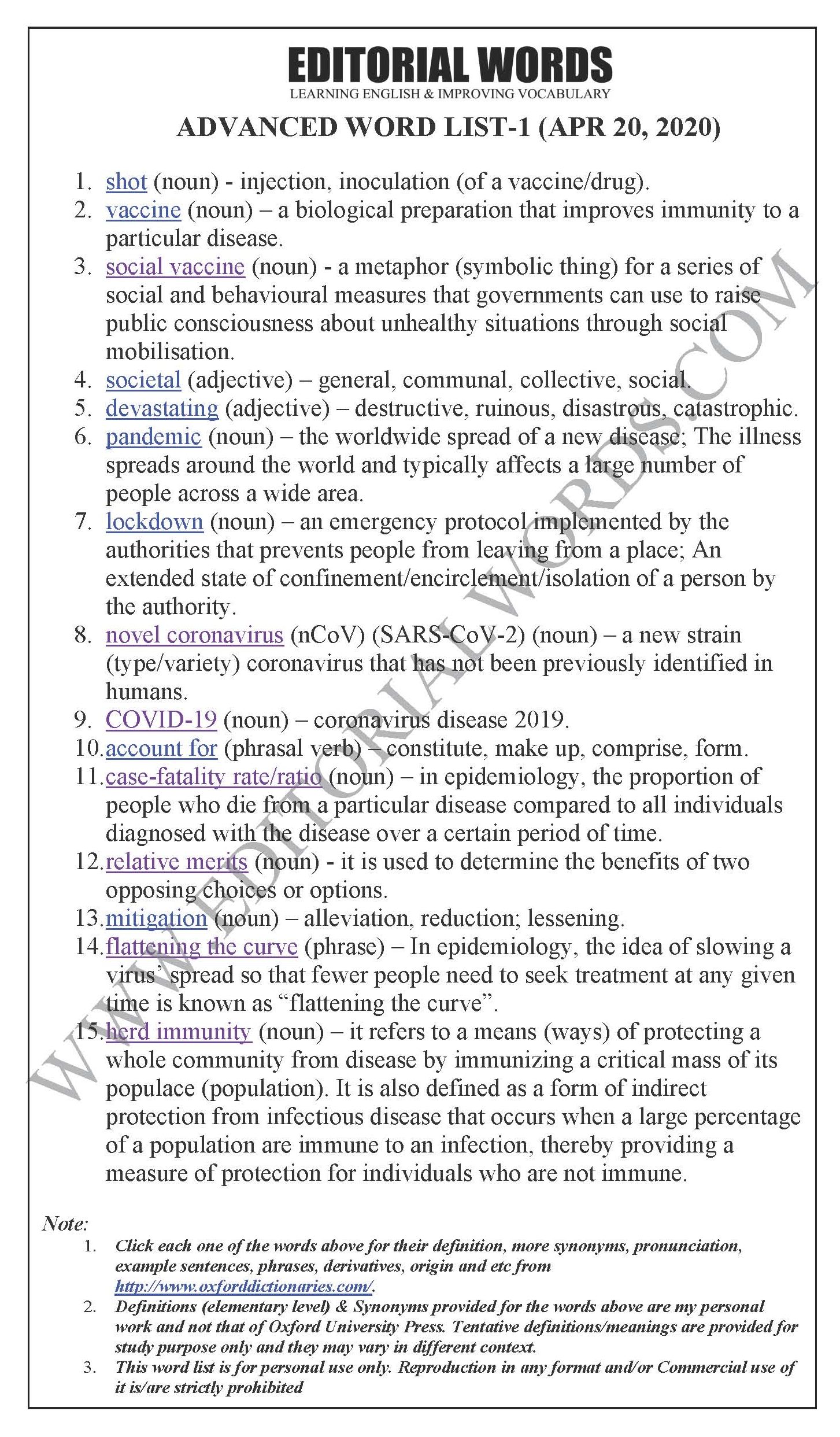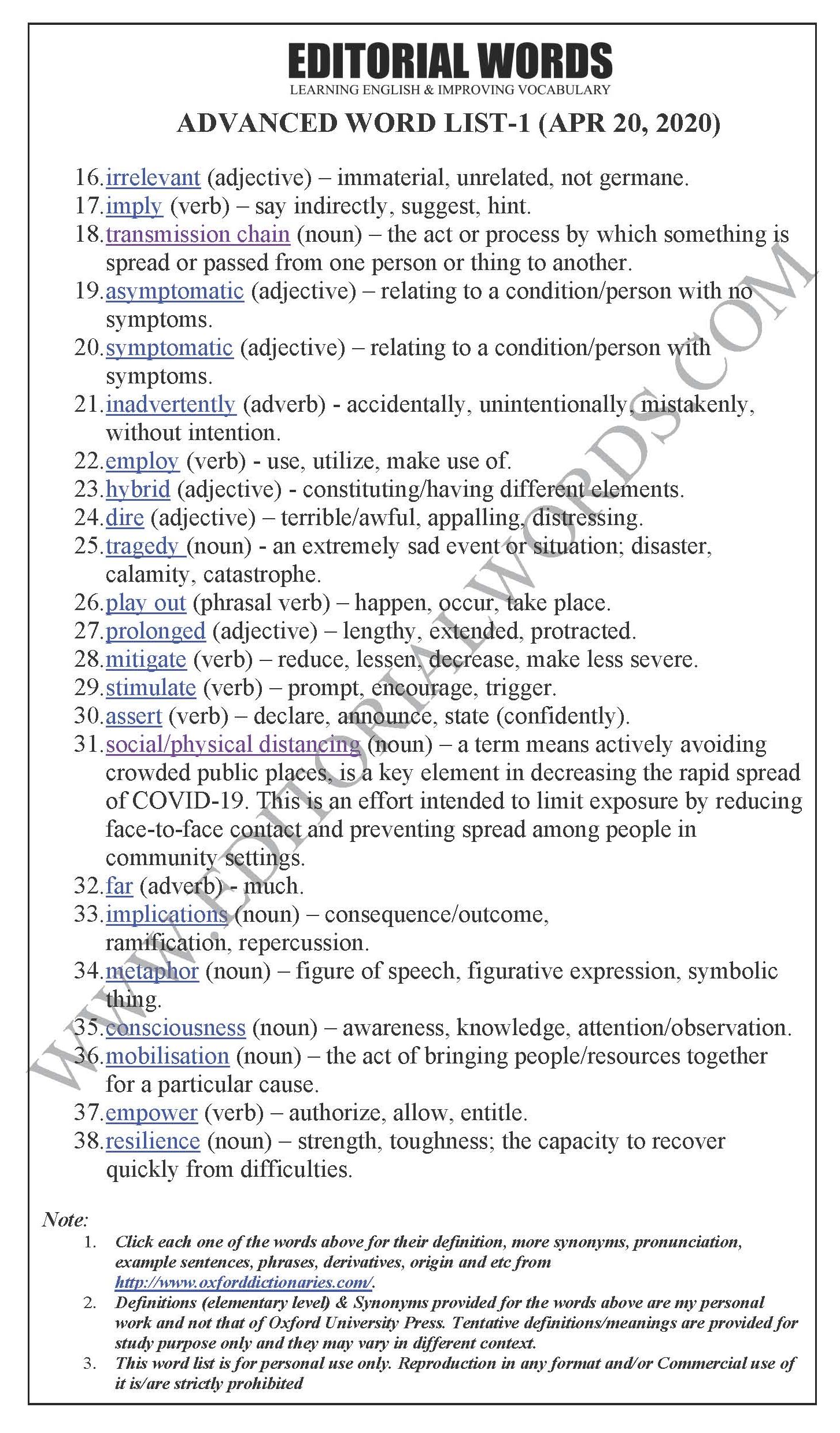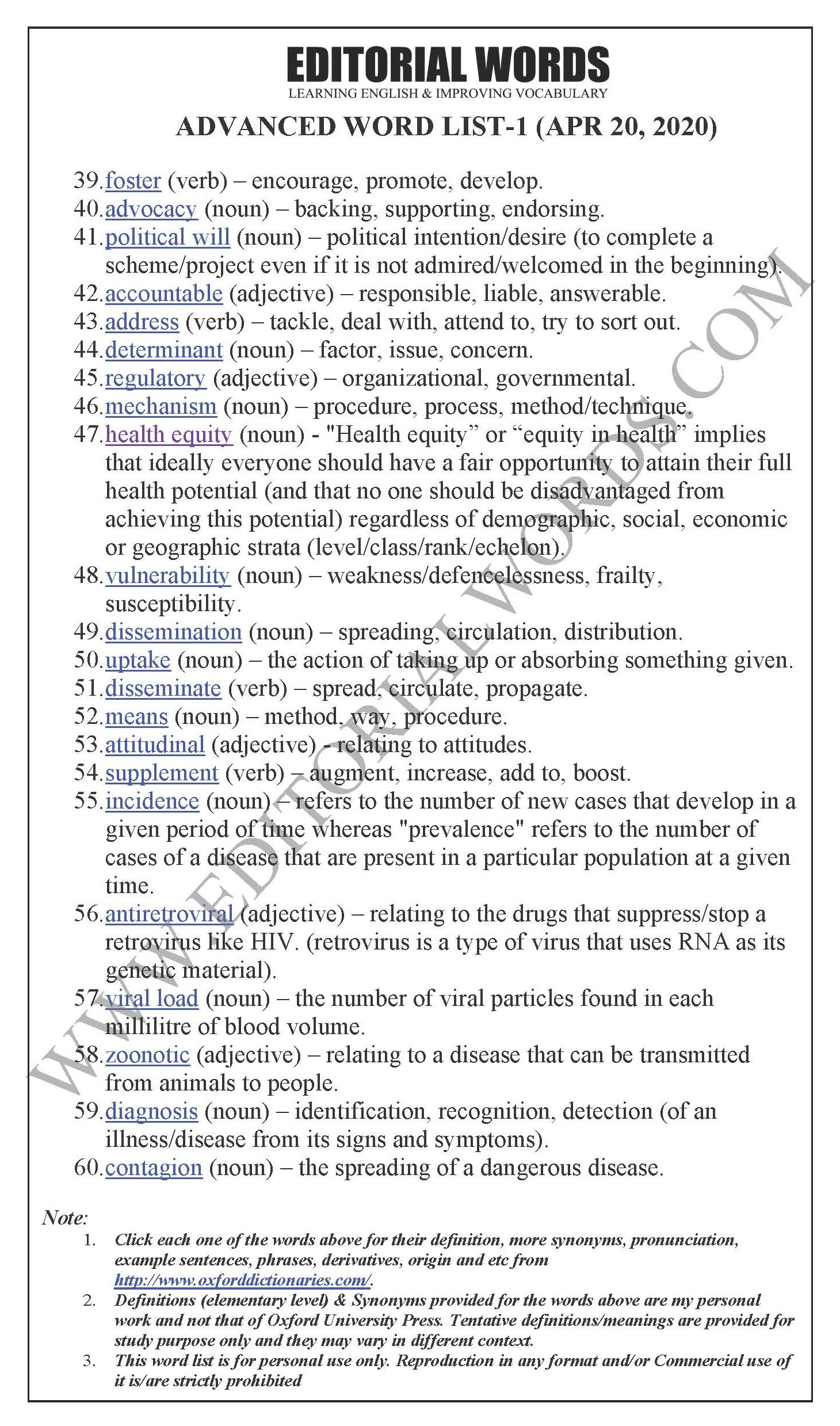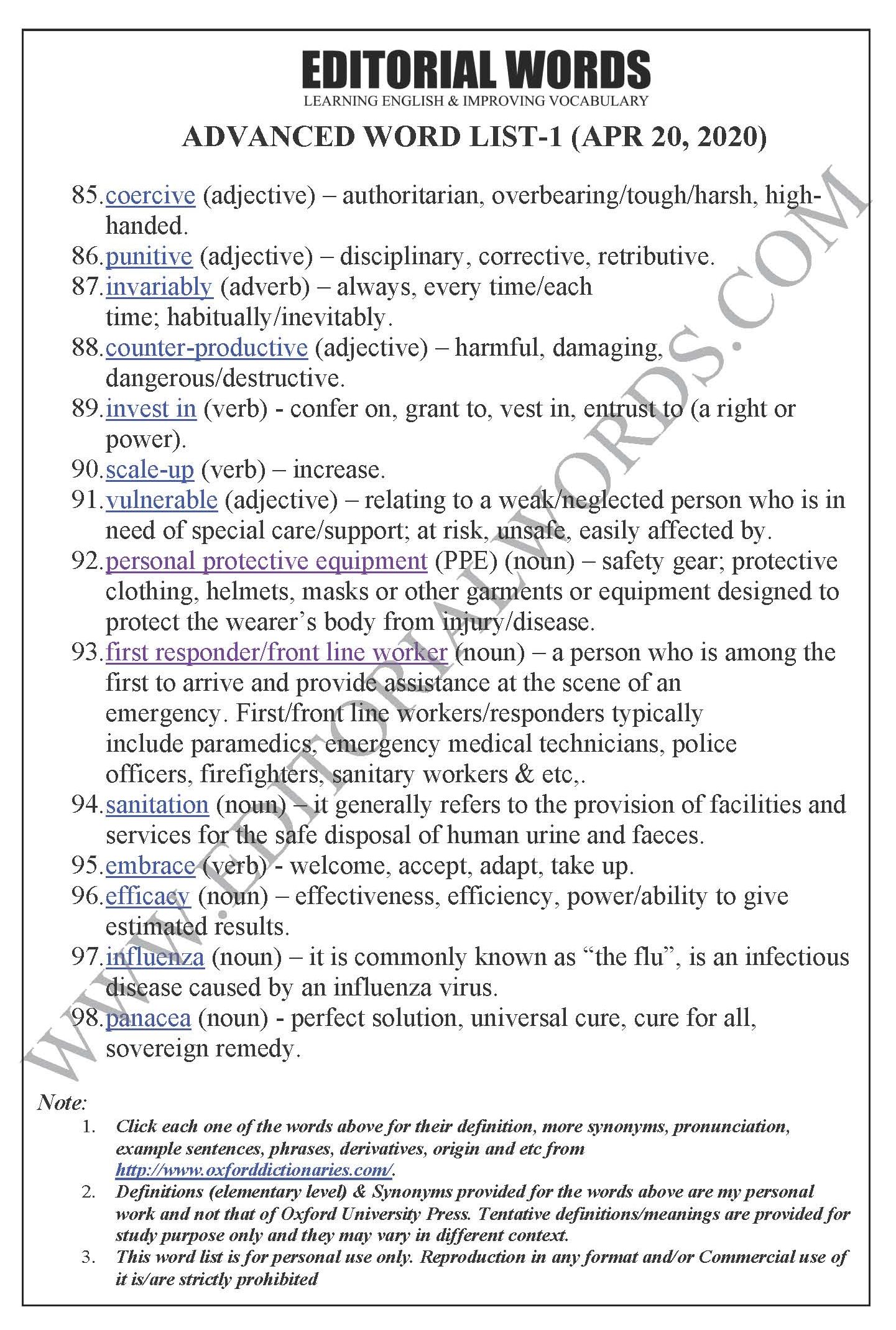 "Phrasal Verbs" We Learnt Last Week
"Idioms & Phrases" We Learnt Last Week
"Important Definitions" We Learnt Last Week
Recent Word Lists For The Hindu Editorial Articles
Recent Advanced Word Lists For The Hindu Lead Articles