The Hindu Lead Article (A security architecture without the mortar) – Oct 17, 2018
In April this year, the Narendra Modi government set up a Defence Planning Committee (DPC) to assist in the creation of "national security strategy. For further reading, visit "The Hindu". Below is today's advanced word list-1 for The Hindu Lead Article (A security architecture without the mortar) – Oct 17, 2018.
To read this article, click here.
This preview is provided here with permission.  
Courtesy: The Hindu
Today's Advanced Word List 1 for The Hindu Lead Article (A security architecture without the mortar) – Oct 17, 2018
:
mortar (noun) – a mixture of sand, water, and cement to bind building blocks such as stones, bricks, and concrete masonry units together.
stem from (phrasal verb) – originate from, arise from, come from.
revive (verb) – reintroduce, restore, bring back.
cognisant (adjective) – aware, well informed about, familiar with.
wanting (adjective) – deficient, inadequate, lacking/imperfect.

sorry state

(phrase) – bad situation.
salvage (verb) – rescue, recover, retrieve.
deteriorate (verb) – worsen, decline, degenerate.
ceasefire (noun) – a temporary stoppage of a war, truce, armistice.
on the rise (phrase) – increasing.

spin manager/spin doctor

(noun) – a person who helps political parties to present/publicize/manipulate events, ideas, etc in their advantage even if they are not.
valiantly (adverb) – with courage, with determination.

surgical strike

 (noun) – the military attack aimed to cause damage on a particular target with small/no collateral damage to surroundings.
befitting (adjective) – appropriate, suitable, proper.
stand-off (noun) – deadlock, stalemate, impasse (in a dispute/conflict).
pushover (noun) – weakling, unworthy/feeble opponent.
by all accounts (phrase) –  apparently, seemingly, ostensibly.
plateau (noun) – an area of highland, high plain; flat terrain that is raised significantly above the surrounding area.
deferential (adjective) – respectful, considerate, attentive/thoughtful.
doldrums (noun) – a state or period of inactivity, stagnation, depression/despair.
frenzied (adjective) – intense, uncontrolled, furious/wild.
firefighting (noun) – an act of dealing problems as they come (instead of avoiding them strategically).
notwithstanding (preposition) – in spite of, despite, regardless of.
rhetoric (noun) – bombast, loftiness, hyperbole/extravagant language.
ill-equipped (adjective) – not ready, unready, off guard.
in sight (phrase) – (can) be achieved/realized.
bang for the buck (phrase) – value for money.
on auto-pilot (phrase) – inattentively, unheedingly, carelessly.
oversight (noun) – inspection, supervision, control.
revamp (verb) – mordenize/refurbish, improved, upgrade.
doctrine (noun) – principle, belief, rule.
acquisition (noun) – purchase, procurement, collection.
silo (noun) – system, process, department.
partisan (adjective) – biased, prejudiced, one-sided.
die down (phrasal verb) – come to an end, drop/stop, diminish.
leave alone (phrase) – fail to look after, fail to care for, abandon/desert.
replicate (verb) – copy, reproduce, duplicate.
concede (verb) – admit, acknowledge, accept,/allow.
top-heavy (adjective) – relating to a very large senior management team members (whose numbers are not in a proportion to the other employees in a organisation).
well-oiled (adjective) – (especially of an organization) operating smoothly.
precious little (phrase) – extremely little.
ad hocism (noun) – actions/measures to deal with specific & urgent issues/situations only.
hyper-nationalist (adjective) – relating to the extreme/excessive nationalism.
credentials (noun) – experience, capability, 

accomplishments.

appetite (noun) – desire/yearning, longing/liking, penchant.
lacklustre (adjective) – dull; uninspired, uninteresting.
non-existent (adjective) – imaginary, unreal, hypothetical.
worse off (phrase) – less fortunate; in a disadvantageous position.
coherent (adjective) – logical, reasonable, rational.
Note:   
Click each one of the words above for their definition, more synonyms, pronunciation, example sentences, phrases, derivatives, origin and etc from http://www.oxforddictionaries.com/.
Definitions (elementary level) & Synonyms provided for the words above are my personal work and not that of Oxford University Press. Tentative definitions/meanings are provided for study purpose only and they may vary in different context. 
This word list is for personal use only. Reproduction in any format and/or Commercial use of it is/are strictly prohibited.
Today's Advanc
ed Word List 1 for The Hindu Lead Article (A security architecture without the mortar) – Oct 17, 2018: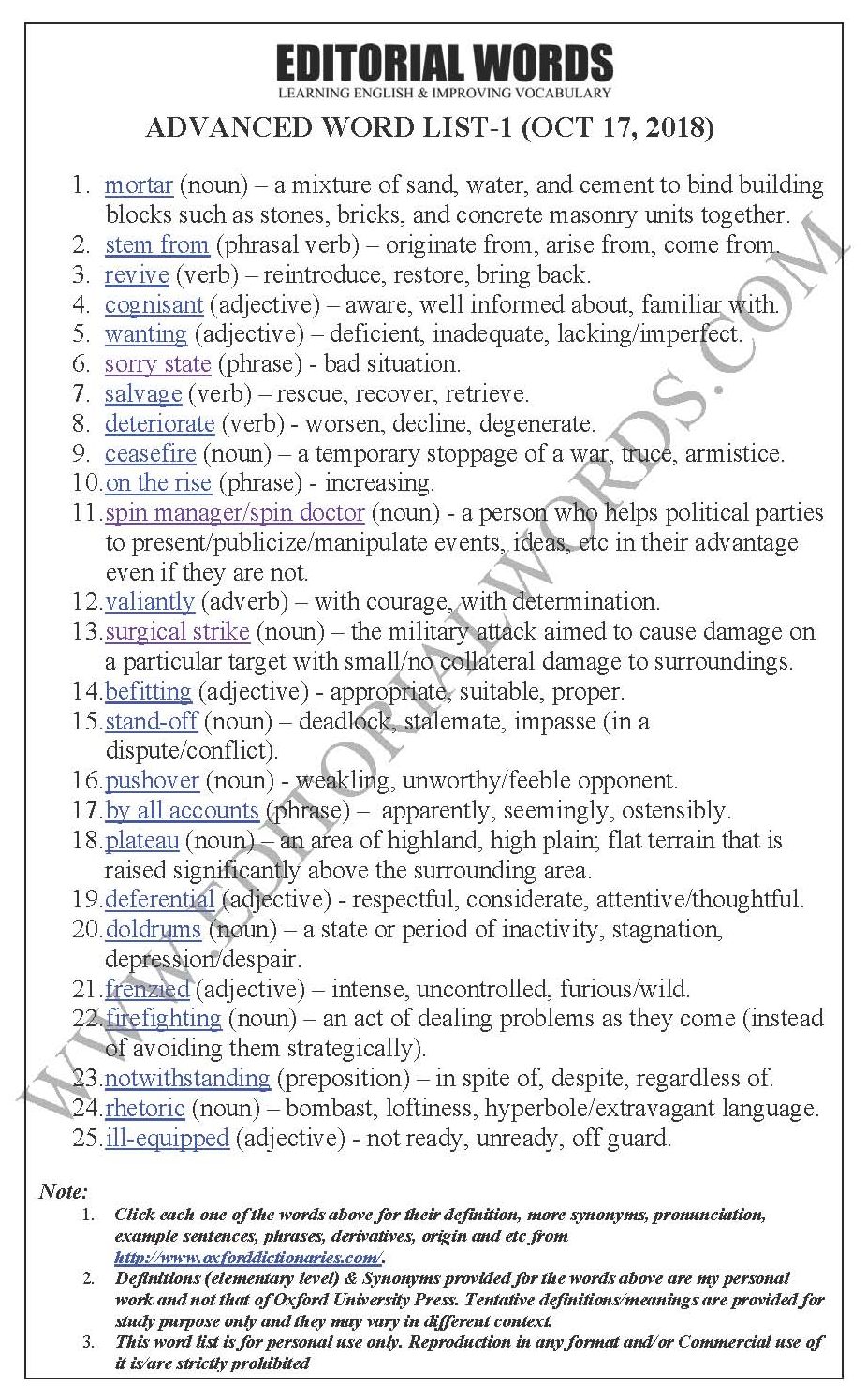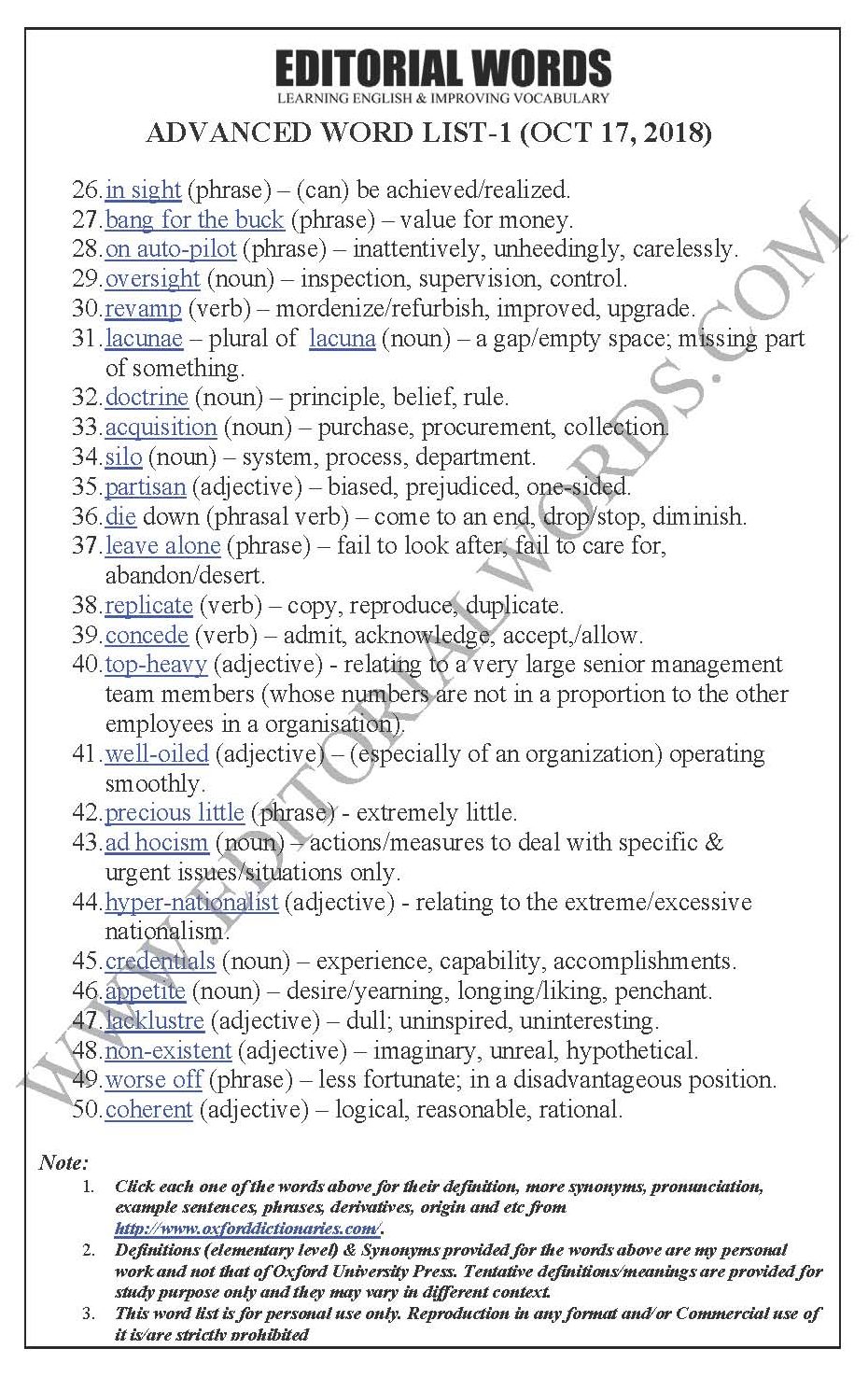 "Phrasal Verbs" We Learnt Last Week
"Idioms & Phrases" We Learnt Last Week