The Hindu Lead Article (A case of confused thinking) – Jul 13, 2019
The draft National Education Policy (NEP) 2019 recommends a restructuring of school years and the curriculum,… For further reading, visit "The Hindu". Below is today's advanced word list-1 for The Hindu Lead Article (A case of confused thinking) – Jul 13, 2019.
To read this article, click here.
This preview is provided here with permission.  
Courtesy: The Hindu
Today's Advanced Word List 1 for The Hindu Lead Article (A case of confused thinking) – Jul 13, 2019
:
emphasise (verb) – draw attention to, highlight, make a point of.
curriculum (noun) – syllabus, subjects, programme of studies.
spirit (noun) – ethos, morale/ethics, essence/principles.
assessment (noun) – opinion, analysis, evaluation.
laundry list (noun) – a long or exhaustive list of people or things.
coherent (adjective) – unified

, united, consolidated.

envision (verb) – imagine, visualize, envisage.
sustainably (adverb) – reasonably, sensibly, legitimately.
equitable (adjective) – fair, reasonable

, sensible.

vibrant (adjective) – strong, intense; spirited, determined.
proclaim (verb) – declare, pronounce, announce (publicly).
preach (verb) – proclaim

, teach, moralize.

articulate (verb) – express, point out, mention.
objective (noun) – aim, intention, purpose.
holistic (adjective) – wholesome, comprehensive/entire, integrated.
multilingualism (noun) – the use of  several languages.
worthwhile (adjective) – valuable, helpful, useful.
quite (adverb) – completely, fully, entirely.
means (noun) – method

, way, mode.

a host of (noun) – lot, large number, great quantity.
articulation (noun) – statement/assertion, expression/statement, talk.
proficiency (noun) – ability, competence, skill.
aesthetic (noun) – a set of principles which defines a particular person/artist's work.
literacy (noun) – knowledge.
send out (phrasal verb) – produce, give.
compassion (noun) – care, concern, empathy.
curiosity (noun) – strong desire, interest.
imply (verb) – say indirectly, suggest, hint.
rational (adjective) – logical, sensible, reasonable.
nit-picking (noun) – fault-finding, criticism, complaining.
shoddiness (noun) – improperness, lowness, wrongness.
interpretation (noun) – reading, evaluation, review; understanding.
reflect (verb) – indicate, show/display, reveal.
acquisition (noun) – acquiring, collection/procurement, appropriation.
immersion (noun) – intentness, involvement, engrossment.
stipulate (verb) – formulate/specify, prescribe, set down/ lay down.
yield (verb) – produce, provide, give.
nuanced (adjective) – delicate, subtle, accurate.
abstract (noun) – conceptual

, notional, intellectual/academic.

casualty (noun) – victim, sufferer, loser.
in spite of (phrase) – despite

, although.

plethora (noun) – excess, abundance, surplus/too many.
overarching (adjective) – all-inclusive, complete, all-embracing, comprehensive.
secular (adjective) – non-religious.
Note:  
 1. Click each one of the words above for their definition, more synonyms, pronunciation, example sentences, phrases, derivatives, origin and etc from http://www.oxforddictionaries.com/.bigotry

, narrow-mindedness
2. Definitions (elementary level) & Synonyms provided for the words above are my personal work and not that of Oxford University Press. Tentative definitions/meanings are provided for study purpose only and they may vary in different context. 
3. This word list is for personal use only. Reproduction in any format and/or Commercial use of it is/are strictly prohibited.
Today's Advanc
ed Word List 1 for The Hindu Lead Article (A case of confused thinking) – Jul 13, 2019
: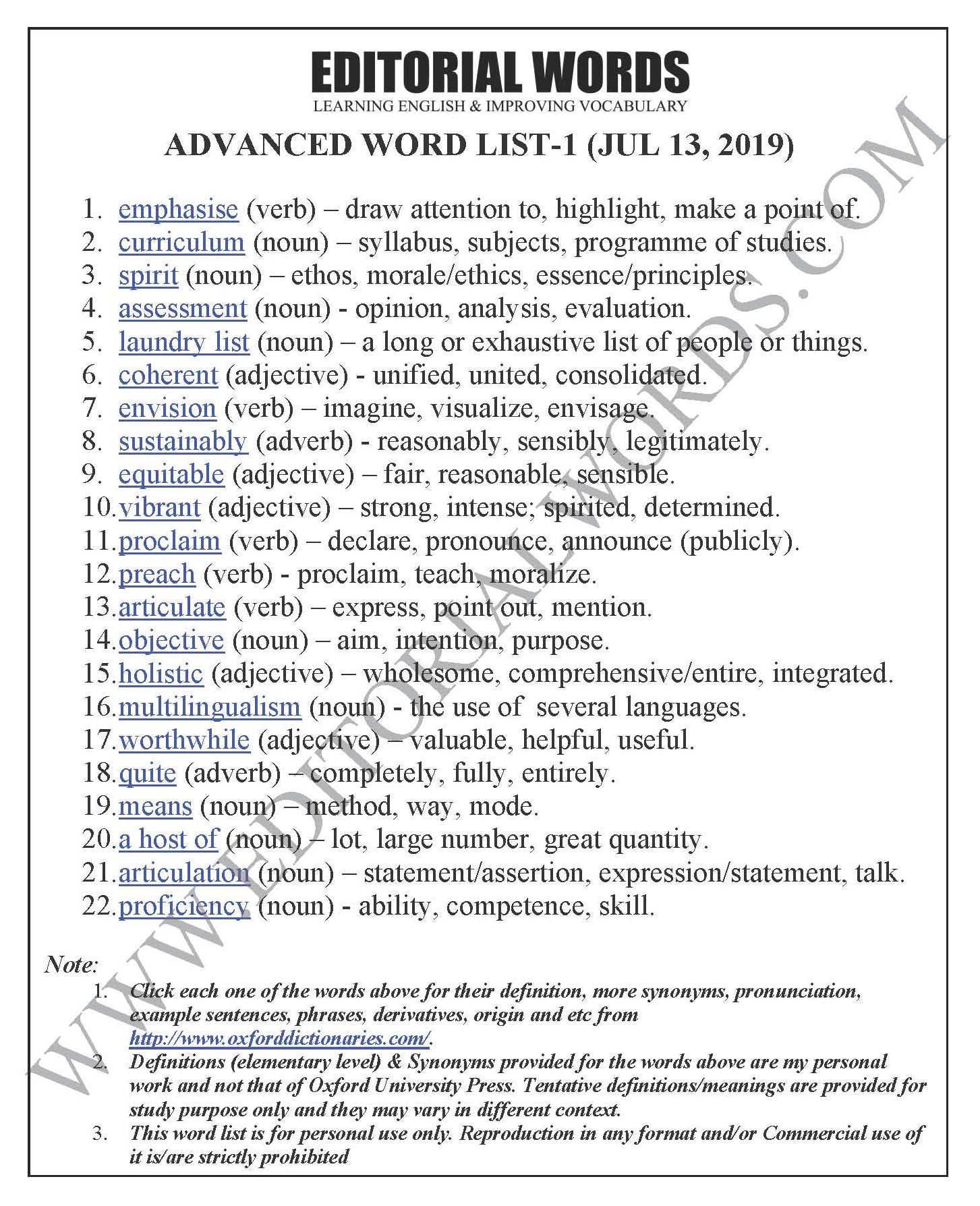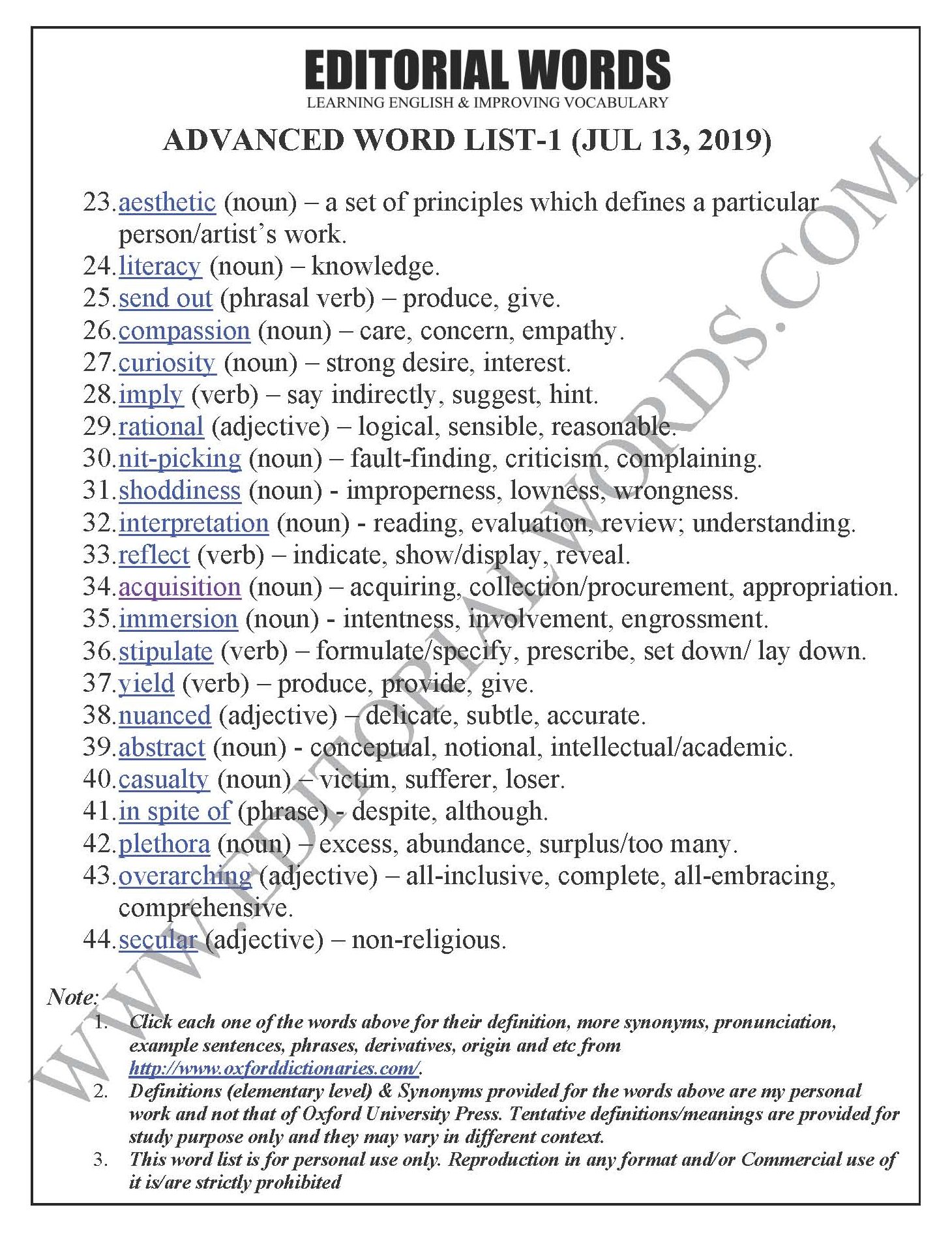 "Phrasal Verbs" We Learnt Last Week
"Idioms & Phrases" We Learnt Last Week
"Important Definitions" We Learnt Last Week
Recent Word Lists For The Hindu Editorial Articles
Recent Advanced Word Lists For The Hindu Lead Articles