The Hindu Editorial (Whatever it takes) – Jan 19, 2021
Faith in entities is often an act of personal commitment not amenable to falsification, but trust in a scientific process can be established… For further reading, visit "The Hindu". Below is today's word list-1 for The Hindu Editorial (Whatever it takes) – Jan 19, 2021.
To read this article, click here.
This preview is provided here with permission.
Courtesy: The Hindu
The Hindu Editorial (Whatever it takes) – Jan 19, 2021:
whatever it takes

(phrase) – anything possible to complete a task (and achieve a goal).
hesitancy (noun) – reluctance, unwillingness, disinclination.

vaccine hesitancy

 (noun) – a reluctance or refusal to be vaccinated or to have one's children vaccinated; reluctance or refusal to vaccinate despite the availability of vaccines.
entity (noun) – existence, life, living, reality, actuality, substance, real thing.
amenable (adjective) – susceptible

, receptive, responsive, reactive, vulnerable, 

defenceless against.
falsification (noun) – forgery, manipulation, misrepresentation, distortion.
establish (verb) – prove

, demonstrate, show, display; determine, validate, verify, confirm.

confidence-building measures/mechanisms

 (noun) – confidence-building measures (CBMs) are planned procedures to prevent hostilities, to avert escalation, to reduce military tension, and to build mutual trust between countries.
disclosure (noun) – revelation, report, declaration, announcement.
campaign (noun) – an organized effort which seeks to influence the decision making progress within a specific group.
voluntary (adjective) – optional

, discretionary, non-compulsory, non-mandatory.

transparency (noun) – clarity, straightforwardness, openness, honesty, unambiguity.
channel (noun) – means

, method, medium, instrument, mechanism.

tools of choice

(phrase) – methods chosen to solve a particular problem (as being the most suitable tools).
uptake (noun) – the action of taking up something (available/given).
vaccine (noun) – a biological preparation that improves immunity to a particular disease.

take someone along

(phrase) – to take someone with you.
be vest with (verb) – give or provide (someone) the legal right to power.
retard (verb) – delay

, slow down, hold back, hold up, postpone, decelerate.

epidemic (noun) – eruption, outbreak, outburst (of an infectious disease).
for instance (phrase) – as an example.
perceived (adjective) – observed, recognized, identified.
literate (adjective) – knowledgeable, well informed, educated.
relatively (adverb) – comparatively

, proportionately, somewhat, to a certain extent/degree.

vaccination (noun) – treatment with a vaccine to protect against a particular disease; immunization.
compliance (noun) – conformity, observation, adherence.
marked (adjective) – noticeable

, distinct, clear, obvious.

favouring (noun) – preference.

Covishield  or Oxford vaccine

 (noun) – (ChAdOx1 nCoV-19) or (AZD1222) is a COVID-19 vaccine candidate developed by Oxford University and AstraZeneca, UK Ltd. (named Covishield in India and manufactured at the Serum Institute of India).

Covaxin

 (noun) – India's first indigenous COVID-19 vaccine candidate (COVAXIN) developed by a Hyderabad-based company (Bharat Biotech) in collaboration with the ICMR (The Indian Council of Medical Research).
sign (noun) – indication

, signal, hint, pointer, suggestion.

verily (adverb) – definitely

, certainly, surely.

indeed (adverb) – in fact, actually, undeniably.
measure (verb) – evaluate, assess, appraise, determine, judge.
address (verb) – tackle, deal with, attend to, try to sort out.

Emergency Use Authorisation (EUA)

(noun) – a mechanism to facilitate the availability and use of medical countermeasures, including vaccines, during public health emergencies, such as the current COVID-19 pandemic.

human trial/clinical trial

 (noun) – a type of research that studies new tests and treatments and evaluates their effects on human health outcomes.
high-handed (adjective) – arrogant, domineering, overbearing, heavy-handed; 

undemocratic, oppressive, authoritarian. 

put out (phrasal verb) – issue

, publish, release, circulate, make public, publicize.

compelling (adjective) – convincing, credible, well reasoned, rational, very strong.
in the public domain (phrase) – if something (e.g. information) is in the public domain, people generally know about it since it is not secret.
merely (adverb) – only

, simply, just.

dig (in) one's heels (phrase) – oppose, fight against, refuse to accept.
inability (noun) – incapability, incompetence

, ineptitude, ineffectiveness, uselessness, inefficacy.

amicably (adverb) – in a friendly manner.
interim (adjective) – provisional

, temporary, transitional

.  

efficacy (noun) – In medicine, the ability of an intervention (for example, a drug or surgery) to produce the desired beneficial effect; effectiveness, efficiency, power.

phase 3 trial

 (noun) – In the phase 3 trial, the vaccine is given to thousands of people to confirm its safety – including rare side effects – and effectiveness. These trials involve a control group which is given a placebo.

phase 2 trial

 (noun) – In the phase 2 trial, the vaccine is given to hundreds of people so scientists can learn more about its safety and correct dosage.

phase 1 trial

 (noun) – In phase 1 trial of clinical testing, the vaccine is given to a small group of people to determine whether it is safe and to learn more about the immune response it provokes.
consequence (noun) – outcome, result, ramification, repercussion.
unequivocally (adverb) – clearly, well definedly; unambiguously, categorically, unmistakably.
public good (noun) – the benefit of the public; the well-being of the public.
lack of (noun) – absence, 

deficiency, scarcity, dearth.

roll-out (noun) – official launch/introduction.
haste (noun) – hurry, urgency, quickness.
lunge (verb) – move suddenly, thrust, rush, dive.
finishing line (noun) – end point of a race (often with the tape).
vaccinate (verb) – inoculate, administer, introduce (with a vaccine to provide immunity against a disease).
at hand (phrase) – near

, nearby, 

close by; within reach, accessible/available.

oft-repeated

(adjective) – often repeated; repeated frequently.
drive (noun) – campaign

, movement, effort, push.
Note:
 1. Click each one of the words above for their definition, more synonyms, pronunciation, example sentences, phrases, derivatives, origin and etc from http://www.oxforddictionaries.com/.
2. Definitions (elementary level) & Synonyms provided for the words above are my personal work and not that of Oxford University Press. Tentative definitions/meanings are provided for study purpose only and they may vary in different context. 
3. This word list is for personal use only. Reproduction in any format and/or Commercial use of it is/are strictly prohibited.
The Hindu Editorial (Whatever it takes) – Jan 19, 2021: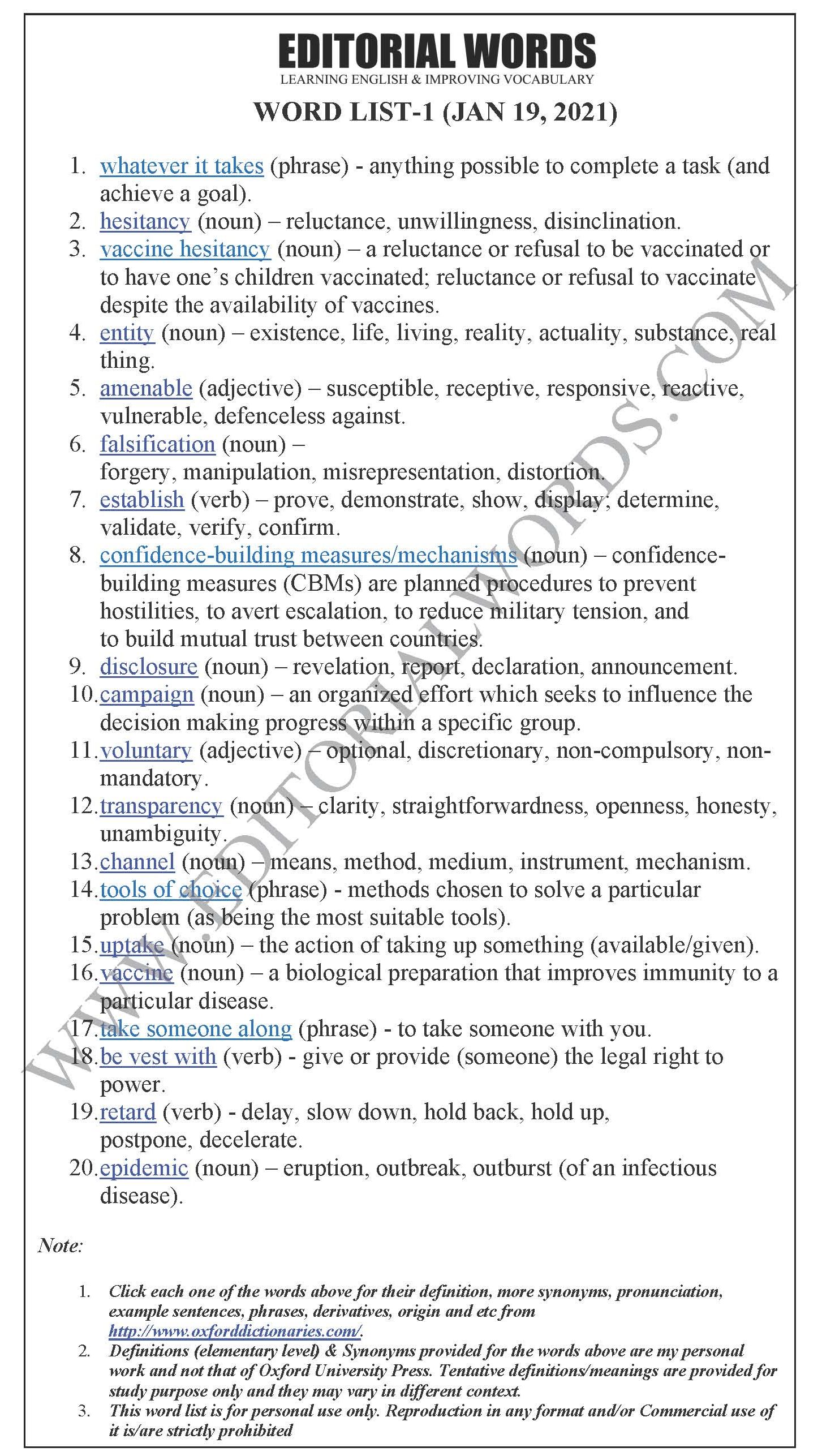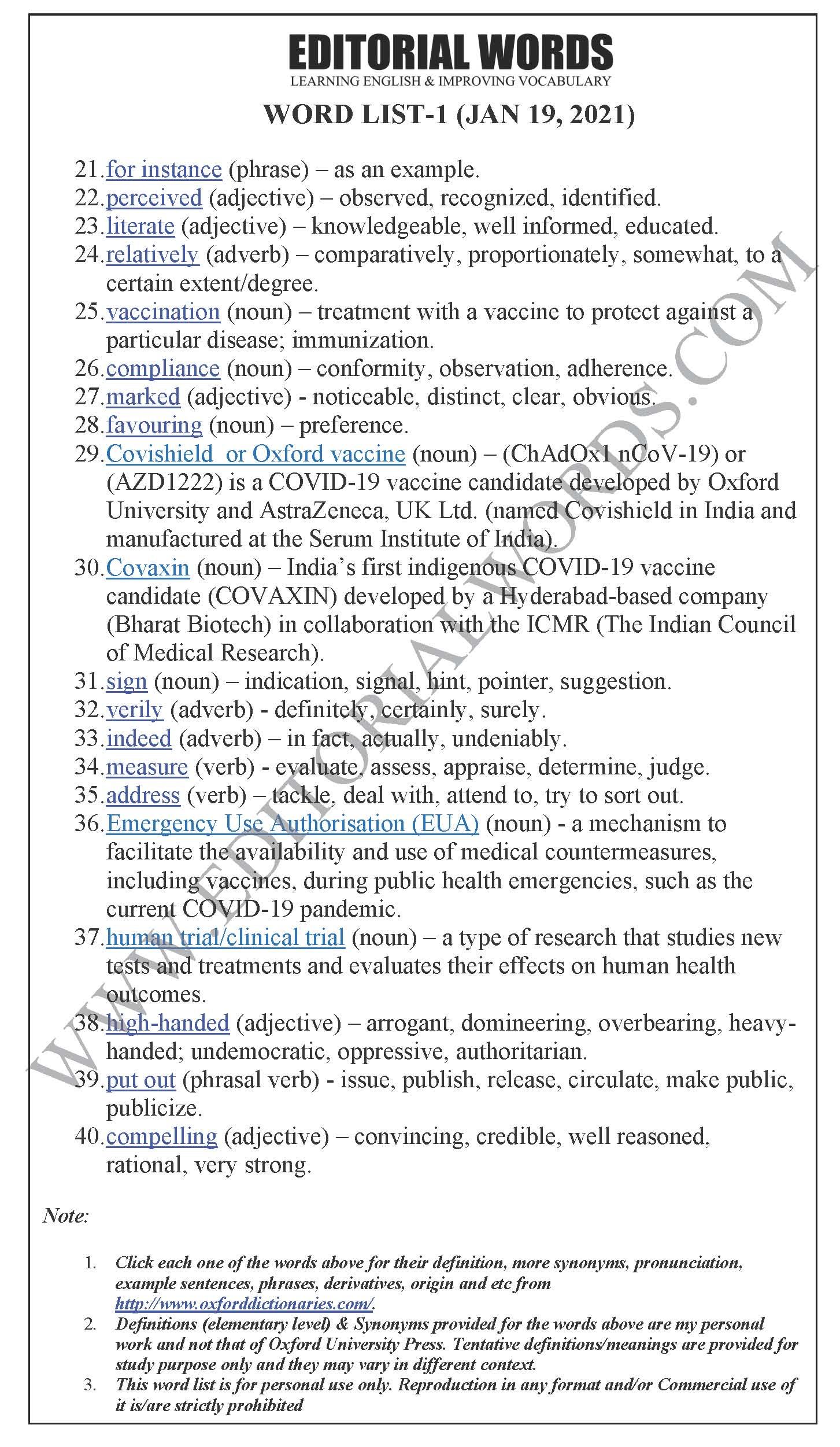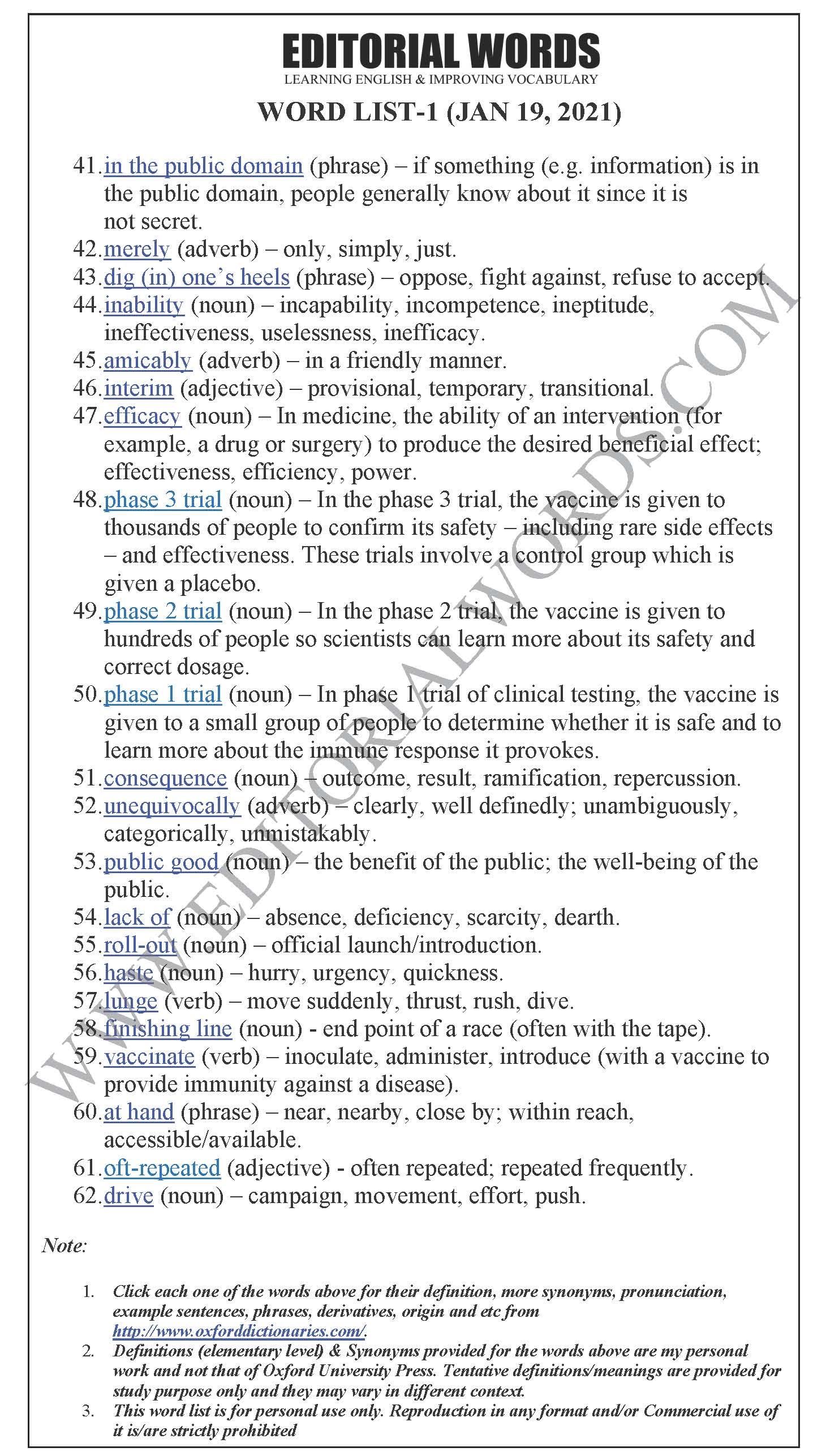 "Phrasal Verbs" We Learnt Last Week 
"Idioms & Phrases" We Learnt Last Week
"Important Definitions" We Learnt Last Week
Recent Word Lists For The Hindu Editorial Articles
Recent Advanced Word Lists For The Hindu Lead Articles