The Hindu Editorial (Walk the talk) – Nov 09, 2020
Prime Minister Narendra Modi's recent address at a virtual global investor round table was delivered,… For further reading, visit "The Hindu". Below is today's word list-2 for The Hindu Editorial (Walk the talk) – Nov 09, 2020.
To read this article, click here.
This preview is provided here with permission.
Courtesy: The Hindu
Today's word list-2 for The Hindu Editorial (Walk the talk) – Nov 09, 2020:
walk the talk (phrase) – to do the things you have said you would do.
regulatory (adjective) – governmental, executive, organizational.
certainty (noun) – assurance, confidence, reliability.
seek (verb) – try

, attempt, strive, work, aim, aspire

.

woo (verb) – seek the support of, try to win, try to attract, pursue, persuade, coax.
address (noun) – speech, talk, discourse.
virtual (adjective) – performing a task with the use of computer, especially over a network.

round table

(noun) – conference.

virtual round table

 (noun) – online conference.

as is someone's wont

(phrase) – if someone does a specific thing as is their wont, he/she does it very often or regularly.
inimitable (adjective) – unique

, individual, distinctive, special.

trademark (noun as modifier) – a 

distinctive

characteristic

, trait, quality, attribute.

alliterative (adjective) – relating to alliteration (alliteration means the repetition of the same/a similar sound at or near the beginning of each word in a series. (Example: "Sabka Saath, Sabka Vikas (all together, development for all)", "Beti Bachao, Beti Padhao (save girl child, teach girl)" & etc.
pitch (verb) – position, place, locate.
stress (verb) – emphasize

, draw attention to, highlight, underline, underscore.

gamut (noun) – range

, spectrum, scope, reach.

span (verb) – range over, extend over (a range of benefits).
returns (noun) – profit, gain, income, revenue.
sustainability (noun) – the ability to exist constantly (at a certain rate/level).
green (adjective) – environmentally friendly, environmentally sound, energy-efficient, energy-saving.
underscore (verb) – underline, emphasize, highlight.

National Infrastructure Pipeline (NIP)

(noun) – a group of social and economic infrastructure projects in India over a period of five years with an initial sanctioned amount of ₹102 lakh crore. The pipeline was first made public by the Prime Minister of India during his 2019 Independence Day speech.

trust fund

(noun) – a special type of legal entity that holds property for the benefit of another person, group, or organization.
reap (verb) – get, acquire, obtain, bring in, realize.
principal (noun) – a sum of money invested; capital sum

, capital, capital funds, working capital.

context (noun) – circumstances, conditions, situation.
pressing (adjective) – urgent

, critical, crucial, important.

revive (verb) – regenerate, revitalize, bring back.
exhortation (noun) – urging/pushing, pressure, insistence.
tick all the boxes (phrase) – to fulfill all the requirements.

monetary policy

 (noun) – monetary policy refers to the use of monetary instruments under the control of the central bank to regulate magnitudes such as interest rates, money supply and availability of credit with a view to achieving the ultimate objective of economic policy. (Courtesy: https://www.rbi.org.in)
contraction (noun) – In economics, it refers to a decline in national output as measured by gross domestic product

.

pandemic (noun) – the worldwide spread of a new disease; The illness spreads around the world and typically affects a large number of people across a wide area.
shock (noun) – 

disturbance causing volatility/uncertainty in an economy. 

Fixed investment

(noun) – Fixed capital; any investment in property, plant, and equipment (PP&E) of a company.
halve (verb) – reduce by half (50%).
fiscal (year) (noun) – financial (year).
uncertain (adjective) – unpredictable

, unsettled, unreliable.

outlook (noun) – prospects

, expectations, hopes, lookout

.
given (preposition) – considering

, taking into account, bearing in mind

.

consumption

 (noun) – the use of goods and services by households.
(be) coupled with (verb) – combine, integrate, connect, incorporate, link.
stretched (adjective) – leveraged (In business, leverage often refers to borrowing funds to finance the purchase of inventory, equipment, or other assets).
balance sheet (noun) – a statement that shows the financial condition of a company at a particular point in time.
cramp (verb) – hinder, impede, inhibit.
apportion (verb) – divide out, allocate, distribute; earmark, set aside, designate.

growth-spurring

(adjective) – encouraging growth/development.
hamstring (verb) – restrict, cripple, hinder, obstruct, slow down (the ability or efficiency of someone/something); to make ineffective, to make powerless.
widening (adjective) – increasing.

fiscal deficit

 (noun) – the difference between total expenditure and total income of the government.
amid (preposition) – in the middle of, surrounded by; during.
protracted (adjective) – prolonged, long-lasting, continuous, extended, lengthened.
stand-off (noun) – deadlock, stalemate, impasse (in a dispute/conflict).
debilitating (adjective) – weakening

, disabling, paralyzing, undermining, impairing.

shortfall (noun) – deficit, inadequacy, deficiency, shortage.
assert (verb) – declare, announce, pronounce, state.
look up (phrasal verb) – improve.
in the wake of (phrase) – as a result of some event, especially an unpleasant one; in the aftermath of, as a consequence of, on account of, because of, owing to.
resolute (adjective) – determined, firm, resolved, strong-minded.

foreign direct investment (FDI)

 (noun) – Investment from one country into another (normally by companies rather than governments) that involves establishing operations or acquiring tangible assets, including stakes in other businesses.
reflective (adjective) – providing a reflection/indication

/display/demonstration.

overlook (verb) – miss, fail to notice, leave unnoticed.

FDI Equity Inflow

(noun) – It is defined as the total value of inward overseas direct investment made by foreign entities, including non-resident investors.
account for (phrasal verb) – constitute, make up, comprise, form.
stake (noun) – share, investment.
acquisition (noun) – the act of obtaining, acquiring, procuring something.
manifest (verb) – indicate, show, display, exhibit, present.
aggressively (adverb) – determinedly, vigorously, energetically.
solicit (verb) – ask for, request, appeal to/supplicate.
crave (verb) – long for, yearn for, aspire to, seek.
buttress (verb) – 

support, 

strengthen

, reinforce, fortify.

dispel (verb) – eliminate, remove, dismiss.
flip-flop (noun) – a sudden reversal of something, particularly a policy/plan.
tossing (noun) – an act of deciding an issue (casually) or doing/producing something without thought.
arbitral (adjective) – intermediary, reconciliatory, mediatory.

arbitral tribunal/arbitration tribunal

 (noun) – it is a panel of one or more adjudicators which is convened and sits to resolve a dispute by way of arbitration.
retrospectively (adverb) – with effect from a date in the past.
amend (verb) – alter, change, modify.
arbitration (noun) – conciliation, mediation, intervention/negotiation.
ostensibly (adverb) – apparently, seemingly, supposedly.
underpin (verb) – support, strengthen, fortify, buttress.

shift/move goal posts

(phrase) – change the rules/regulations unfairly.
have one's work/task cut out (phrase) – be dealt with a difficult task.
Note:
 1. Click each one of the words above for their definition, more synonyms, pronunciation, example sentences, phrases, derivatives, origin and etc from http://www.oxforddictionaries.com/.
2. Definitions (elementary level) & Synonyms provided for the words above are my personal work and not that of Oxford University Press. Tentative definitions/meanings are provided for study purpose only and they may vary in different context. 
3. This word list is for personal use only. Reproduction in any format and/or Commercial use of it is/are strictly prohibited.
Today's word list-2 The Hindu Editorial (Walk the talk) – Nov 09, 2020
: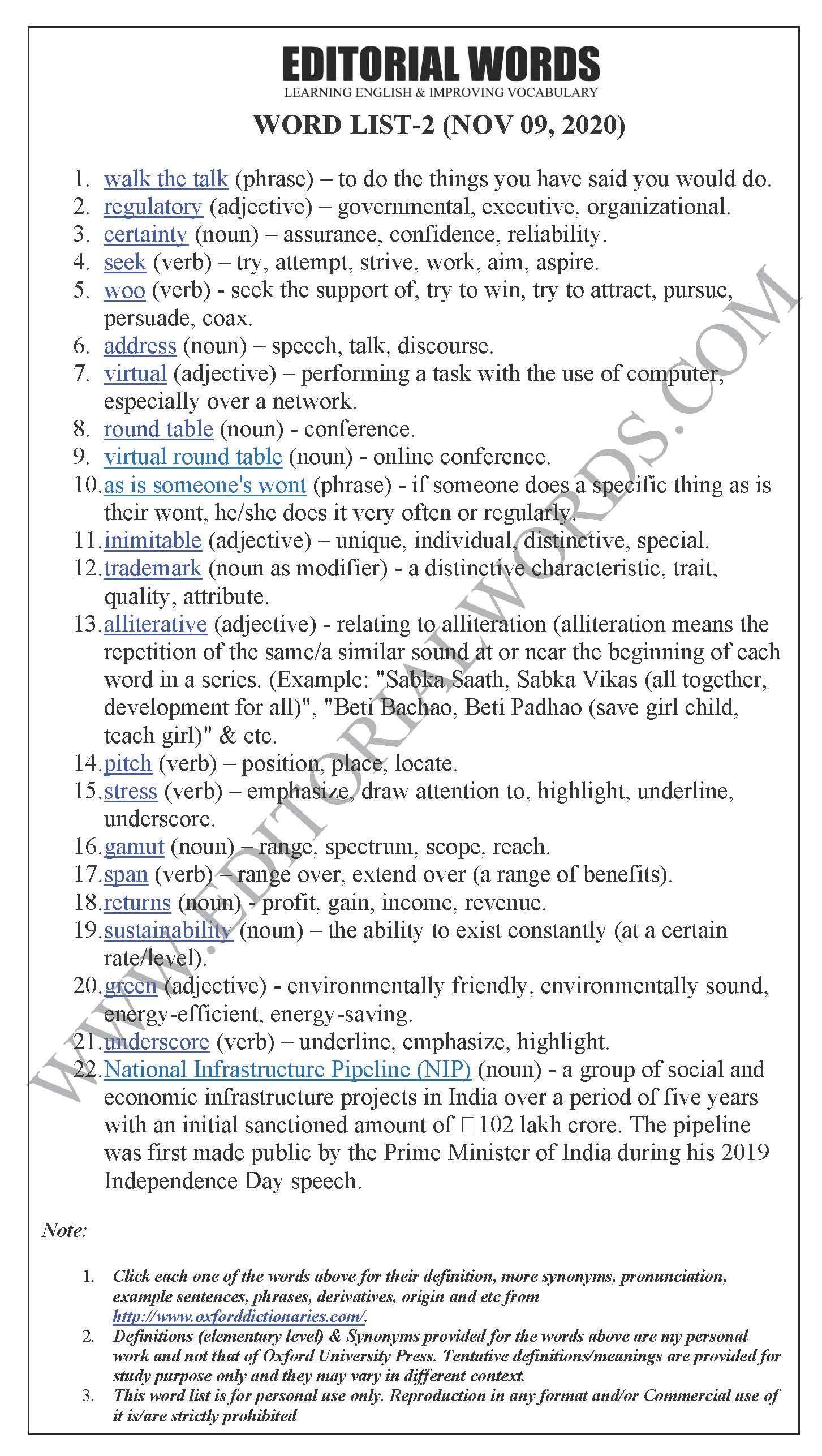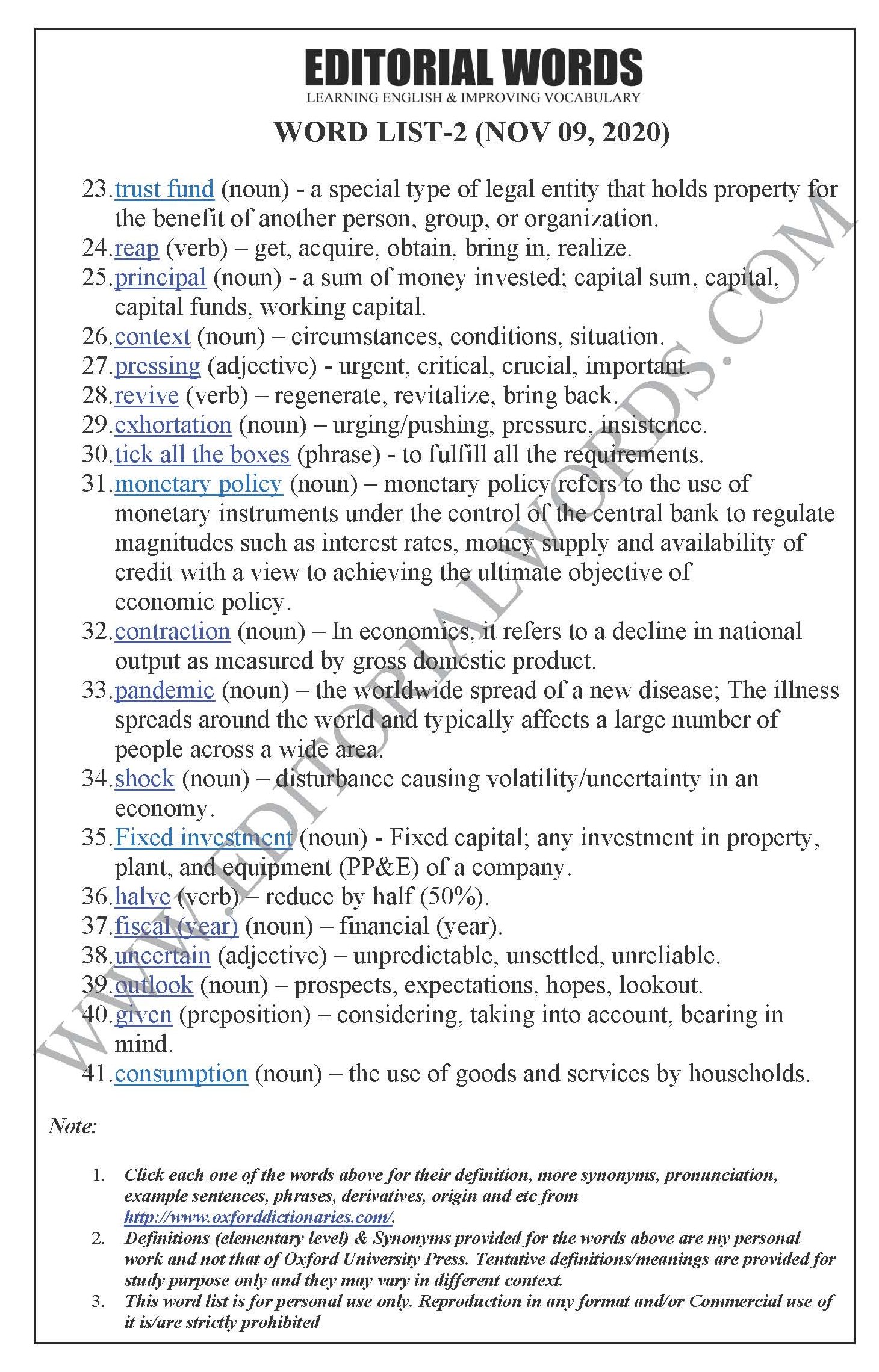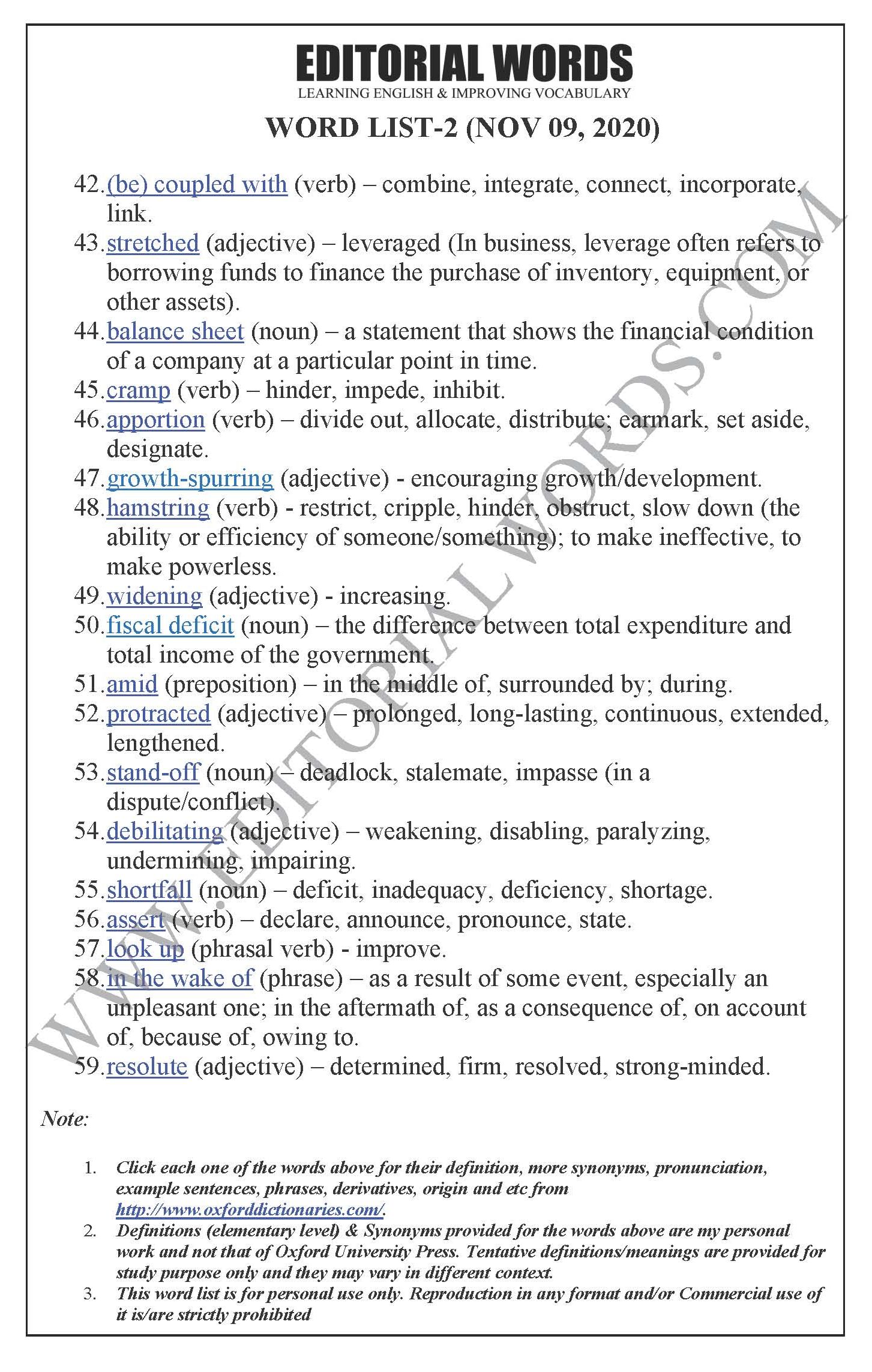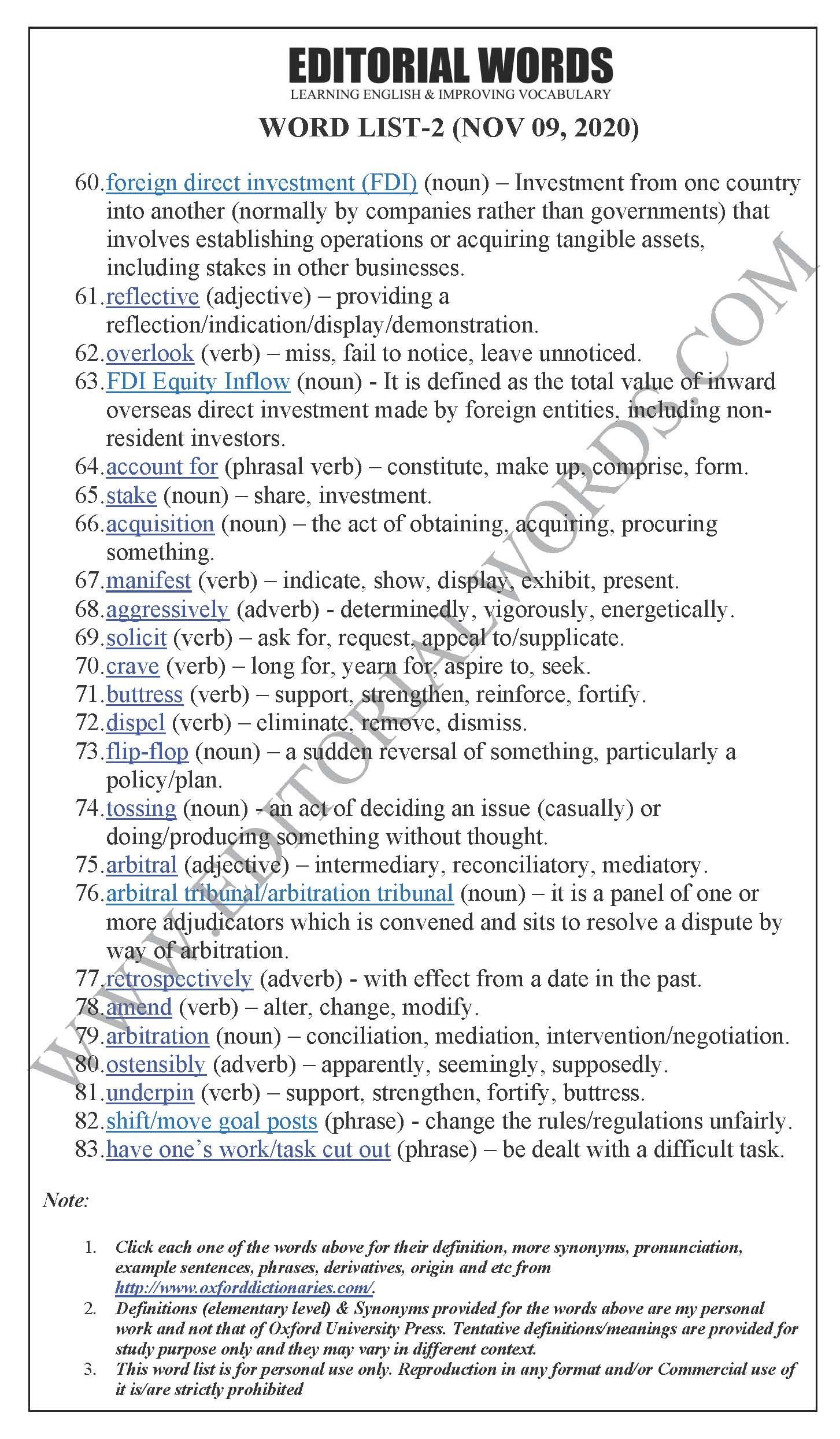 "Phrasal Verbs" We Learnt Last Week 
"Idioms & Phrases" We Learnt Last Week
"Important Definitions" We Learnt Last Week
Recent Word Lists For The Hindu Editorial Articles
Recent Advanced Word Lists For The Hindu Lead Articles