The Hindu Editorial (Virtual reality) – Apr 17, 2020
The world has very few devices left to fight COVID-19 with, but technology remains one of them. For further reading, visit "The Hindu". Below is today's word list-2 for The Hindu Editorial (Virtual reality) – Apr 17, 2020.
To read this article, click here.
This preview is provided here with permission.
Courtesy: The Hindu
Today's word list-2 for The Hindu Editorial (Virtual reality) – Apr 17, 2020:
virtual reality

 (VR) (noun) – the use of computer technology to create a simulated/artificial environment. An artificial environment that is created with software and presented to the user in such a way that the user suspends belief and accepts it as a real environment. Virtual Reality creates an artificial environment to inhabit (live in/occupy).
virtual (adjective) – performing a task with the use of computer, especially over a network.
telemedicine (noun) – a method of medicine that allows health care professionals to evaluate, diagnose and treat patients in remote locations using telecommunications technology.

COVID-19

(noun) – coronavirus disease 2019.
state-of-the-art (adjective) – modern, advanced

/highly developed, sophisticated.

vaccine (noun) – a biological preparation that improves immunity to a particular disease.
humanity (noun) – humankind, the human race, people.
pandemic (noun) – the worldwide spread of a new disease; The illness spreads around the world and typically affects a large number of people across a wide area.
in no small measure (phrase) – to a very great extent.
myriad (adjective) – a great number, countless, infinite, various.
put to use (phrase) – to use; to utilize; to apply.
harness (verb) – put to use, utilize/exploit, make use of.
get on with (phrasal verb) – continue

, proceed, carry on.

lockdown (noun) – an emergency protocol implemented by the authorities that prevents people from leaving from a place; An extended state of confinement/encirclement/isolation of a person by the authority.
render (verb) – make, cause to be, cause to become.
inexorable (adjective) – relentless, unstoppable, unavoidable/inevitable.
paralysis (noun) – shutdown, immobilization, stoppage.
bring on (phrasal verb) – cause

, make happen, bring about, result in, effect.

freeze (noun) – suspension; hold, fixed (at a specific level).
widespread (adjective) – extensive, general, universal, across the board.
a shot in the arm (phrase) – boost, fillip, stimulus.
crusader (noun) – campaigner, champion

, advocate, promoter.

arc (noun) – path, trajectory (a curved one).
consonance (noun) – agreement, concord, accordance.
deploy (verb) – employ (resources into effective action).
footfall (noun) – the number of people entering an area in a given time.
way back (phrase) – long ago.
excruciatingly (adverb) – in a way something is extremely painful; agonizingly, unbearably distressing, embarrassingly.
hold back (phrasal verb) – desist, discontinue, refrain from doing something.
lack of (noun) – absence

, want/need, deficiency/inadequacy.

enable (verb) – allow, permit, validate, authorize.

no sooner

(phrase) – used to indicate that one thing occurs immediately after another thing.
hurry (verb) – scramble, hasten, rush, be quick.
bandwagon (noun) – a popular activity/event that is currently become fashion.
peculiar (adjective) – strange, unusual/odd, unexpected.
paramount (adjective) – most important; foremost, primary.
bar (verb) – block, ban, forbid/prohibit.
quarantine (verb) – separate

, set apart, segregate, detach (people, animals and things (such as plants) from others for a period of time in order to control/restrict the spread of a contagious disease). Separate and restrict the movement of persons, who may have been exposed to infectious disease, but not yet known to be ill.

ophthalmology (noun) – a branch of medicine and surgery that deals with the treatment & diseases of the eye.
psychiatry (noun) – a branch of medicine that is concerned with the diagnosis, prevention, and treatment of mental disorders.
unleash (verb) – let loose, release, set free.
mindful (adjective) – aware of

, conscious of, careful of.

medium (noun) – method, approach, channel, mechanism.
Note:  
 1. Click each one of the words above for their definition, more synonyms, pronunciation, example sentences, phrases, derivatives, origin and etc from http://www.oxforddictionaries.com/.
2. Definitions (elementary level) & Synonyms provided for the words above are my personal work and not that of Oxford University Press. Tentative definitions/meanings are provided for study purpose only and they may vary in different context. 
3. This word list is for personal use only. Reproduction in any format and/or Commercial use of it is/are strictly prohibited.
Today's word list-2 The Hindu Editorial (Virtual reality) – Apr 17, 2020
: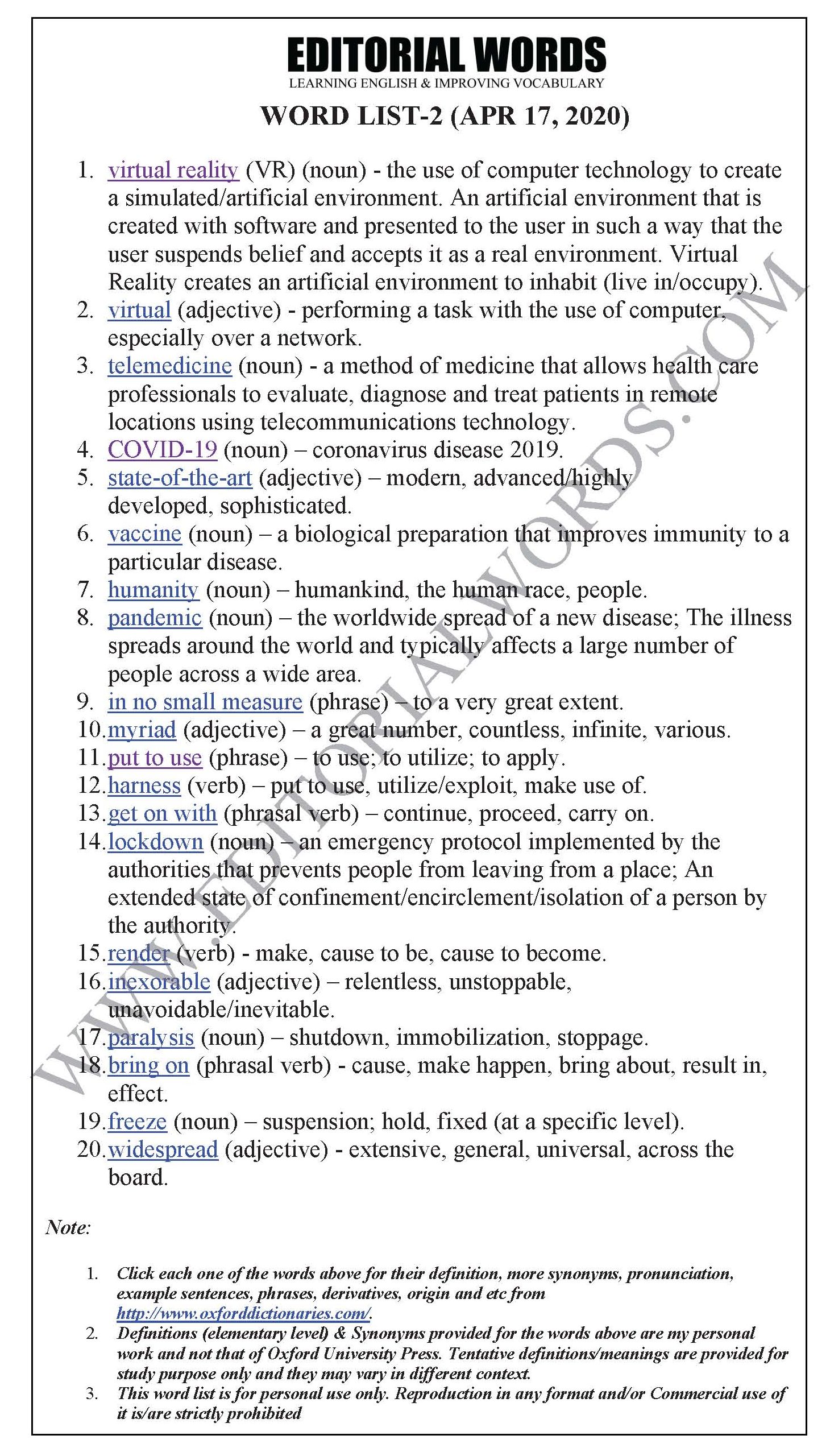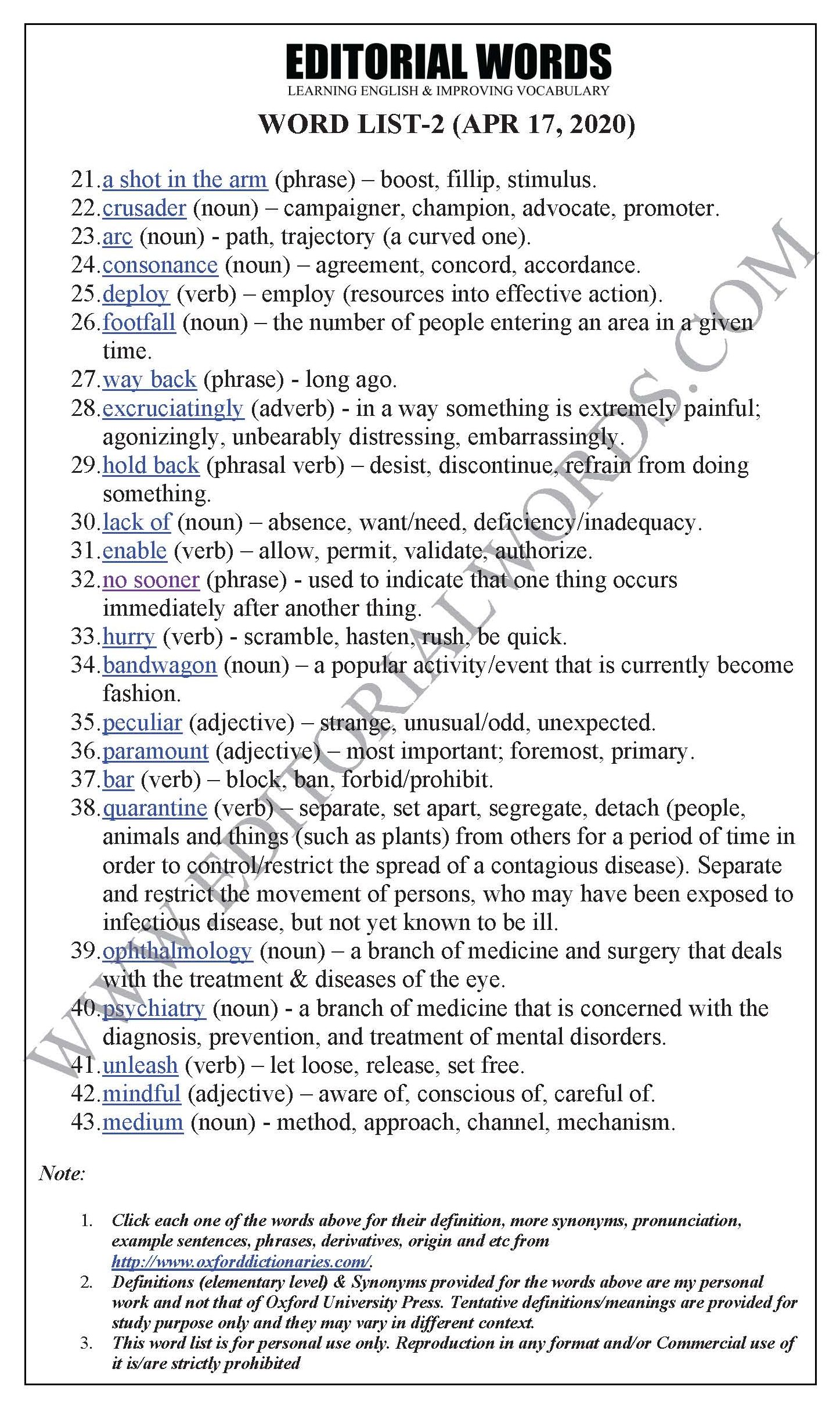 "Phrasal Verbs" We Learnt Last Week
"Idioms & Phrases" We Learnt Last Week
"Important Definitions" We Learnt Last Wek
Recent Word Lists For The Hindu Editorial Articles
Recent Advanced Word Lists For The Hindu Lead Articles