The Hindu Editorial (Up in the air) – Oct 02, 2018
The onset of the winter season has come to be associated with toxic atmospheric pollution in north India. For further reading, visit "The Hindu". Below is today's word list-2 for The Hindu Editorial (Up in the air) – Oct 02, 2018.
To read this article, click here.
This preview is provided here with permission.
Courtesy: The Hindu
Today's word list-2 for The Hindu Editorial (Up in the air) – Oct 02, 2018:
up in the air (phrase) – uncertain, unknown, undetermined.
stubble (noun) –  dried stalks, straw (of a grain like wheat, rice & etc)
residue (noun) – remains, part leftovers, remnants.
onset (noun) – start, beginning/opening, appearance.
pilot (verb) – test, trial, try out ( a scheme).
haze (noun) – fog, smog; very fine solid particles (smoke, dust) or liquid droplets (moisture) suspended in the air, slightly limiting visibility.
noxious (adjective) – harmful

, dangerous, damaging/destructive.

pall (noun) – a thick cloud of smoke/dust.
mechanised (adjective) – equipped (with modern machines).
sow (verb) – plant, seed ( a plant/crop).
acreage (noun) – area of the (agricultural) land.
procure (verb) – buy

, purchase; get

.
sceptical (adjective) – dubious/doubtful, cynical, unconvinced.
persuade (verb) – convince, influence; lead/cause.
ironically (adverb) – paradoxically, unexpectedly, strangely.
nudge (verb) – encourage, prompt, stimulate.

left behind

 (past participle of leave behind) (verb) – abandon.
stalk (noun) – stem, trunk, straw.
zero tolerance (noun) – a complete refusal to accept certain behavior (Courtesy: VOA Learning English).
ecologically (adverb) – 

environment-friendly.

spike (noun) – a sharp rise/increase of something.
biomass (noun) –  the plant where electricity (& other forms of energy) generated using a renewable and sustainable source of energy (organic matter/materials).

particulate matter

 (PM) (noun) – a mixture of extremely small (hazardous) solid particles and liquid droplets found in the air.
broad-based (adjective) – wide-ranging, general.
Note:
1. Click each one of the words above for their definition, more synonyms, pronunciation, example sentences, phrases, derivatives, origin and etc from http://www.oxforddictionaries.com/.
2. Definitions (elementary level) & Synonyms provided for the words above are my personal work and not that of Oxford University Press. Tentative definitions/meanings are provided for study purpose only and they may vary in different context. 
3. This word list is for personal use only. Reproduction in any format and/or Commercial use of it is/are strictly prohibited.
Today's word list-2 for The Hindu Editorial (Up in the air) – Oct 02, 2018: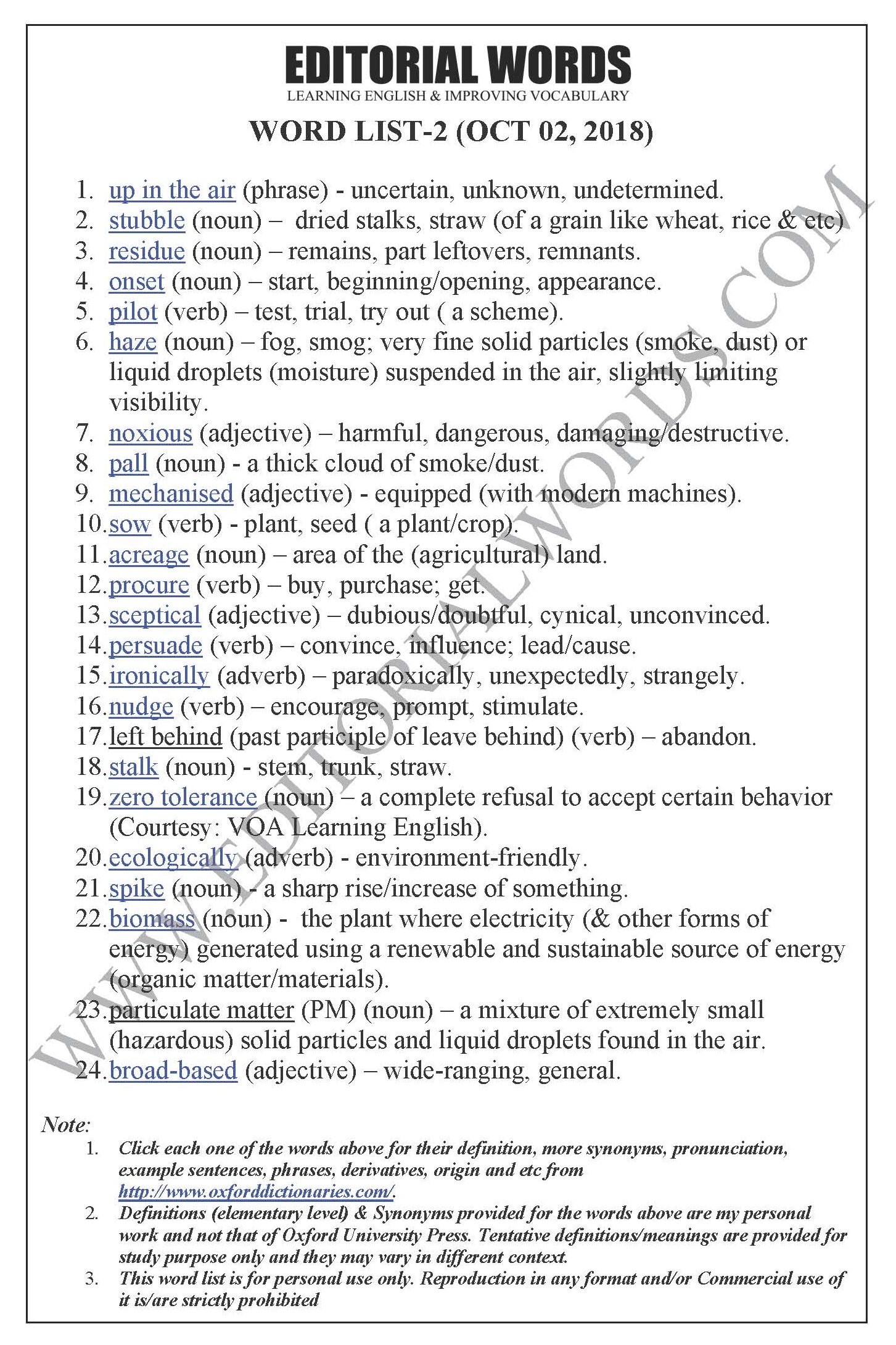 "Phrasal Verbs" We Learnt Last Week
"Idioms & Phrases" We Learnt Last Week