The Hindu Editorial (Trump moves on) – Feb 08, 2020
The acquittal of U.S. President Donald Trump on Wednesday, of impeachment charges in the Senate,… For further reading, visit "The Hindu". Below is today's word list-2 for The Hindu Editorial (Trump moves on) – Feb 08, 2020.
To read this article, click here.
This preview is provided here with permission.
Courtesy: The Hindu
Today's word list-2 for The Hindu Editorial (Trump moves on) – Feb 08, 2020:
move on (phrasal verb) – progress, prosper, get better, gain ground.
acquittal (noun) – declaration of innocence

, clearing/discharge/release, absolution.

impeachment (noun) – the act of charging or accusing (a public official) with a crime done while in office.
acrimonious (adjective) – angry, bitter, harsh, sharp (in language or tone while argumenting).
partisan (adjective) – biased, sectarian, factional, one-sided.
impeach (verb) – charge or accuse/indict (a public official) with a crime done while in office.
vindication (noun) – justification, warrant, rationalization.
far from (phrase) – not, not at all, nowhere near.
party line (noun) – policy

, plan of action, principles (by a political party). 

convict (verb) – find guilty.
hold/stand firm (phrase) – continue to support someone/something despite opposition.
break ranks (phrase) – fail to maintain unity/solidarity/agreement.
irrespective of (adjective) – regardless of

, 

notwithstanding, whatever.
hold someone responsible/accountable for (phrase) – blame someone for something.
cost (noun) – 

loss.

tirade (noun) – attack, verbal onslaught, rant; a long talk of criticism/accusation.
witch hunt (noun) – it means to find and punish people believed to be evil- even if they were not. It does also mean an unfair campaign by one side against its political opponents.
narrative (noun) – a representation of a particular situation; portrayal/ account.
dent (verb) – undermine, reduce, lessen.
pollster (noun) – a person who does opinion polls.
furthermore (adverb) – moreover

, also, additionally, besides.

scandal (noun) – impropriety, misconduct, wrongdoing.
righteous (adjective) – law-abiding, honest, principled.
caucus (noun) – (in the US) a party-organized gathering of members to discuss their presidential preferences, elect local party leadership and discuss issues that make up the party's platform. A closed meeting of supporters or members of a specific political party or movement. It is also defined as hours-long voting meeting run by a political party.

Iowa caucus

 (noun) – (in the US) the first-in-the-nation caucuses that kick off the start of the primary election season. When it comes to choosing a presidential candidate, Iowa (a Midwestern U.S. state) traditionally goes first.

counter-narrative

 (noun) – an alternative view to the existing/earlier narrative (representation/description).
protectionist (adjective) – relating to the use of tariff and non-tariff restrictions on imports to protect domestic producers from foreign competition.
bellicose (adjective) – belligerent, aggressive, hostile, confrontational.
vindictive (adjective) – vengeful, revengeful, avenging/unforgiving.
mess up (phrasal verb) – mismanage, mishandle, misconduct.
embarrass (verb) – shame

, humiliate, discomfit.

wrangling (noun) – long dispute, argument, quarrel.
summon (verb) – call for, ask for, request/demand the presence of.
transparent (adjective) – obvious

, clear, unmistakable.

primary (noun) – (in the US) an election in which members of the same political party run against each other for the chance to be in a larger and more important election, especially presidential election.
Note:  
 1. Click each one of the words above for their definition, more synonyms, pronunciation, example sentences, phrases, derivatives, origin and etc from http://www.oxforddictionaries.com/.
2. Definitions (elementary level) & Synonyms provided for the words above are my personal work and not that of Oxford University Press. Tentative definitions/meanings are provided for study purpose only and they may vary in different context. 
3. This word list is for personal use only. Reproduction in any format and/or Commercial use of it is/are strictly prohibited.
Today's word list-2 The Hindu Editorial (Trump moves on) – Feb 08, 2020
: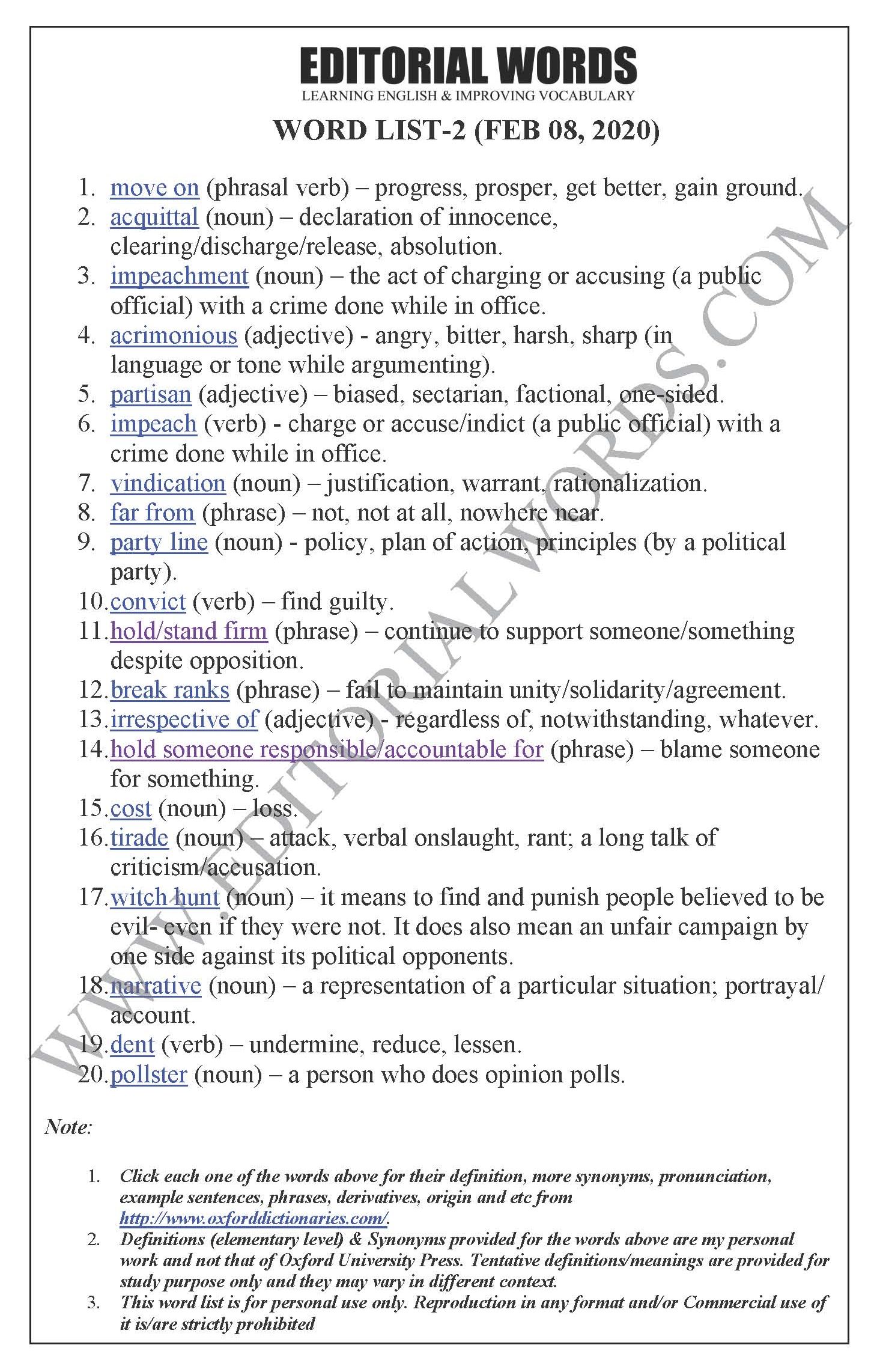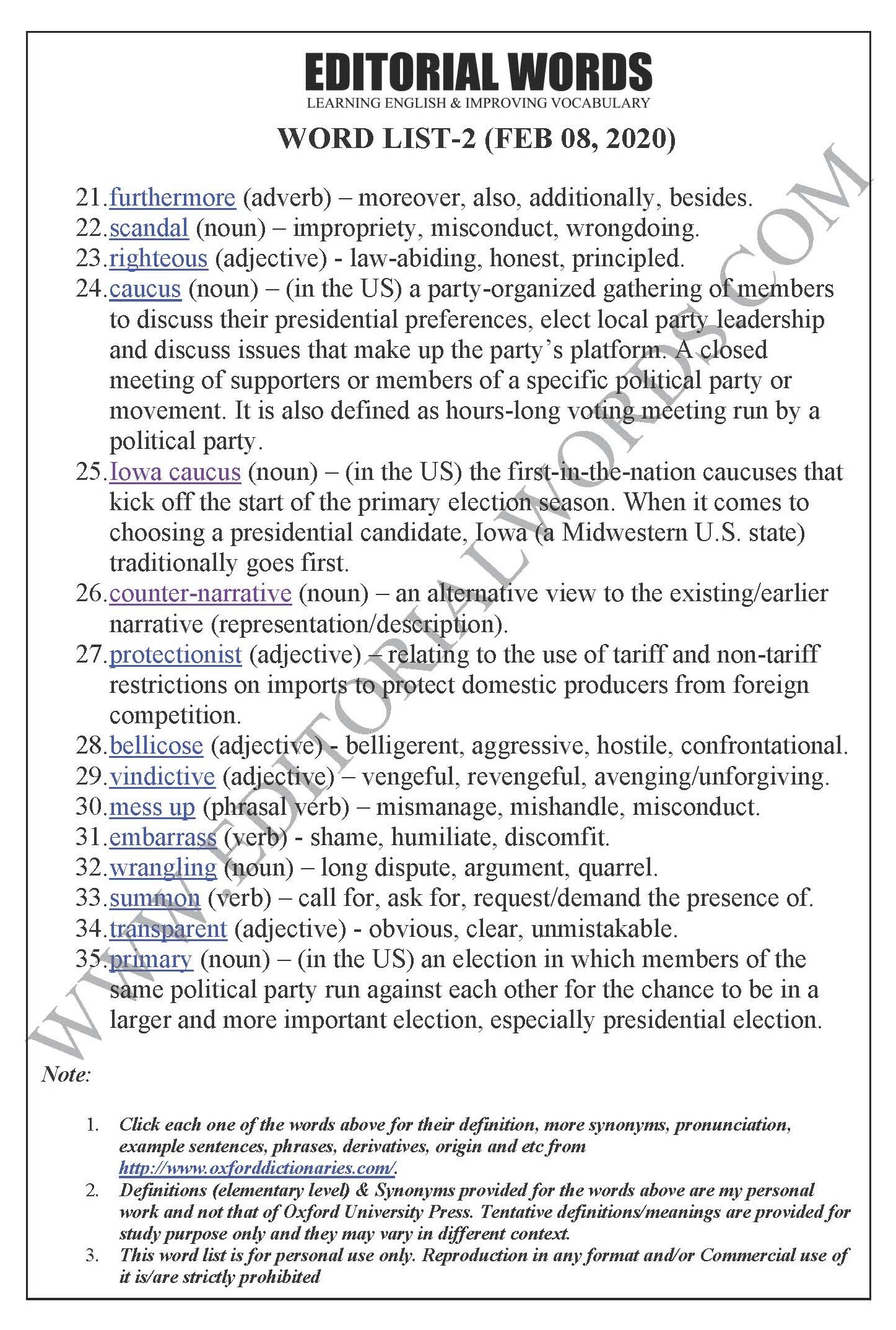 "Phrasal Verbs" We Learnt Last Week
"Idioms & Phrases" We Learnt Last Week
"Important Definitions" We Learnt Last Wek
Recent Word Lists For The Hindu Editorial Articles
Recent Advanced Word Lists For The Hindu Lead Articles