The Hindu Editorial (Too easily offended) – Oct 08, 2018
The Supreme Court's observations, while denying bail to defence analyst Abhijit Iyer-Mitra, to the effect that he incited religious feelings in a video posted on social media, were out of place in what was a bail hearing. For further reading, visit "The Hindu". Below is today's word list-2 for The Hindu Editorial (Too easily offended) – Oct 08, 2018.
To read this article, click here.
This preview is provided here with permission.
Courtesy: The Hindu
Today's word list-2 for The Hindu Editorial (Too easily offended) – Oct 08, 2018:
provision (noun) – term, clause, condition.
handy (adjective) – useful

, convenient, practical.

incite (verb) – encourage, stir up, provoke/instigate.
out of place (phrase) – inappropriate, unsuitable/improper, incongruous.
endorsement (noun) – support, backing, approval.
stringent (adjective) – strict/stern, severe, tough/rigorous.
grounds (noun) – factors, reason, cause.
tranquillity (noun) –  peacefulness, restfulness, serenity.
satirical (adjective) – mocking, ironic, sarcastic/ridiculing.
sow (verb) – spread, disperse, disseminate.
discord (noun) – friction/hostility, disunity/disharmony, enmity.
contend (verb) – assert, claim, argue.
outrage (verb) – enrage, infuriate, anger/offend.
mystifying (adjective) – perplexing, bewildering, confusing.
on cue (phrase) – (exactly) at the right moment.
breach (noun) – contravention, violation/breaking, non-observance.
rampant (adjective) – widespread, present everywhere/pervasive, unrestrained/out of control.
flag (verb) – indicate, identify, point out.
ought to (modal verb) – must, should.
invoke (verb) – cite, refer to, adduce.
grave (adjective) – (very) serious, crucial/critical, awful.
purported (adjective) – alleged, claimed, professed.
malicious (adjective) – hostile, harmful, destructive/malignant.
deliberate (adjective) – intentional, considered, predetermined.
onus (noun) – responsibility, duty, burden.
irreverence (noun) – disrespect, lack of respect, contempt.
suffice (verb) – be enough, be sufficient, be adequate.
intolerant (adjective) – narrow-minded, uncompromising, unforgiving.
resort to  (verb) – make use of, use/utilize, have recourse to.
perceived (adjective) – considered, supposed, 

Interpreted (in a particular way). 

prompt (noun) – reminder

, cue/hint, indication/signal. 

read down (phrase) – an instance of a court urging that a statute must be construed/interpreted legally, if fairly possible, so as to save it from being declared illegal.
Note:
1. Click each one of the words above for their definition, more synonyms, pronunciation, example sentences, phrases, derivatives, origin and etc from http://www.oxforddictionaries.com/.
2. Definitions (elementary level) & Synonyms provided for the words above are my personal work and not that of Oxford University Press. Tentative definitions/meanings are provided for study purpose only and they may vary in different context. 
3. This word list is for personal use only. Reproduction in any format and/or Commercial use of it is/are strictly prohibited.
Today's word list-2 for The Hindu Editorial (Too easily offended) – Oct 08, 2018: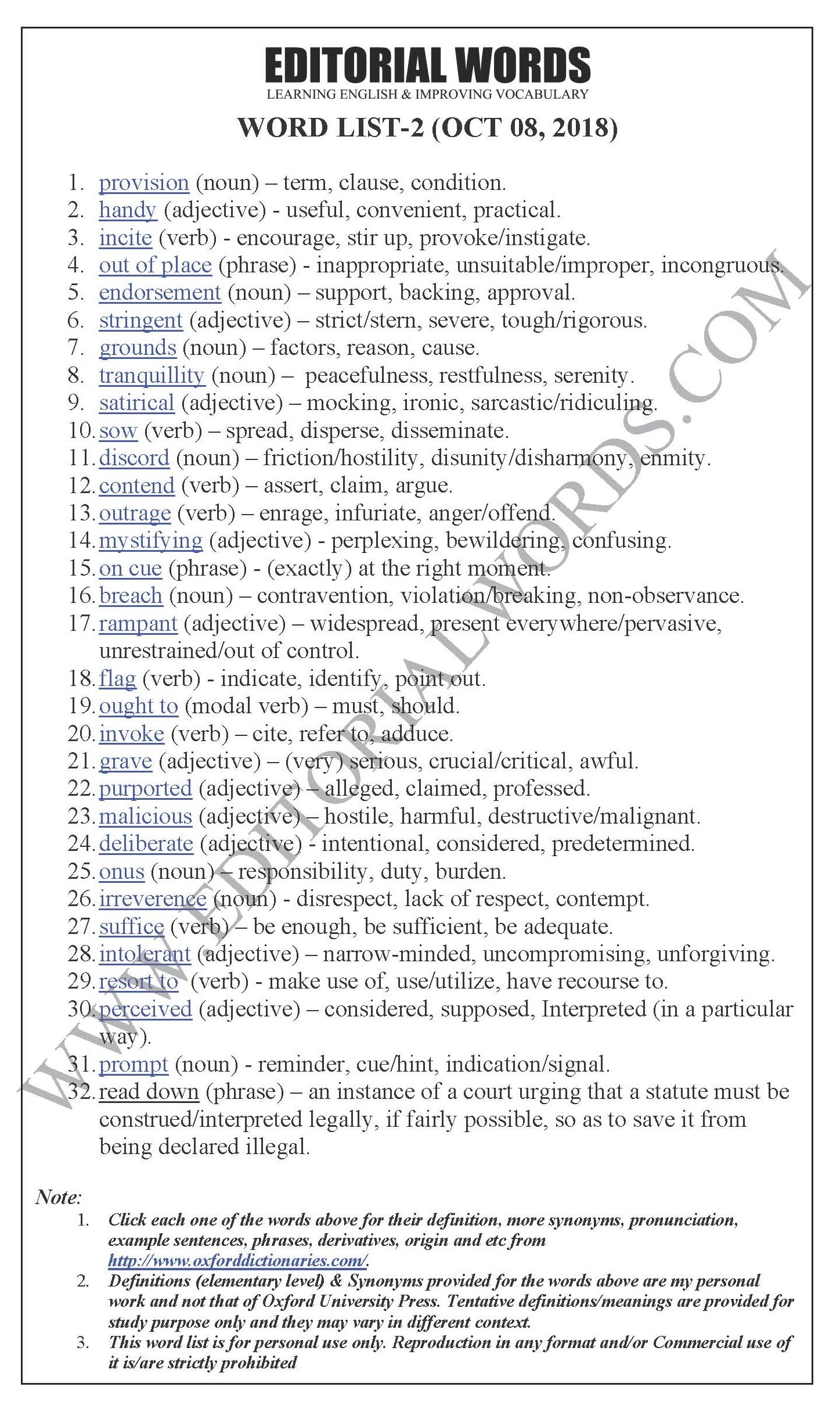 "Phrasal Verbs" We Learnt Last Week
"Idioms & Phrases" We Learnt Last Week