The Hindu Editorial (The threat of Ebola) – Jul 19, 2019
After holding itself back on three occasions, the World Health Organization has declared the Ebola virus disease outbreak in the Democratic Republic of the Congo a Public Health Emergency of International Concern. For further reading, visit "The Hindu". Below is today's word list-2 for The Hindu Editorial (The threat of Ebola) – Jul 19, 2019.
To read this article, click here.
This preview is provided here with permission.
Courtesy: The Hindu
Today's word list-2 for The Hindu Editorial (The threat of Ebola) – Jul 19, 2019:
hold something back (phrase) – withhold

, hide/conceal, keep quiet/silent about.

outbreak (noun) – outburst, epidemic, sudden appearance/occurrence.
hotspot (noun) – a place of significant activity.
amid (preposition) – in the middle of, surrounded by; during.
trigger (noun) – an event that becomes a cause/reason something.
handful (noun) – few, one or two, a small number.
criterion (noun) – basis, standard, norm. (criteria is the plural form of criterion).
pandemic (noun) – an outbreak of a disease.
pathogen (noun) – bacteria/virus that causes disease.
reluctance (noun) – unwillingness, disinclination, hesitation.
vaccine (noun) – a biological preparation that improves immunity to a particular disease.
vaccination (noun) – treatment with a vaccine to protect against a particular disease; immunization.
immunise from (verb) – shield from, safeguard from, protect from.
efficacy (noun) – effectiveness, efficiency, power/ability to give estimated results.
owing to (phrase) – because of, as a result of, on account of.
immunisation (noun) – the process whereby a person is made immune or resistant to an infectious disease, typically by the administration of a vaccine. Vaccines stimulate the body's own immune system to protect the person against subsequent infection or disease.
Note:  
 1. Click each one of the words above for their definition, more synonyms, pronunciation, example sentences, phrases, derivatives, origin and etc from http://www.oxforddictionaries.com/.bigotry

, narrow-mindedness
2. Definitions (elementary level) & Synonyms provided for the words above are my personal work and not that of Oxford University Press. Tentative definitions/meanings are provided for study purpose only and they may vary in different context. 
3. This word list is for personal use only. Reproduction in any format and/or Commercial use of it is/are strictly prohibited.
Today's word list-2 The Hindu Editorial (The threat of Ebola) – Jul 19, 2019
: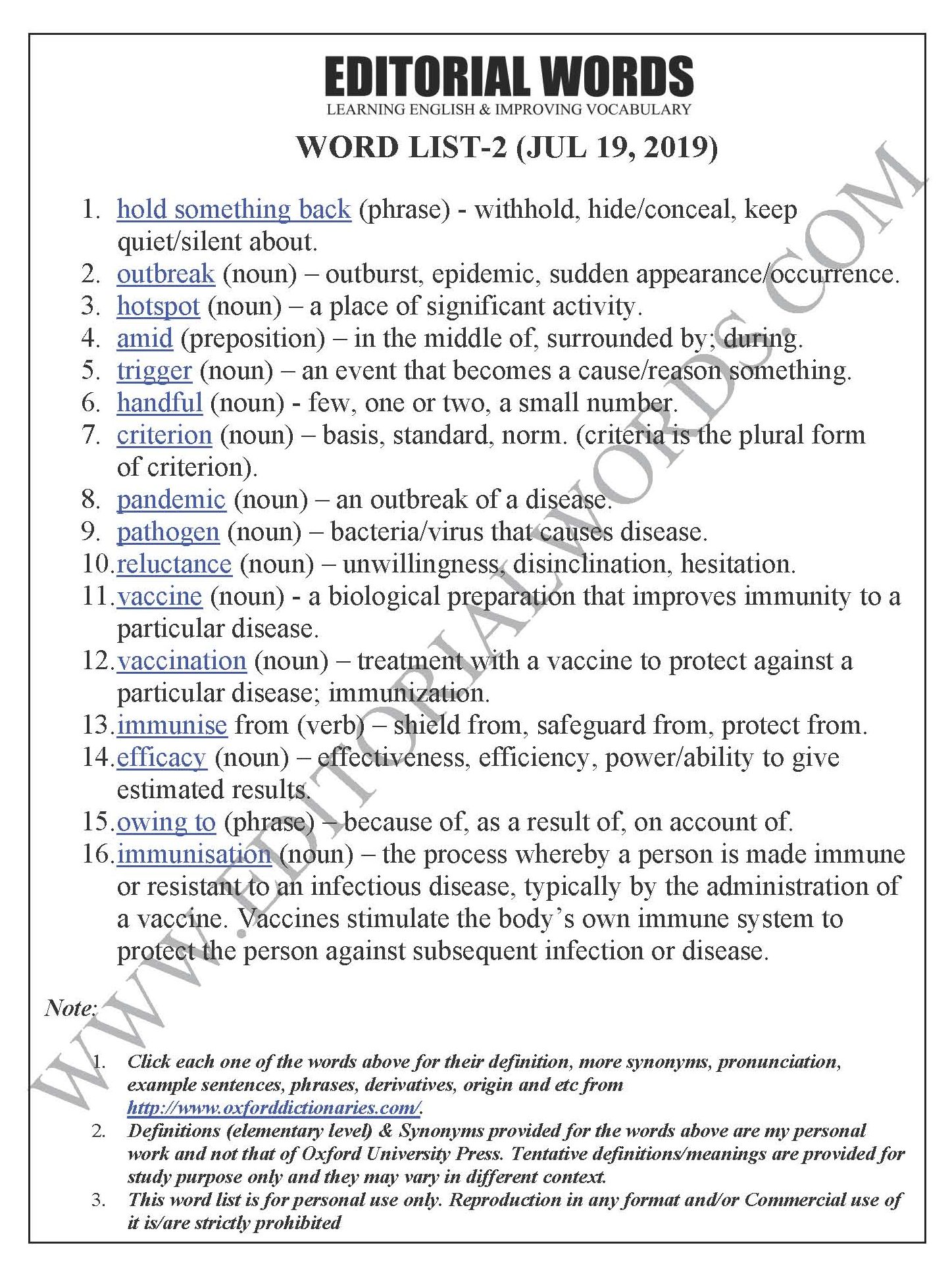 "Phrasal Verbs" We Learnt Last Week
"Idioms & Phrases" We Learnt Last Week
"Important Definitions" We Learnt Last Week
Recent Word Lists For The Hindu Editorial Articles
Recent Advanced Word Lists For The Hindu Lead Articles