The Hindu Editorial (Terror in Germany) – Feb 22, 2020
To read this article, click here.
This preview is provided here with permission.
Courtesy: The Hindu
Today's word list-2 for The Hindu Editorial (Terror in Germany) – Feb 22, 2020:
far-right (adjective) – relating to the extreme right wing of a political party or group.
extremist (noun) – militant, radical, fanatic

, 

hardliner.
rampage (noun) – wild/violent behaviour, running amok, berserk.
heighten (verb) – increase, amplify, intensify.
recurrent (adjective) – recurring, regular, periodic, happening regularly.
hate crime (noun) – any criminal offence that is carried out because of hostility or prejudice based on disability, race, religion, transgender identity or sexual orientation.
refugee (noun) – displaced person, asylum seeker, escapee/exile.
chilling (adjective) – frightening, terrifying, disturbing/horrifying.
powerhouse (noun) – a person/country with a lot of energy, power & influence.
perpetrator (noun) – someone who does immoral, harmful and illegal activity; offender, criminal, wrongdoer/evil-doer, culprit.
gun down (verb) – shoot down.

shisha bar

(noun) – hookah bar/lounge; a place where shisha (flavoured tobacco) is served to the customers. (hookah means a pipe/apparatus for inhaling smoke).
xenophobic (adjective) – prejudiced, intolerant; hyper-nationalist, racist, jingoistic.
advocate (verb) – support

, promote, champion/espouse.

lethal (adjective) – fatal

, deadly, life-threatening. 

wield (verb) – use

, put to use, employ, handle

. 

intelligence (noun) – (military &political) information.
stress (verb) – emphasize

, insist on, draw attention to.

potential (adjective) – possible

, likely, prospective, probable.

call into question (phrase) – doubt, distrust, suspect.
complacent (adjective) – smug, self-satisfied, self-admiring, pleased/proud of oneself, self-approving.
neo-nazi (noun) – authoritarian, totalitarian, extreme right-winger.
liberal (adjective) – progressive

,

 forward-thinking, enlightened, broad-minded, reformist.
asylum-seeker (noun) – someone seeking a foreign country to provide protection to him/her who is unable or unwilling to return to their home country due to fear of persecution (harm, harassment or oppression); displaced person, exile, outcast.
narrowly (adverb) – only just

, just, barely.

evidently (adverb) – obviously

, clearly, seemingly, apparently.

isolated (adjective) – unique

, single, individual/sole.

step up (phrasal verb) – increase, strengthen, accelerate.
ward off (phrasal verb) – prevent, avert, oppose/resist.
side with (verb) – support, uphold, stand by.
staunch (adjective) – firm, vigorous, strong.
champion (noun) – advocate, proponent, promoter, supporter.
ill-afford (verb) – unable to afford.
dither (verb) – hesitate, be in two minds, be undecided/unsure.
constituent (noun) – voter

, elector, member of the electorate, member of a constituency

.
wean away from (phrasal verb) – to detach, disconnect, separate someone from depending on something.
hardline (adjective) – relating to a group/a political party with people who support a strict ideas and they are extreme & uncompromising.
massacre (noun) – carnage, mass murder, mass killing.
Note:  
 1. Click each one of the words above for their definition, more synonyms, pronunciation, example sentences, phrases, derivatives, origin and etc from http://www.oxforddictionaries.com/.
2. Definitions (elementary level) & Synonyms provided for the words above are my personal work and not that of Oxford University Press. Tentative definitions/meanings are provided for study purpose only and they may vary in different context. 
3. This word list is for personal use only. Reproduction in any format and/or Commercial use of it is/are strictly prohibited.
Today's word list-2 The Hindu Editorial (Terror in Germany) – Feb 22, 2020
: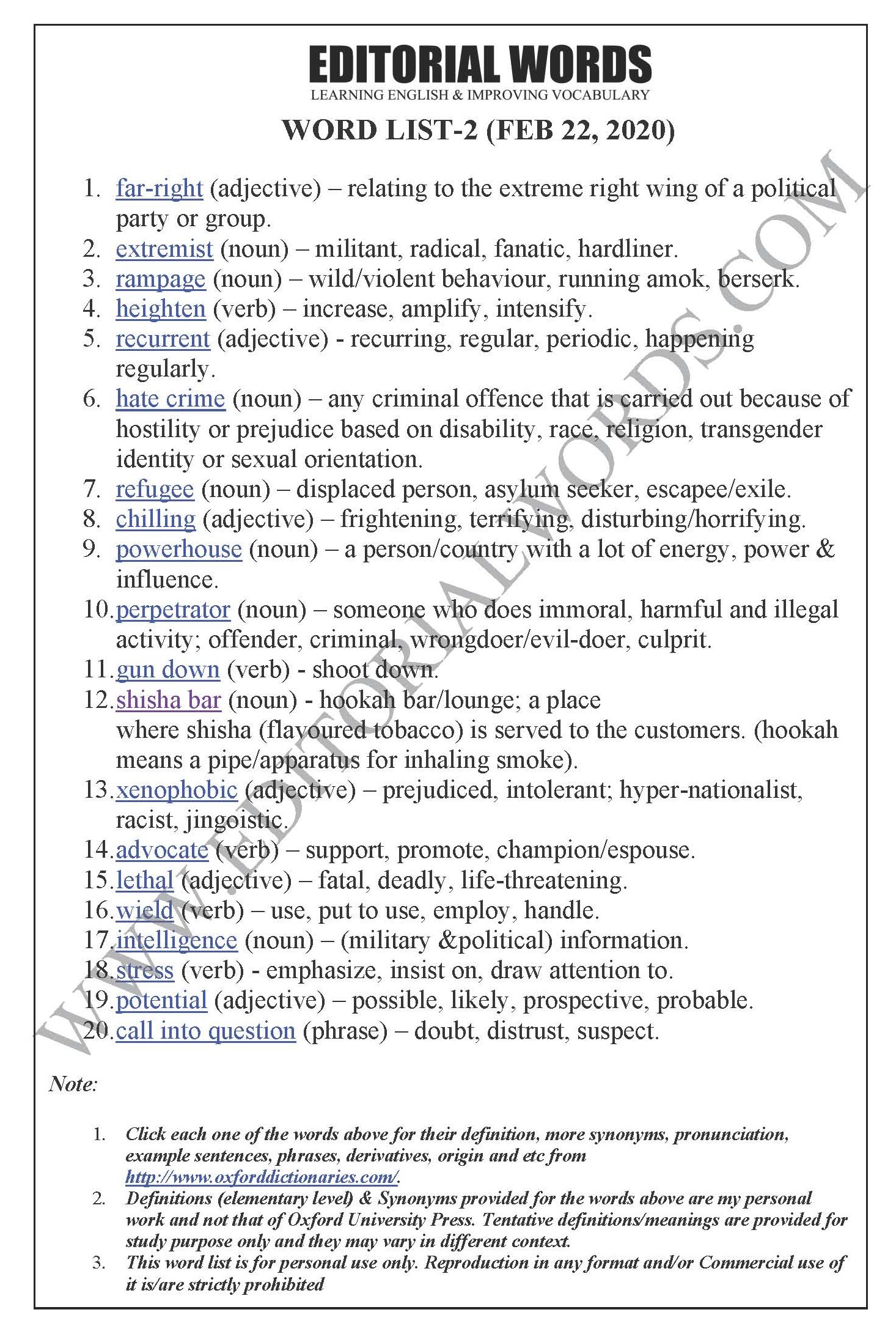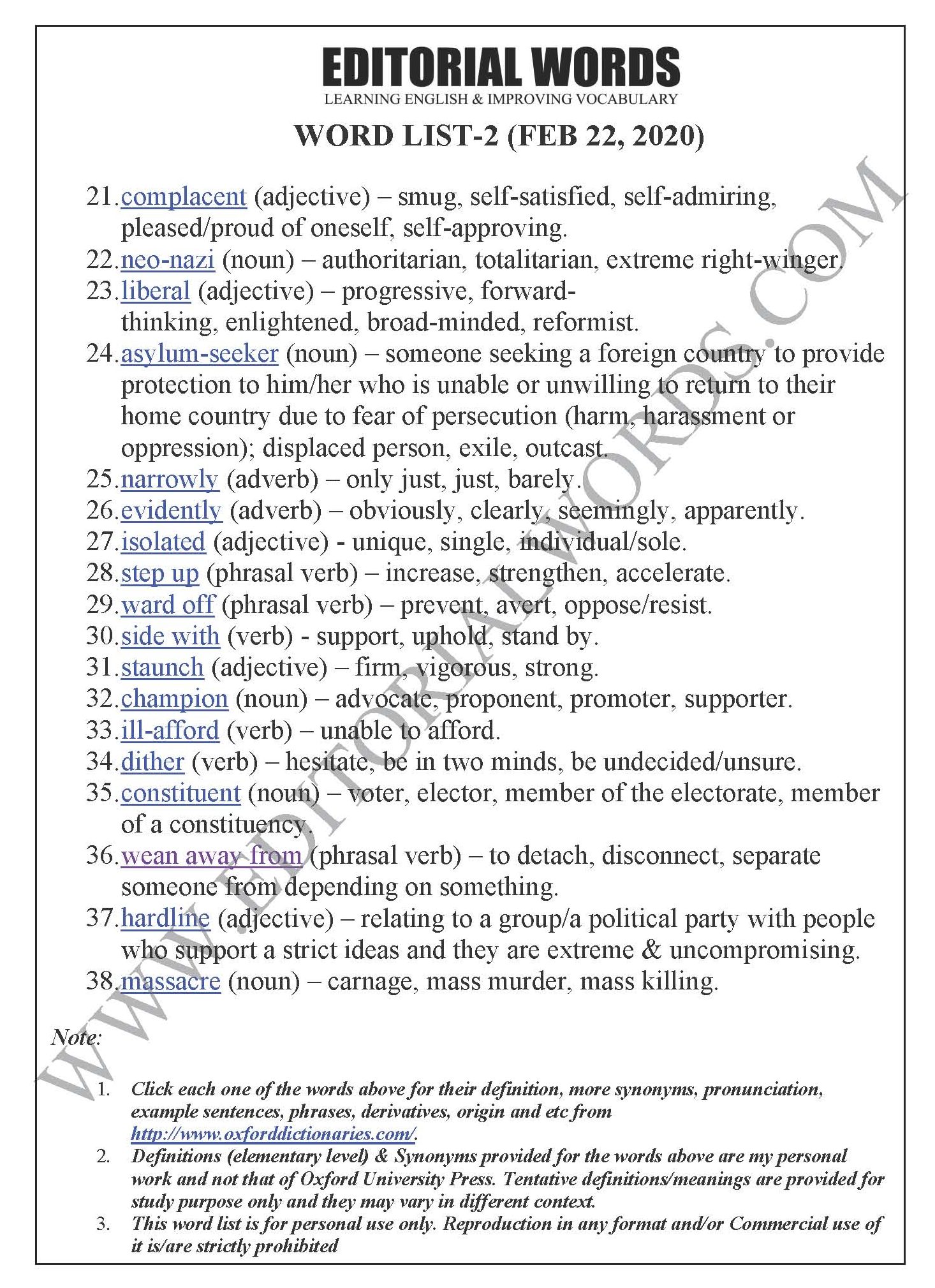 "Phrasal Verbs" We Learnt Last Week
"Idioms & Phrases" We Learnt Last Week
"Important Definitions" We Learnt Last Wek
Recent Word Lists For The Hindu Editorial Articles
Recent Advanced Word Lists For The Hindu Lead Articles