The Hindu Editorial (Storm and strife) – May 31, 2021
The conflicting versions of the BJP and West Bengal Chief Minister Mamata Banerjee regarding a meeting called by Prime Minister Narendra Modi on Friday to review the situation after Cyclone Yaas… For further reading, visit "The Hindu". Below is today's word list-1 for The Hindu Editorial (Storm and strife) – May 31, 2021.
To read this article, click here.
This preview is provided here with permission.
Courtesy: The Hindu
The Hindu Editorial (Storm and strife) – May 31, 2021:
storm (noun) – trouble, disturbance, controversy.
strife (noun) – conflict

, friction, discord, disagreement.

tussle (noun) – fight, clash, quarrel, argument, contention.
good faith (noun) – honesty

, genuineness,

truthfulness, integrity.
conflicting (adjective) – contradictory, contrary, opposite.
version (noun) – story, explanation, report, statement, narrative.
regarding (preposition) – concerning

, with regard to, with respect to.

call (verb) – convene, summon, call together, order, assemble.

Cyclone Yaas

(noun) – It was a relatively strong tropical cyclone that made landfall in Odisha on May 26, 2021 and also brought significant impacts to West Bengal. (Yaas, named by Oman, refers to a Jasmine-like tree with a good fragrance).
gloss over (phrasal verb) – ignore, avoid talking about/dealing with something unpleasant and treat it as less important; conceal or 

cover up a mistake/crime; hide, camouflage, whitewash.

go to great lengths

 (phrase) – to make a major effort or try very hard (to do something).

show someone in a bad light

(phrase) – to make someone appear to be a bad one.

in a bad light

 (phrase) – give a bad name to, disgrace, discredit.
hand over (phrasal verb) – pass

, transfer. 

confrontational (adjective) – hostile, argumentative, uncooperative, aggressive.
unprecedented (adjective) – not done or experienced before.
unilaterally (adverb) – used to indicate something done by a person/country without approval/agreement from other people/countries involved in the situation.
deputation (noun) – When an officer is appointed from outside the cadre or from outside the direct line of promotion for a limited period by the end of which he will have to revert to his parent cadre, he is known to be on deputation or on short-term contract. The term deputation is used when officers from Central Government Departments, State Government or Union Territories are considered for appointment.
concurrence (noun) – agreement, acceptance, approval.
official (noun) – officer, functionary, administrator, representative, executive.
in question (phrase) – at issue

, under discussion/consideration.

sought

 (past tense of) seek (verb) – ask for

, request, appeal for.

vindictive (adjective) – vengeful, revengeful, avenging/unforgiving.
go about (phrasal verb) – start, begin, embark on.
oversee (verb) – supervise

, look after, inspect.

offer (verb) – be at someone's disposal, make oneself available, come forward, step forward, show willing.
secure (verb) – obtain

, acquire, gain, get.

welfare (noun) – well-being

.

plead (verb) – appeal, request, ask earnestly, call on.
acrimony (noun) – bitterness, hostility, resentment.
hand in hand (phrase) – in close association, closely together, together, in partnership, closely, concurrently, in concert.
disheartening (adjective) – discouraging, dispiriting, demoralizing.
apportion (verb) – earmark

, designate, set apart, set aside.

betray (verb) – reveal

, expose, disclose, lay bare, make known.

belittle (verb) – discredit, disparage, downgrade, trivialize, treat lightly, undervalue, underrate.
resounding (adjective) – emphatic, enormous

, huge, massive, very great, tremendous.

trounce (verb) – defeat utterly, crush, overwhelm.
apparent (adjective) – evident/clear, visible, noticeable, recognizable.
stomach (verb) – tolerate, endure, accept.
popular (adjective) – established, acknowledged, recognized; mass, public.
occasion (noun) – opportunity, suitable time, right moment, chance.
introspect (verb) – self-examine, self analyse.
mend (verb) – put right

, set right, sort out, resolve, correct, amend, improve. 

strategy (noun) – plan of action.
far from (it) (phrase) – the opposite of (it).
unleash (verb) – let loose, release, untie, let something go uncontrollably.
interlocutor (noun) – a person who takes part in a dialogue or conversation.
untouched (adjective) – unaffected

, unchanged, uninfluenced.

nasty (adjective) – unpleasant

, disagreeable, disgusting, distasteful, awful. 

cross the line (phrase) – do something unacceptable; to overstep a limit/rule/boundary.
red line (noun) – boundary, limit.
wake up (to) (phrasal verb) – realize, become aware of, become heedful of.
constantly (adverb) – regularly, always

, all the time.

get used to

(phrase) – be accustomed to, accommodate to, adjust

, adapt.
Note:
 1. Click each one of the words above for their definition, more synonyms, pronunciation, example sentences, phrases, derivatives, origin and etc from http://www.oxforddictionaries.com/.
2. Definitions (elementary level) & Synonyms provided for the words above are my personal work and not that of Oxford University Press. Tentative definitions/meanings are provided for study purpose only and they may vary in a different context. 
3. This word list is for personal use only. Reproduction in any format and/or Commercial use of it is/are strictly prohibited.
The Hindu Editorial (Storm and strife) – May 31, 2021: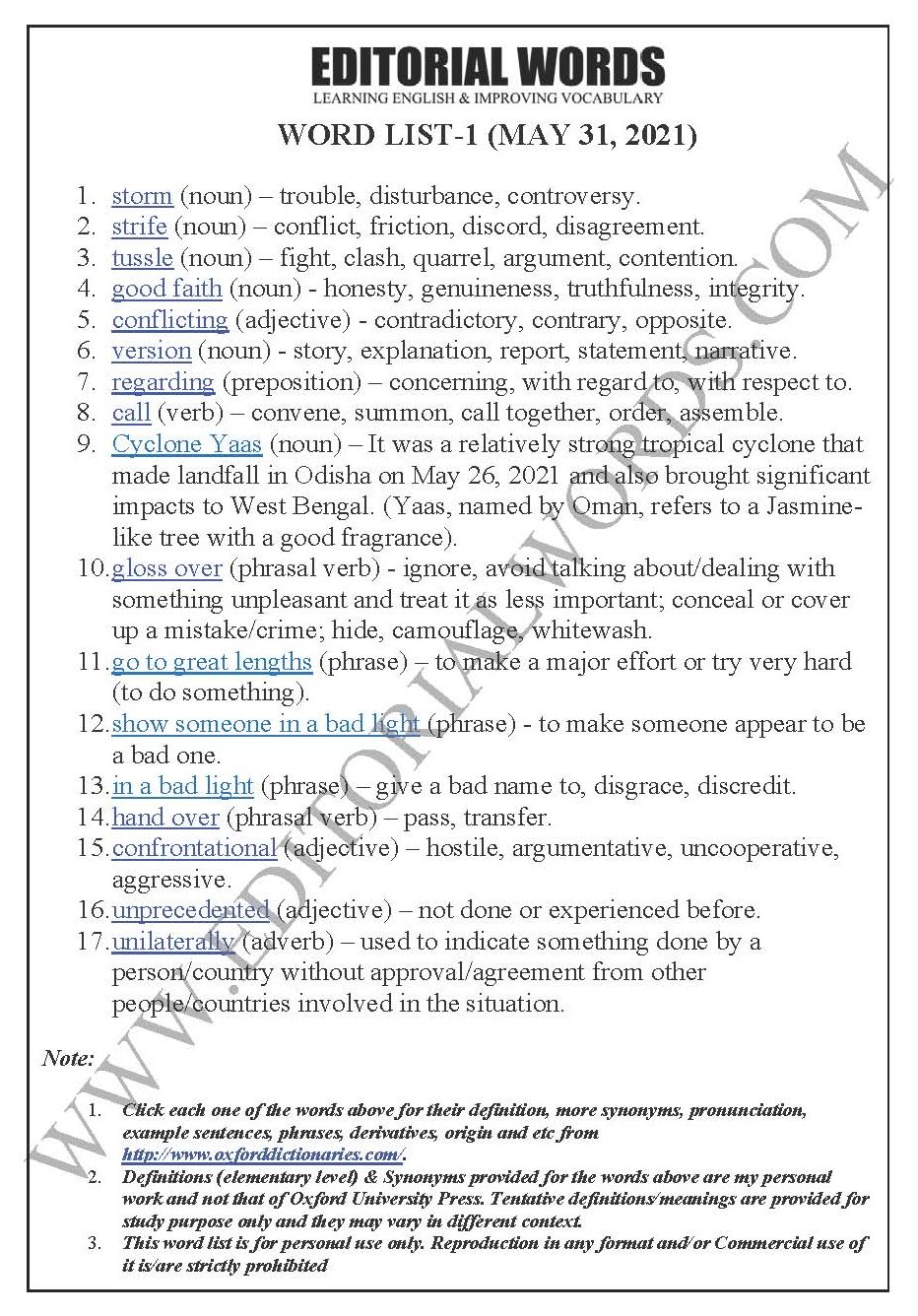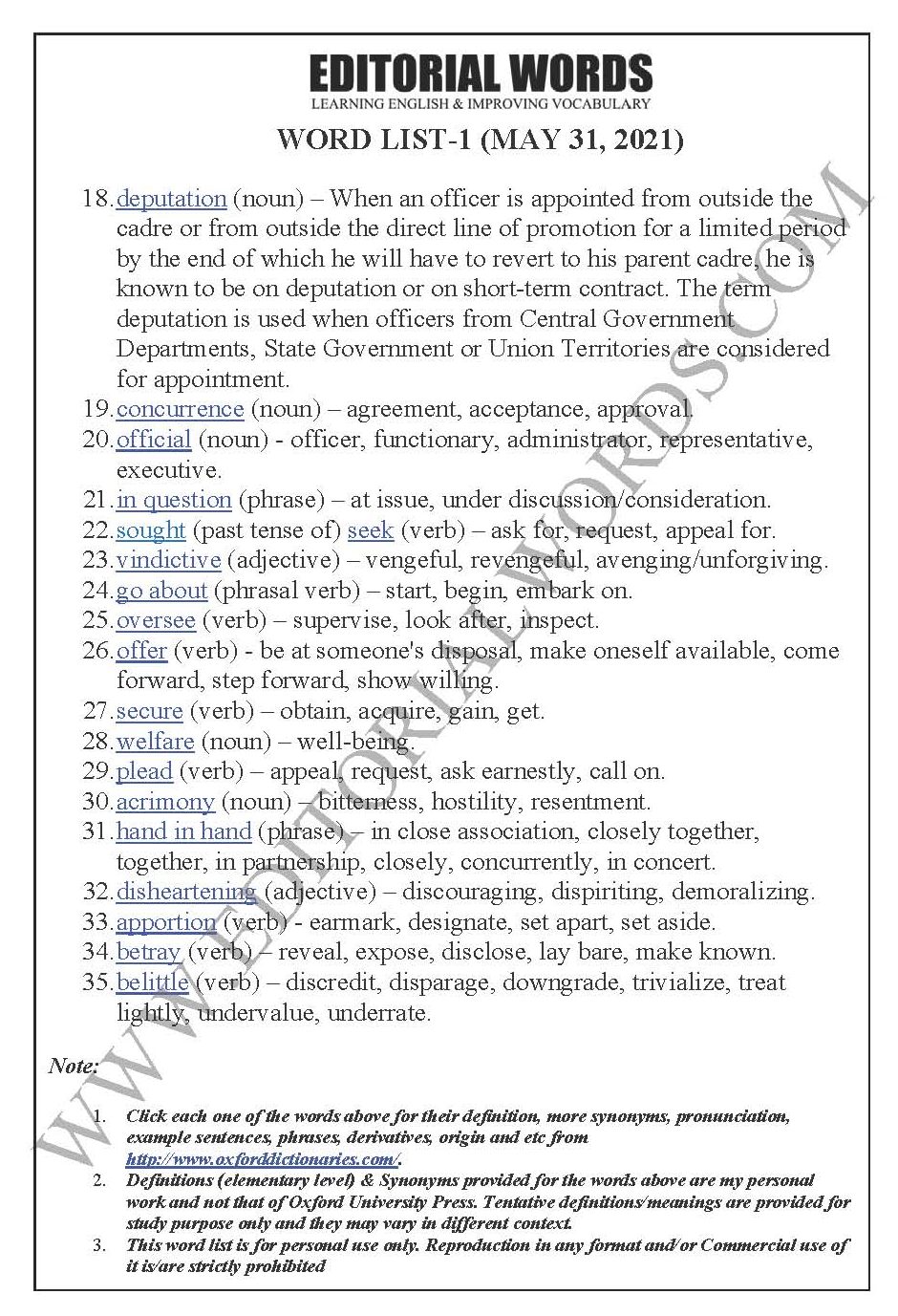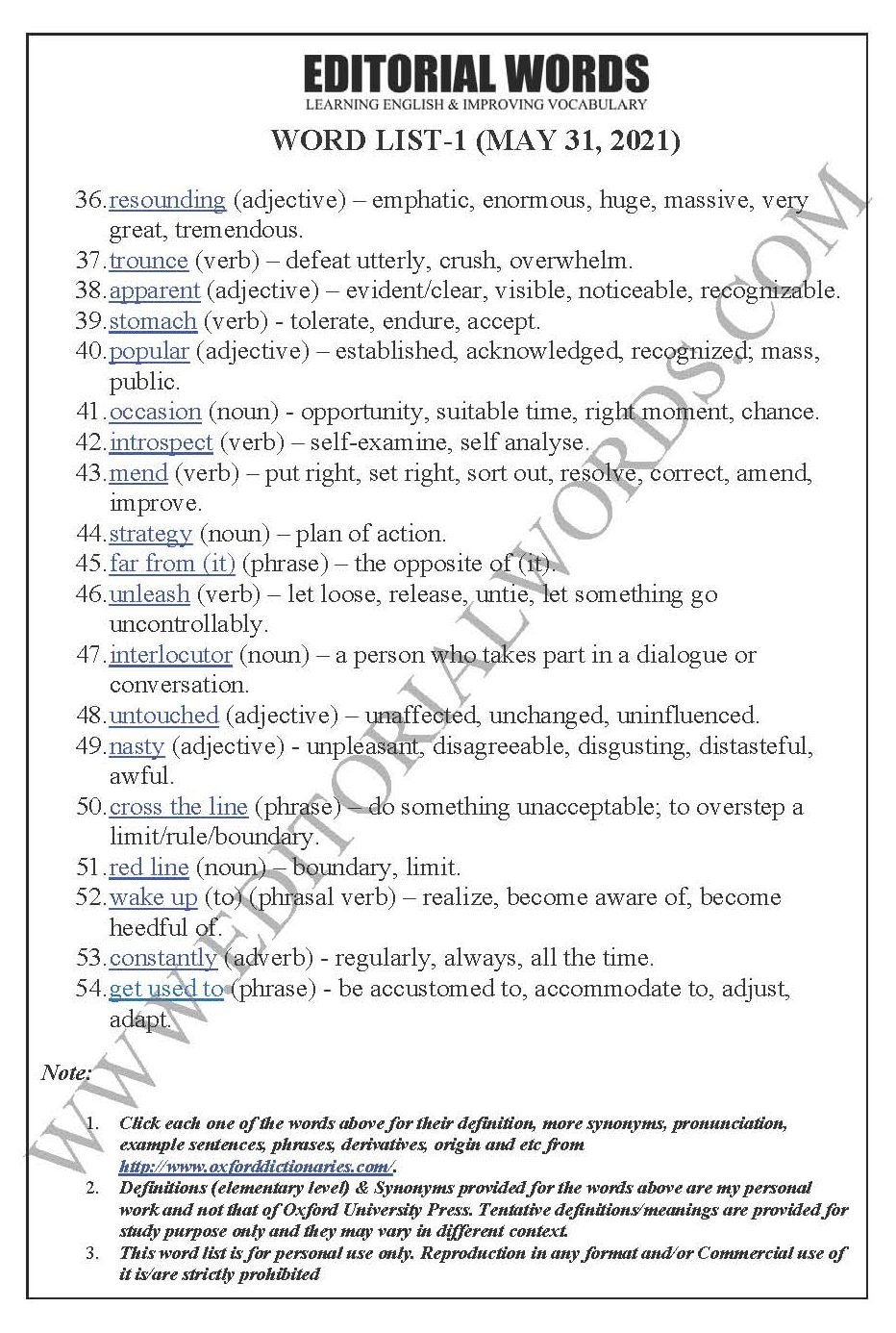 "Phrasal Verbs" We Learnt Last Week
"Idioms & Phrases" We Learnt Last Week
"Important Definitions" We Learnt Last Week
Recent Word Lists For The Hindu Editorial Articles
Recent Advanced Word Lists For The Hindu Lead Articles