The Hindu Editorial (Split in the middle) – Jan 26, 2021
The political crisis triggered by Prime Minister K.P. Sharma Oli's decision to dissolve Nepal's Parliament and call fresh elections led to a vertical split… For further reading, visit "The Hindu". Below is today's word list-2 for The Hindu Editorial (Split in the middle) – Jan 26, 2021.
To read this article, click here.
This preview is provided here with permission.
Courtesy: The Hindu
Today's word list-2 for The Hindu Editorial (Split in the middle) – Jan 26, 2021:
split (noun) – division, rift, break-up, partition.
in the middle (of) (phrase) – in the process of doing something.
authoritarian (adjective) – oppressive, draconian, undemocratic, dictatorial, totalitarian.
bode well/ill (verb) – augur, indicate, portend (a good/bad outcome).
fledgling (adjective) – emerging, beginning, developing.
trigger (verb) – cause, bring about, give rise to, prompt.
dissolve (verb) – dismiss, disestablish, disband, abolish.
call (verb) – announce, decide, order (an event (e.g. election) to happen).
lead to (verb) – result in

, cause, bring on, call forth, give rise to.

vertical (adjective) – involving all the stages/levels (of a hierarchy).
rival (noun) – opponent, adversary, contender, competitor.
faction (noun) – group, section, division (within a larger group).
sack (verb) – remove, dismiss

, discharge, lay off (from the office/job).

seek (verb) – ask for, appeal, request, demand.
dissolution (noun) – cessation/end, termination, discontinuation, suspension.
bloc (noun) – alliance

, association, union.

expel (verb) – throw out, remove, oust.
aide (noun) – right-hand man, deputy, subordinate.
fractious (adjective) – argumentative, quarrelsome, contentious, controversial, difficult (to control), disagreeable.
movement (noun) – campaign, drive, push.
in limbo (phrase) – unattended, unresolved, in a state of /uncertainty/suspension, postponed, in cold storage.
erstwhile (adjective) – old, previous, former, then.
rule out (phrasal verb) – eliminate, reject, dismiss.
compromise (noun) – agreement

, understanding, settlement.

constitutional validity

(noun) – it implies checking whether a particular law, procedure, act, etc. violates constitutional provisions or not.
lasting (adjective) – long-lasting, continuing, long-term, permanent.
alliance (noun) – association

, union, partnership.

last (verb) – continue

, go on, carry on, keep going, proceed, survive.

tacit (adjective) – hinted, suggested, implied, unspoken, unmentioned, unexpressed.
step down (phrasal verb) – resign, give up one's post, stand down.
bitter (adjective) – hate-filled, savage, hostile, spiteful, awful, nasty, ill-natured

.

intra- (prefix) – within.
feud (noun) – argument

, dispute, disagreement, quarrel, fight.

widening (adjective) – increasing.
rift (noun) – break, division, split; disagreement, difference of opinion (in relationship).
ideological (adjective) – relating to a system of ideas.
line (noun) – policy; position.
erosion (noun) – disintegration, deterioration, decline, undermining/weakening.
echelon (noun) – level, rank, grade (in an organization).
greed (noun) – desire

, urge, need, appetite.

trump (verb) – outshine

, eclipse, surpass, outdo, outperform; do better than.

interest (noun) – common concern; benefit, advantage.
front (noun) – political group.
republican (adjective) – elected

, representative, parliamentary, of the people.

chaos (noun) – disorder, disarray, turmoil, disorganization, disruption.
down the middle (phrase) – dividing something equally into two parts.
Note:
 1. Click each one of the words above for their definition, more synonyms, pronunciation, example sentences, phrases, derivatives, origin and etc from http://www.oxforddictionaries.com/.
2. Definitions (elementary level) & Synonyms provided for the words above are my personal work and not that of Oxford University Press. Tentative definitions/meanings are provided for study purpose only and they may vary in different context. 
3. This word list is for personal use only. Reproduction in any format and/or Commercial use of it is/are strictly prohibited.
Today's word list-2 The Hindu Editorial (Split in the middle) – Jan 26, 2021
: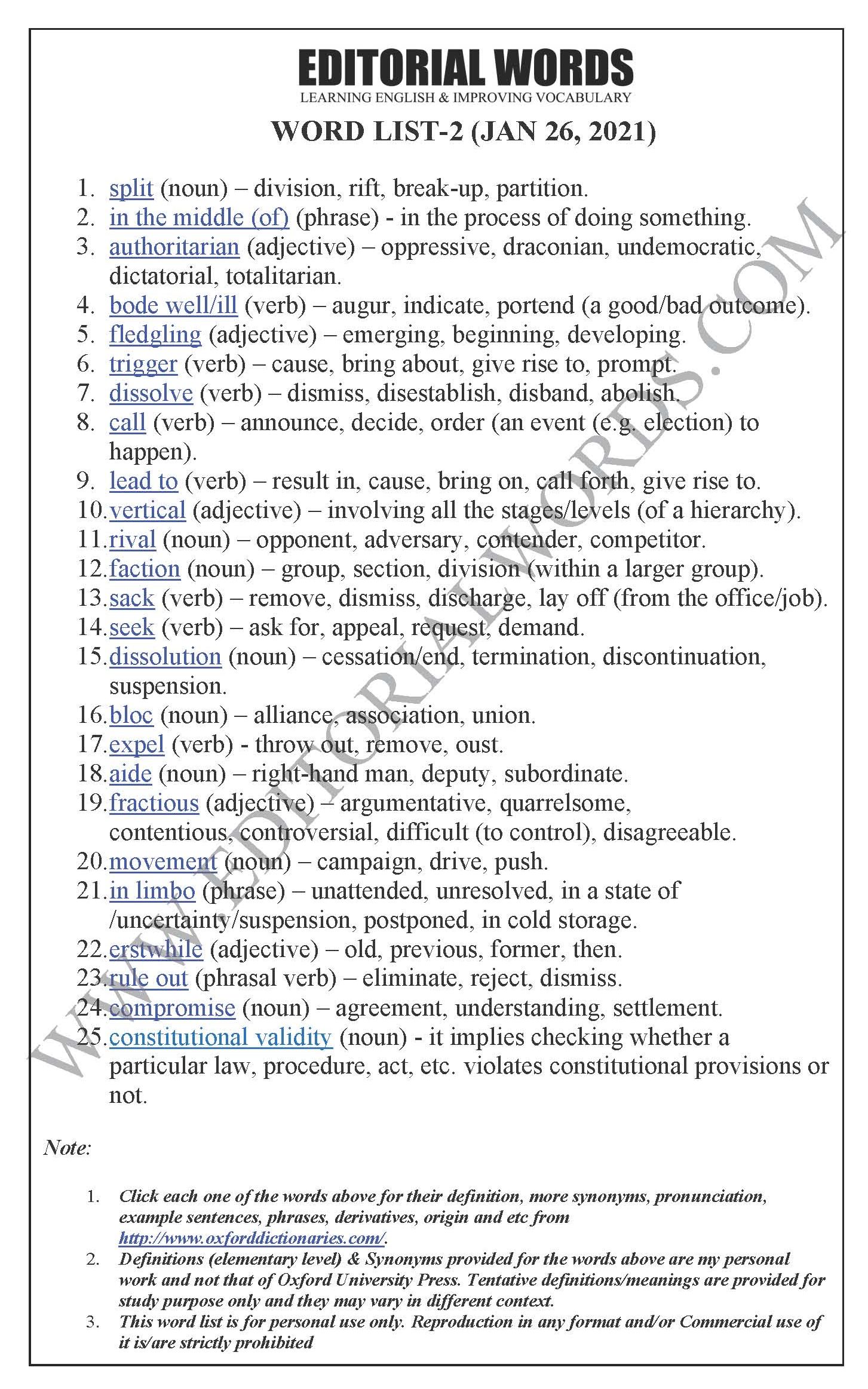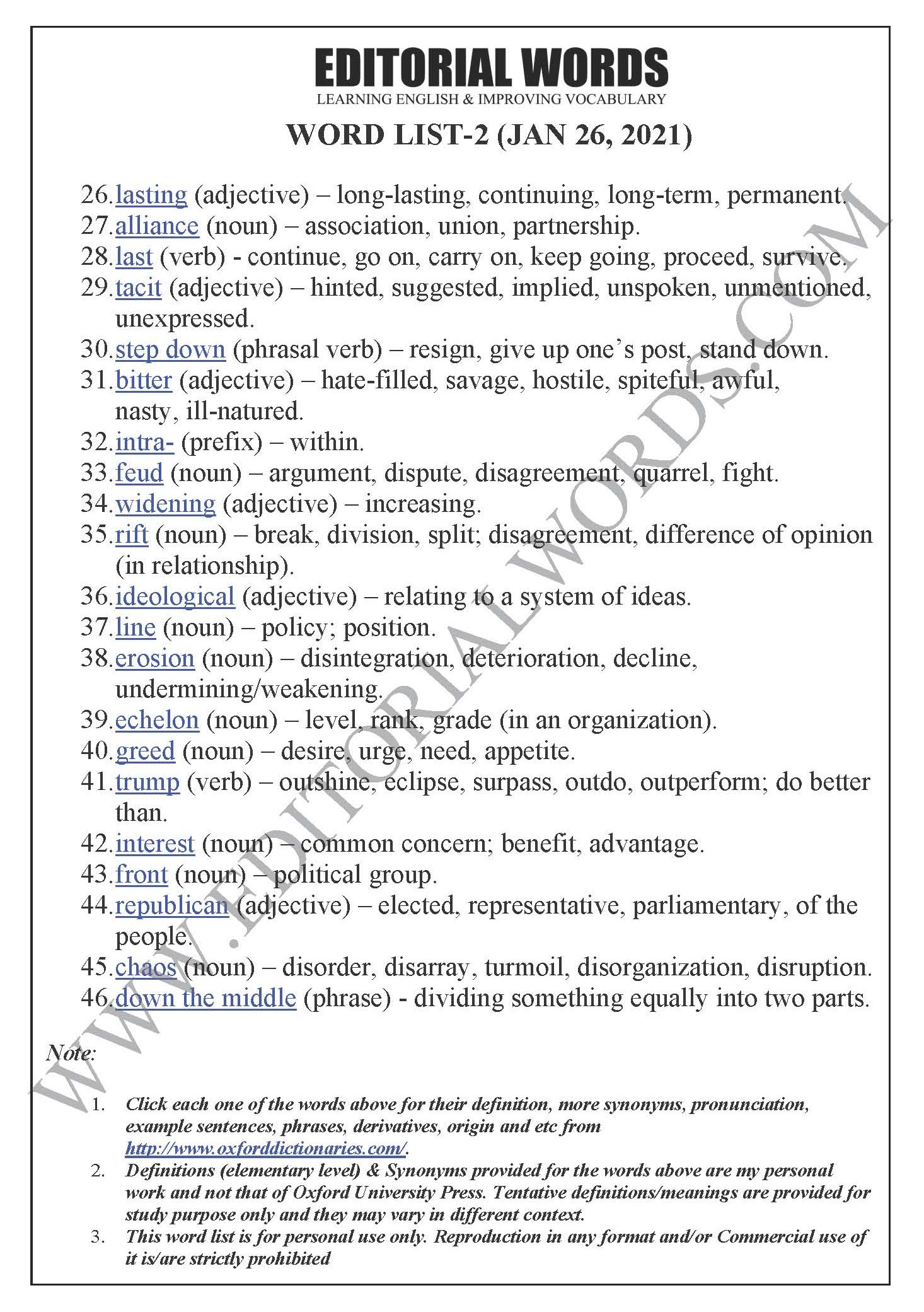 "Phrasal Verbs" We Learnt Last Week 
"Idioms & Phrases" We Learnt Last Week
"Important Definitions" We Learnt Last Week
Recent Word Lists For The Hindu Editorial Articles
Recent Advanced Word Lists For The Hindu Lead Articles