The Hindu Editorial (Reverse migration) – Jun 18, 2021
Leaders switching parties and parties recruiting turncoats are not unheard of in Indian politics. A shrinking party would lose leaders while an expanding party would gain them. For further reading, visit "The Hindu". Below is today's word list-1 for The Hindu Editorial (Reverse migration) – Jun 18, 2021.
To read this article, click here.
This preview is provided here with permission.
Courtesy: The Hindu
The Hindu Editorial (Reverse migration) – Jun 18, 2021:
reverse migration

(noun) – an act of going back to one's home/native place.
defection (noun) – desertion, absconding, decamping.
mobilisation (noun) – the act of bringing forces/people/resources together for a particular cause.
opportunistic (adjective) – selfish, self-centred, self-seeking, egocentric, inward-looking.
purchase (noun) – advantage, support, grip, leverage.

switch

 (verb) – change, shift.
turncoat (noun) – traitor, defector, deserter, betrayer.
unheard (adjective) – new, unknown

, unfamiliar.

shrinking (adjective) – declining.
expanding (adjective) – growing.
acquisition (noun) – obtaining, acquiring, procuring.
strategy (noun) – plan of action.

go beyond

(phrasal verb) – be more than something.
far (adverb) – much.
opportunism (noun) – expediency, exploitation, taking advantage, pragmatism, realism.
electoral (adjective) – relating to electors/voters.
cross over (verb) – to change side from one to another.
consecutive (adjective) – successive, continuous.
incumbent (noun) – the present holder or occupant of an office.
tenure (noun) – term, time, period (in/of office).
perhaps (adverb) – maybe, possibly.
due to (phrase) – because of, owing to, on account of, as a result of.
lure (noun) – temptation

, enticement, attraction.

central agencies

 (plural noun) – the central agencies are organizations in the executive branch that co-ordinate the activities of, and provide guidance to the operating ministries and agencies; e.g. Central Bureau of Investigation (CBI), Directorate of Enforcement (ED), Income Tax Department (IT) and etc.
irregularity (noun) – impropriety

, incorrectness, wrongdoing, misconduct, illegitimacy.

flock (verb) – go in large numbers

.

induct (verb) – admit to

, 

allow into, introduce to. 

defector (noun) – betrayer, turncoat, traitor (a person who changes sides).
follow suit (phrase) – emulate

, copy, follow, take (another's actions as an example).

haven (noun) – a place of safety, place of security, shelter.
flux (noun) – instability, unsteadiness, unpredictability.
unlikely (adjective) – improbable, not likely, doubtful.
span (noun) – period

, time, duration.

rely on (phrasal verb) – depend on; resort to, have recourse to.
organically (adverb) – naturally, orderly, systematically, methodically.
embarrassing (adjective) – awkward

, uncomfortable, difficult, problematic, troublesome.

hurry (noun) – haste, urgency, importance

, top priority,

viable (adjective) – reasonable, practical, logical, sensible, effective.
coarsen (verb) – make something unpleasant, desensitize

, blunt.

rattle (verb) – disturb, discomfit, disconcert/unnerve.
punch above one's weight (phrase) – try to achieve or perform at a higher level than expected (beyond one's ability).
vortex (noun) – Figuratively to refer confusion, disturbance, commotion; it usually means countercurrent, counter flow, whirlwind/eddy (circular movement). 
allegation (noun) – charge, accusation, indictment.
campaign (noun) – canvassing

, electioneering, an act of soliciting (asking for/requesting) votes; 

an organized effort that seeks to influence the decision-making progress within a specific group.
Hawala (noun) – a popular and informal value (money) transfer system based not on the movement of cash or computer network wire transfers between banks, but through a huge network of illegal money brokers.
bribe (verb) – buy off

, pay off, suborn, corrupt.

ally (noun) – partner, supporting (political) party (with common interests).

add up to nothing

(phrase) – to result in nothing.
virtue (noun) – good quality, attribute.
grassroots (noun as modifier) – the most basic levels of an organisation.
activism (noun) – involvement; campaigning/supporting (to cause political or social change).

if at all

(phrase) – It indicates that something is unlikely to happen, if it does happen, but it happens in a restricted way.
undermine (verb) – reduce, diminish, spoil, damage, weaken.
modest (adjective) – humble; fair.
gracious (adjective) – courteous

, polite, diplomatic, civilized, well mannered.

(in) the short term (phrase) – (in) the near future.
interest (noun) – benefit, advantage.
in/over the long term (phrase) – over a long period of time; in the future.
Note:
 1. Click each one of the words above for their definition, more synonyms, pronunciation, example sentences, phrases, derivatives, origin and etc from http://www.oxforddictionaries.com/.
2. Definitions (elementary level) & Synonyms provided for the words above are my personal work and not that of Oxford University Press. Tentative definitions/meanings are provided for study purpose only and they may vary in a different context. 
3. This word list is for personal use only. Reproduction in any format and/or Commercial use of it is/are strictly prohibited.
The Hindu Editorial (Reverse migration) – Jun 18, 2021: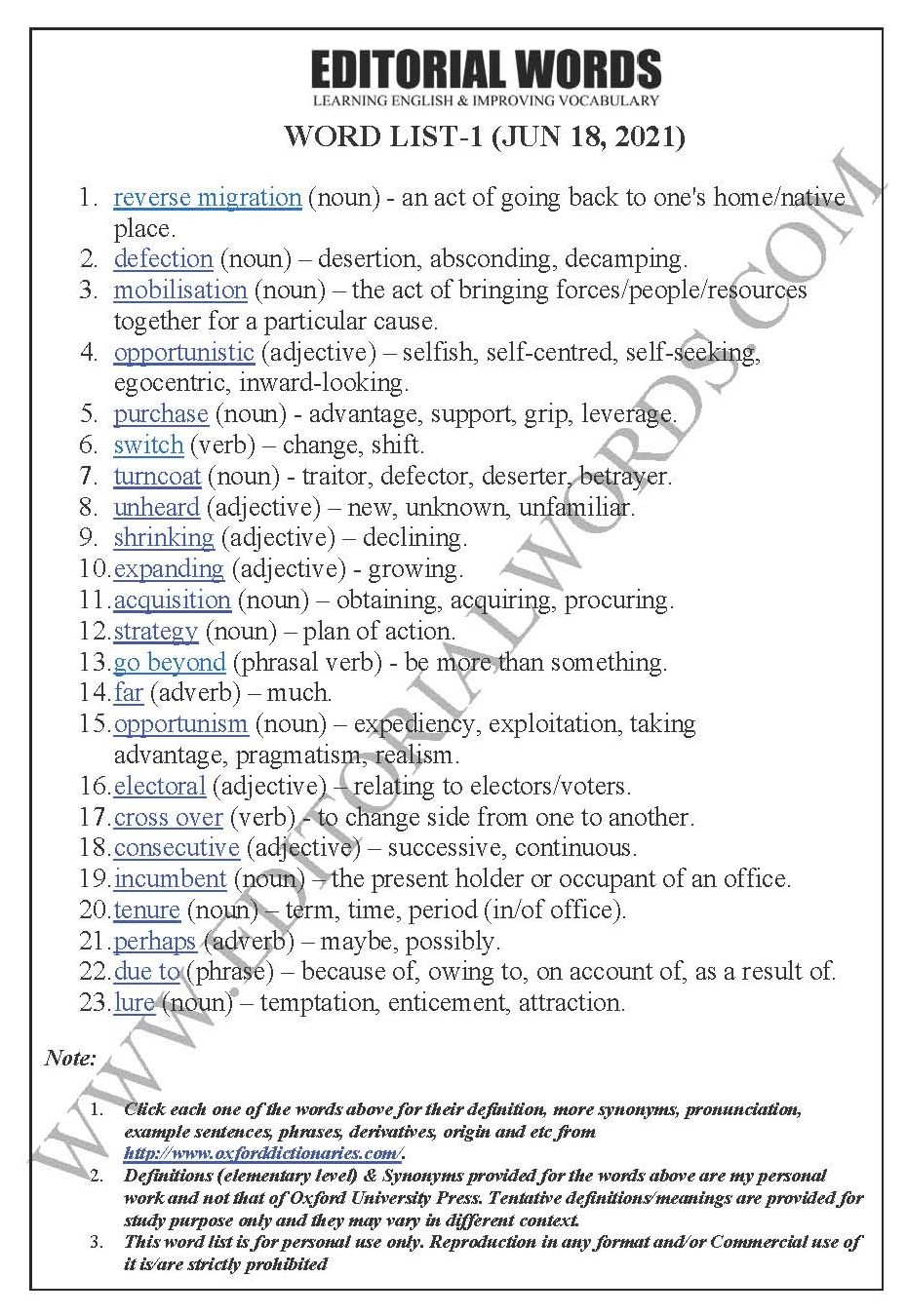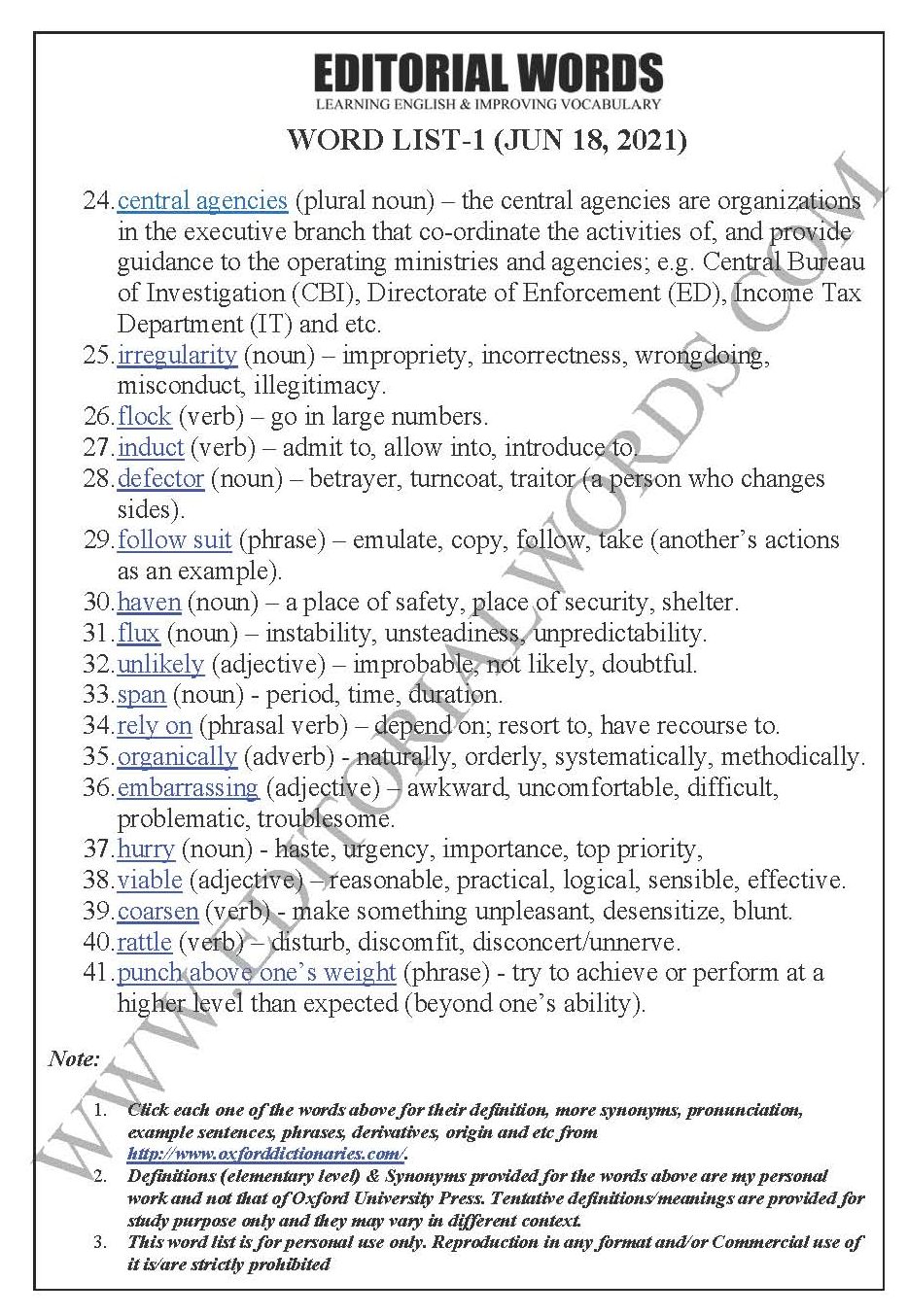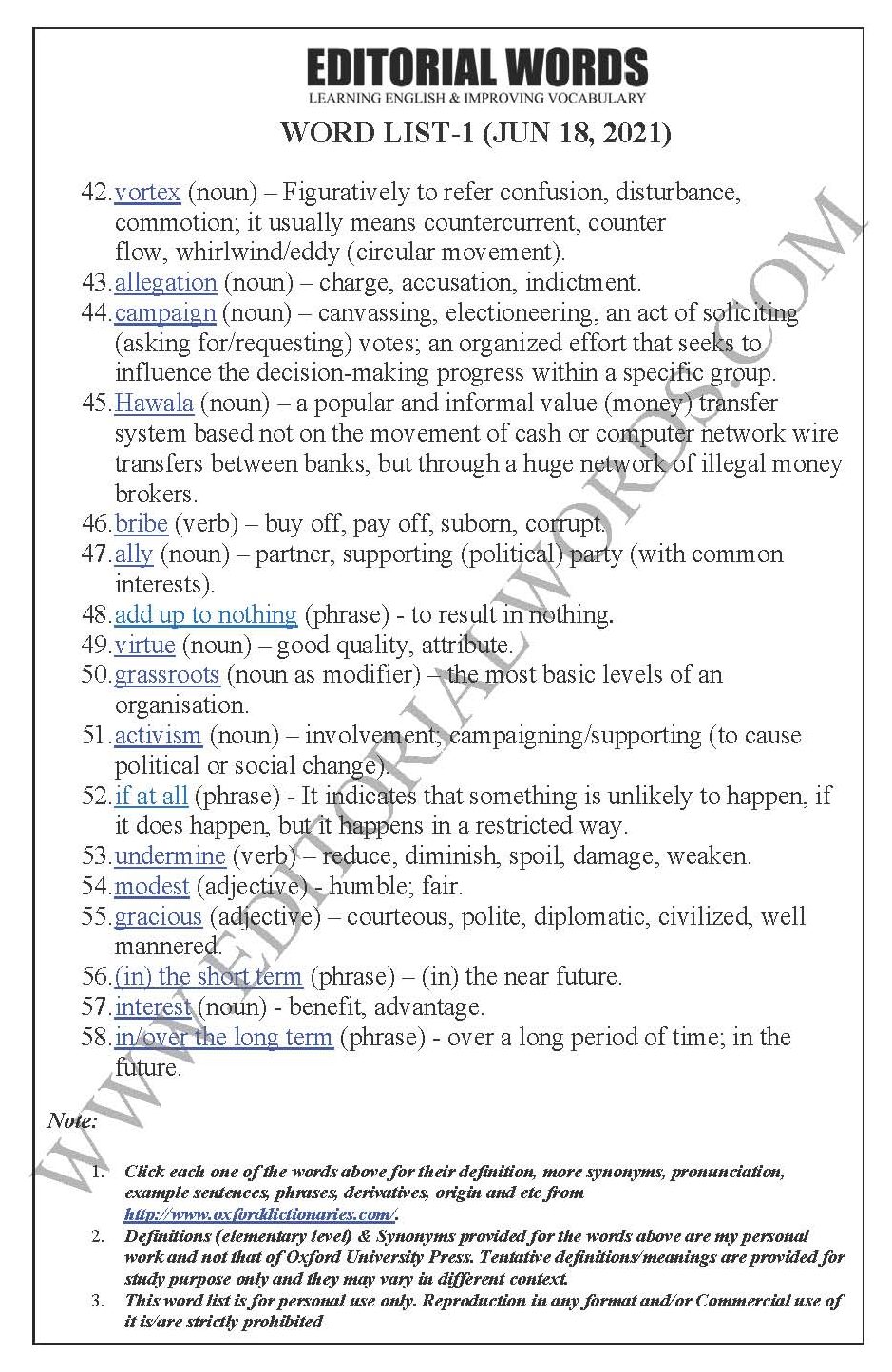 "Phrasal Verbs" We Learnt Last Week
"Idioms & Phrases" We Learnt Last Week
"Important Definitions" We Learnt Last Week
Recent Word Lists For The Hindu Editorial Articles
Recent Advanced Word Lists For The Hindu Lead Articles