The Hindu Editorial (Keep up the pressure) – Feb 24, 2020
To read this article, click here.
This preview is provided here with permission.
Courtesy: The Hindu
Today's word list-1 for The Hindu Editorial (Keep up the pressure) – Feb 24, 2020:
keep up (phrasal verb) – continue, maintain, persist, carry on/go on with.
hold someone to account (phrase) – to require a person to explain or to accept responsibility for his or her actions; to blame or punish someone for what has occurred.
watchdog (noun) – inspector/supervisor, observer, ombudsman.
plenary (noun) – assembly, conference, meeting.

grey/watch list

 (noun) – a list of countries on observation due to their "strategic deficiencies" in countering terror-financing and money-laundering. The countries put on grey/watch list by the Financial Action Task Force (FATF) will be subjected to direct monitoring and intense scrutiny by the International Co-operation Review Group (ICRG) on terror financing.
carry out (phrasal verb) – conduct, perform, execute.
loophole (noun) – an ambiguity in the law; flaw/fault, defect.
call on (phrasal verb) – appeal to, demand, ask, request.
prosecution (noun) – legal action/trail, legal proceeding, litigation.
sanction (verb) – punish, prohibit, put restriction on

.

flout (verb) – disobey

, break, violate.

designated (adjective) – classified, labelled, identified.
comply with (verb) – abide by, adhere to, conform to.
stricture (noun) – constraint, restriction, limitation, restraint.

blacklist

 (noun) – a list of countries which the Financial Action Task Force (FATF) judges to be non-cooperative in the global fight against money laundering and terrorist financing.
consensus (noun) – an idea or opinion that is shared by all the people in a group. agreement, concurrence.
slip through (phrasal verb) – pass through, escape (without being noticed), to fail to be noticed.
pledge (verb) – promise/swear, give one's word; give an assurance.
veto (verb) – reject, dismiss; prohibit/block.
set the stage for (phrase) – prepare the circumstances for beginning of something.
sustain (verb) – continue

, carry on, keep up

.

punitive (adjective) – disciplinary, corrective, retributive.
immunity (noun) – impunity, exemption/freedom from punishment, special treatment.
conviction (noun) – sentence, judgement, verdict

.

command performance (noun) – something done at the request/order of someone.
submission (noun) – suggestion, proposition, recommendation; statement/

assertion/claim.

scrutinise (verb) – examine carefully, inspect; investigate.
flag (verb) – indicate, identify, point out.
extract (verb) – obtain by force, wrest

, exact, squeeze out.
Note:  
 1. Click each one of the words above for their definition, more synonyms, pronunciation, example sentences, phrases, derivatives, origin and etc from http://www.oxforddictionaries.com/.
2. Definitions (elementary level) & Synonyms provided for the words above are my personal work and not that of Oxford University Press. Tentative definitions/meanings are provided for study purpose only and they may vary in different context. 
3. This word list is for personal use only. Reproduction in any format and/or Commercial use of it is/are strictly prohibited.
Today's word list-1 The Hindu Editorial (Keep up the pressure) – Feb 24, 2020
: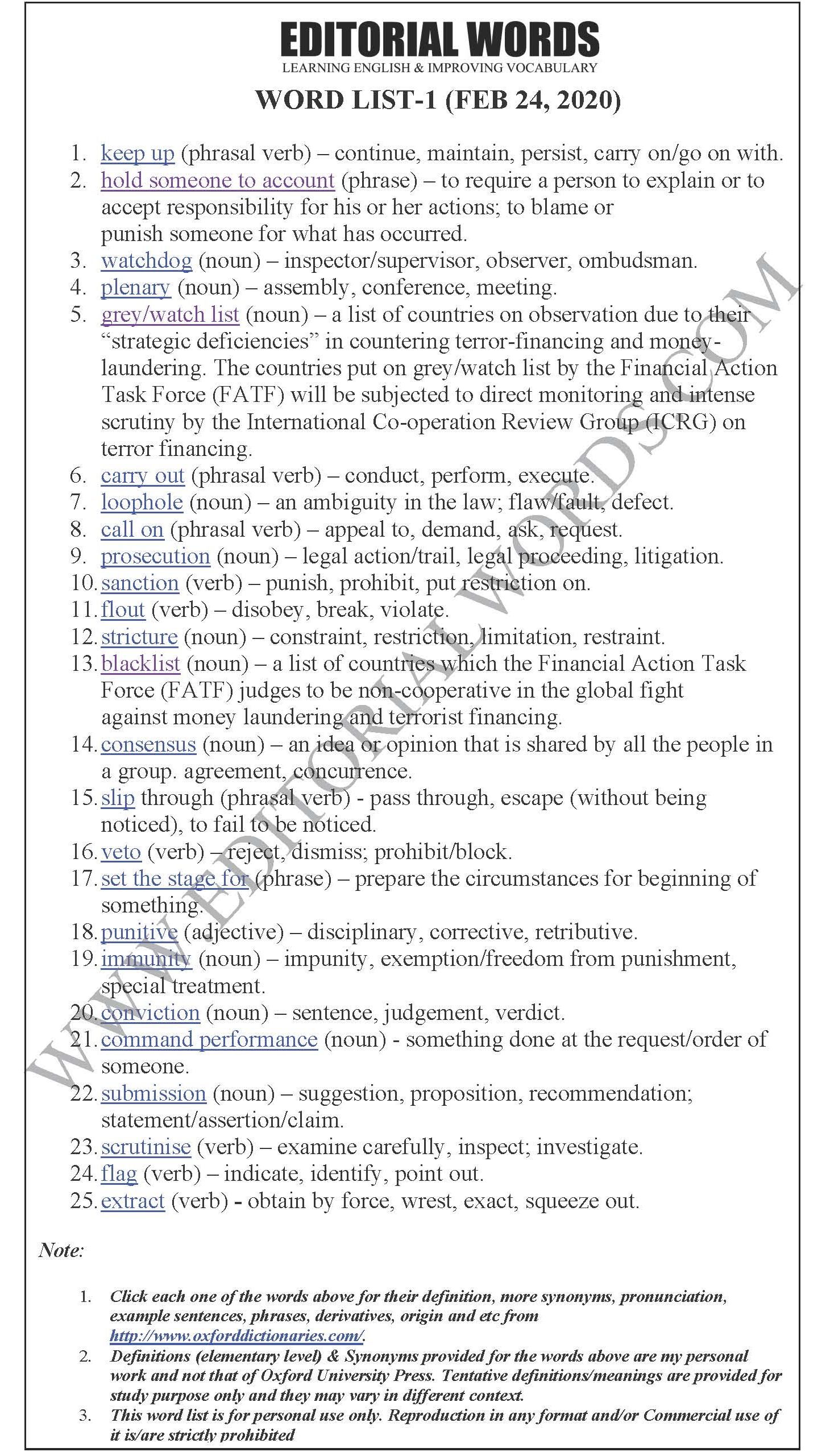 "Phrasal Verbs" We Learnt Last Week
"Idioms & Phrases" We Learnt Last Week
"Important Definitions" We Learnt Last Wek
Recent Word Lists For The Hindu Editorial Articles
Recent Advanced Word Lists For The Hindu Lead Articles