The Hindu Editorial (In the net) – Oct 24, 2018
The steps taken by the Union government over the last few years to widen its tax base may finally be yielding some rewards. For further reading, visit "The Hindu". Below is today's word list-2 for The Hindu Editorial (In the net) – Oct 24, 2018.
To read this article, click here.
This preview is provided here with permission.
Courtesy: The Hindu
Today's word list-2 for The Hindu Editorial (In the net) – Oct 24, 2018:
net (adjective) – end, final, overall.
yield (verb) – give, provide, produce.
surpass (verb) – be greater than, exceed, transcend.
tax buoyancy (noun) –  an indicator to measure efficiency and responsiveness of revenue mobilization in response to growth in the GDP or National income.

tax compliance

 (noun) – the degree to which a taxpayer complies (or fails to comply) with the tax rules of his or her country, for example by declaring income, filing a return, and paying the tax due in a timely manner.
attribute (verb) – connect with

, associate with

.

widening

(noun) – the process of making something wider.
tenure (noun) – term, period, time (in office).

going forward

 (phrase) – from now on, in the future.
regressive (adjective) – (of a tax) taking a larger portion/percentage of income from lower income people.
standpoint (noun) – point of view, perspective, outlook.
distortionary (adjective) – misrepresenting, twisting, misreporting/misleading.
amidst (preposition) – amid, in the middle of; during.
stature (noun) – reputation, status/position, influence.
fruit (noun) – outcome, result, return.
bureaucratic (adjective) – institutional, procedural, official/governmental.
Note:
1. Click each one of the words above for their definition, more synonyms, pronunciation, example sentences, phrases, derivatives, origin and etc from http://www.oxforddictionaries.com/.
2. Definitions (elementary level) & Synonyms provided for the words above are my personal work and not that of Oxford University Press. Tentative definitions/meanings are provided for study purpose only and they may vary in different context. 
3. This word list is for personal use only. Reproduction in any format and/or Commercial use of it is/are strictly prohibited.
Today's word list-2 for The Hindu Editorial (In the net) – Oct 24, 2018: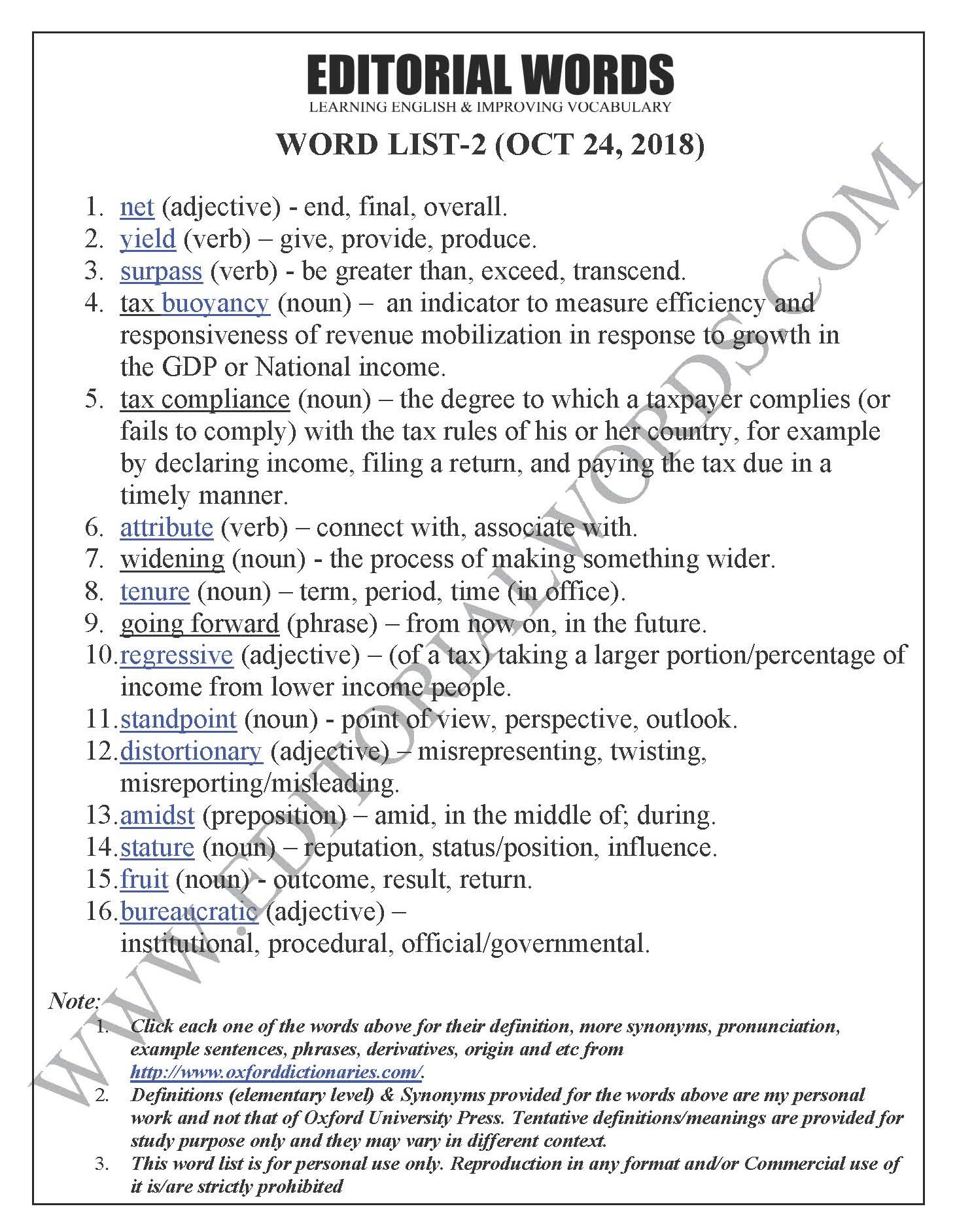 "Phrasal Verbs" We Learnt Last Week
"Idioms & Phrases" We Learnt Last Week