The Hindu Editorial (Final blow) – Jan 14, 2021
The Trump administration's decision to redesignate Cuba as a state sponsor of terrorism, taken in its last days, appears to be a blatantly politicised move,… For further reading, visit "The Hindu". Below is today's word list-2 for The Hindu Editorial (Final blow) – Jan 14, 2021.
To read this article, click here.
This preview is provided here with permission.
Courtesy: The Hindu
Today's word list-2 for The Hindu Editorial (Final blow) – Jan 14, 2021:
blow (noun) – shock

, surprise; 

setback/misfortune.
reversal (noun) – turnaround

, turnabout, U-turn, sea change.

deter (verb) – put off

, discourage, prevent, stop.

redesignate (verb) – reclassify, relabel, rename.
blatantly (adverb) – flagrantly, glaringly, obviously, evidently, openly.
politicise (verb) – to make something into a political issue.
bereft of (adjective) – deprived of/stripped of; lacking, deficient in; wanting, in need of.
strategic (adjective) – relating to achieving long-term or overall (military) goals.

moral reasoning

 (noun) – the logical process of determining whether an action is right or wrong.
cite (verb) – refer to

, make reference to, mention, point to.

host (verb) – give, provide, organize, arrange (space for guests or for an event).
fugitive (adjective) – relating to a person who has escaped from being confined or imprisoned.
backing (noun) – support, assistance, cooperation, aid.
designation (noun) – classification, labelling, pinpointing/naming.
trigger (verb) – cause, bring about, give rise to.
sanctions (noun) – action taken, or an order given to force a country to obey international laws by limiting or stopping trade with that country, by not allowing economic aid for that country, etc (Courtesy: VOA Learning English).
mediator (noun) – arbitrator

, arbiter, negotiator, conciliator.

with regard to (phrase) – in respect of, concerning, with reference to.
irrespective of (adjective) – notwithstanding, without regard for, regardless of.
allege (verb) – claim, assert, declare, state.
hand over (phrasal verb) – pass

, transfer, assign. 

a host of (noun) – lot, large number, great quantity.
consequential (adjective) – important

, significant, major.

acrimony (noun) – bitterness, hostility, resentment.
root (noun) – basic cause of something.
the Cold War (noun) – The Cold War was a state of political and military tension after World War II between powers in the Western Bloc (the United States and a group of countries) and powers in the Eastern Bloc (the Soviet Union and a group of countries).
open up (phrasal verb) – create (a new opportunity or possibility).
adverse (adjective) – unfavourable, disadvantageous, bad.
relic (noun) – historical/ancient thing which is outmoded/still remaining now; remains, historical object/thing.
predecessor (noun) – previous holder; forerunner, precursor, antecedent.
decade (noun) – a period of ten years.
regime (noun) – government.
eventually (adverb) – in the end

, in due course, after some time.

fade (verb) – disappear, vanish, diminish/decrease.

reset

(noun) – re-establishment.
ties (noun) – bond

, connection, association, relationship.

embassy (noun) – the diplomatic office building in a foreign country where the ambassador & team live and work; consulate, mission.
successor (noun) – inheritor, next-in-line, descendant.

confidence-building measures/mechanisms

 (noun) – confidence-building measures (CBMs) are planned procedures to prevent hostilities, to avert escalation, to reduce military tension, and to build mutual trust between countries.
normalisation (noun) – the process of bringing something (relationship, ties) back to a normal condition after a war or disagreement.
strange (adjective) – unusual, weird, abnormal, atypical.
lie off (phrasal verb) – be placed some distance from coast/shore.
campaign (noun) – an organized effort which seeks to influence the decision making progress within a specific group.
reverse (verb) – alter, change.
perhaps (adverb) – maybe, possibly.
congressional (adjective) – relating to a national legislative body of the US.
last minute (noun) – careless

, disorganized, unmethodical, unsystematic, messy, thoughtless, inattentive.

sabotage (noun) – deliberate damage, destruction, obstruction, disruption; spoiling, ruining.
Note:
 1. Click each one of the words above for their definition, more synonyms, pronunciation, example sentences, phrases, derivatives, origin and etc from http://www.oxforddictionaries.com/.
2. Definitions (elementary level) & Synonyms provided for the words above are my personal work and not that of Oxford University Press. Tentative definitions/meanings are provided for study purpose only and they may vary in different context. 
3. This word list is for personal use only. Reproduction in any format and/or Commercial use of it is/are strictly prohibited.
Today's word list-2 The Hindu Editorial (Final blow) – Jan 14, 2021
: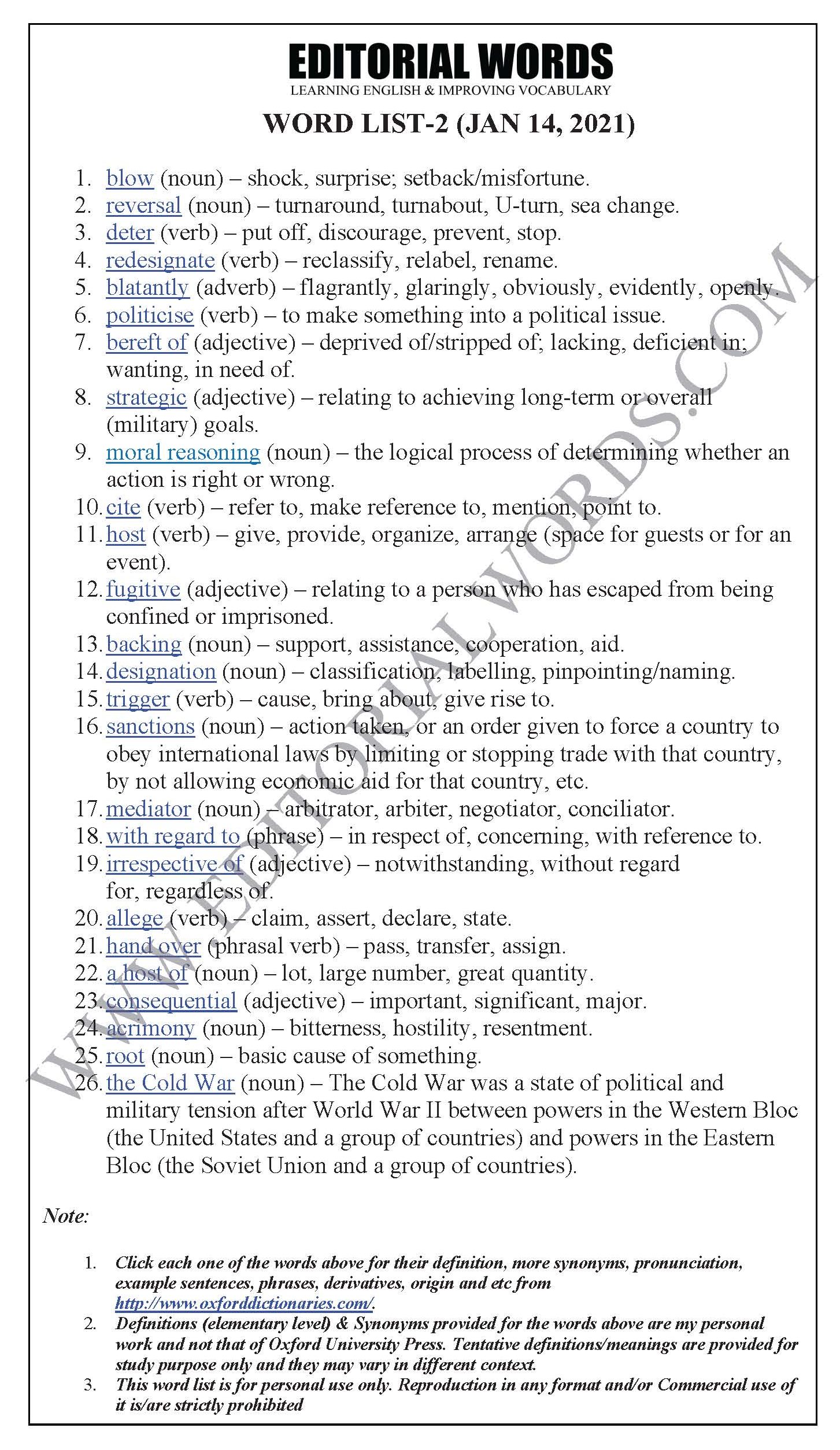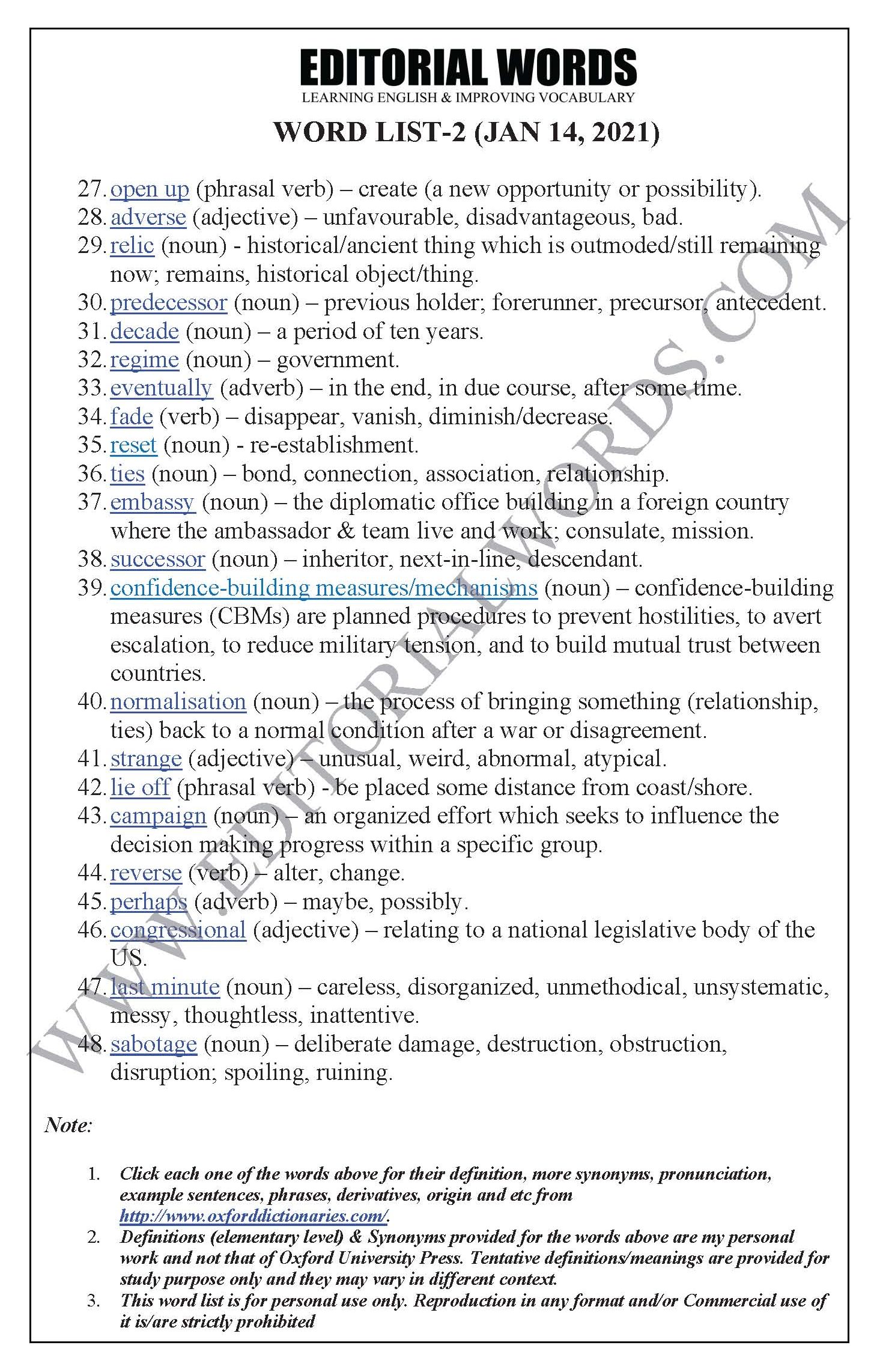 "Phrasal Verbs" We Learnt Last Week 
"Idioms & Phrases" We Learnt Last Week
"Important Definitions" We Learnt Last Week
Recent Word Lists For The Hindu Editorial Articles
Recent Advanced Word Lists For The Hindu Lead Articles