The Hindu Editorial (Falling short) – Apr 08, 2021
Easter has not brought good tidings to India. The number of daily new cases has risen by over a 100,000 — twice in three days. Delhi and Maharashtra have imposed night curfews, an idea,… For further reading, visit "The Hindu". Below is today's word list-2 for The Hindu Editorial (Falling short) – Apr 08, 2021.
To read this article, click here.
This preview is provided here with permission.
Courtesy: The Hindu
The Hindu Editorial (Falling short) – Apr 08, 2021:
fall short of (phrase) – fail to meet/reach; be deficient/inadequate/insufficient.
vaccine (noun) – a biological preparation that improves immunity to a particular disease.
accelerate (verb) – promote, boost; expedite, speed up, step up

.

universal (adjective) – relating to all people; all-inclusive, all-embracing, comprehensive.
tidings (noun) – news

, information, reports.

impose (verb) – force, thrust, inflict (an unwelcome decision).
curfew (noun) – a rule which is instructing people to stay at home, typically at night.
(be) shorn of (phrasal verb) – to have something important removed from you.
deterrent (noun) – a person/thing that discourages an action and makes it difficult to do.
signify (verb) – be evidence of

, be a sign of, mark, signal, 

indicate, announce.

unalloyed (adjective) – unconditional, unlimited, unrestricted, categorical, unequivocal, unambiguous.
acknowledgment (noun) – acceptance

, admission, 

recognition, realization.
in the midst of (phrase) – in the middle of.
squarely (adverb) – precisely

, exactly, just, directly.

lay (verb) – put

, place, fall

.

lay something on someone

(phrase) – require someone to deal with a responsibility.
rush through (phrasal verb) – to deal with/act on something very quickly.
seek (verb) – 

try, aim, attempt.

impression (noun) – feeling, notion

, idea, thought, belief, opinion.

hub (noun) – centre of activity; focal point.
as well as (phrase) – and in addition.
growing (adjective) – increasing.
clamour (noun) – protest, complaint, outcry/commotion.
sing a different tune (phrase) – change one's point of view on something.
want (noun) – wish

/desire.

dispense (verb) – provide, administer, deliver.
need (noun) – requirement/necessity.
vulnerable (adjective) – relating to a weak/neglected person who is in need of special care/support/protection; ill-protected, easily affected by, prone to, at risk of.

frontline staff/worker/responder/personnel

 (noun) – a person who is among the first to arrive and provide assistance at the scene of an emergency. First/front line workers/responders typically include paramedics, emergency medical technicians, police officers, firefighters, sanitary workers & etc.
comorbidity (noun) – the presence of one or more additional conditions (diseases/problems) co-occurring/co-existing with a primary condition (disease/problem).
shut down (phrasal verb) – cease activity

, close down, cease operation.

vague (adjective) – imprecise

, inexact, unclear/uncertain.

Covaxin

 (noun) – India's first indigenous COVID-19 vaccine candidate (COVAXIN) developed by a Hyderabad-based company (Bharat Biotech) in collaboration with the ICMR (The Indian Council of Medical Research).
constitute (verb) – amount to

, add up to, account for, comprise, represent

.
portfolio (noun) – a range of products or services.
prioritised (adjective) – designated/considered as the most important.
hit (verb) – reach

, attain, touch, arrive at, get to, rise to (a particular level)

.
administer (verb) – dispense, provide, give, apply (a drug/vaccine).
dose (noun) – an amount

/quantity of something.

given (preposition) – considering

, taking into account, bearing in mind

.

replenish (verb) – refill

, fill up, recharge, reload; stock up, restock, restore.

shortage (noun) – shortfall, deficiency, inadequacy, insufficiency.
adamant (adjective) – uncompromising, inflexible, unrelenting, stubborn.

there isn't one

(phrase) – there is nothing like that something which is just mentioned; deny, disprove.
prioritise (verb) – make a point of, highlight, call attention to (something as very important).
unfetter (verb) – untie, unfasten, unhook (release from restrictions).
endeavour (verb) –

try (very) hard to do something; 

try

, attempt, seek.
Note:
 1. Click each one of the words above for their definition, more synonyms, pronunciation, example sentences, phrases, derivatives, origin and etc from http://www.oxforddictionaries.com/.
2. Definitions (elementary level) & Synonyms provided for the words above are my personal work and not that of Oxford University Press. Tentative definitions/meanings are provided for study purpose only and they may vary in different context. 
3. This word list is for personal use only. Reproduction in any format and/or Commercial use of it is/are strictly prohibited.
The Hindu Editorial (Falling short) – Apr 08, 2021: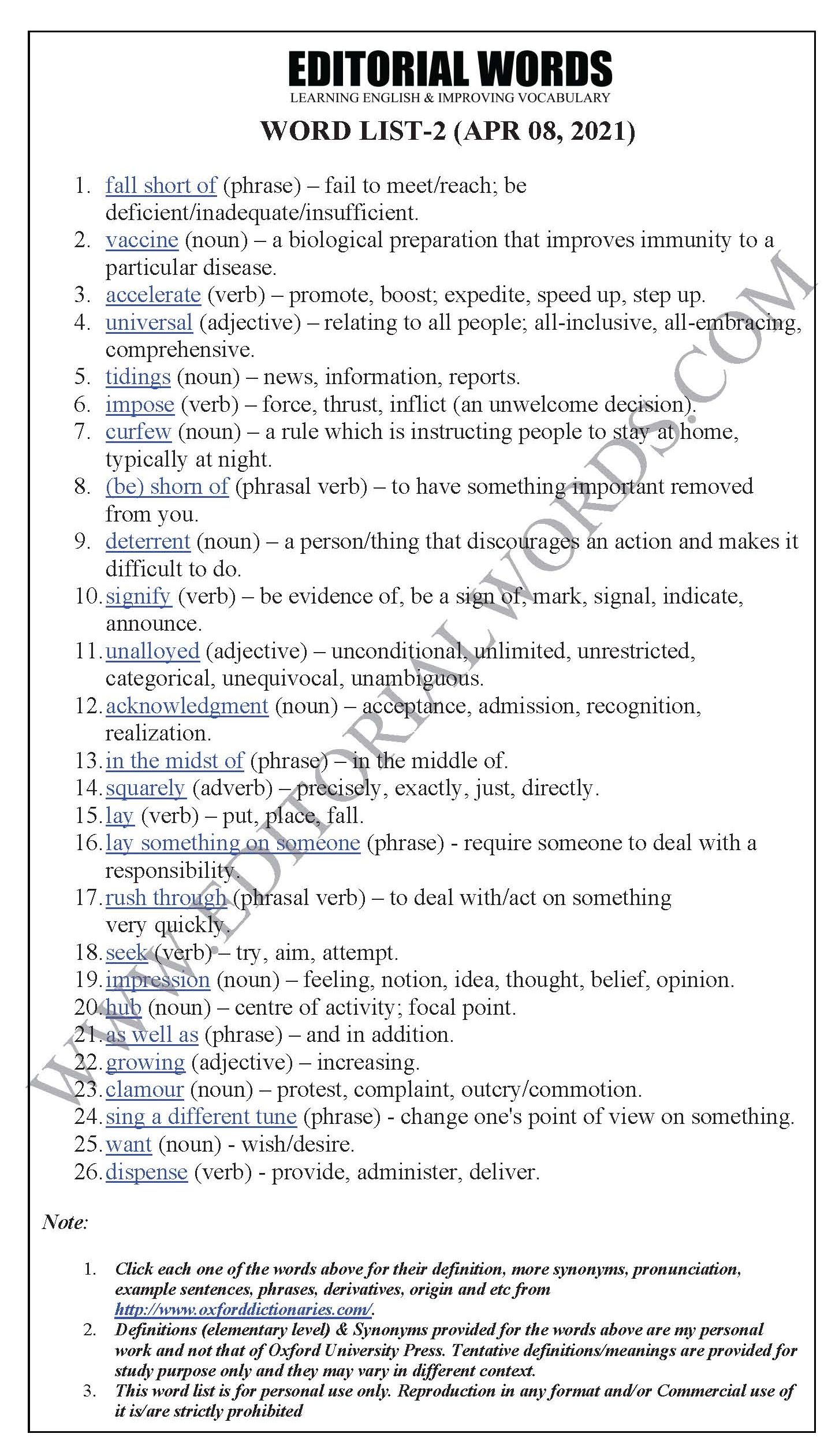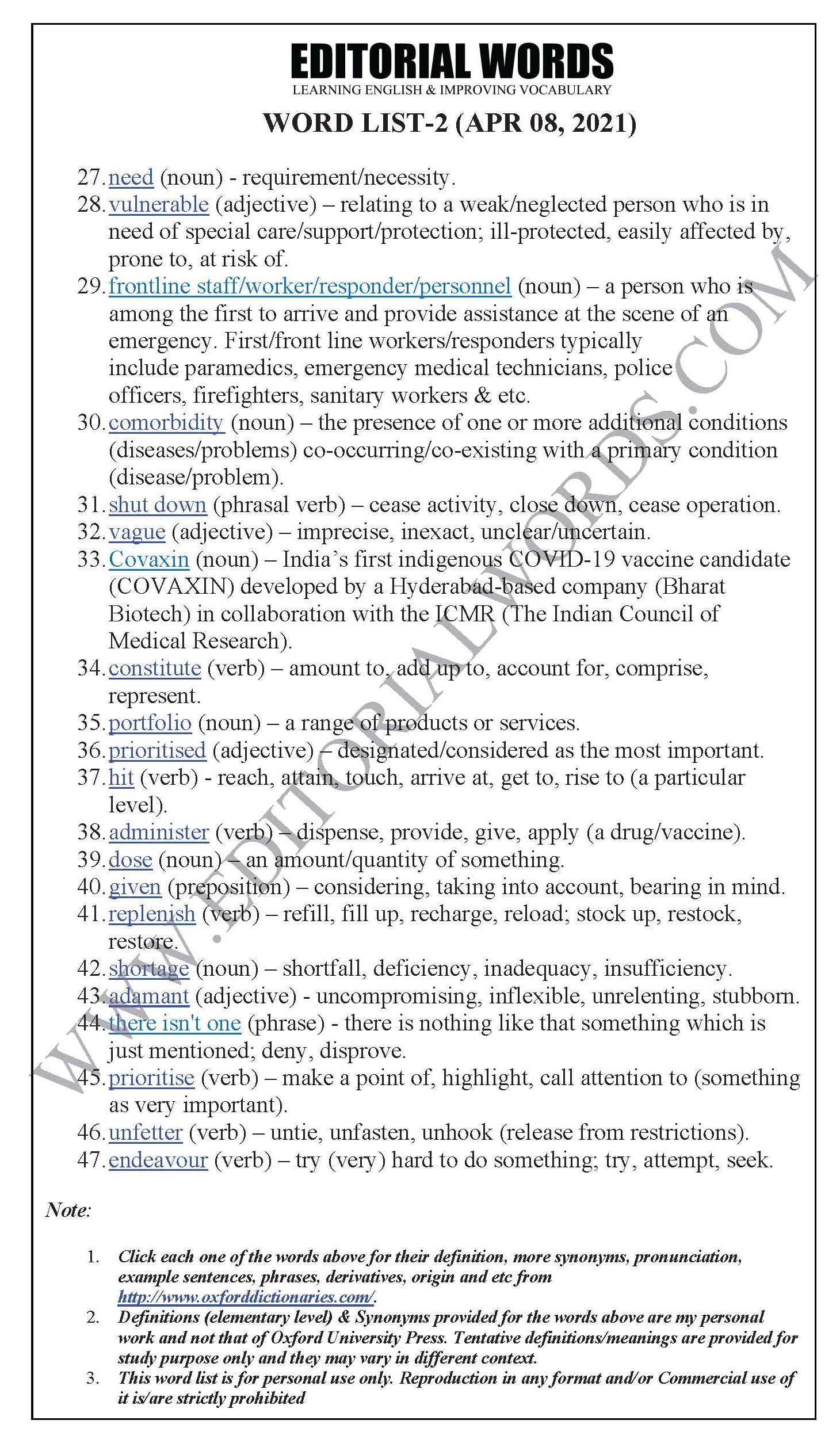 "Phrasal Verbs" We Learnt Last Week 
"Idioms & Phrases" We Learnt Last Week
"Important Definitions" We Learnt Last Week
Recent Word Lists For The Hindu Editorial Articles
Recent Advanced Word Lists For The Hindu Lead Articles