The Hindu Editorial (Exiting Afghanistan) – Apr 17, 2021
By announcing that all U.S. troops would be pulled out of Afghanistan by September 11, President Joe Biden has effectively upheld the spirit of the Trump-Taliban deal,rather than defying it. For further reading, visit "The Hindu". Below is today's word list-2 for The Hindu Editorial (Exiting Afghanistan) – Apr 17, 2021.
To read this article, click here.
This preview is provided here with permission.
Courtesy: The Hindu
The Hindu Editorial (Exiting Afghanistan) – Apr 17, 2021:
pullout (noun) – departure, withdrawal, retreat, disengagement, exit.
settlement (noun) – agreement

, deal, arrangement; 

resolution

, solution.

pull out (phrasal verb) – withdraw, retreat, get/move out.
effectively (adverb) – practically, virtually, in effect, all but.
uphold (verb) – confirm, endorse/approve, vindicate/validate.
spirit (noun) – real/

true meaning, intention, essence.

rather than

(phrase) – instead of.
insurgent (noun) – dissenter, agitator/rioter, subversive.
pull back (phrasal verb) – withdraw, retreat, disengage.

in return for

(phrase) – in exchange for.
strategy (noun) – plan of action (in order to achieve a more expansive set of political, economic, and security interests).
speculation (noun) – prediction

, guesswork, opinion/thought.

orderly (adjective) – well organized

, methodical, systematic, careful.

besides (preposition/linking adverb) – in addition to

, as well, apart from.

coalition (noun) – alliance

, union, partnership.

North Atlantic Treaty Organization (NATO)

 (noun) – NATO was created in 1949 by the United States, Canada, and several Western European nations to provide collective security against the Soviet Union.
command (noun) – authority

, control, power; order, instruction, directive.

push (noun) – effort, initiative, drive.
revive (verb) – reintroduce, reinitiate, bring back.
hit (verb) – crash into

, run into, bang into, collide with

.
roadblock (noun) – barrier, hindrance, obstruction

.

hit a roadblock

(phrase) – stop, stall.

make clear

(phrase) – explain, clarify, elucidate.
step up (phrasal verb) – increase

, intensify, scale up, escalate.

go through (phrasal verb) – be carried through, be officially completed

.

shaky (adjective) – faltering

, unsteady,

 weak, precarious.

precarious (adjective) – 

risky, dangerous, unsafe; hazardous, perilous, 

unreliable.

leave (verb) – abandon; left to oneself means "be alone".
hold together (phrasal verb) – cause something to remain united.
provincial (adjective) – regional

, territorial.

stalemated (adjective) – deadlocked, standstilled, checkmated.
decisively (adverb) – definitely.
in favour of (phrase) – in support of, to the advantage of, approve of.
overrun (verb) – invade, occupy, overwhelm, swamp, spread over (a place in large numbers).

drive back

(phrasal verb) – fight off, repulse, rebuff, repel, oppose.
activist (noun) – a person who supports a political or societal change/cause.
civil society (noun) – civil society refers to the space for collective action around shared interests, purposes, and values, generally distinct from government and commercial for-profit actors.
verge (noun) – edge

, border, margin, limit.

shared interest

 (noun) – mutual benefit.
might (noun) – strength, force, power.
road map (noun) – schedule of a (complex) program.
ominous (adjective) – threatening

, menacing, inauspicious, unpromising, unfavourable.
Note:
 1. Click each one of the words above for their definition, more synonyms, pronunciation, example sentences, phrases, derivatives, origin and etc from http://www.oxforddictionaries.com/.
2. Definitions (elementary level) & Synonyms provided for the words above are my personal work and not that of Oxford University Press. Tentative definitions/meanings are provided for study purpose only and they may vary in a different context. 
3. This word list is for personal use only. Reproduction in any format and/or Commercial use of it is/are strictly prohibited.
The Hindu Editorial (Exiting Afghanistan) – Apr 17, 2021: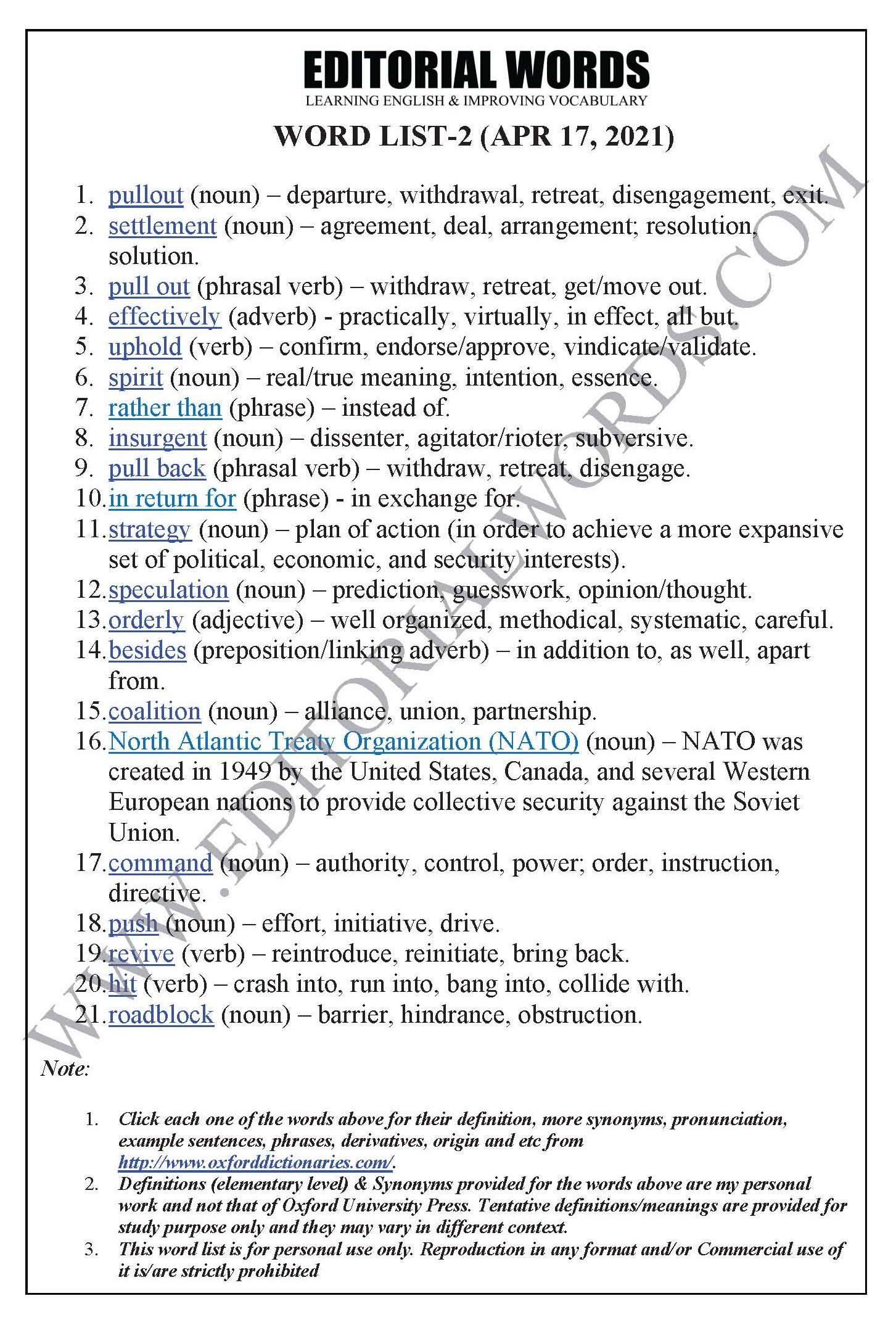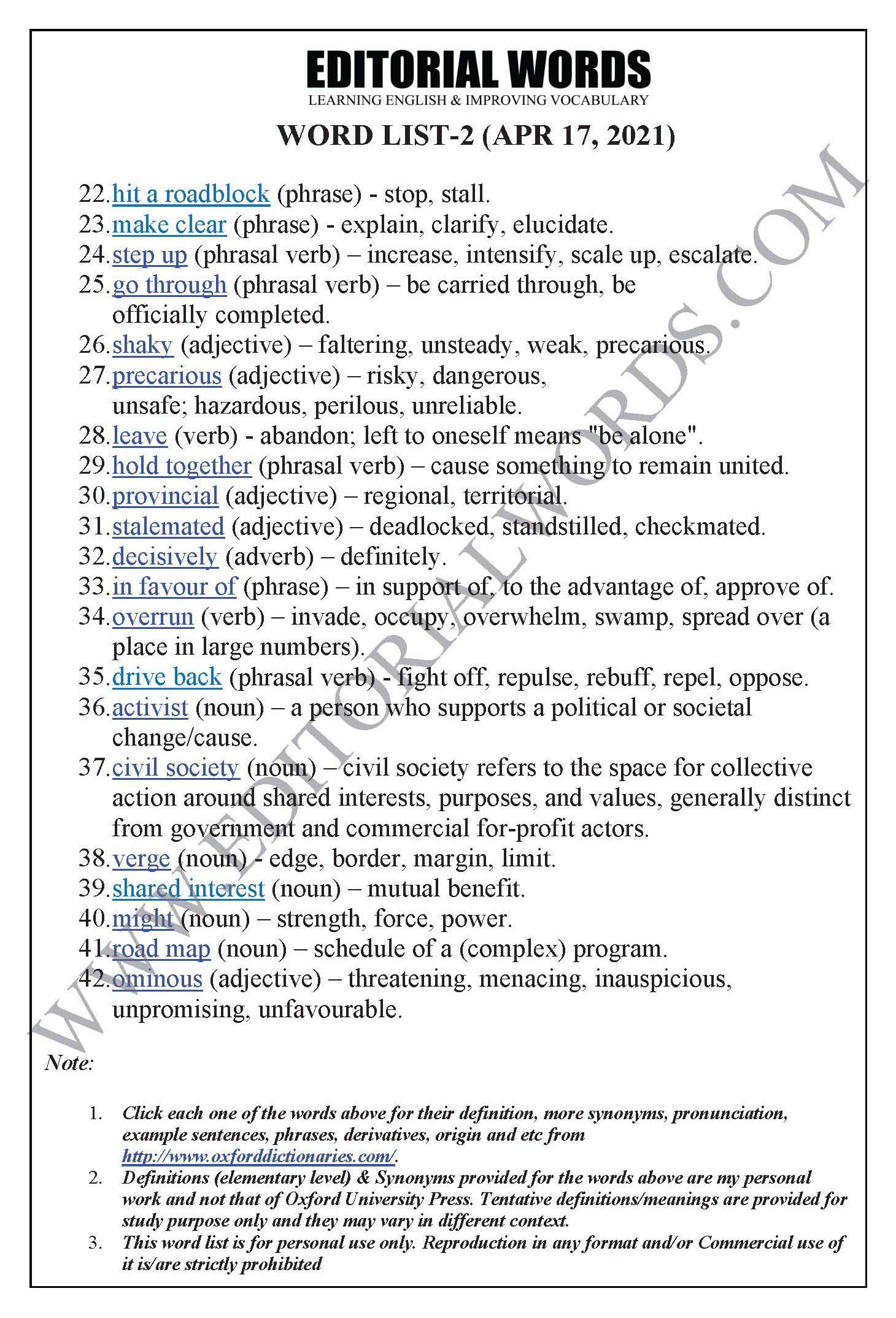 "Phrasal Verbs" We Learnt Last Week 
"Idioms & Phrases" We Learnt Last Week
"Important Definitions" We Learnt Last Week
Recent Word Lists For The Hindu Editorial Articles
Recent Advanced Word Lists For The Hindu Lead Articles