The Hindu Editorial (Efficacious too) – Mar 05, 2021
Vaccine efficacy of 80.6% for Bharat Biotech's Covaxin at the first interim analysis of phase-3 trials in India is indeed promising, though it took two months for the data to become available… For further reading, visit "The Hindu". Below is today's word list-2 for The Hindu Editorial (Efficacious too) – Mar 05, 2021.
To read this article, click here.
This preview is provided here with permission.
Courtesy: The Hindu
The Hindu Editorial (Efficacious too) – Mar 05
, 2021:
efficacious (adjective) – effective, successful, powerful.

Covaxin

 (noun) – India's first indigenous COVID-19 vaccine candidate (COVAXIN) developed by a Hyderabad-based company (Bharat Biotech) in collaboration with the ICMR (The Indian Council of Medical Research).
vaccine (noun) – a biological preparation that improves immunity to a particular disease.
efficacy (noun) – In medicine, the ability of an intervention (for example, a drug or surgery) to produce the desired beneficial effect; effectiveness, efficiency, power.
interim (adjective) – provisional

, temporary, transitional

.  

phase-3 trial

 (noun) – In phase 3 trial, the vaccine is given to thousands of people to confirm its safety – including rare side effects – and effectiveness. These trials involve a control group which is given a placebo.

phase 2 trial

 (noun) – In phase 2 trial, the vaccine is given to hundreds of people so scientists can learn more about its safety and correct dosage.

phase 1 trial

 (noun) – In phase 1 trial of clinical testing, the vaccine is given to a small group of people to determine whether it is safe and to learn more about the immune response it provokes.

human trial/clinical trial

(noun) – a type of research that studies new tests and treatments and evaluates their effects on human health outcomes.
indeed (adverb) – in fact, actually, undeniably.
promising (adjective) – good, optimistic, positive, heartening, reassuring.
regulator (noun) – an association that supervises a particular business activity.
symptomatic (adjective) – relating to a condition/person with symptoms.
asymptomatic (adjective) – relating to a condition/person with no symptoms.

pre-symptomatic

 (adjective) – relating to a condition/person with mild illness/symptoms.
dose (noun) – an amount

/quantity of something.

undertake (verb) – 

begin, start, launch into; 

engage in

, become involved in, take part in.

carry out (phrasal verb) – conduct

, perform, implement, execute, bring about.

placebo

 (noun) – it is an inactive substance (with no therapeutic effect) that is given to one group of participants in a clinical trial, while the treatment (usually a drug or vaccine being tested) is given to another group.

Oxford vaccine/Covishield

 (noun) – (ChAdOx1 nCoV-19) or (AZD1222) is a COVID-19 vaccine candidate developed by Oxford University and AstraZeneca, UK Ltd. (named Covishield in India). Serum Institute of India (SII), a biotechnology company has partnered with global pharma giant AstraZeneca and Oxford University for this vaccine candidate 'Covidshield'.
administer (verb) – dispense, provide, give, apply (a drug/vaccine).
comorbidity (noun) – the presence of one or more additional conditions (diseases/problems) co-occurring/co-existing with a primary condition (disease/problem).

The Lancet

 (noun) – a weekly peer-reviewed general medical journal. It is among the world's oldest and best-known general medical journals.
preprint (noun) – a full draft of a research paper that is shared publicly before it has been peer reviewed/has been sent to press for publication.
immunogenic (adjective) – relating to a foreign substance that provokes an immune response in the body.
variant (noun) – different or form or version or mutant of something (virus).
account for (phrasal verb) – constitute, comprise, form, represent.
vaccination (noun) – treatment with a vaccine to protect against a particular disease; immunization.
absolute (adjective) – total, complete, full.
stand at (verb) – be at a particular level.
so far (phrase) – until now, up to the present, up to this point.
on a par with (phrase) – comparable with, equivalent to, as equal to, on a level with.
seek (verb) – request, demand, ask for.
consent (noun) – agreement

, assent, approval.

informed/signed consent (noun) – the permission a patient gives a doctor (by signing a document) to perform a test or procedure after the doctor has fully explained the purpose.
narrow (adjective) – small, limited, inadequate.
window of opportunity (phrase) – a short period of time in which one has a chance to do/achieve something; lucky chance, good time, golden opportunity, suitable time/moment, opportune occasion.
vaccinate (verb) – inoculate, administer, introduce (with a vaccine to provide immunity against a disease).
probably (adverb) – most likely, in all likelihood

, all things considered, perhaps.

set in (phrasal verb) – (of something bad/unpleasant) begin/start.

can ill afford

(phrase) – to prevent something from happening because it would be embarrassing and cause problems (if it happens).
roadblock (noun) – hindrance, obstruction

.

uptake (noun) – the action of taking up something (available/given).
Note:
 1. Click each one of the words above for their definition, more synonyms, pronunciation, example sentences, phrases, derivatives, origin and etc from http://www.oxforddictionaries.com/.
2. Definitions (elementary level) & Synonyms provided for the words above are my personal work and not that of Oxford University Press. Tentative definitions/meanings are provided for study purpose only and they may vary in different context. 
3. This word list is for personal use only. Reproduction in any format and/or Commercial use of it is/are strictly prohibited.
The Hindu Editorial (Efficacious too) – Mar 05, 2021: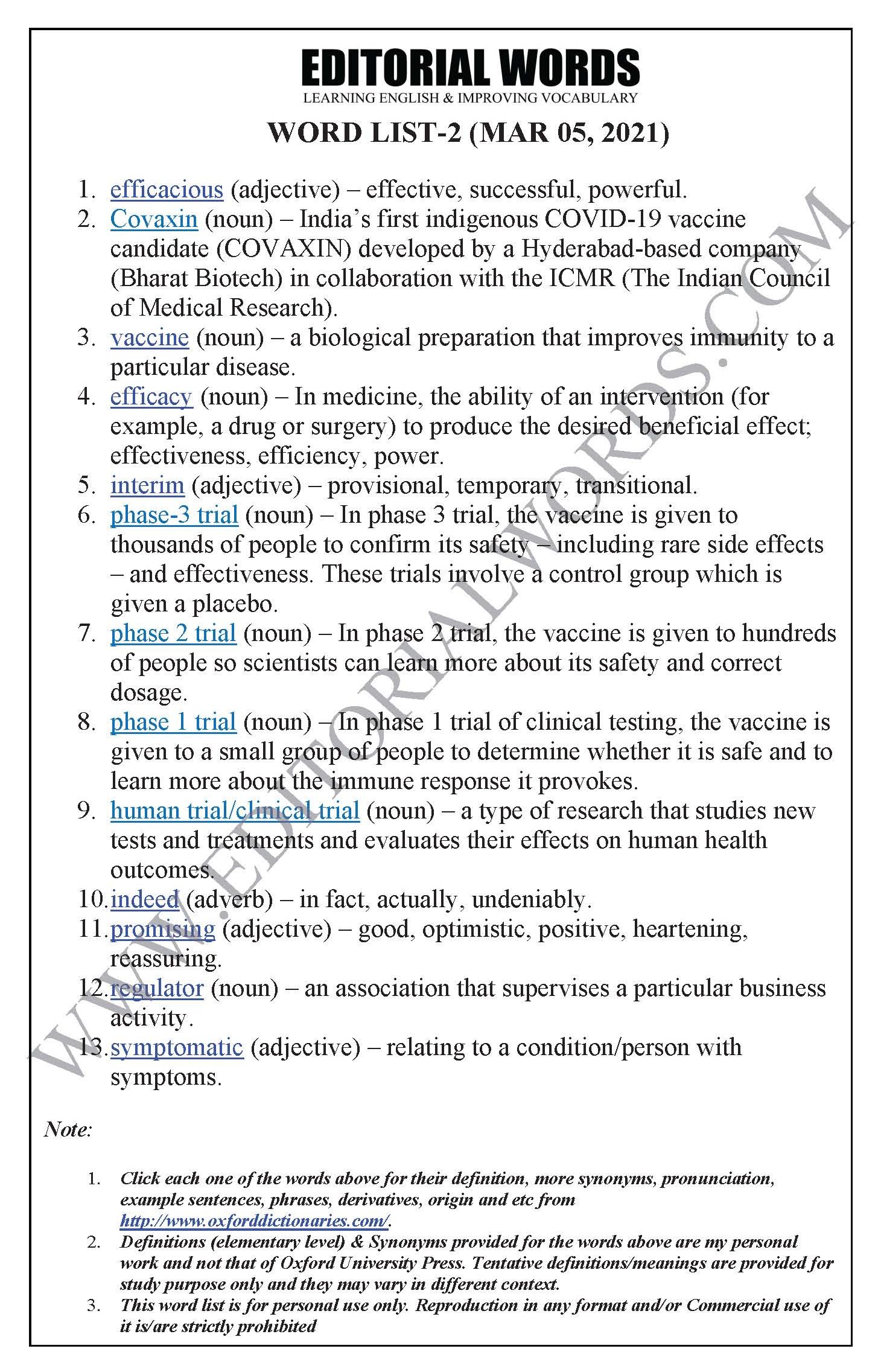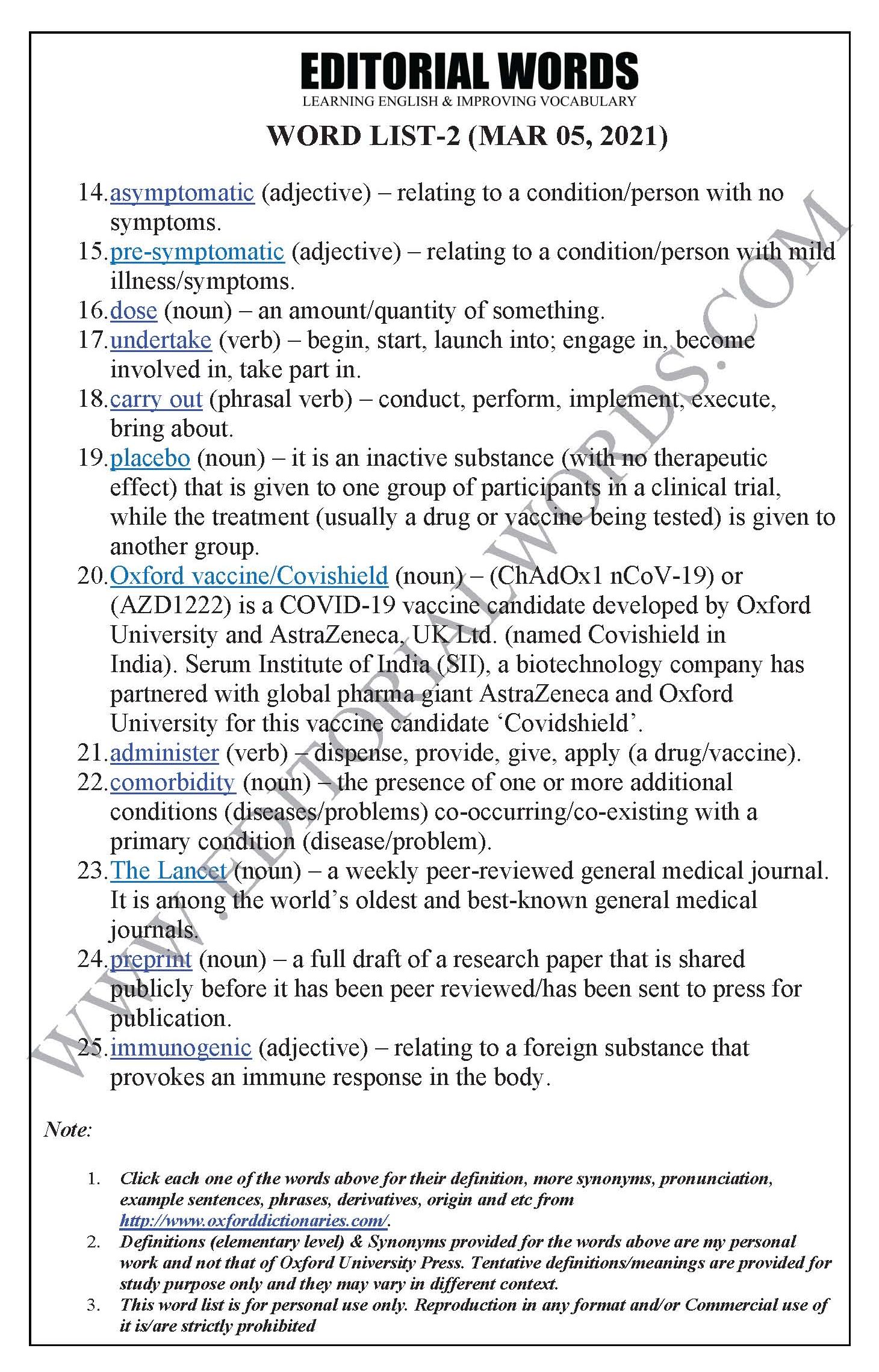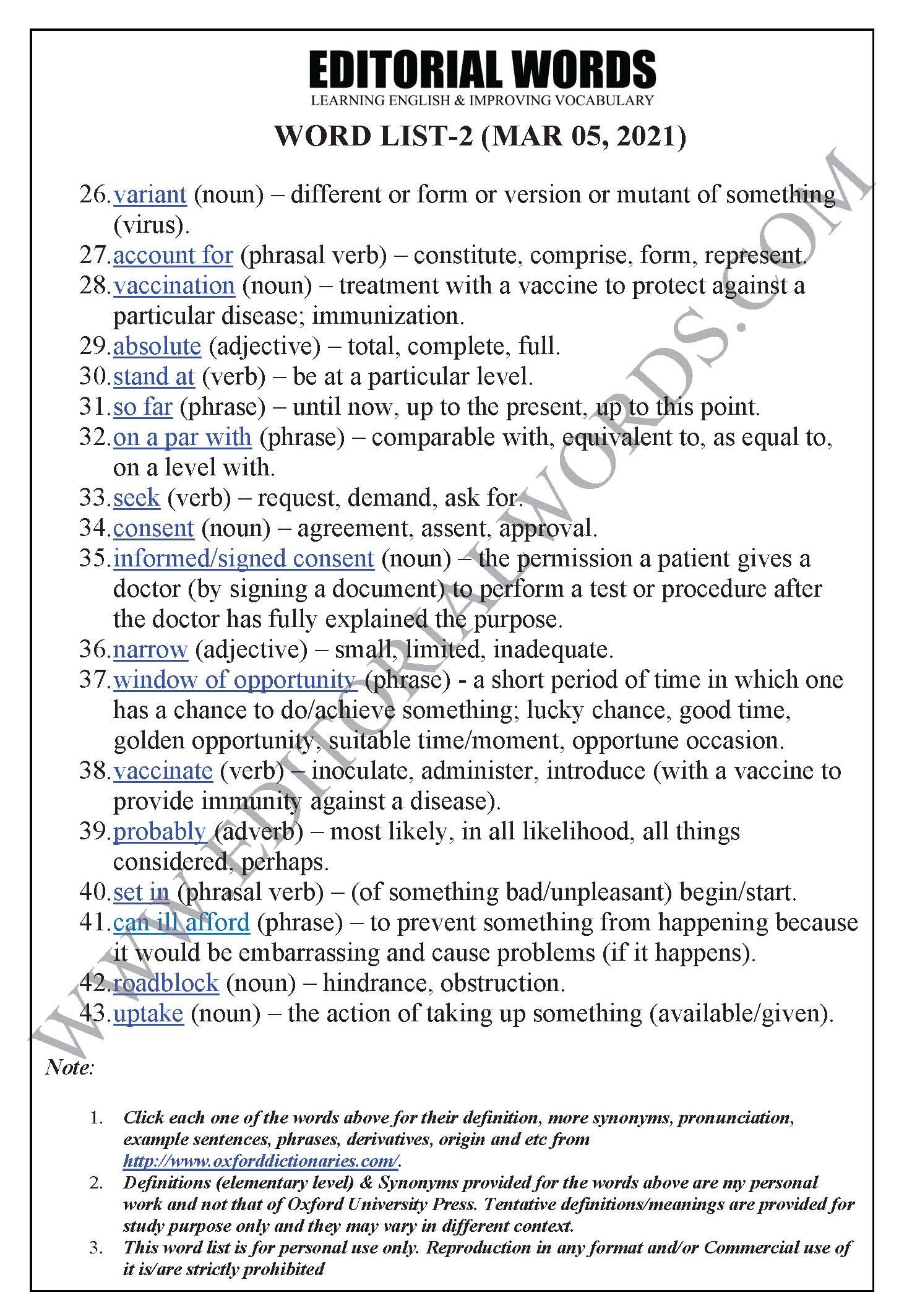 "Phrasal Verbs" We Learnt Last Week 
"Idioms & Phrases" We Learnt Last Week
"Important Definitions" We Learnt Last Week
Recent Word Lists For The Hindu Editorial Articles
Recent Advanced Word Lists For The Hindu Lead Articles