The Hindu Editorial (Bear hug) – Sep 07, 2019
Unveiling the Russian edition of India's 'Look East, Act East' policy, Prime Minister Narendra Modi pledged on Thursday to extend a $1 billion Line of Credit to Russia's Far East region (RFE). For further reading, visit "The Hindu". Below is today's word list-1 for The Hindu Editorial (Bear hug) – Sep 07, 2019.
To read this article, click here.
This preview is provided here with permission.
Courtesy: The Hindu
Today's word list-1 for The Hindu Editorial (Bear hug) – Sep 07, 2019:
bear hug (noun) – tight control, squeeze (a strong financial pressure); a takeover or acquisition  bid/offer/strategy that is potentially so attractive (or much higher value of target company) to its shareholders.
ally (noun) – partner, supporter, accomplice/confederate.
unveil (verb) – present, announce, disclose/make public.
pledge on (verb) – promise, promise to give; undertake to give, contribute

. 

line of credit (noun) – another term for credit line; a source of funds that can readily be tapped/borrowed at the borrower's discretion (choice).
outlying (adjective) – remote, inaccessible, out of the way.

take-off point

(noun) – a particular moment/point in time at which something (an activity) is beginning.
bilateral (adjective) – involving two groups or countries.
ties (noun) – relationship, allegiance, association.
lag behind (phrasal verb) – trail, fall back, straggle/move slowly.

strategic partnership

 (noun) – it is a long-term interaction between two countries based on political, economic, social and historical factors (Courtesy: IDSA (Institute for Defence Studies and Analyses)).
exploration (noun) – investigation, search, inspection (of an area for natural resources).
procurement (noun) – the action of buying or purchasing something.
maritime (adjective) – of or related to the sea.
roadmap (noun) – schedule of a (complex) program.
prospect for (verb) – search for, seek.
hydrocarbon (noun) – it is an organic compound consisting entirely of hydrogen and carbon which are the main components of petroleum and natural gas.
build on (phrasal verb) – develop, enhance, expand on.
pivot (noun) – focus/focal point, centre.
far-reaching (adjective) – important, major, significant.
implications (noun) – consequence/outcome, ramification, repercussion.
bid (noun) – attempt, effort, endeavour/try.
global warming (noun) – it is the unusually rapid increase in Earth's average surface temperature over the past century primarily due to the greenhouse gases released as people burn fossil fuels.
reflective (adjective) – thoughtful, contemplative, introspective.
diversify (verb) – enlarge/expand, widen, branch out.
underline (verb) – emphasize, highlight, draw attention to.
foray (noun) – a brief & active attempt to get involved in a new activity/sphere.
warm up (phrasal verb) – prepare, get ready, get into condition.
clinch (noun) – a struggle or scuffle.
account for (phrasal verb) – constitute, form, provide (a specific amount).

foreign direct investment (FDI

) (noun) – Investment from one country into another (normally by companies rather than governments) that involves establishing operations or acquiring tangible assets, including stakes in other businesses.
polarized (adjective) – divided, separated.
at cross purposes (phrase) – conflicting

, contradictory, clashing, contrasting.
Note:  
 1. Click each one of the words above for their definition, more synonyms, pronunciation, example sentences, phrases, derivatives, origin and etc from http://www.oxforddictionaries.com/.bigotry

, narrow-mindedness
2. Definitions (elementary level) & Synonyms provided for the words above are my personal work and not that of Oxford University Press. Tentative definitions/meanings are provided for study purpose only and they may vary in different context. 
3. This word list is for personal use only. Reproduction in any format and/or Commercial use of it is/are strictly prohibited.
Today's word list-1 The Hindu Editorial (Bear hug) – Sep 07, 2019
: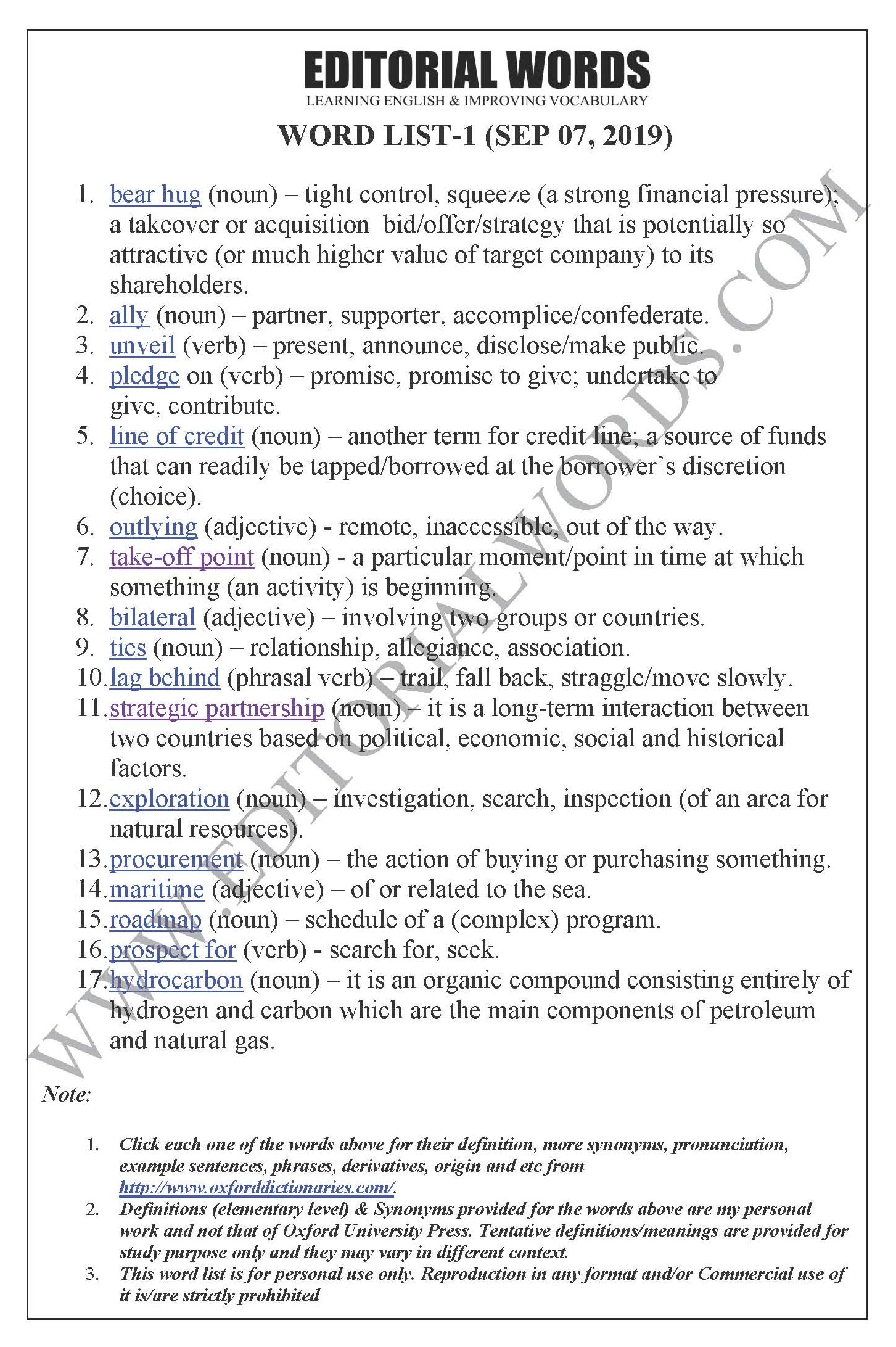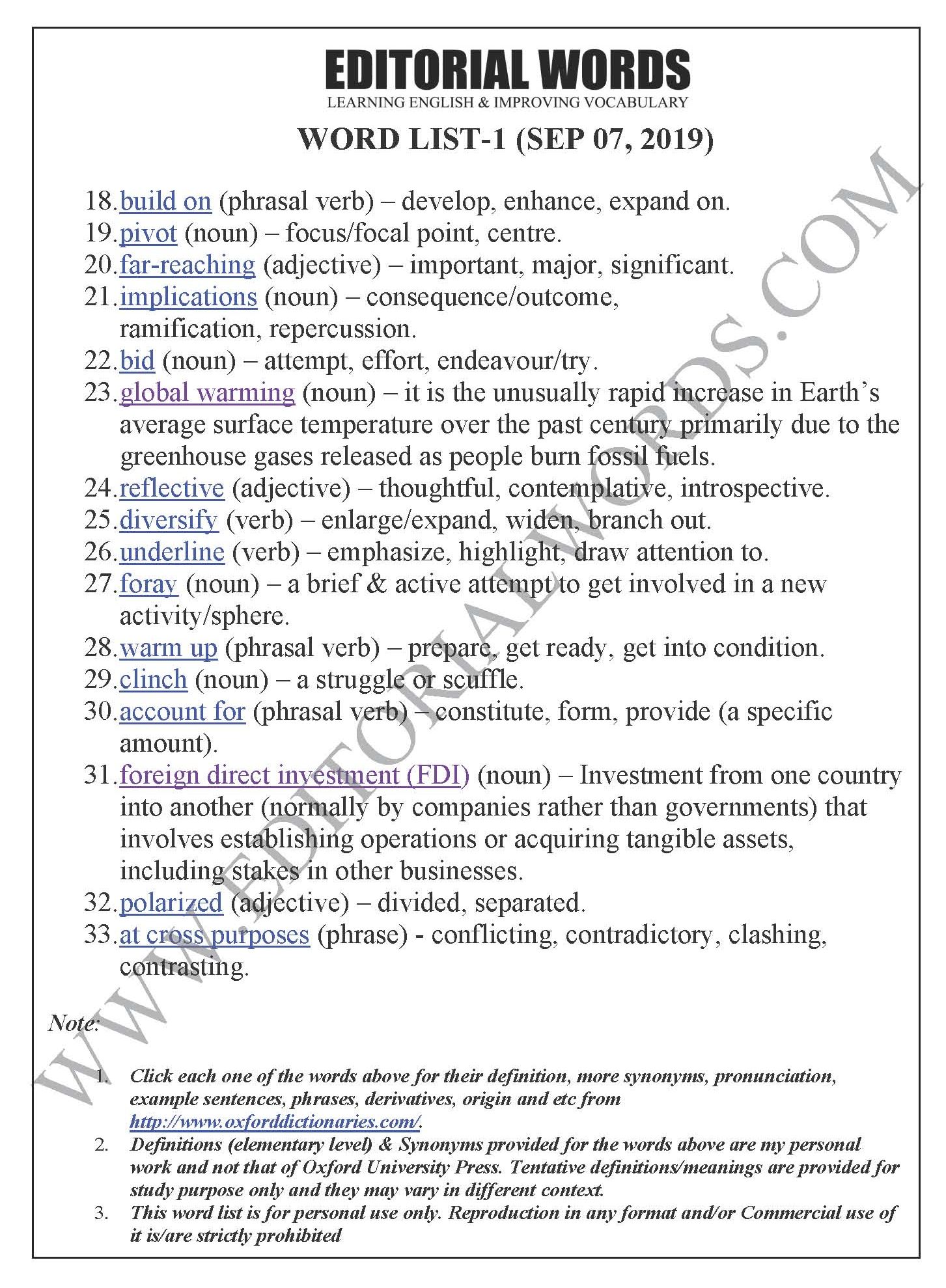 "Phrasal Verbs" We Learnt Last Week
"Idioms & Phrases" We Learnt Last Week
"Important Definitions" We Learnt Last Week
Recent Word Lists For The Hindu Editorial Articles
Recent Advanced Word Lists For The Hindu Lead Articles