The Hindu Editorial (Avoidable boat tragedy) – Sep 17, 2019
There is a familiar ring to boat tragedies in Andhra Pradesh. Unsuspecting tourists, mostly from cities,… For further reading, visit "The Hindu". Below is today's word list-2 for The Hindu Editorial (Avoidable boat tragedy)- Sep 17, 2019.
To read this article, click here.
This preview is provided here with permission.
Courtesy: The Hindu
Today's word list-2 for The Hindu Editorial (Avoidable boat tragedy) – Sep 17, 2019:
capsize (verb) – (of a boat) overturn

, turn upside down, upset,  flip over (

in the water).
unlearn (verb) – discard something from one's memory.
recur with (verb) – occur again, be repeated, happen again.
alarming (adjective) – worrying, disturbing, shocking/distressing.
ring (noun) – a particular quality conveyed by something expressed.
unsuspecting (adjective) – unmindful, unconscious, off guard, ignorant/unknowing.
craving (noun) – strong desire, appetite, longing.
bewitching (adjective) – enchanting, attractive, delightful.

watery grave

(phrase) – death by drowning.
hefty (adjective) – large, huge, substantial.
ex gratia (adjective) – Latin, literally 'from favour'. An ex gratia payment is one that is given as a favour or gift instead of legal obligation/liability.
deterrent (adjective) – relating to something which is aimed/intended to deter (stop/prevent) something else.
venture (verb) – go/move, proceed, progress a risky journey.
spate (noun) – series, flurry; a large number of something (taking place at the same period).
apparently (adjective) – seemingly

, evidently, it appears that.

en route (adverb) – on the way

, in transit, on the journey, during transport.

sultry (adjective) – stifling, suffocating, sticky, airless.
come in the way of (phrase) – prevent, oppose, defy.
perish (verb) – die, expire, be killed suddenly (particularly in an accident).
mishap (noun) – accident

, problem, issue.

provision (noun) – supplying.
set out (phrasal verb) – start, set off (a journey).
recurring (adjective) – repetitive, recurrent, regular.
jolt (verb) – surprise, shock, stun, shake.
highlight (verb) – call attention to

, focus attention on, underline.

irrigation (noun) – the process of (artificially) supplying water to farm land to grow crops & plants.
point (verb) – indicate

, suggest, signal/signify.

bureaucratic (adjective) – institutional, procedural, official/governmental.
phenomenon (noun) – occurrence, event, happening.
pass the buck (phrase) – fail to take responsibility for a problem and want someone else to solve it.
pin something on (phrase) – blame someone for something

, hold someone responsible for something.

resort to (verb) – use, utilize, turn to.
palliative (adjective) – soothing, alleviating, calming.
Note:  
 1. Click each one of the words above for their definition, more synonyms, pronunciation, example sentences, phrases, derivatives, origin and etc from http://www.oxforddictionaries.com/.bigotry

, narrow-mindedness
2. Definitions (elementary level) & Synonyms provided for the words above are my personal work and not that of Oxford University Press. Tentative definitions/meanings are provided for study purpose only and they may vary in different context. 
3. This word list is for personal use only. Reproduction in any format and/or Commercial use of it is/are strictly prohibited.
Today's word list-2 The Hindu Editorial (Avoidable boat tragedy) – Sep 17, 2019
: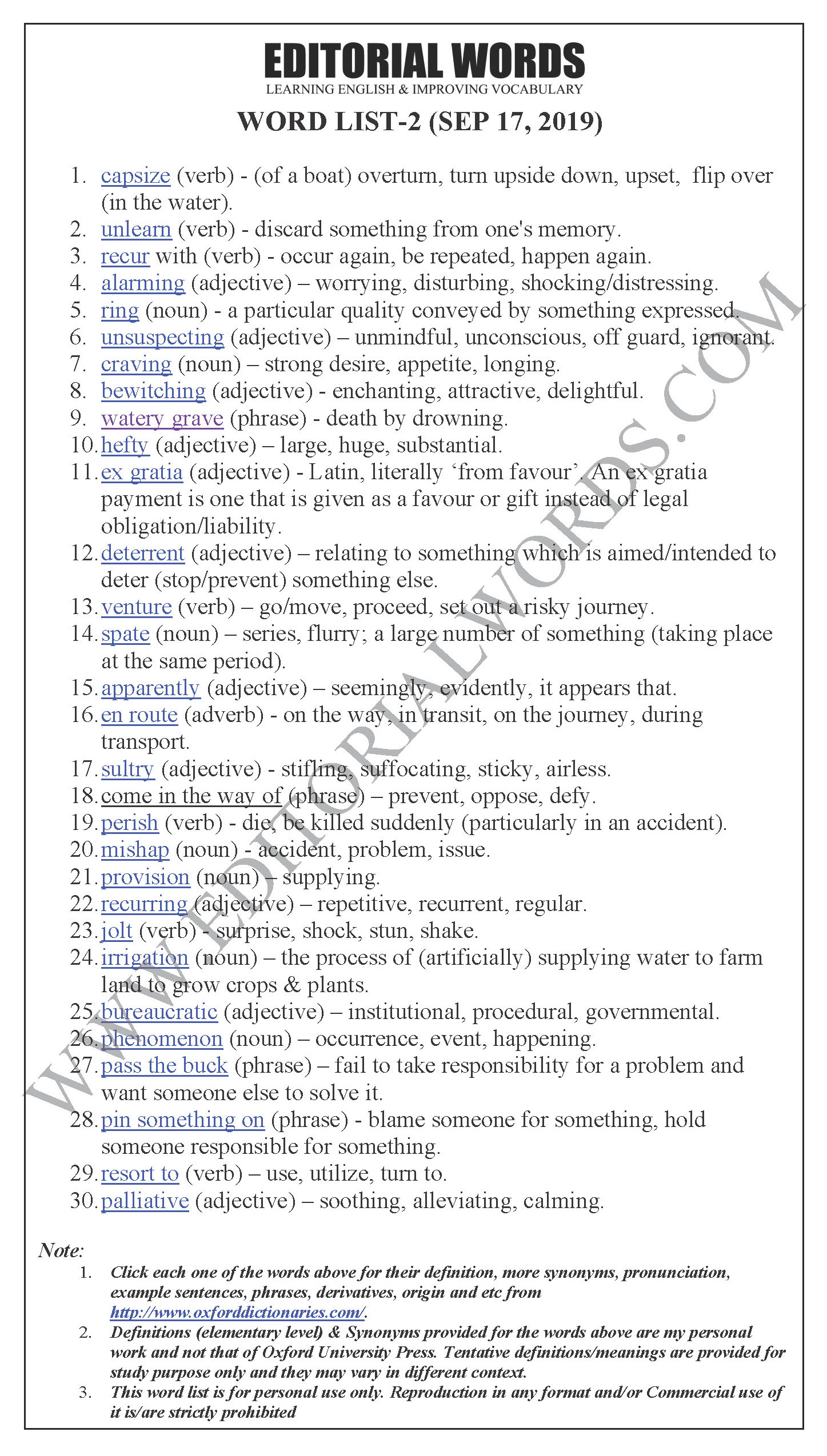 "Phrasal Verbs" We Learnt Last Week
"Idioms & Phrases" We Learnt Last Week
"Important Definitions" We Learnt Last Week
Recent Word Lists For The Hindu Editorial Articles
Recent Advanced Word Lists For The Hindu Lead Articles