The Hindu Editorial (Artless and heartless) – May 17, 2021
The Government of India's Central Vista redevelopment project is highly questionable as a national priority at any time, and more so in the midst of a pandemic. For further reading, visit "The Hindu". Below is today's word list-2 for The Hindu Editorial (Artless and heartless) – May 17, 2021.
To read this article, click here.
This preview is provided here with permission.
Courtesy: The Hindu
The Hindu Editorial (Artless and heartless) – May 17, 2021:
artless (adjective) – without skill/knowledge; hastily built.
heartless (adjective) – unfeeling

, unsympathetic, uncaring, unconcerned, hard-hearted.

Central Vista

 (noun) – it is a grand redevelopment project for building what will be the power corridor of India, having a new Parliament building, a common central secretariat, and revamped three-km-long Rajpath, from the Rashtrapati Bhavan to the India Gate.
demolition (noun) – destruction

, knocking down, pulling down, bulldozing.

more so (phrase) – to a greater degree; to a greater extent.
in the midst of (phrase) – in the middle of.
pandemic (noun) – the worldwide spread of a new disease; The illness spreads around the world and typically affects a large number of people across a wide area.
indeed (adverb) – in fact, actually, undeniably.
imperious (adjective) – high-handed, commanding, domineering, authoritarian.
obsession (noun) – the particular condition of having unwanted and repeated thoughts, feelings, ideas &, etc., about someone or something (all the time); fixation, preoccupation, concern, mania/craze/phobia.
grandeur (nun) – majesty, greatness, magnificence.
irony (noun) – paradox, incongruity, peculiarity; contradiction, a strange/funny situation where things are happening the other way around (than expected).
colossus (noun) – giant, behemoth, mammoth.
amid (preposition) – in the middle of, surrounded by; during.
ruins (noun) – 

wreckage, damage; 

scourge

, devastation, destruction

. 

turn out (phrasal verb) – transpire, emerge; happen/occur.
monument (noun) – example

, exemplar, model.

disregard (noun) – negligence, indifference

, non-observance, inattention.

public good (phrase) – the benefit, advantage, or well-being of the public.
misplaced (adjective) – misguided

, misconceived, ill-advised, ill-considered, ill-judged

.
determination (noun) – resolution

, stubbornness, inflexibility.

showmanship (noun) – the skill or ability of a showman to attract attention.
befall (verb) – (of something bad) happen, occur, take place/appear, fall upon, hit, strike.
urgency (noun) – importance, necessity, hurry.
raze (verb) – destroy

, demolish, pull down.

raze to the ground

(phrase) – (of a building) to demolish something completely.
scholar (noun) – academic, intellectual, expert/pundit, learned person.
curator (noun) – guardian, custodian

, keeper, caretaker.

the spotlight (noun) – the public attention, the focus of public/media; the public eye.

put the spotlight on

 (phrase) – to focus on someone or something; bring attention to someone or something.
set to (adjective) – ready

, prepared, organized.

demolish (verb) – destroy

, bulldoze, knock down, pull down.

make way (phrase) – clear the way, make a space, make room, stand back.
call for (phrasal verb) – require, publicly ask/necessitate, demand.
suspension (noun) – stoppage, termination.

the way/path ahead

(phrase) – something (a plan/action) that leads to success in the future.
conservation (noun) – preservation

, protection, safeguarding.

house (verb) – contain

, hold, store.

treasure (noun) – valuable object, work of art, precious metals, jewels.
archival (adjective) – relating to archives (old/historical records, chronicles, annals).
manuscript (noun) – a handwritten book/document/script.
expertise (noun) – knowledge

, command, mastery, prowess, skilfulness.

certainly (adverb) – surely, definitely, unquestionably.
opaque (adjective) – non-transparent

, hidden, mysterious, doubtful, ambiguous, cryptic.

cavalier (adjective) – casual, unconcerned; without concern for something important or serious.
artefact (noun) – an object that is made by human workmanship, especially one of historical or archaeological interest. Artifact is the American spelling.
lack (verb) –be without, have need of, require.
inventory (noun) – list

, directory, record, register.

point out (phrasal verb) – identify, mention, indicate, draw attention to.
flag (verb) – indicate, identify, point out.
mishandle (verb) – mismanage, 

spoil, ruin, wreck.

in a hurry (phrase) – in a rushed/quick/hurried manner.
intolerance (noun) – bigotry, narrow-mindedness, dogmatism, illiberality, insularity, sensitivity

, oversensitivity

.
scrutiny (noun) – review, examination, inspection.
unprecedented (adjective) – not done or experienced before.
ripple effect (noun) – an event (or a process/action) that causes several other events to happen indirectly one after the other. knock-on effect, secondary/indirect effect, consequence/implication, chain of events; domino effect.
sphere (noun) – an area of activity; a field of activity; domain

, realm.

take someone into one's confidence (phrase) – tell someone a secret.
course (noun) – plan of action, course of action, procedure, approach.
Note:
 1. Click each one of the words above for their definition, more synonyms, pronunciation, example sentences, phrases, derivatives, origin and etc from http://www.oxforddictionaries.com/.
2. Definitions (elementary level) & Synonyms provided for the words above are my personal work and not that of Oxford University Press. Tentative definitions/meanings are provided for study purpose only and they may vary in a different context. 
3. This word list is for personal use only. Reproduction in any format and/or Commercial use of it is/are strictly prohibited.
The Hindu Editorial (Artless and heartless) – May 17, 2021: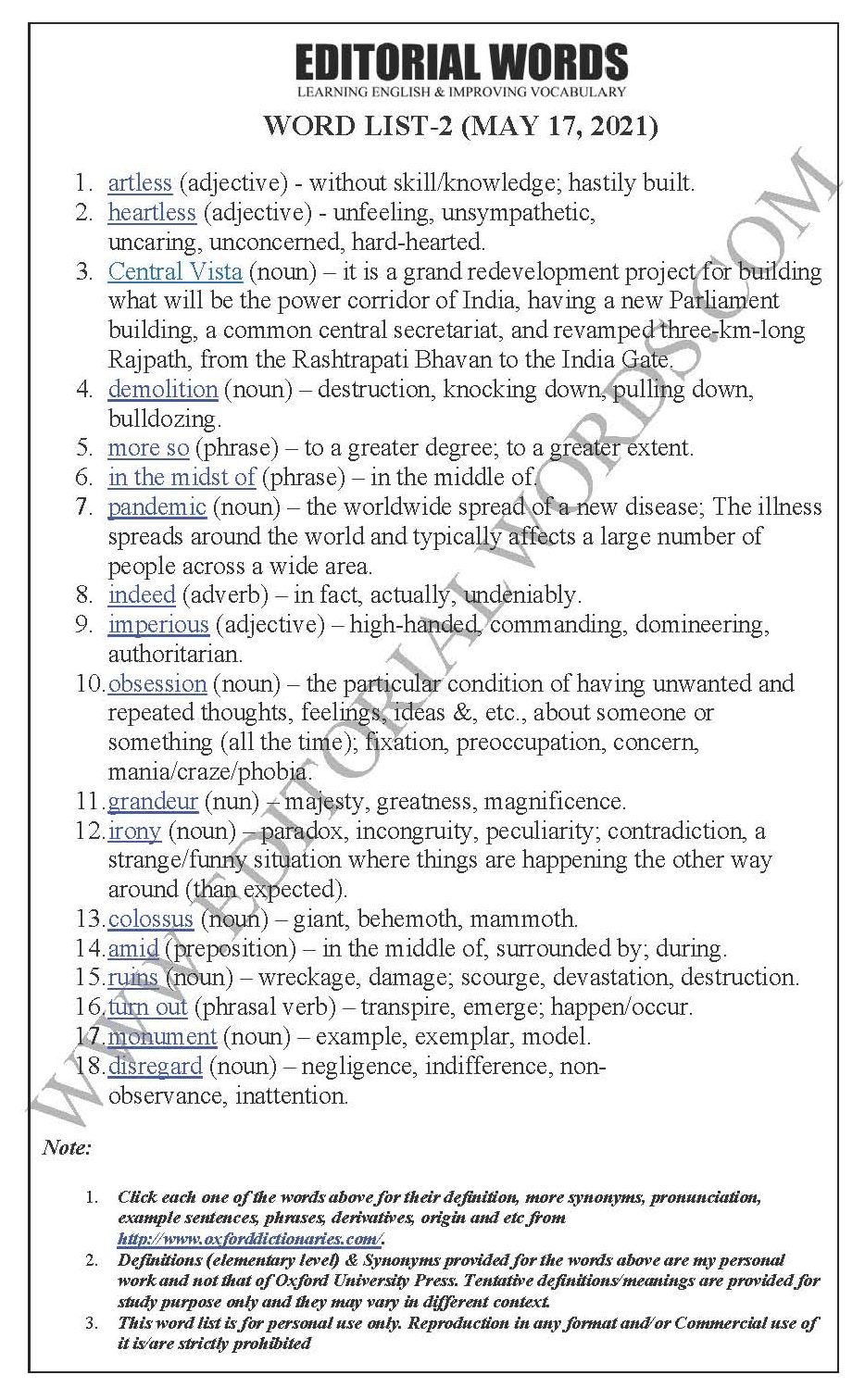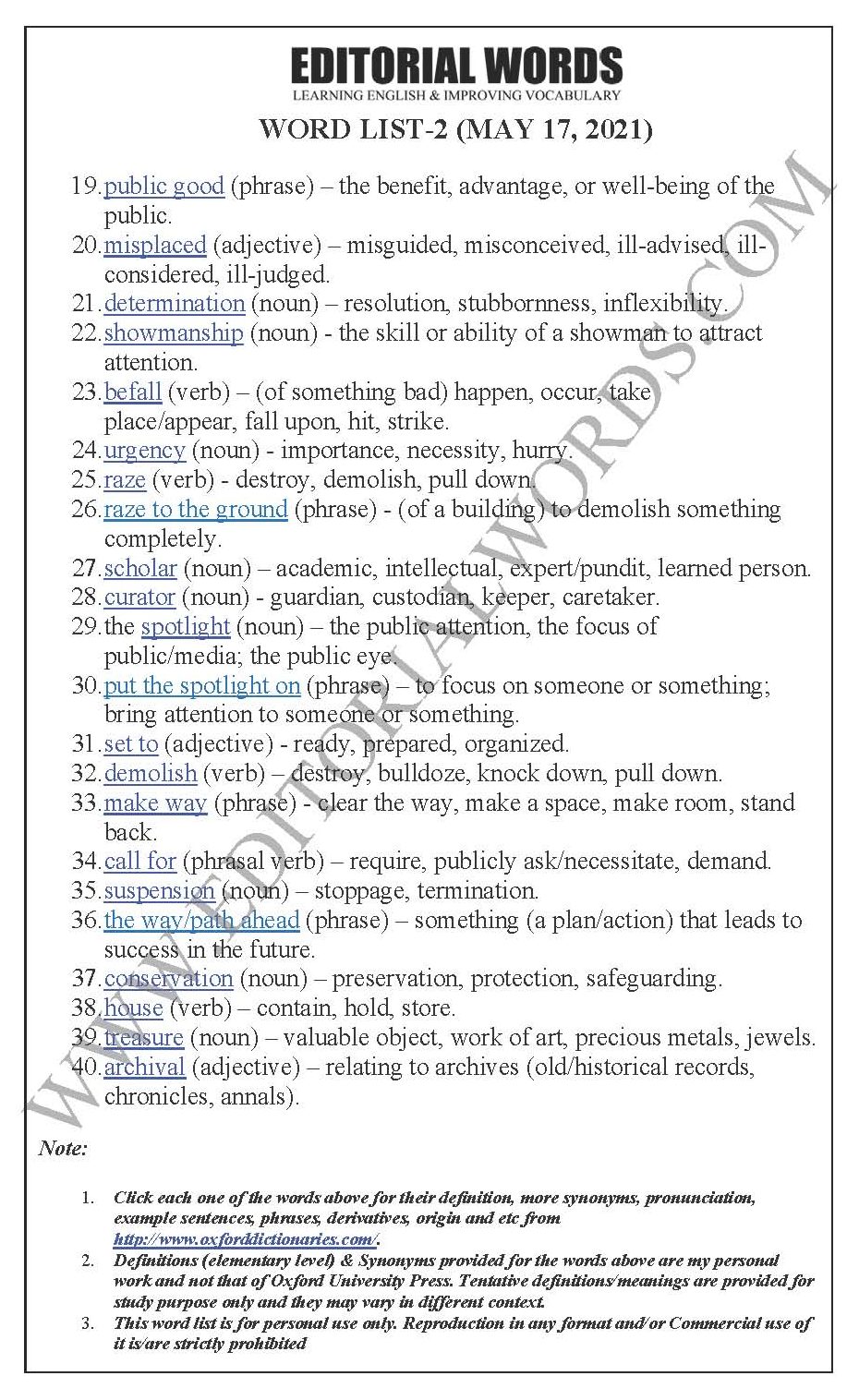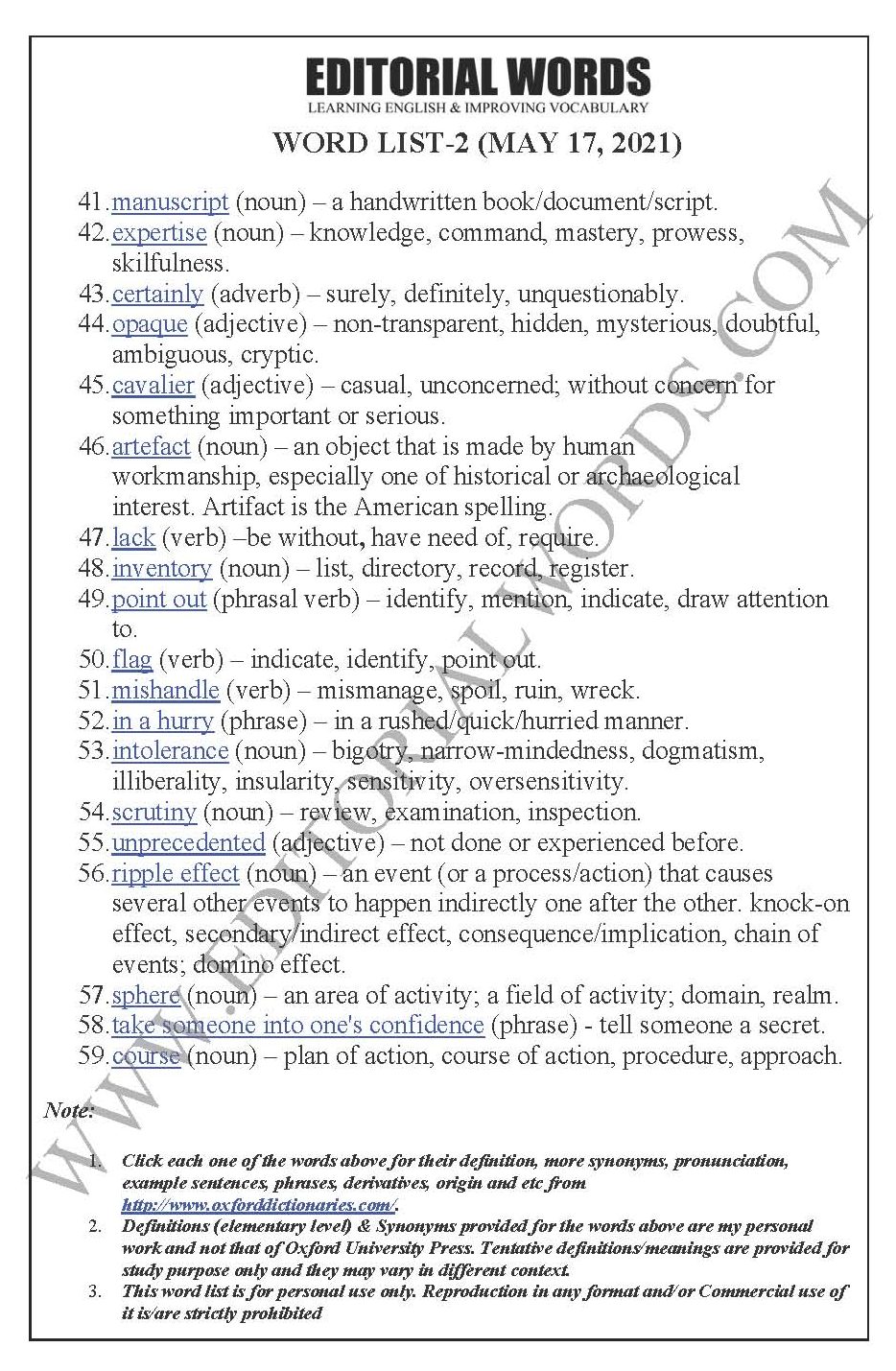 "Phrasal Verbs" We Learnt Last Week 
"Idioms & Phrases" We Learnt Last Week
"Important Definitions" We Learnt Last Week
Recent Word Lists For The Hindu Editorial Articles
Recent Advanced Word Lists For The Hindu Lead Articles