The Hindu Editorial (Among members) – Jul 01, 2019
As a forum, the G-20 is often watched more closely for the meetings the event affords on its sidelines,… For further reading, visit "The Hindu". Below is today's word list-1 for The Hindu Editorial (Among members) – Jul 01, 2019.
To read this article, click here.
This preview is provided here with permission.
Courtesy: The Hindu
Today's word list-1 for The Hindu Editorial (Among members) – Jul 01, 2019:
glaring (adjective) – obvious, flagrant, blatant, visible/apparent.
bilateral (adjective) – involving two groups or countries.

on the sidelines

 (phrase) – it refers to a meeting/ forum occurs at the same time as the scheduled meeting/forum, but is not itself an item on the agenda.
make up (phrasal verb) – comprise

, form, compose/constitute.

account for (phrasal verb) – be responsible for, represent, supply/provide.
pressing (adjective) – important/key

, high-priority, critical/crucial. 

plurilateral

(adjective) – (of an agreement involving many different countries (in which WTO member countries would be given the choice to agree to new rules on a voluntary basis).
multilateral (adjective) – involving many different countries (in which all WTO member countries are party to the agreement).

pull-aside meeting/engagement

(noun) – an informal meeting/engagement between leaders, officials, or diplomats at a public event.
anticipate (verb) – expect, foresee, precede.
counterpart (noun) – a person who serves the same job/function but in a different location; equivalent.
escalation (noun) – intensification; an increase in the intensity of something.
cordial (adjective) – friendly, affable/amiable, pleasant.
breakthrough (noun) – progress, development, advancement.
sit down (phrasal verb) – accept, put up with, tolerate; spend time and effort doing it in order to try to achieve something.
impasse (noun) – deadlock, stalemate, stand-off.
call a halt (phrase) – to demand stopping an activity.
deliberation (noun) – careful consideration, thought/thinking, contemplation.
fugitive (noun) – a person who has escaped from being confined or imprisoned.
climate change (noun) – a long-term change in the Earth's climate, or of a region on Earth (Courtesy: NASA).
counter to (adverb) – against

, in opposition to, contrary to.

Paris Agreement/Accord

(noun) – The Paris Agreement builds upon the Convention (agreement) and for the first time brings all nations into a common cause to undertake ambitious efforts to combat climate change and adapt to its effects, with enhanced support to assist developing countries to do so.
protectionism (noun) – the use of tariff and non-tariff restrictions on imports to protect domestic producers from foreign competition.
gender equality (noun) – It is the view that everyone should receive equal treatment and not be discriminated against based on their gender.
concerted (adjective) – strenuous, vigorous, forceful/intense.
consensus (noun) – an idea or opinion that is shared by all the people in a group. agreement, concurrence.
articulate (verb) – express, point out, mention.
the line (noun) – course of action

, way/method/manner, procedure.

inequities (noun) – injustice, favouritism, discrimination.
detract from (verb) – diminish, reduce, lessen.
sustainable (adjective) – acceptable, valid/reliable, dependable.
grandstand (noun) – a way of speaking or acting to get attention from the spectators (people) and then influencing them.
Note:  
 1. Click each one of the words above for their definition, more synonyms, pronunciation, example sentences, phrases, derivatives, origin and etc from http://www.oxforddictionaries.com/.bigotry

, narrow-mindedness
2. Definitions (elementary level) & Synonyms provided for the words above are my personal work and not that of Oxford University Press. Tentative definitions/meanings are provided for study purpose only and they may vary in different context. 
3. This word list is for personal use only. Reproduction in any format and/or Commercial use of it is/are strictly prohibited.
Today's word list-1 The Hindu Editorial (Among members) – Jul 01, 2019: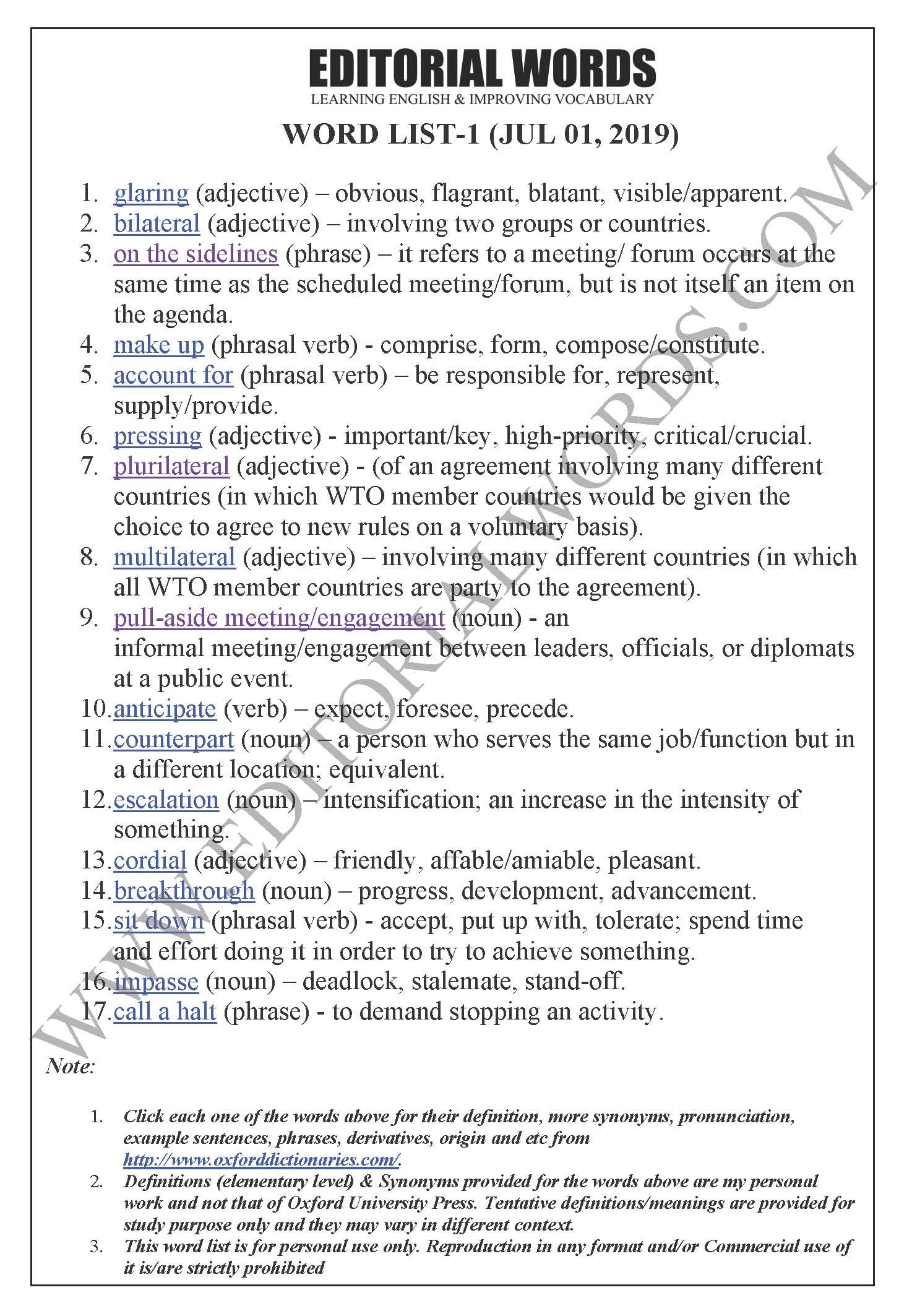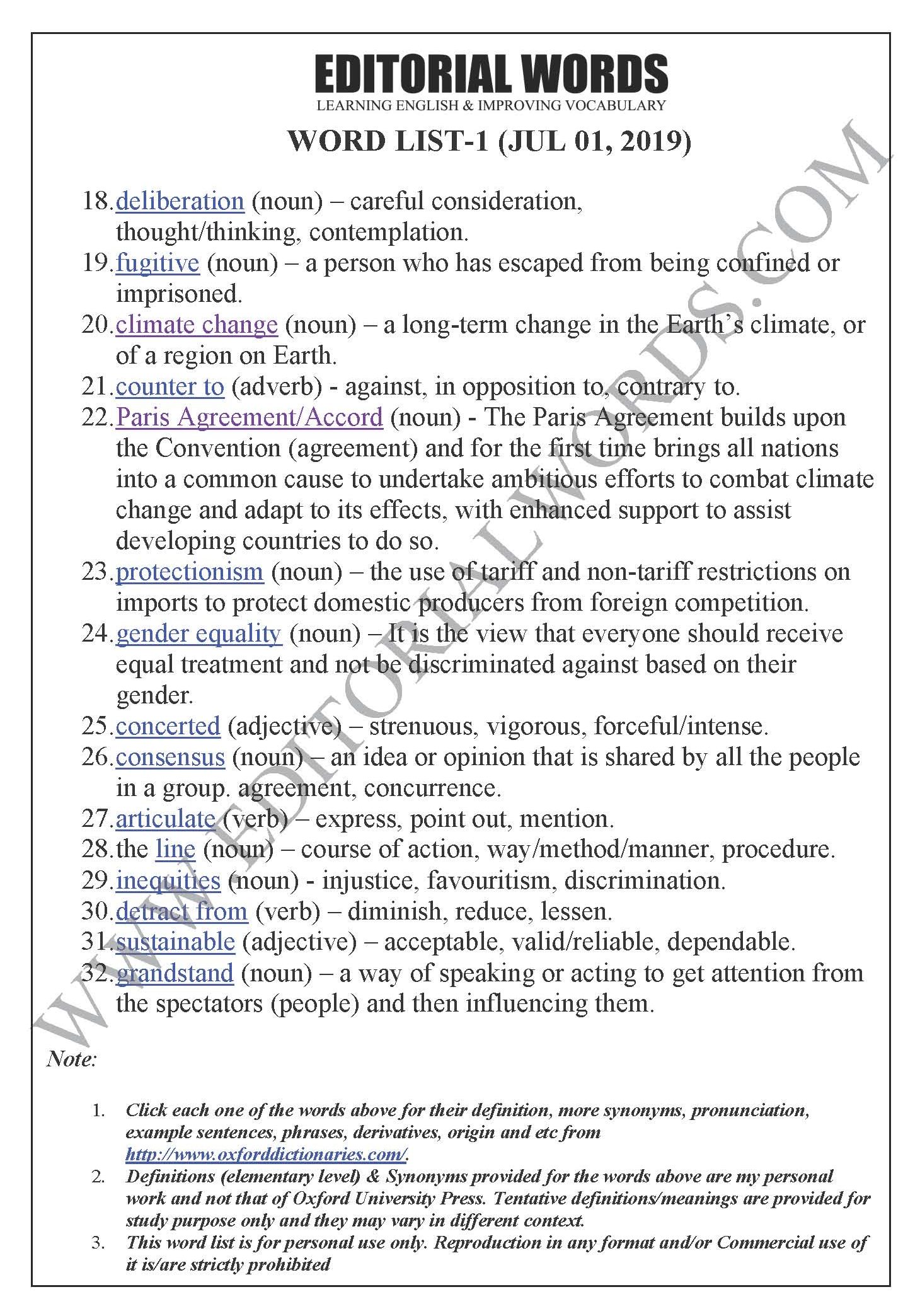 "Phrasal Verbs" We Learnt Last Week
"Idioms & Phrases" We Learnt Last Week
"Important Definitions" We Learnt Last Week
Recent Word Lists For The Hindu Editorial Articles
Recent Advanced Word Lists For The Hindu Lead Articles