The Hindu Editorial (A life in the balance) – Sep 04, 2019
More than three and a half years after Pakistan announced it had arrested Kulbhushan Jadhav on charges of espionage and terrorism,… For further reading, visit "The Hindu". Below is today's word list-1 for The Hindu Editorial (A life in the balance) – Sep 04, 2019.
To read this article, click here.
This preview is provided here with permission.
Courtesy: The Hindu
Today's word list-1 for The Hindu Editorial (A life in the balance) – Sep 04, 2019:
in the balance (phrase) – uncertain, unknown, unresolved, in a critical state.
channel (noun) – method, means, system (for communication).
reprieve (noun) – stay of execution; cancellation, suspension, postponement (of a punishment or something undesirable event).
espionage (noun) – spying, undercover work, infiltration/counter-intelligence.

consular access

 (noun) – consular access simply means that a diplomat or an official will have a meeting with the prisoner who is in the custody of another country.
bitterly (adverb) – extremely, forcefully, ferociously.
signatory (noun) – the person who signed an official document/agreement.
Vienna convention (noun) – the treaty that lays down the rules about treaties – legal agreements between countries. This Vienna Convention on Diplomatic/Consular Relations, which was agreed in 1961 and went into force in 1964.
chargé d'affaires (noun) – (French); a diplomat who heads an embassy in the absence of the ambassador.
tutor (verb) – instruct, direct, guide.
coerce (verb) – pressure, force, compel/influence.
confessional (adjective) – relating to confessions.
parrot (verb) – repeat mindlessly/mechanically, say again (without thinking).
narrative (noun) – a representation of a particular situation; report.
sham (noun) – pretence

, fake, act, fiction.

guilty (noun) – culprit, offender, wrongdoer.
disquiet (noun) – distress, unease, worry/concern.
thus far (phrase) – so far

, until now,  hitherto.

compliance with (noun) – adherence to, conformity to, accordance with.
execution (noun) – capital punishment

, the death penalty.

breakdown (noun) – failure, collapse, foundering.
bilateral (adjective) – involving two groups or countries.
ties (noun) – relationship, allegiance, association/link.
rhetoric (noun) – bombast, loftiness, hyperbole/extravagant language.
scenario (noun) – course of events, situation.
diplomatic (adjective) – (delicate & sensitive) consular, foreign-policy, political.
prevail upon (verb) – influence, induce, pressure someone into.

road ahead

(phrase) – future.
bilaterally (adverb) – between two countries involved.
hang in the balance (phrase) – uncertain, undetermined, unresolved.
Note:  
 1. Click each one of the words above for their definition, more synonyms, pronunciation, example sentences, phrases, derivatives, origin and etc from http://www.oxforddictionaries.com/.bigotry

, narrow-mindedness
2. Definitions (elementary level) & Synonyms provided for the words above are my personal work and not that of Oxford University Press. Tentative definitions/meanings are provided for study purpose only and they may vary in different context. 
3. This word list is for personal use only. Reproduction in any format and/or Commercial use of it is/are strictly prohibited.
Today's word list-1 The Hindu Editorial (A life in the balance) – Sep 04, 2019
: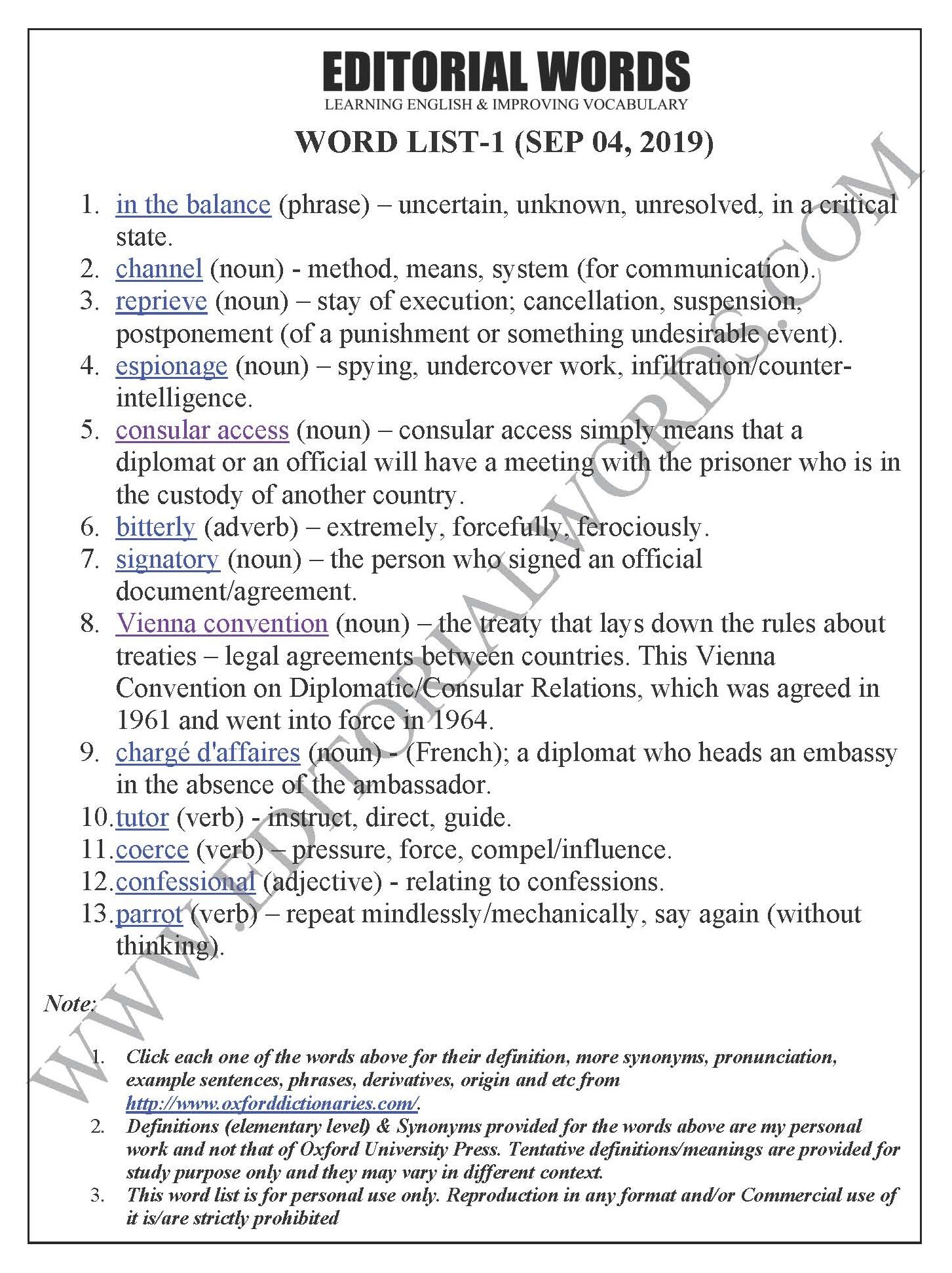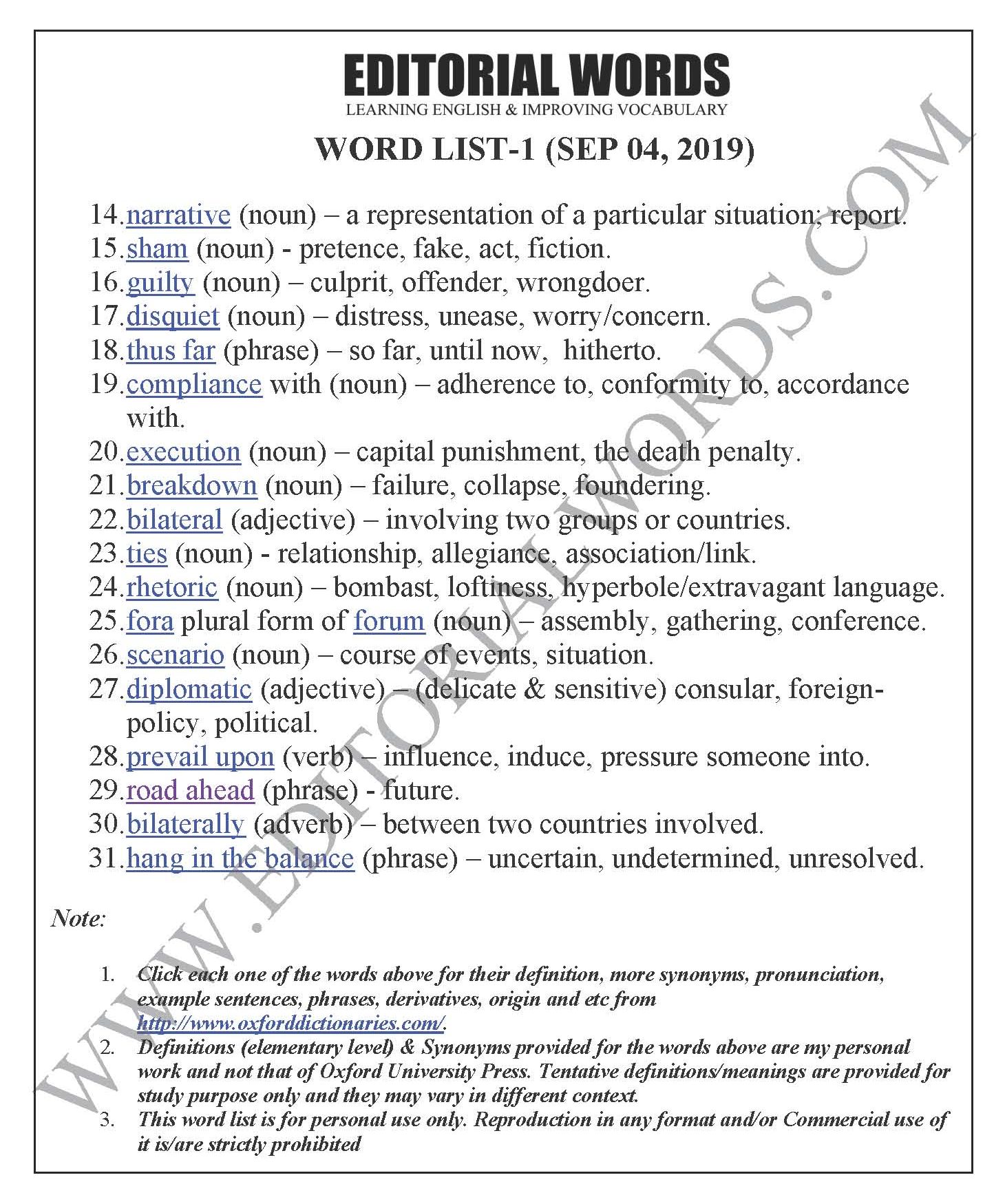 "Phrasal Verbs" We Learnt Last Week
"Idioms & Phrases" We Learnt Last Week
"Important Definitions" We Learnt Last Week
Recent Word Lists For The Hindu Editorial Articles
Recent Advanced Word Lists For The Hindu Lead Articles